Dear Rouvier,

Presenting our newest feature (and in part - a completely new app), we would first like to thank you. We are happy and excited to bring you our coolest platform release EVER! The Rouvy Team takes pride in the fact that Rouvy is the first to make augmented reality technology publicly available to a broad cycling and triathlon community, as well as anyone who takes care of their fitness with a smart stationary trainer/bike. Please welcome the results of 2.5 years of complex programming work and years of university research.
Release title: Rouvy AR - Public Beta
The official feature name: "Augmented Routes"
Motto: Real Roads. Real Riders. Real Feelings.
(Terminology: While the term "Augmented Routes" will be primarily used to refer to this feature and Multi-Rider Mode on Rouvy, "Augmented Reality" or "AR" will be used equally for a description of the technology, as it completely fits its description on wiki: "Augmented Reality (AR) is used to enhance natural environments or situations, and offers perceptually enriched experiences.")
With the background intro done, let's jump to the cool stuff!
Features Based on Augmented Reality
Video Smoothing
Advanced algorithms reprocess the video on a frame-by-frame basis, which results in a more smooth riding experience. From now on, you won't notice the difference between your speed and the speed at which the route has been recorded.

*Note: "Video Smoothing" will be available only for Augmented Routes for some period of time, with a later extension to other premium and certified video routes.
By the defaults, the video quality is set to "Normal". To experience the best and maximum avaialble quality of the video, the "Graphic quality" setting in the settings menu should be changed to "High" (right upper corner).
New User Interface
While it is always possible to switch to the old UI, the default setting will use this simplified look when displaying metrics. The new format will have more emphasis on Group Rides and online races. Be sure to also check out the new format of both the map and detailed statistics.
The defaults for the UI will be set to a new one, but you can always change the settings, if you wish to do so. To experience 3D objects and animated riders, make sure this button is always "green."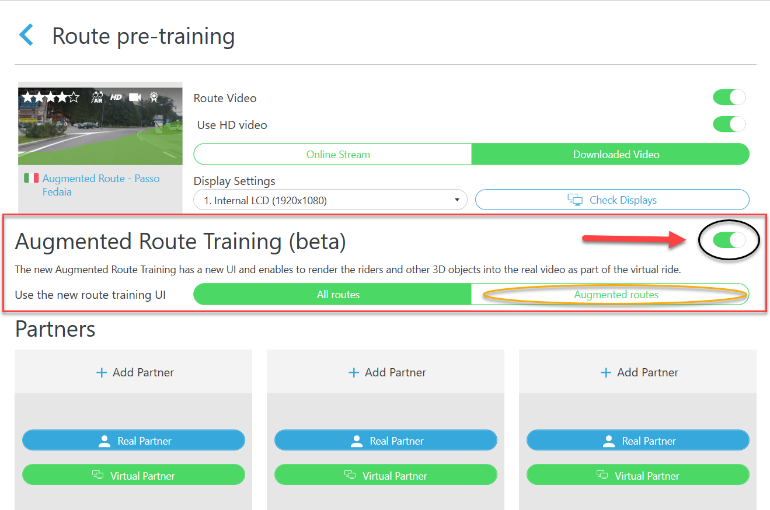 Workouts and Rouvy Guides will stay unchanged with the present UI.
Augmented Mode for Group Rides
To make it short and simple, the app virtually brings remote riders together onto any road on the planet by generating and processing animated and static 3D objects in 2D real videos. (In the future, using automated algorithms and Augmented Reality, Rouvy will take this concept to all 2,000+ available videos, and move race preparation to the next level of interactivity, fun and competition.)
IMPORTANT NOTE: Any Augmented Route is good for a Group Ride. All riders that are concurrently (at the same time-momentum) riding the same Augmented Route at their homes are automatically synchronized, rendered and displayed on your screen. At the moment, all riders in both "Training Mode" and "Race Mode" are displayed on the course. If you like to see your own avatar on the road choose 'Near' or 'Far' in the "Camera" settings in the settings menu (right upper corner).

You DON'T have to additionally subscribe/login anywhere to become a part of the group/social ride. If you don't see other riders on the augmented course, it just means that there are none over there at the moment. To change that, you are welcome to go ahead and take the lead to organize your own Group Ride session in the Rouvy Athletes' FB group. Also, it is recommended to ride in "Training Mode." In "Race Mode," you are not allowed to move your avatar manually closer to the group over the course. So, if you are late for the start and hit the "Start Race" button, you will not be able to catch up with the group or any other present rider manually. However, this choice is up to you as you can ride augmented routes and be visible to other riders in either one.

To ensure you have company, you can ride with the Rouvy Team according to the schedule here.
Virtual Partners
3 in the Win app, only 1 in iPad/Android apps. You can add any previous record listed in the results as your Virtual Partner, and that rider/result will be instantly reproduced/replayed on the course. (If you add even one or a couple of Virtual Partners, the accompanying Ghosts will get turned off automatically - but they will still be present in all other cases. To differentiate, Ghosts don't have an overhead FTP.)

Real Partners
This option is available only in the Windows app and for riders connected to the same PC (up to 4 - more info in our Knowledge base). We have just realized that with the present release "Real Partner" becomes a bit confusing title. It is set to be changed in the next release to "Room Teammate" or something alike.

Rider's Models
Male or female (fortunately, since you can choose one so far, feel free to ride with the ladies while it is not official ;)). The model gender is automatically chosen according to your rider profile settings. There are 8 different jersey colors (but you are not allowed to choose yet). The colors are distributed automatically. It means the 9th rider on the route will receive the same color as the 2nd one.

10 Augmented Routes:
Cortina-Valparola, Dolomite Alps/Italy
Grosser Arber, Bavaria/Germany
North Applegate, Oregon/US
Passo Fedaia, Dolomites/Italy
Passo Gavia, Brescia/Italy
Passo Giau, Dolomites/Italy
Passo Sella, Dolomite Alps/Italy
South Fork Smith River, California/US
Svojse, South Bohemia/Czech Republic
Valparola, Dolomite Alps/Italy
Official Release Schedule (updated)

- Public Beta start: November, 1/2018 at 11:11 UTC. Windows, iPad and Android apps are available.

- Group Rides hosted by Rouvy are in the November schedule (stay tuned for updates). You are welcome to start your own as well. All negotiations are hosted in the Rouvy Athletes Facebook group.

- December, 2018: iPhone app (released 03.12.18) and Online Races (released 12.12.18) functionality for the community. Find instructions how to set an online race in our Knowledge base.

- Official organized/scheduled races are planned for January/Q1, 2019.


How to Start
The setup process is pretty simple and straightforward:

1. Download the app of your platform choice (for the best experience, we still recommend Windows) on rouvy.com.

2. Launch the app and Create an account (if you don't have one). Otherwise, just update your last installed Rouvy version. Login (and connect the trainer if needed).

3. Click "Augmented Routes" in the main menu on the left (you are there!). Click on the route you would like to ride (make sure to download the route before training for the best experience).

4. Then click "Start Ride" (if there are previously written records, you can add Virtual Partners) -> and then, click "Start Race" or "Start Training." YOU ARE IN!

To catch up with a Group or leader, you can click the "settings" menu in the upper right screen corner; click "Find Rider," type the username (and hit "enter" button), or just move your avatar icon on the course profile of the screen bottom (watch the video).


What else you need to know:
Make sure to check out general Beta info, Vocabulary and AR FAQ first.
If other riders are present on the course, you will see their avatars. However, note the difference between training and race modes.
It is unlikely, but If you happen to experience any troubles, check out some known issues.
BONUS: WHAT THE FUTURE HOLDS
We are very excited because we are sure this is to be the future of indoor cycling. The ability to turn any piece of the road into a virtual bike race sounds like fun, doesn't it? In this way, our dream of having the most realistic, yet still the most efficient and fun preparation, will become a reality.

Please tell us in the comments what you think the future of your training room should look like, and give us your feedback. While the number of routes available in the public beta is limited on purpose, you can surely expect its growth over time. Things to come soon: drafting, official races, customizable models, video smoothing for Premium and Certified routes -- and more.

And thank you for being a part of our inspiration to make that happen! It is done only for you, dear Rouvier and customer. Shaping the industry landscape is the role Rouvy founders could only dare to dream of, but it has become a reality now. The future starts today, so let's slam it! Enjoy your rides!