Greetings, Chris! Thank you for taking the time for our interview! What is your home country and town where you spent your childhood?
My home is Saint Cloud, Minnesota in the U.S.
Please, could you describe your story of getting acquainted with cycling and your first bike?
I've been biking most of my life. I used to bike to school, including during the winter. There were a few years when I didn't ride much after I got my driver's license. Then, I had a leg injury where I tore a quad. I started riding again to strengthen it back up, and have been riding ever since. That was a little over 25 years ago. My first bike I bought at that point was a Raleigh R300. That's the oldest one I have left hanging in my garage that is yet waiting to be brought back to life.
Where are you based at the moment?
I am still in the Saint Cloud area; I've moved around a few times, but have stayed within 10 miles of where I started.
What are you doing outside of the training room (workplace)?
I work in the Information Technology area at a local university.
Nice! :-) What does your "PainCave" look like (bikes, trainers, accessories)?
I have a couple of bikes that I rotate on the trainer, depending on the time of year. In the winter, I usually use my main road bike. In the summer, I use one of my older bikes. I sometimes use an iPhone or an iPad connected to the TV via an Apple TV, and sometimes I just use a laptop. It depends. I have the bike setup behind my couch in our basement living room - with a number of fans around me. I don't think you can have too many fans.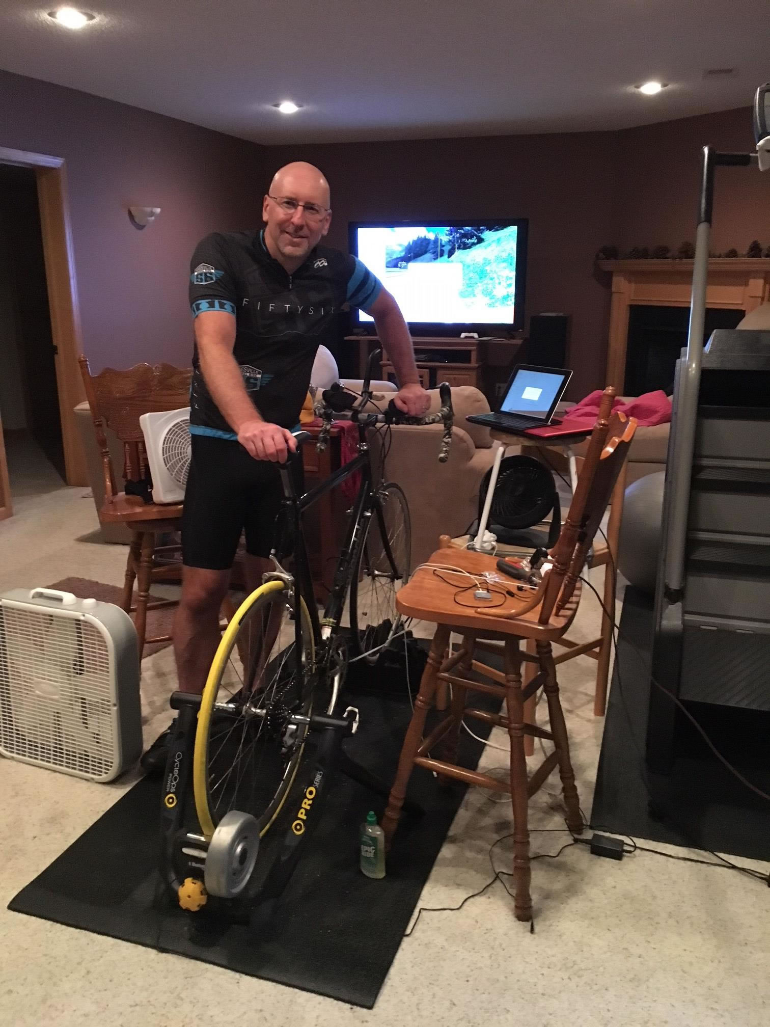 How long have you been training on Rouvy?
Started in the fall of 2015.
Good job! Which types/brands of trainers have you already tried? Which one is/was your favorite?
I've only used the PowerBeam Pro so far.
How many hours per week do you usually spend on a trainer during the winter season?
About 6-10 hrs. in the winter. Less in the summer, as I'm usually on the road.
Great! Did you focus exactly on a "Rouvy Career"? When did you start?
I think I started on the career pretty quickly.
Which task was the hardest one for you to proceed in in "My Career"?
Haleakala comes to mind pretty quickly. I think it took me about 5-½ hours. I'm not a great climber. I cramped up pretty good on that one, and called my wife on the phone (who was upstairs) to bring me some salt tablets, which I usually only use on my gravel road endurance rides.
Which feature do you consider as most useful in Rouvy?
I like the videos and having all the data in front of me.
Why do you think each cyclist should try Rouvy?
For me, with a smart trainer, even just having a destination on a map, made a lot of difference as a motivation to keep riding. I used to get bored on the bikes at the gym pretty quickly. The videos were a bonus. I also cross country ski in the winters, but we haven't received much snow in recent years. Winters are definitely not what they used to be here. I needed something else to fill in when the weather wasn't cooperating. This has been great, and it's made me a better cyclist come summer time, also.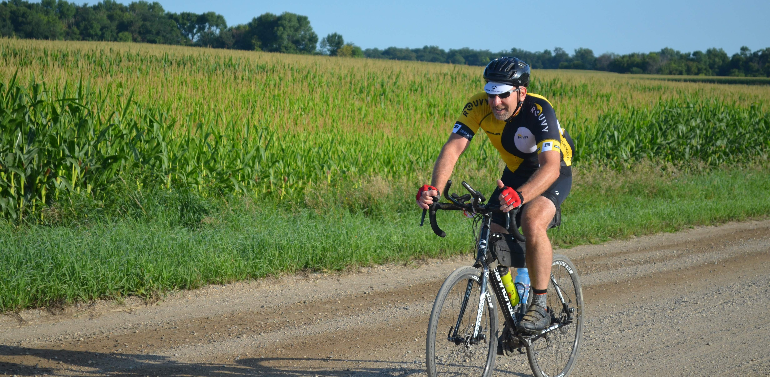 How do you balance your work, personal life and cycling trainings?
That's tough. When it gets busy, my cycling miles drop. The trainer helps sometimes because it's so convenient. You just hop on and go.
Any advice or final encouragement words to the cycling community?
Have fun and be safe out there. Virtual Training is a good option any time, especially when the weather's bad or you get the inevitable "road traffic fatigue" at times.
Thank you for taking the time to chat.Congratulations and all the best from the whole Rouvy team! Keep up your pace and ride on. We hope you've enjoyed this interview as much as we have. For his great achievement, Chris received a package containing a new Rouvy jersey and cycling bottle.