Greetings Tõnno! Thank you for your time! What is your home country and town where you spent your childhood?
I was born in Elva, a small town in southern Estonia. After completing the first class of school, we moved with our family to Tartu. This city of less than 100,000 inhabitants is also located in southern Estonia, and is also called the city of the university. Every year, there are bike races, called the Tartu Road Race and the Tartu MTB Marathon. Both competitions draw among the top 3 number of participants in Europe. Everyone can take part - both pros and beginners.

Please, could you describe your story of getting acquainted with cycling and your first bike?
I was 12 years old when I went to bicycle training in Tartu. Besides my children's bike, my first bike had a steel frame and was a 10-speed. At that time, all the beginners had the same bikes, and everyone was happy. It was during the time of the Soviet Union. We saw foreign bikes when older and stronger riders at our club went home. The Soviet Union had both Olympic and World Champions, such as the man, Aavo Pikkuus, and the woman, Erika Salumäe (twice the winner of the Olympics; the second time she represented independent Estonia). They started their careers in the same area. Later, I traveled with the Estonian Junior team to various competitions and to Central Asian camps. Today, you have to pay a lot of money to get to these areas. Since then, I've had an interest in traveling. As of now, I've ridden and just traveled in most of European countries. The Continent I have still not visited is South America.

Where are you based at the moment?
For the last 20 years, I have lived in the Estonian capital, Tallinn.



What are you doing outside of the training room (workplace)?
My wife and I have a business dealing in laundry services for hotels and restaurants. The company operates 7 days a week.
Wow, so you are really "busy man" :-) How looks your "PainCave" (bikes, trainers, accessories)?
I've placed my training equipment in a separate corner of a small warehouse. The warehouse door is located opposite the door of my office. I have to take just 10 steps to get to my CycleOps Power smart trainer. Currently, I have 3 bikes: road, cyclocross and fatbike. Previously, I also had an MTB bike. I can ride everywhere, both in winter and in summer. All bikes have a road or cyclocross handlebar and almost the same riding position.
How long have you been training on Rouvy?
When I was young, I hated indoor training on rollers. During that time, we rode and looked at the opposite wall for 2-3 hours. In Autumn, 2016, I visited my Australian friend, Elar, who is also a bicycle enthusiast. He had 2 Tacx trainers in the garage. I tested them a bit. He also talked to me about different platforms. When I got home, I bought my first trainer. Soon after, my wife discovered that the living room had lost a large TV, and so it began.
Nice! Which types/brands of trainers have you already tried? Which one is/was your favorite?
I have not had the time to try different trainers, but I feel that direct drive is the right thing. Currently, my training place, after a long ride, looks like a Formula 1 track after the race - rubber crumbs everywhere.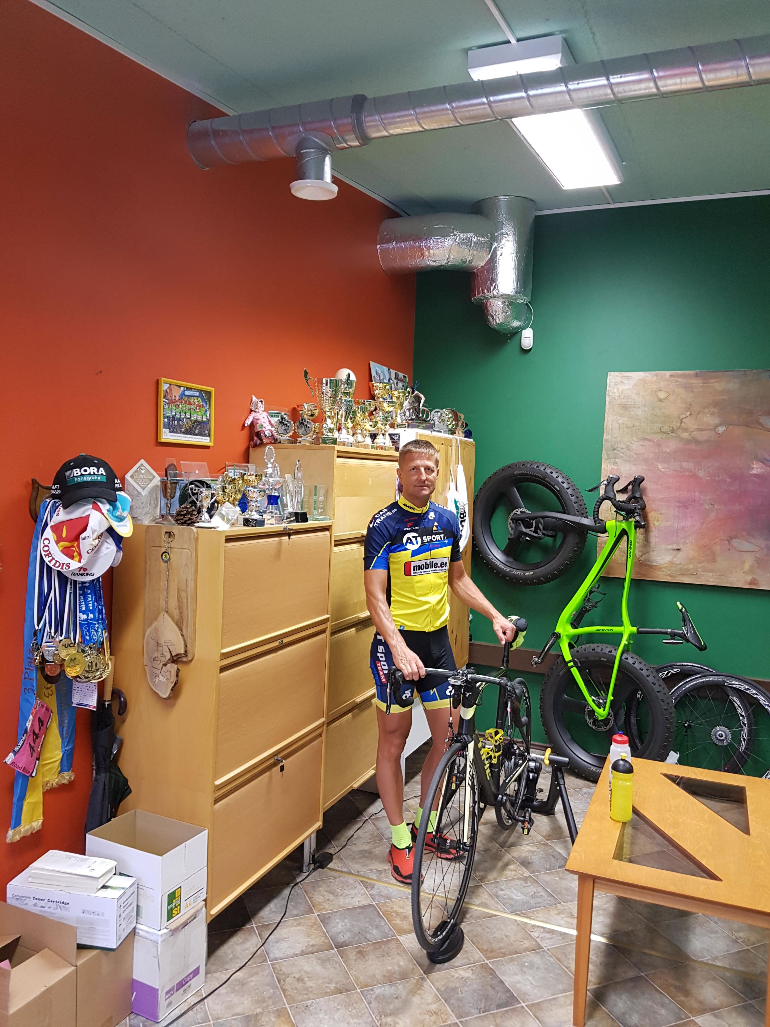 How many hours per week do you usually spend on a trainer during the winter season?
That's easy to answer. It is necessary to open the Rouvy page and view the statistics, which show 7-10 hours. Some weeks, the number is 0 because I've been traveling. But usually, I also did some time at the gym while traveling.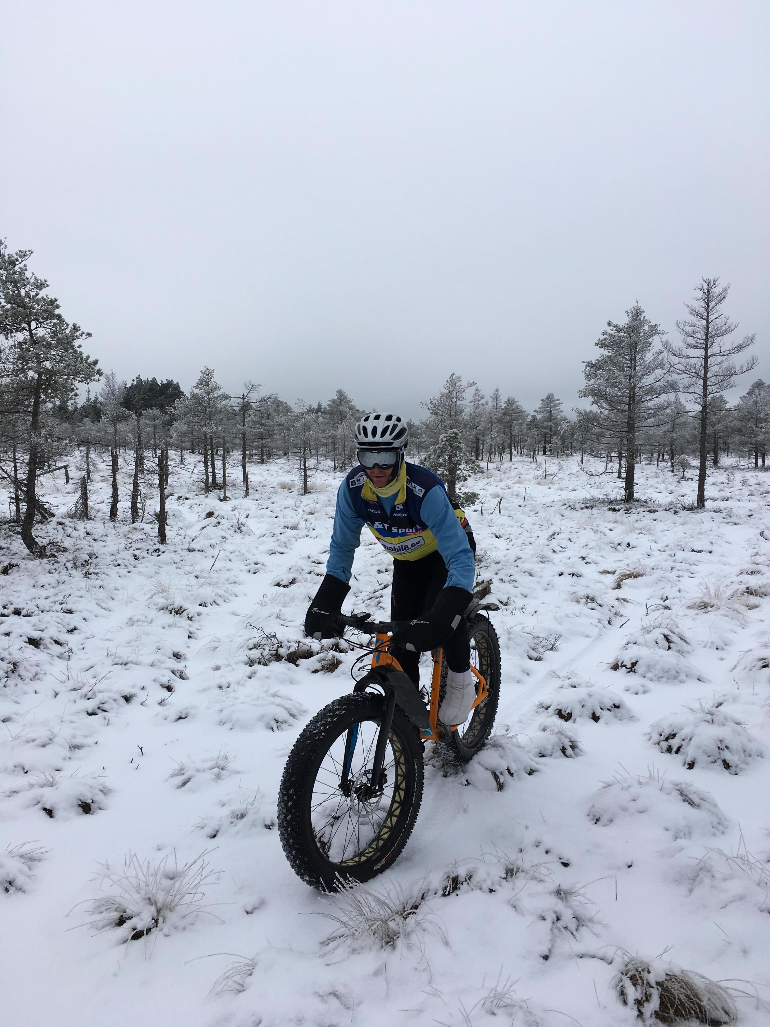 Woow! Great work! Did you focus specifically on a "Rouvy Career"? When did you start?
At first, I just rode and tried different ways. At some point, I discovered a career opportunity. I have to admit that it has helped me to train sometimes when I have been lazy. Later, I was smarter. I made long rides during double points weekend, outdoor rides and collected race points properly. I have great respect for those who have become a Legend only on a smart trainer.
Which task was the hardest one for you to proceed with in "My Career"?
For me it was Haleakala. I had to do it twice. The first time, I did not eat enough and the water bottles were empty after the second hour. No one was nearby in order to give food and drink. I rode until the 3rd hour, then I abandoned it. The second time, I left the last mandatory task and just rode through this path. I would say that I did not really like this trail. Of course, I do not have anything against Hawaii. Furka-Grimsel-Susten was hard, but I enjoyed the ride.
Which feature do you consider most useful in Rouvy?
I think that, thanks to the high-quality videos, it's a real feeling. I must say "thank you" to the video makers. I, myself, have ridden some of the famous uphills in reality, and there is a recognizable feeling. Online races, workouts and statistics in the same place are all very OK. I like it so much that I can also upload my outdoor rides.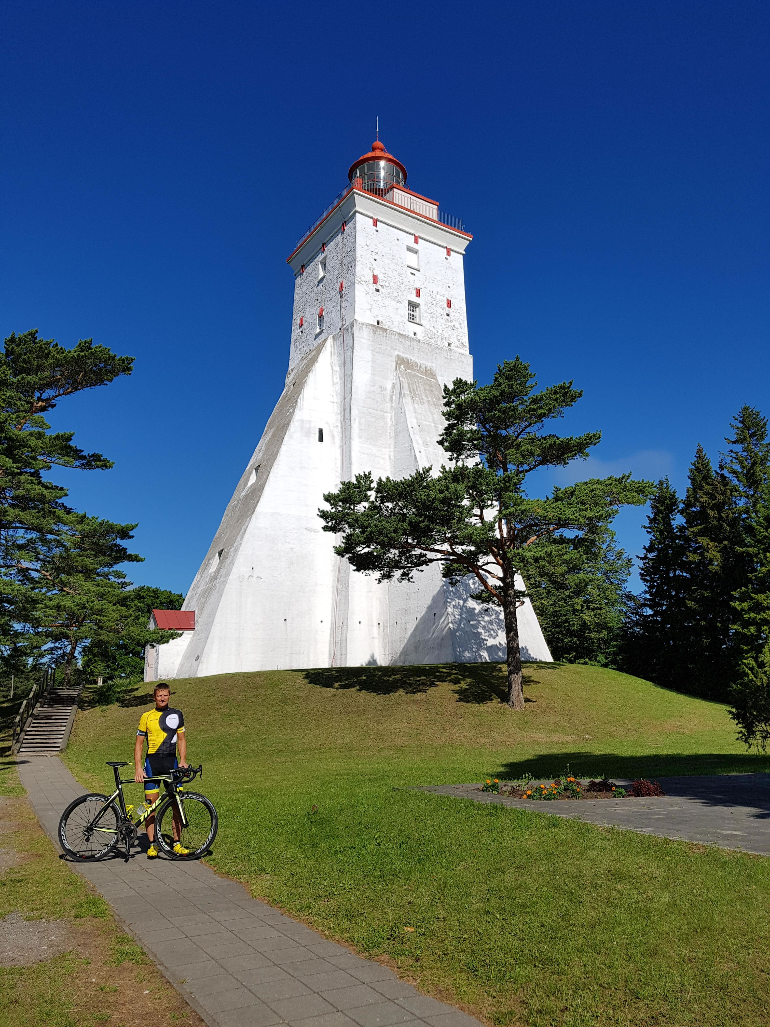 Do you still miss something in RouvyApp? Any particular feature?
Workouts with real bike racing video. That would be exciting. It feels like you are participating in pro races.

Why do you think each cyclist should try Rouvy?
It's ideal for saving time and learning a bit for yourself. I know that many people are sitting in a car for hours on the way to a training place. Rouvy provides a good opportunity to train in all weather conditions.
How do you balance your work, personal life and cycling trainings?
Sometimes it's complicated. I have a lot of logistics in my head all the time. At one time, you cannot be in different places at the same time. Home, business, traveling and races on the weekends. Sometimes, you have to make choices. Luckily, my wife understands and respects my hobby. Very often, my bicycle is the third member of our family when we are traveling.
Any advice or final words of encouragement to the cycling community?
Statistics are a good thing, but do not waste too much time on them. I know some guys, who only analyze and talk a lot about theory. Unfortunately, for years, they have not seen any good results in competitions. Make training time! Try to stay true to yourself. If you are not given a super engine at birth, then find your strengths and work with them in sports and in everyday life.
Thank you for the time taken to chat. Congratulations and all the best from the whole Rouvy team! Keep up your pace and ride on.
We hope you´ve enjoyed this interview as much as we have. For his great achievement, Tõnno received a package of the new Rouvy jersey and cycling bottle.