First of all, we have to say this interview was created before Cape Epic and we´re so excited Jaroslav Kulhavy and his teammate Howard Grotts dominated during the whole week. At the end, they reached the very TOP and became Absa Cape Epic 2018 champs!
The Final 7th Stage of Absa Cape Epic 2018
Let´s get back to promised interview so you could look under the hood of Jaros´s beginnings and daily routine. (If you want to check out the last month guest post, you´re welcome here.)
Jaroslav, let's give our community a bit more of your background. What is your hometown and where did you grow up?
I was born in Ústí n. Orlicí (Czech Republic), where I started to ride the bike and began my Career. It was great that we had an MTB team and, also, a regional bike series (Orlický MTB Cup). There were races in downhill, XCO, marathons or UP&Down. It was perfect preparation for me because I had a chance to ride with older guys; moreover, we had a lot of fun in our crew.
In the last few years, I´m often in the Beskydy mountains (my wife is from Ostrava) and, also, in Prague, where I have a lot of activities regarding sponsors, meetings etc.
Do you remember your first bike?
My first bike? It was a BMX and trial bike (with modified gears). Those bikes gave me great joy, tons of kilometers, as well as a lot of jumps. :) However, I participated in my first races when I got my first mountain bike. It was Reta brand. After a couple of months, I let it be customized to the race design of Fort (which I raced for then).
Would you give us an idea what your training cave looks like, and if you have one at your home - trainers, bikes, accessories?
I had a huge garage full of bikes and material, whether it was in my parent's house or mine. In my paincave, I have a few trainers, of course. I also set up a small gym, so I don't have to leave my house during the winter season. Currently, I also have one profi trainer on which we make complete tests, together with my coach and biochemist (lactate test etc.).
MTB vs Road was an easy and natural choice or not?
I´m mainly a mountain biker. It was a natural choice due to nature, freedom, and fun; and besides, I really love to play with my bike. I´ve started to use my road bike since Juniors for my training. Right now, I use my road bike more because it's better to build endurance and for longer sessions. But, I like both the mountain and road bikes, of course. Moreover, I also use a snow and gravel bike to make the training more variable. It's never boring if you combine more bikes and terrains.
Your favorite races and countries?
I cannot say. I think the most spectacular places are in the Alps. You can ride long climbs on a road bike and, then, switch it to a mountain bike and improve your skills on amazing trails. And all done in wonderful nature. What else could you wish for? On the other hand, the Czech mountains are also cool.
And about races? I´m totally into Cape Epic, where there are a lot of great single tracks. You ride with your teammate, so easily it's something different. The truth is I like marathons more than XCO. Why? I can experience new places, the conditions are varied throughout the course and, in general, you don't have to ride the same short lap over and over again.
The most memorable moment in your career so far?
It's definitely the Olympic race in London, 2012, where I won the gold medal in XCO. My biggest sports dream came true in Hadleigh Farm.
How does having a career as a Pro cyclist affect your personal life?
It's quite difficult. Anyway, I got used to it, and it's a kind of lifestyle for me now. Sport inherently belongs in my life, and I also believe it´ll be a part of my life when I end my professional Career. So, I want to definitely be close to the sport in my future job.
Do you feel your career is complete now or is there yet an unbeaten peak to conquer?
You can always look for new goals. Although I win everything, what I can accomplish in mountain biking, i.e., medals from World Cups and Championships, never gets old. :) I still want to add some more to my collection in the next years.
Which technology do you think will affect MTB and cycling (in general) the most in the next 10 years?
I suppose there will still be progress made in training preciseness, development in the field of regeneration and, of a certainty, new gadgets in the field of technology. Personally, I expect, for example, bike tires filled with some special material instead of air, so it can't be punctured. In the modern era you never know, so maybe we´ll be surprised by someone.
What is the latest tech device that you've been amazed about or are waiting for?
There are probably more things to come in this field. You can plan your training just by a few clicks via cell phone. You can measure your power output, ascended meters and position much more precisely than ever before. Thanks to Rouvy, I can simulate any climb/course that I want to, set up any workout made by my coach via an intuitive interface, and that's so important in modern sport. It's about details. All of these technologies help athletes to overcome their limits.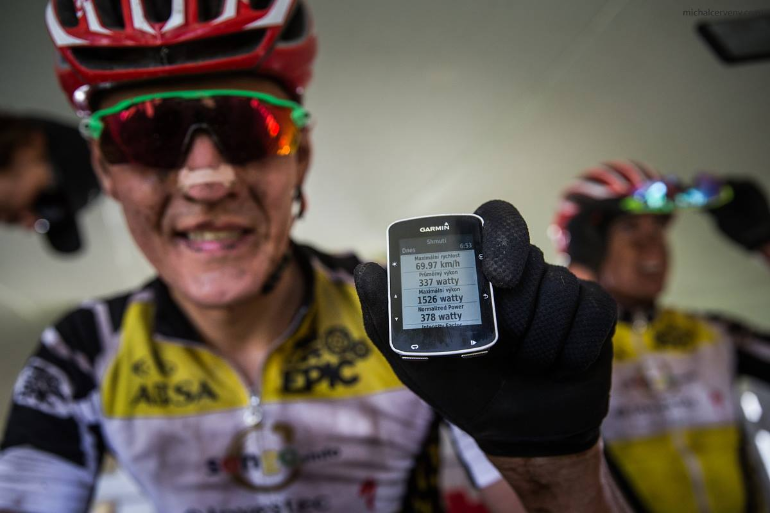 What are your current goals for the upcoming season?
The closest goals are in South America. There is the start of the World Cup and, most importantly, Cape Epic has its kickoff in Cape Town on March 18. Then, there are other World Cups and, at the very top, is the World Championship.
In the long-term, my goals are about the Olympic games in Tokyo.
What is your favorite route in the Czech Republic for a training ride?
Currently, my favorite places to train are Beskydy and Orlické Mountains. That is all I need to make my training as efficient as possible.
Some final words to the fans and community...
Ride your favorite bike, take the opportunities which cycling offers and try to avoid thinking about any problems. Just enjoy the moment - whether at home or outside.
We hope you enjoyed both of these posts about Jaroslav, and we are happy to have such an amazing athlete as our brand ambassador. If you have any other questions for him, don´t hesitate to write them in the comments and we´ll ask him for answers.
Jaro, we wish you a successful season, to stay healthy and thanks for your time!
P/S If you want to see actual news from Jaroslav, check out his web or follow FB Fan page.