As promised, we publish the next stretch of challenges one week before the start of the new quarter. The only difference this time is that, in order to make it more flexible, it will cover the next 3 months. From the Dolomites to the Alps, you get a chance to win sweet prizes and cool-looking Finishers badges!
Aah, and talking about prizes...don't say you don't like to look cool? (In case you are not an Instagram user and missed the original publishing, here it is.) The brand new Rouvy jersey for this season, produced by our partner, German-made Biehler Cycling Wear, will help us achieve just that as it becomes one of the challenge prizes.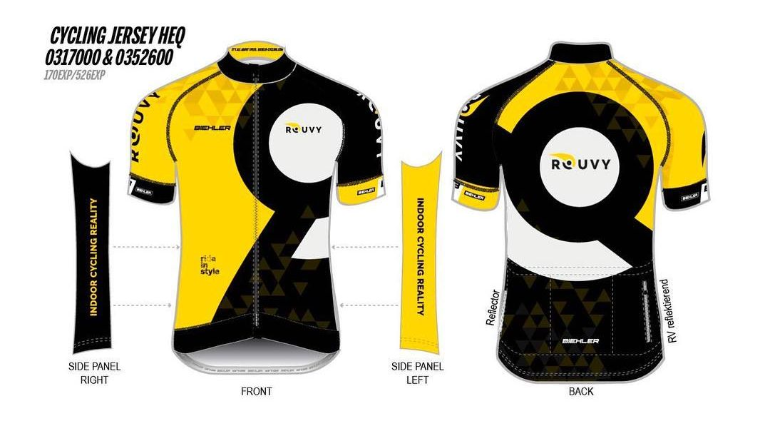 [What do you think of this model? Let us know in the comments.]
We know that to be hard-working and lucky at the same time does not depend on you. It's not a problem...we remind you that you can reach a Legend status in our Career Mode, and this jersey will be yours.
Is it too dark or smoggy in the evening? Is it too critical to keep the training schedule, or, maybe, is it time to improve your pedaling stroke technique by monitoring the advanced pedaling data with our Virtues™? The list goes on and on. There are multiple reasons that prove the indoor trainer has become a cyclist's year-round friend. Our challenges are designed to do just that and are always easily found on the map and in your apps. So, finally, let's jump to the menu:
Badge

Name/Dates

Prizes

MTB Challenge

26th March - 31th March

1 random drawing for one custom-size Rouvy Jersey signed by Jaro!




BikeLab Challenge

2nd April - 30th April

3 random drawings for BikeLab vouchers.

250 Euro
150 Euro
100 Euro

GIRO 2018

4th May - 27th May

1 Random drawing for one custom-size Rouvy Jersey.

CycleOps Distance Challenge

4th June - 1st July

- 1 random drawing for CycleOps Rollers.

- 5 random drawings for CycleOps Speed or Cadence sensor.

PowerTap Endurance Challenge

4th June - 31st July

1 random drawing for PowerTap P1 pedals.

Le'Tour 2018*

7th July - 29th July

- 1 random drawing for one Rouvy Jersey for men.

- 1 random drawing for one Rouvy Jersey for women.
*Yep, bonus! if you have noticed, Le'Tour Challenge is not in Q2, but we provide the opportunity for all Grand Tour admirers to plan its vacation and training efforts in advance. If you never had a chance to visit France and experience the iconic roads for every cyclist, we may be able to help you. With the Rouvy focus on the absolute reality simulation and its list of routes from The Tour, you are able to experience the same ups and downs, sweat and joy along with the pros in July. So, take care of your timing ahead.
Important notes
Unless it is a type of exclusive promo and directly stated, you don't have to take any extra action to be eligible for a prize. Join and complete the challenge task, and you are in there for a chance to win!
To make it easier, we will send a reminder for the branded challenge starting a couple days/weeks in advance. Facebook is not a reliable way to keep up with Rouvy updates, so we strongly recommend you subscribe to the newsletter, if you don't already receive our newsletters. We don't bother with miscellaneous items and send updates only when there is something important to say.
Standard Challenges will stay on the map and in apps with no special reminder.
Challenges for July - September (Q3 - the last quarter of the Rouvy Season 17/18) are to be announced in the last week of June.
So, the Challenges for the next period are published, registrations are opened and we´re looking forward to your tremendous efforts. Let´s show the others you´re well prepared to beat the best and yourself in the first turn!
P.S. If you think this announcement deserves the attention of your cycling friends, please help us spread the word by sharing this blog post on your social media and online resources. Thank you and good luck in draws!