Following up on successful rebranding in the summer 2017, and unveiling a portion of detailed statistics for the first time, is a way to express deep gratitude to all cyclists who made these incredible numbers possible and made it a reality! The global community of Rouvy admirers is the one that receives all the credit. On the side of the Rouvy team, everything was made possible by available resources, so you could enjoy your training in the most realistic and fun ways. The following numbers prove this thesis to be true:
Over just one (1) month in January, 2018, Rouvy users (dubbed "Rouviers") have ridden an impressive 1,545 mln km altogether, demonstrating 2.5x growth in the conquered distance over 2 years.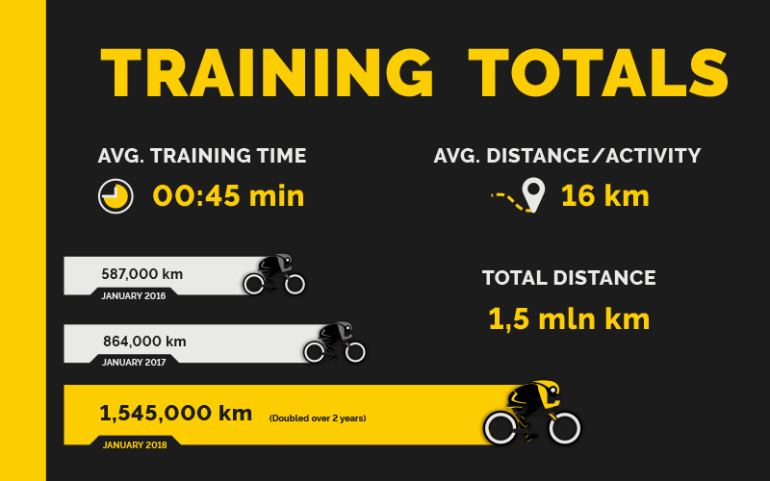 Average training time per session, as well as average distance per one activity, experienced almost no change over last years' numbers. The same relates to the ratio of smart trainers to power meters and turbo trainers with the 1-2% increase of the latter two.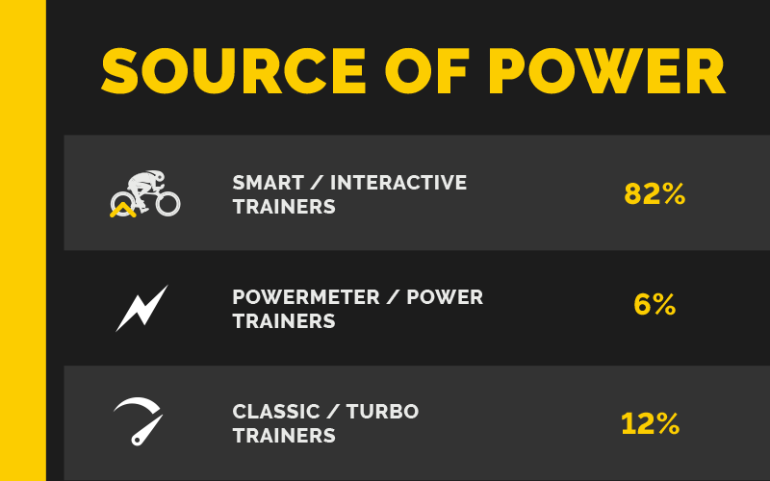 Rouvy registered residents from 104 countries on the platform. The palm tree of primacy of the TOP 5 most active nationals (by average) surprisingly went to Europe, making it even more unexpected, as the first line seldom experienced any kind of harsh winter. (Of course, this TOP has nothing to do with the number of users on the platform by geography in absolute numbers.)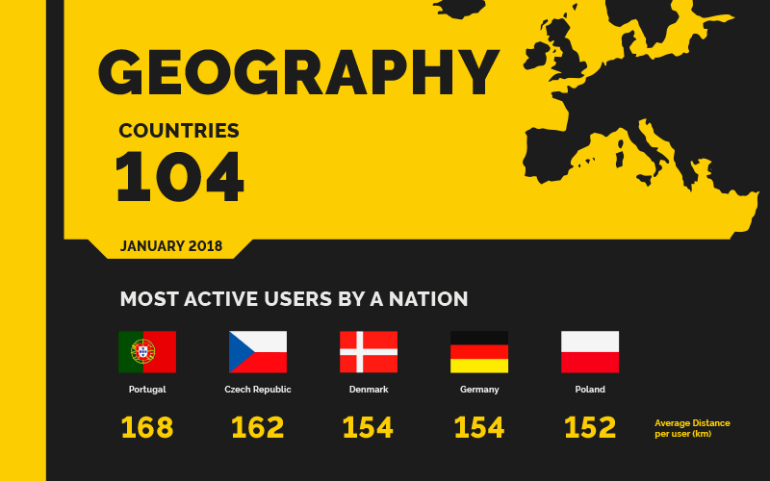 The number and distance of all virtual routes (including those without any video footage) available for riding has skyrocketed by doubling over the last 2 years, crushing 1 mln km mark of cumulative distance.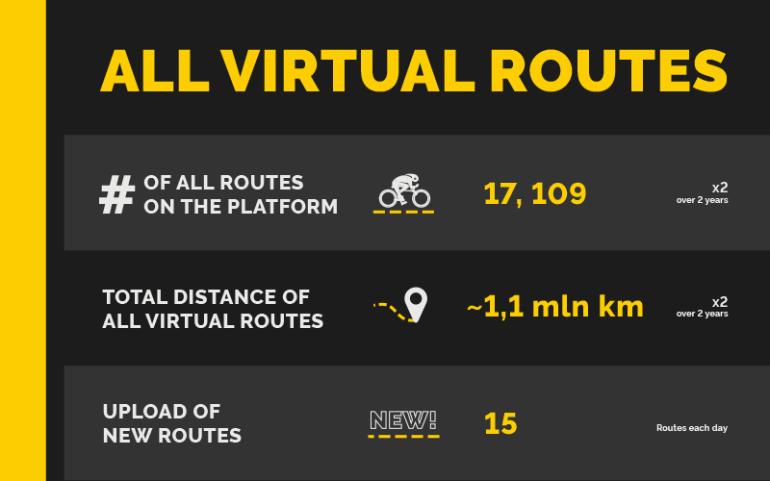 Finally, being the #1 platform feature, the number and total distance of geo-synced video routes continues to explode with 2.5x growth over the last years. 48K km of route video footage is enough to survive a decade of Antarctic winters on a bike trainer, while adding 2+ new video routes every day should satisfy any demanding cycling gourmet. (The Rouvy team, not unreasonably, hopes that the number in both picturesque and official race routes will continue to climb).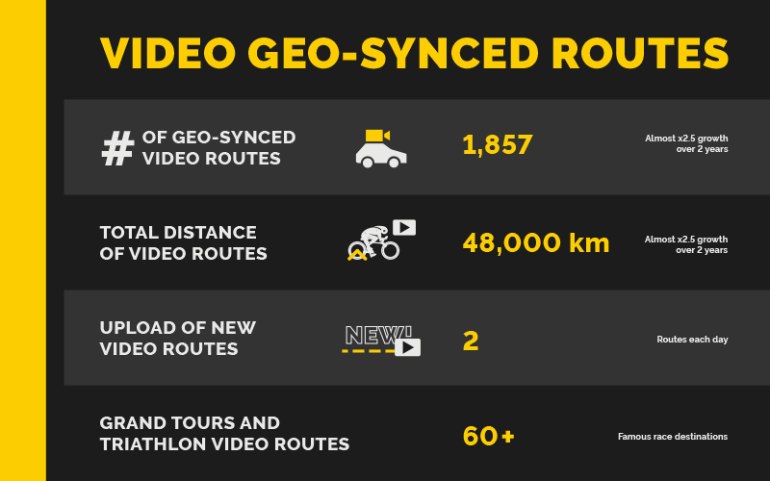 Listing of the published data for Jan, 2018:
[Please note that however fancy some minimum or maximum numbers could initially look in the starting data set, all questionable data has been discarded from publishing. It is due to the fact that some multiple numbers are just not possible, or would be too expensive to verify. Unfortunately, some unreliable percentage of the data filled in the rider profiles (or equal to default values) resulted in exclusion of data from rider profiles as well (for the sake of keeping everything valid and consistent).]
TRAINING TOTALS UPLOADED IN THIS MONTH:
Total Distance in km: 1,545,000 (1.6 mln)
Average Training Time: 45 minutes
Average Distance / activity: 16 km
SOURCES OF RIDER POWER: smart trainers 82% / powermeters 6% / classic trainers 12%
GEOGRAPHY COVERAGE: 104 countries
MOST ACTIVE USERS BY A NATION (January,
2018):
Country / Average Distance per user:
Portugal: 168 km
Czech Republic: 162 km
Denmark: 154 km
Germany: 154 km
Poland: 152 km
ALL VIRTUAL ROUTES:
# of ALL routes on the platform: 17,109
Total

distance of ALL virtual routes: ~1,100,000 km

Upload of new routes: 15 routes each day
VIDEO GEO-SYNCED ROUTES:
# of geo-synced video routes: 1,857
Total

distance of Video routes: 48,000 km

Upload of new video routes: 2 routes each day
Grand Tours and Triathlon video routes: 60+ famous race destinations
*All presented Infographic images are available for download in single files or pdf.
(Make sure to follow Rouvy on the company's official Facebook page. Additional data will be published there over the upcoming spring months.)
About Rouvy
Rouvy, an indoor cycling reality platform, is a software application with advanced pedaling analytics powered by VirtualTraining. VirtualTraining s.r.o. is a 100% Czech-owned company, based in Vimperk, Czech Republic. Focused on absolute simulation of reality and making serious training fun, the platform enables cyclists to bike the planet indoors over 2,000 geo-synced video routes, compete in online races and manage training data with no lock-in. Jaroslav Kulhavy, XCO & XCM World Champion and 2012 Olympics gold medalist in London, is an official company athlete and the face of the brand.
Press enquiries are welcomed to:
VirtualTraining s.r.o.
Namesti Svobody, 13
385 01 Vimperk
Czech Republic