It is time for a new year, new training goals, new challenges and a new update of the "Rouvy Spotlight". This one is kinda oldschool and long-read (which is still very enjoyable despite its length). Rephrasing Blaise Pascal (who invented omnibus - first public transport in Paris), we have made this longer than usual because we have not had time to make it shorter. Tom Maigatter, more visible as "tommaigatter111," is a type of solid-as-a-rock men, that have built the US country and its history. Let´s surf through the course of his life to turn a cyclist and become a Rouvy legend.
Greetings, Thomas! So, what is your home country and the town where you spent your childhood?
I was born and raised in Kewaunee, Wisconsin, USA, a small city on the western shores of Lake Michigan about 25 miles east of Green Bay, Wisconsin, and about 100 miles north of Milwaukee.
Please describe your story of getting acquainted with cycling and your first bike.
My first bike was an ordinary fixed gear cruiser that all the kids had. I rode the bike to little league baseball and bombing around with the neighborhood kids. My only claim to fame was riding up the Kewaunee River Valley back home and not having to get off the bike halfway up the hill. None of my friends believed me, so I went back down the hill with them and stationed one at the top, one in the middle, where we normally had to walk, and the final one rode with me at the bottom. I made the trip again without stopping and they finally believed me. It was a lot of huffing and puffing grinding up the hill, but I made it.
It was not until I was 20-21 before I got my first road bike, a now vintage Jeunet (French) 10-speed race bike.
I rode this to neighboring cities and villages, taking country back roads to avoid highway traffic. I also rode the bike to work, until a motorist pulled out in front of me at a stop sign. Luckily, I saw him and tried to stop, eventually sliding within a few feet of the car that had stopped while trying to avoid hitting me. Here is a picture of the bike, same color and everything. My brothers ended up using the bike at college. I was in the US Army at the time, and it was okay with me.
This one has a great vintage look! And, where are you based at the moment?
I now live in Green Bay, Wisconsin, USA, home of the National Football League's Green Bay Packers. Stop... don't ask for game tickets because I don't have any and there is a 30-year waiting line for season tickets. Of course, if the Packers start stinking up the place like they did in the 1970's to 1990, tickets may come up sooner. True story: parents put their newborn children on the waiting list and those people might not be contacted until they are in their mid-30's. Go Pack, Go!
Maybe we'll ask for the tickets next time ;-). If one day we happen to find our team riding in your area.
ROUVY is the essential training platform for cyclists living in extreme weather areas! I live in Northeast Wisconsin, and while most people have four seasons in a year (Spring, Summer, Fall and Winter), I only have two seasons: Winter and Road Construction. :-) In my state they are very good at building new roads; yet, they do a horrible job of maintaining them. I don't have to ride the cobblestones of Paris-Roubaix. I can ride some roads around here that are worse than the worst cobbles. My riding season starts in mid-April (when all the road salt is off the roads) and continues until mid-October. I envy those who can ride all year long. I also envy those who have mountains to climb. I can ride for 100 miles and only climb less than 1,500 feet. I can stretch that to 2,000 feet, if I repeat hilly sections. For those reasons, I have a year long subscription to ROUVY. In the off season, I ride exclusively ROUVY, and during my outdoor riding season, I'll use ROUVY on days when it is raining or very windy. I can accomplish more training this way, incorporating mountain climbs, cadence workouts or other areas in which I need work.
What are you doing outside of the training room (workplace)?
I'm currently retired since April 23, 2011. I worked for 30 years as a Correctional Officer for the State of Wisconsin at the Green Bay Correctional Institution (GBCI). GBCI is an adult maximum security prison. Before that, I worked in retail sales and before that, I was in the US Army. My last duty station was in Goppingen, Germany, part of the First Infantry Division (Forward). That meant a battalion of the First Infantry Division, located at Fort Riley, Kansas, was permanently stationed in Germany as a rapid deployment group.
Today I own a Trek Madone 6 series and a Trek Domane 4 series as my main rides and almost all the components have been upgraded. I'm happy I'm running the same 34-32 cassette gear ratio as Chris Froome uses on his high mountain stages, including Angliru in 2017. I just had a yearly maintenance package done on both bikes and replaced those that needed replacing. Some still had some life on them. When spring rolls around, I'm ready to go.
Please describe your training cave (bikes, trainers, accessories).
My "Pain Cave" has a TREK Pilot road bike permanently fixed into my CycleOps Hammer. I don't change bikes and when I need to ride indoors all I need to do is turn on the computer, activate the sensors and I'm ready to roll. I changed the chainrings because they were worn out, got a new cassette that handles hills easier (remember easier, not easy) and a new chain because of size difference.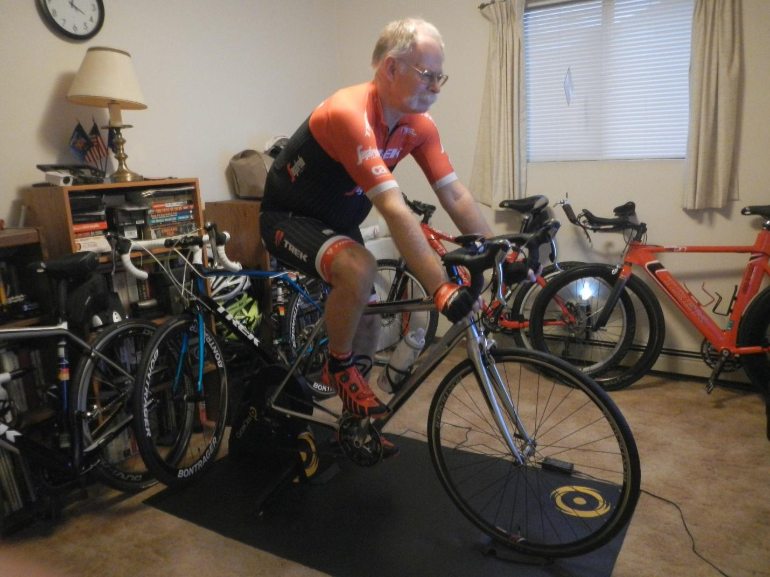 I use the CVT Desktop (Windows 8.1 with a 4K HDMI cable hooking up the output HDMI on the computer to the input HDMI of a 50-inch (140 cm) TV monitor. The computer and TV are both 4K, so the picture is really nice and it is easier to read the side graphics while seated. I used a 32-inch (81 cm) monitor, but the screen size was too small to read the print. I have a 3-speed, 20-inch (50 cm) box fan sitting on the floor. I have a window, but I'm not Larry Tommie - I won't open my window during a snowstorm.
I started in 2011, my year of retirement, on a CycleOps Fluid Trainer 2. I went through that one after 20,000 miles. Eventually I traded in one Fluid Trainer for the PowerBeam and gave the other Fluid Trainer to someone who needed one. My training was pretty primitive. I used the winter training program from Trainin4cyclists by Jesper Therkildsen for the first year and, then, used training programs from Cycling Fitness, until they stopped publication. It was old school - pinning the workout with clothespins to the brake cables.
That sounds painful... Back then our software was only shaping its concept.
I was really tired of looking at the workout sheets and the wall, when I walked into Stadium Bike and asked if they had anything I could use for motivation. Randy, the owner, and Josh Hanson, the manager (more on Josh later), said that CycleOps had just come out with the first generation smart trainer and I could use a Virtual Training app that would really work for me. That's when I got my first smart trainer, CycleOps Powerbeam Pro 5940. I used the Powerbeam, but wasn't happy with the lag in the resistance unit whenever I got off the saddle and danced on the pedals. I also noticed the lag when going uphill. I sent CycleOps an email to see if there was a work around for this problem and they said no, that's just the way that RU worked. It takes time for RU to react to changes in speed or elevation. They suggested that I try their new direct drive Hammer, and I've been happy since I bought it. It's true that I don't get a break at the beginning of climbs, but a direct drive trainer comes as close to outdoor riding as you can get. I listen to Blues, Smooth Jazz, Classic Rock (1960's-1970's). With my MP3 player and SD cards, I added Doo-Wop and even a Christmas SD card full of every genre available.
How long have you been training on VT-Rouvy?
I started my first one-year subscription on January 9, 2016. I set up the CycleOps PowerBeam (it was a pain) on January 10, 2016, and on January 16, 2016, I did a calibration test and then, rode a short test ride. For my first official ride, I did Alpe 'd Huez. "Painful and unnecessary," was my report when I wrote back to the guy who helped me set up the PowerBeam.
The CycleOps Hammer was much easier to set up. Put in the bike (sans rear wheel), go to Settings on screen and Locate Sensors. Let them pair, and you're ready to go in under 10 minutes. Like Larry Tommie, I like real life video and with a large screen to look at, seated in a race position, it is just like riding outdoors (minus the wind and traffic). I did some research before, and what was available for me turned out to be the best product available regardless of having access to them. I was really lucky.
How many hours per week do you usually spend on a trainer during the winter season?
I only started cycling full time starting when I retired in 2011. Before that, I was a distance runner. I competed for almost 40 years at distances from 10K to 24-hour track runs. (On this picture the medals on the wall are from running.) I also did a stage run for the Special Olympics from the Munich Olympic practice track to Frankfurt - about 201 miles over 5 days. I've finished 6th place in a marathon and 10th place in the 91st fastest time for 50 miles in 1979. The scariest moment for me was getting into an Invitational Marathon, the XII International Invitation Marathon to Athens Greece in 1975. It was scary because I was given race number 2. Yikes!!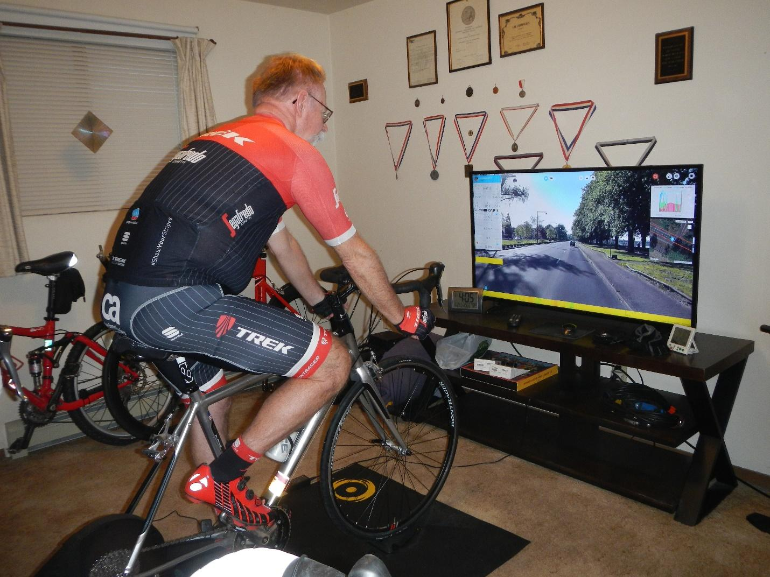 I've read Larry Tommie, Steve Vander Waal and Jesus Tabuyo interviews and they spend 7-10 hours a week. I can and have done 7-10 hours in a day, but my weekly average might be in the 20-25 hours range and more, depending on what I want to accomplish that week. Think big mileage and time week. That can easily double the hours for a one week only time frame. Outdoors - think of doubling that to 40-50 hours with many 60-90 mile rides and up to 139 miles. I wanted to do a double century of 200 miles, but my battery died on my Garmin Edge 1,000. I had too many screens going and that cut the battery life by almost half. My Power Tap power meter still had life, though, getting me home and still running.
That is pretty impressive! You are probably the most hardworking athlete over here (but we should check ;). Did you focus exactly on a Career Mode?
When I first signed on with VT-Rouvy, I had no idea what I was doing and had to learn step by step. I came upon the Challenges in the middle of some and near the start of another. Not knowing what I was doing, I waited until the start of a new Challenge and, from there, found out you could do multiple Challenges at the same time. You can laugh at me if you want, but I was completely happy to get from Starter and finish at Novice. I then took it one small step at each level and after less than 2 years riding, got lucky (sure, hard work helps) and am now The Rouvy Legend. I still can't believe it. An "Ordinary Average Guy" song by Joe Walsh is now a Legend. If I can do it, believe me anyone can. Thanks to VT-Rouvy for dangling those little bits each challenge. They aren't easy, it was never intended to be easy, but you can finish them if you try.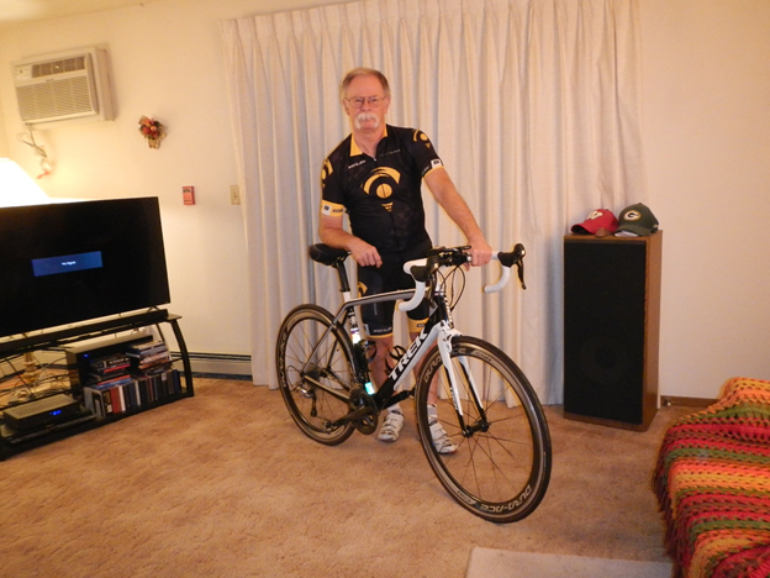 [Since January 2016 Thomas rode a total distance of 19 053 miles. Longest Ride: 139 miles (4h:18min). Total time: 1510 hours. This allowed him to reach a "Legend" status that is being awarded based on the mix of completed levels, challenges and scored points.]
Here we should give you a round of applause ( \0/\0/\0/ ). Which task was the hardest for you to proceed with in "My Career?"
This was easy for me to choose:
Workout: The Blender, 1 Hour and 43 minutes of pure misery. If you've done it, you know; if not, consider yourself lucky. 50% minimum FTP, 83% average FTP and 140% maximum FTP.
Route: Haleakala (Hawaiian for "What the Hell"). For someone who is not a climber, the 9983.6 feet (hell, call it 10,000 feet!) at 5% average and 16% max, I thought it was higher at a few points. It was almost as bad as The Blender, but with The Blender, the time is the endpoint.
Whoever thought of these two workouts deserves their place in hell. Just kidding, but no Christmas for you this year. I already told Santa.
We will definitely pass your appreciation on to our "product owner," so he can prepare something special for next year as well. Which feature do you consider as most useful in VT-Rouvy?
I can't say... editing my information or other technical features, but the one thing I enjoyed from day one was the virtual rides. They are even better with 4K cameras because you even notice the stones in the pavement. Take a trip on the 2017 Tour de France Prologue and tell me that when looking closely, it's like you are right on the road. The road editing, syncing up all the traffic signals so you flow through the intersection without stopping, was perfect. Those who do routes can learn a lot from watching that ride.
Also, it allowed me to ride on roads in different countries. I've seen how the roads are constructed and maintained.
Do you still miss something on the Rouvy platform? Any particular feature?
Like Larry Tommie, I would like to see age grouping. I told you I'm old! Eddie Merckx is 5.4 years older than me!! I just turned 67, but am still classified in the 51+. That is a large gap in age, although some riders might not like being beaten by this "old man," if they showed age classification.
My question to VT-Rouvy: Who is the oldest rider competing? I've seen some listed as "geezer" and "old geezer," and I'm 5-10 years older than those guys, and that gap is huge when you consider the drop off in performance that is calculated according to my Textbook of Work Physiology.
A-ha-ha, unfortunately we can't help here... We have 200+ users with a birth year dated in 1911 - 1930. So, once we figure out the way to verify data, we'll let you know. And how do you balance your time: personal life and cycling sessions?
Like Larry Tommie, I'm retired, so I can cycle anytime I want. I can tell when I need a break. My power numbers drop and even though I can push through a workout, it becomes harder each day. Since my bike is ready to go, sometimes I feel like it mocks me when I look at it. "I'm ready to go fat ass; let's do it." That's what I think it says when I walk by.
All I need is a two-week break from training. I still go on short easy rides every day, but the hard training doesn't start until I'm refreshed. It's sort of like rebooting your computer, clearing out the junk and starting over. I've been told I have a big engine from my years of running. I tell those people that it may be a big engine, but it's old and needs to be overhauled. My biggest problem right now, other than creeping age, is my left hip. I need it replaced, but can't see spending 4-5 weeks recovering after surgery before being allowed to cycle. It's painful watching me get on and off a bike. It's worse watching me walk.
We wish you to get well ASAP anyhow! Any advice or final encouraging words to the cycling community?
I was reading the blog of a Challenge, and a newer rider posted that he was waiting for an easier Challenge. I think it was riding 300 miles during a 20-30 day period. He saw 300 miles and by itself, it is threatening, but taken in small chunks, anyone can do it. They don't call it a Challenge because it's easy; it's a Challenge to improve yourself as a cyclist. I thought cycling would be easy. Hey, you are sitting down during exercise and how hard is that. Well, I found out quickly it may look easy, but there sure are some fast riders out there!
For those riders who have the power and heart rate to ride fast, enjoy your time at the top. Just remember, the first thing to go is speed. Always work on speed before distance. I learned that from running.
For those riders who enjoy climbing, or are really good climbers (you know who you are), my condolences when they finally have you committed.
For the rest of us mere mortals, enjoy the ride and adventures. It can never get boring when you explore new avenues.
Thanks for sharing your story, Tom. Congratulations and best regards from the whole Rouvy team! Stay healthy, fit and ride on.
For his great endurance, Tom (like every legend) received a package of handy items personally signed by Jaroslav Kulhavy - European champion, 2012 Olympics gold medalist in London and silver medalist in Rio.