From Beginner to Elite, everyone is riding to achieve a goal, and we want to help you reach that goal. What does the term "Rouvy Guide" mean? What does it mean to be guided? The answer is easy; you don't need to think about your next training. Just choose one of the predefined workouts from the "Rouvy Guide" library, and you can be sure you'll improve your skills during the indoor sessions. These workouts are set up, based on cooperation with licensed coaches, to be as effective as possible. Even though these modern knowledge workouts are no longer than one hour, you will still face many hard intervals, changes and surprises. Why are these guides achievable for anyone? Because they are based on your FTP, so they adapt to your performance level and needs.
And now the most important subject - what are the guides about?
Structured intervals synchronized with the best Real Life Videos from our library.
Motivational music chosen for each interval to bring you the best experience.
Each workout is designed for various cycling skills.
Additional information available during the workout.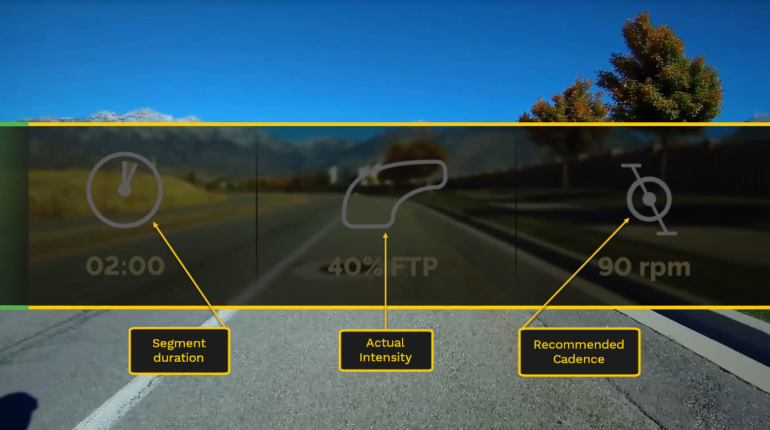 Existing workouts
VO2 max - the measurement of the maximum amount of oxygen that an individual can utilize during intense or maximal exercise. It is measured as milliliters of oxygen used in one minute per kilogram of body weight. One of the highest recorded VO2 max results (90 ml/kg/min) was that of a cross country skier. Top Pro Tour riders have averaged around 80 ml/kg/min. Chris Froome's VO2 max during TdF weight was recorded at around 88 ml/kg/min).
In this guided workout, you'll probably be forced to use a much higher cadence than you're used to...so why would we create such a workout? It will lead you to increase your actual cadence a little bit. Why do you think elite riders spin their legs faster? Here are some answers:

When you pedal faster, you put less strain (i.e., force) on your muscles with each stroke. You ride in a lower gear, and, as a result, use your slow-twitch muscles. These muscles burn fat for fuel, are resistant to fatigue and recover quickly when allowed to rest. Also, studies show a higher cadence means an increase in blood flow to the muscles – which, in turn, means more oxygen in the blood and higher aerobic performance.
Don´t worry! Maybe you won't be able to maintain the prescribed cadence the first time, but try to get as close as possible and you will see improvement in a few weeks.
Upcoming workouts
Lactate Threshold Improving
Power Intervals
Low Cadence Drills
And more...
We hope you are enjoying our guides. Please don't hesitate to leave any feedback in the comments.
Happy riding!