Ready for a Big One? We have such amazing news for you, even during the indoor off-season. As you probably know, TrainingPeaks has been part of our cloud integrations almost from the very beginning. In the last couple of months, we have worked hard to set up a unique "indoor training environment." What does that mean? You (or your coach) can easily create a pre-defined workout in TrainingPeaks apps. Your workout is going to be automatically and instantly synced with VirtualTraining apps, so you can always be just a few seconds from a great ride.
TrainingPeaks
TrainingPeaks is the most popular and sophisticated training portal that offers athletes the ability to create and plan their own training routine. And, it helps coaches guide their athletes through individual training plans using the latest features in a post-training analysis. At TrainingPeaks, coaches believe there is a right way to train for an endurance event. It starts with having a clear goal, finding expert instruction, performing structured training and receiving immediate feedback throughout the process. The TP eco-system on the web, mobile and desktop applications will help guide you through your journey.
"With TrainingPeaks, no matter where I am in the world or in my season, my coach and I monitor my progress to make sure I am on track to achieve my goals."
Jan Frodeno, 2x IRONMAN® World Champion
How It´s Been Working Till Now
As stated above, TrainingPeaks has been a part of our integrated cloud for years. For those of you who have not been aware of the connection, here is some brief info: In "profile settings," if you connected TrainingPeaks cloud via credentials, all of your activities (including runs, swims etc.) were sent directly to your TrainingPeaks profile. It means that your coach always had unlimited access to all needed data without spending valuable time on registrations or app management.
Amazing news
WOD - TP Workout of the Day
We're super stoked to establish and integrate this environment to provide the easiest way to accomplish your indoor rides. Now let´s focus on the most important thing: "How it Works."
You need to create a VirtualTraining Account if you don't have one yet. Simply sign up on VirtualTraining on the web https://my.virtualtraining.eu/ or sign up via the VirtualTraining Desktop app.
First of all, it is necessary to connect your Virtual Training Account to your existing TP Account.
In the picture above, you can see the account has no connection at all. Go to Settings → Cloud → TrainingPeaks and turn on the switcher.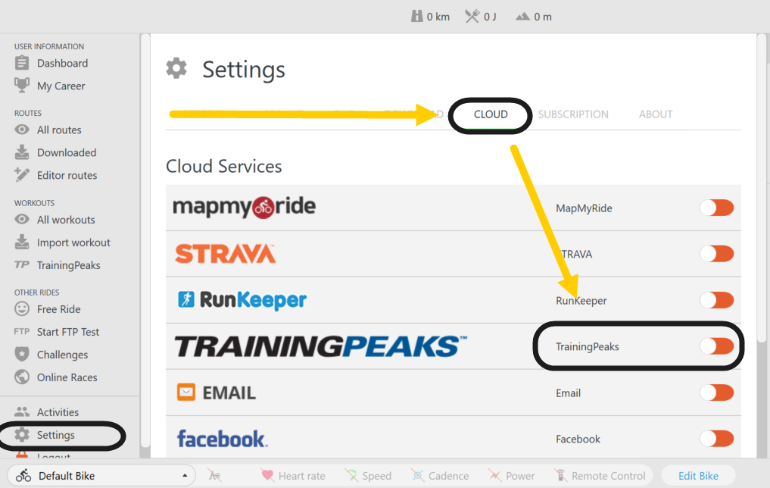 The screen appears, and you're asked to fill in your TP credentials or create a brand new TrainingPeaks Account, if you don't have one yet.
From this point on, you will be able to find your TP "Workout of the Day" on the TP tab. Then just connect your trainer/sensors, click on "Start Workout" and the magic starts!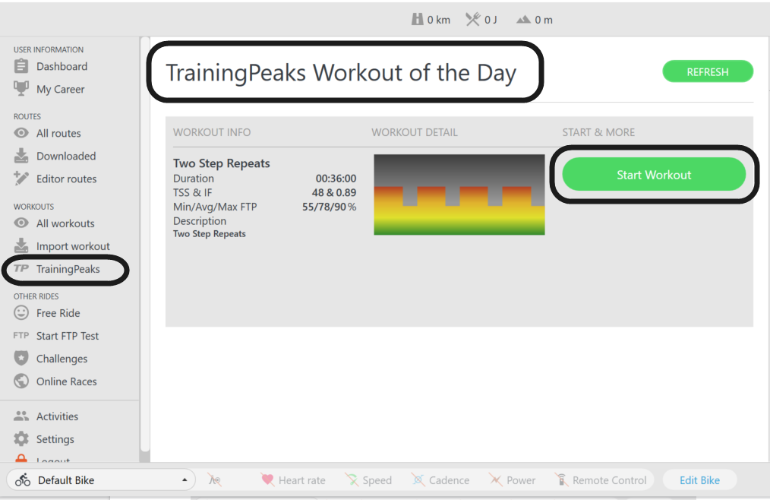 All of your synced workouts, which you were able to see via the Cloud connection, are automatically saved in "My TrainingPeaks™ workouts" category, and you are able to ride them again at any time.
Are you wondering what kind of TP workouts are supported via Virtual Training WOD autosync? Please note that the only type of workouts that are being synchronized are the "Bike" ones. As Functional Threshold Power is so popular, built workouts have to be based on Duration and %FTP. We want to help you to train everywhere in the most efficient way. It means that if VT App finds different FTP values in TP and Virtual Training profile, it will recommend that you synchronize it. Otherwise, the result would be different from the coach's expectations.
Workout status on TP portal
All info about your effort is also sent via cloud connection, and the status of your workout is based on incoming values. You can see the status of workout immediately in TP calendar:
Green color → the workout is completed.
Red → the workout is not completed
Grey → the workout is planned.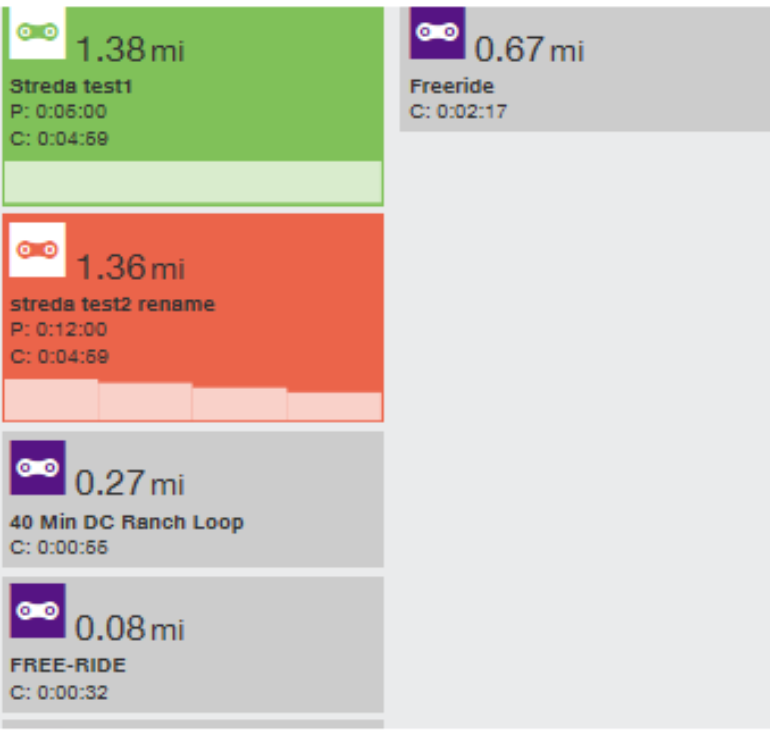 Export/Import of ERG/MRC file from TP´s Mobile App to Virtual Training
If you happen to need manual export/import, this section details how to move "any" workout from TP to Virtual Training.
In the TrainingPeaks application:
First, choose the particular day in the TP Calendar; to do the workout (activity)
Slide down and click on the button "Export workout".
Choose ERG or MRC as a file type.
Select Virtual Training mobile icon to finish export.
In the VT application menu, click "Import workout,"
choose exported workout file and then, click the "Ride" button.
You´re done and ready to GO!
We hope coaches and athletes like you will appreciate this new level of training automation. We can't wait to hear your feedback and stories!
NOTE: Please consider the fact that TrainingPeaks™ WOD will be in a BETA status for a while. For a complete How-to manual find a related article on our Knowledgebase. We are open to any kind of feedback to provide you the best support service.