Summertime is underway, and we bet you're crossing roads everywhere you can, every single day! Do you want to share your favorite ones with others, challenge your friends or just train on the same routes during the indoor season? We have a solution! It´s one of our major features to provide you as much realistic outdoor experience as possible. Our dream is to equip you with every single route that can potentially come to your mind! As we are an open platform and everyone is able to contribute any type of route, there is a process called "certification." Let´s mount your action camera on a bike/car, download Virtual Training Route Editor, upload the route and kick off the upcoming season with a bunch of new routes. We're more than happy to review any uploaded route. On the other hand, we want to highlight the best ones, so you are able to find those easily. The Route Library is growing, and luckily, there are more and more routes available each day. But, it has become obvious that we needed to set up some clear rules of certification for the new routes. Have you noticed that there are some routes marked with a badge? We call them "Certificated Routes". These Routes are reviewed, edited and approved for recommendation by the VirtualTraining team.
PROCESSING YOUR ROUTES
Once your route is uploaded, what happens in our office? Please note that we're checking the availability of new routes every single day. If it seems to you that your route has not been processed quickly enough, it means that, at the moment, your route remains in a pipeline queue with other routes, awaiting its turn. The certification process is broken into 3 stages:
1. Making the first selection based on the quality of the video lane.
2. Our video editor doing edits in video sync and GPS accuracy (if needed). You can find more instructions on video and GPS points sync here. Note that sometimes this process is very time-consuming.
3. The route is ridden by another team member, so it´s being checked twice.
Both the video editor and the rider have to say the Route is finalized. If no more improvements are possible or applicable, then voilá, it´s certified!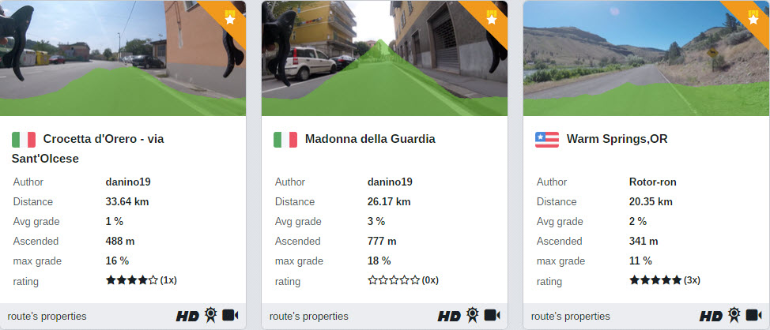 RECOMMENDATIONS & RULES
Length
Depends on the type of route and the exceptions are possible.
Flats at least 15k.
Climbs at least 5k.
Video Quality
At present, we require HD video for the route to be certificated, as we want to bring the most realistic experience 'in da house.'
Recommendations
Sunny weather.
Mount the camera to a car or motorbike (It helps to have a stable image and avoid the movements of the handlebar if mounted on a bike).
Don't put the camera inside the car (the view through the glass removes part of the feeling of being on a bike when the route is ridden indoors later).
Try to maintain a speed level similar to an average cycling speed (if you record the route by car).
Avoid any intensified traffic.
Try to avoid steep downhills.
Insert Splits (Checkpoints).
Hardware: Garmin Virb´s or GoPro 5 (integrated GPS); alternatively, you can use GoPro 3+ or higher with separate GPS device.
GREAT EXAMPLES
Sometimes the example is worth more than thousands of words. Do you wonder how should the best-recorded routes look like? See below and check those routes which were instantly moved to the certification process.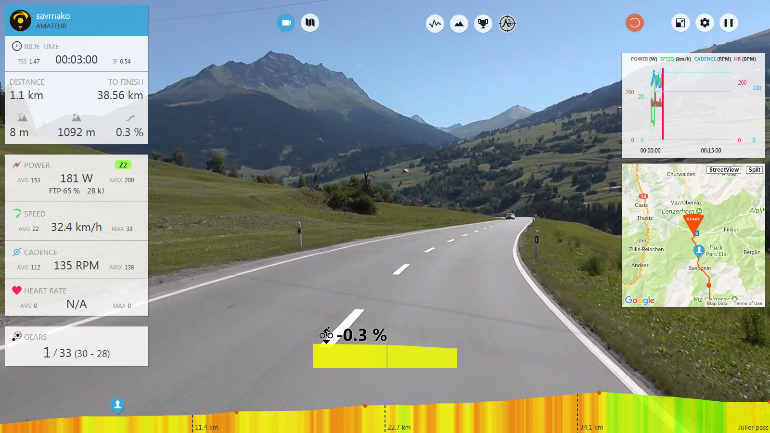 WELCOMED REGIONS/ROUTES
As we said above, we are more than happy to review any uploaded route. However, some videos will be prioritized over others. We've made a short list of World Tour regions that are interesting not only to us, but to the whole cycling community:
France
Andorra, Corsica, Jura, Midi-Pyrenees, Provence-Alpes-Cote d´Azur, Rhone-Alpes, Voges.
Italy
Abruzzo, Lombardy, Piemonte, Sicily, Trentino-Alto Adige, Valle d´Aoste, Veneto.
Spain
Andalucia, Andorra, Aquitane, Aragon, Asturias, Cantabria, Catalonia, Midi-Pyrenees, Sierra Nevada.
Austria
Carinthia, Salzburg, Tyrol, Innsbruck.
USA
Regions featured on Tour of California, Tour of Utah and USA Pro Challenge.
Classics
Each route from Cycling Classics is very appreciated and valuable.
Triathlons
IM World Championship (Kona), IM Lanzarote, IM Texas, IM Wisconsin, IM France, IM South Africa, IM Wales, IM Frankfurt, any route from Challenge Family.
Another emerging and important reason to create TOP Routes is that we´re working on the brand new Route Contest, which will take place in August - September. You will have an opportunity to showcase your "Route Creator" skills and have a chance to win some top-notch prizes! More info about the contest will come shortly…so, stay tuned!
We can't wait to see your new routes!