Have you ever wondered how to create your own workout? Did your coach send you a prescribed workout, but it´s hard for you to stay at the prescribed resistance? Or just don´t want to bother with that? We have a solution: the VirtualTraining workout builder.
With VirtualTraining, you can easily create customized cycling workouts suitable for you and your training. Plus, if you have a smart trainer, the app will take care of everything.
Get Started
To get started, log into the VirtualTraining web portal, go to "WORKOUTS" (1) and then select "CREATE WORKOUT" (2).

From there you can create the following types of workouts:
"Power" workouts are based on power numbers. This means that any "power" workout will be the same for all cyclists. The resistance level does not change and operates exactly as set.
For the "Power/Kg" workouts, it is important to set your precise weight whenever your body weight has changed significantly. In Power/Kg workouts, the resistance level is adjusted accordingly.
"% of FTP" workouts are based on the percentage of your Functional Threshold Power (FTP). Because of this, it is important to run an FTP test periodically; we recommend once per month. Of course, the frequency with which you re-test is always up to you and your training goals.
"%Grade" workouts are based on a percentage of simulated incline. Before creating a % Grade workout, keep in mind the maximum slope gradient supported by your bike trainer.
You can find this information on the manufacturer's website or in the trainer's manual under the "maximum simulated hill incline". You can set any number for the hill incline simulation in our app, but the applied resistance will not exceed the level your trainer is capable of supporting.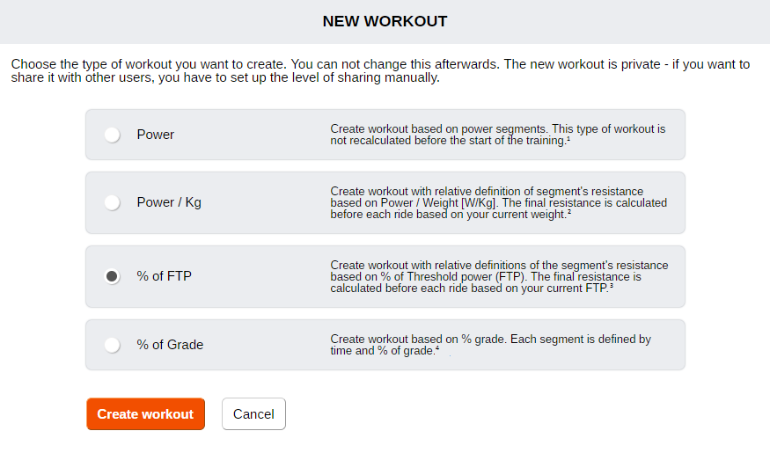 Editing Workouts
The workout editor is very intuitive. Many metrics and marks can be edited during the process of workout creation, such as:
WORKOUT NAME (1)
SEGMENT INDICATORS – duration, value, segment name, video jump (2)
"Segment name" - we find it very useful to name each segment as you'll see these names in the details of the finished workout:
it´s easier to analyze
and clearer than "Lap 1.....8"
VIDEO JUMP - Video jump enables you to set specific video-play points before the start of the specific segment. The video time will be set up in the VirtualTraining apps as a new video time.
Once you complete edits on one segment, you can continue editing the remaining segments (3). Afterward, you'll be able to see your workout summary and you'll be able to edit workout properties.
For example, you can create workout instructions for better motivation. You can designate when and how long the motivational text will be displayed. The instructions are displayed in all VT Apps during workout training.
You can also write a workout description, so it could be better categorized and recognized by other users.
Many people like motivational videos, which can be synchronized with famous videos from The Sufferfest, Real Ride Videos, etc. For more information visit our support at TheSufferFest, Real Ride video, etc. Remember that videos aren´t downloaded automatically and you have to set media permissions in pre-training settings.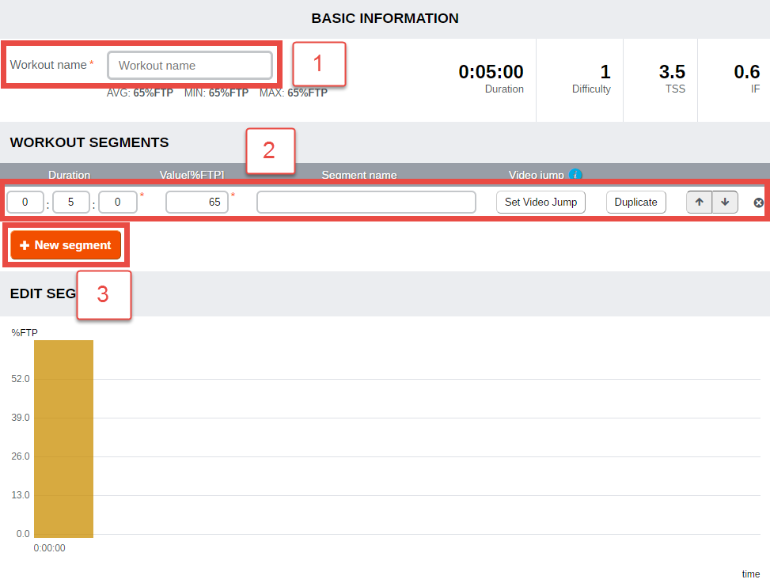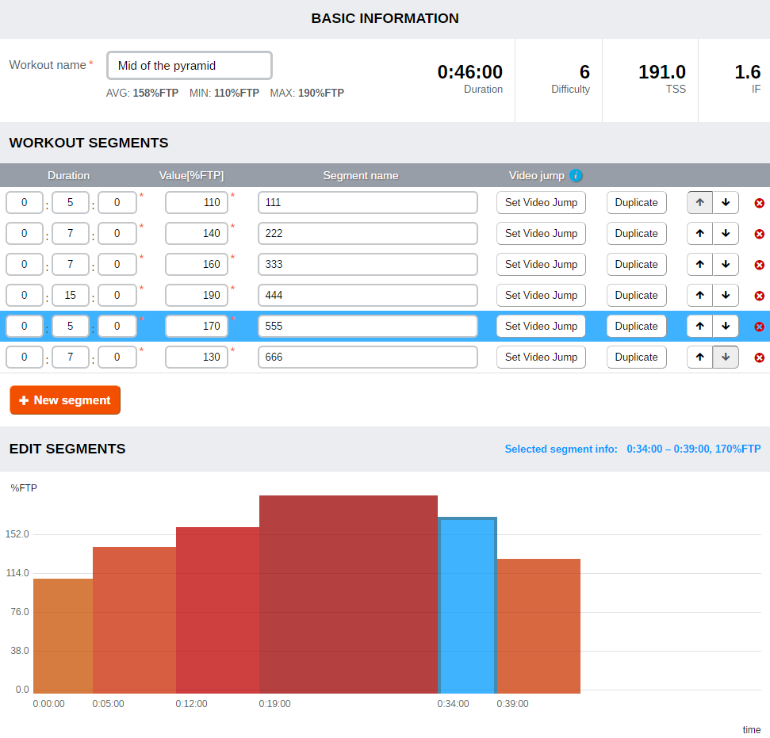 Additional Features
One of the very useful features is the ability to set up workout SHARING LEVEL. There are four options
Public workout
Friends only
Selected users
Private workout
Another useful feature is the ability to create Segment templates for further use:
Shift + Left click on a created segment
Create template
Enter name of the template
Click Create
At the bottom of the page, there are saved templates with all the information like duration and power, which will be ready for you to use in other workouts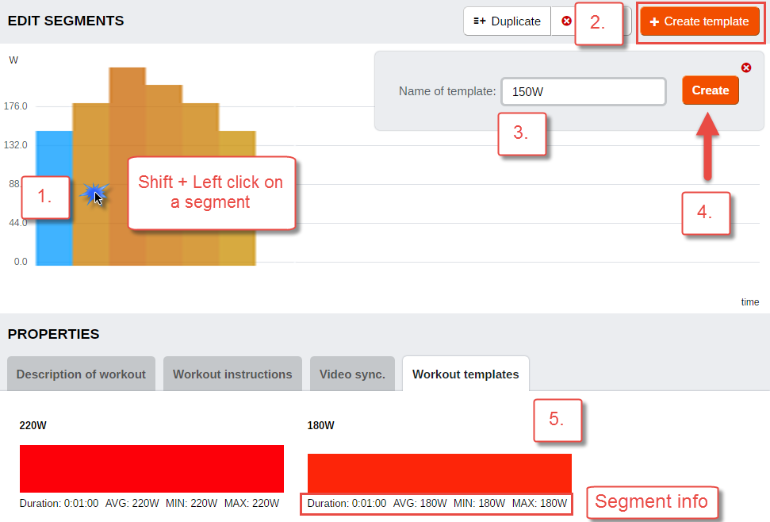 When you are done, you can either click Create Workout or save the project to continue edits at a later time. Upon the confirmation of creation, you will see the created workout in your workout list.
Once created, you will also be able to see this workout in your device (automatically synchronized with your web-dashboard profile).
How to Import An Existing Workout
To import an existing workout, click "Workouts" button and then IMPORT WORKOUT.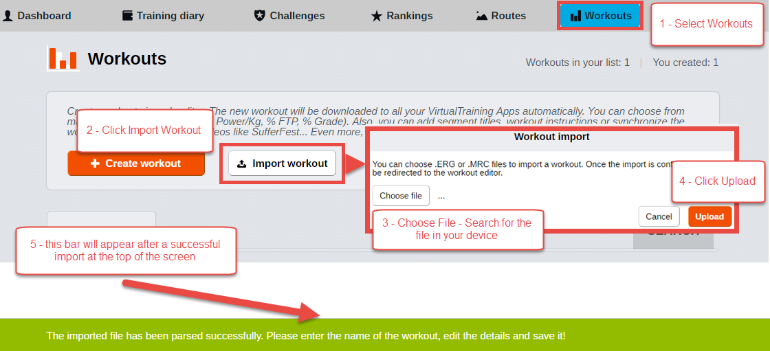 There are two supported file formats for importing:
.ERG - defines segments by power (watts)
.MRC - defines segments by FTP
Choose a file with either of the formats and upload it. When the upload is finished, you will find your imported workout in the workout panel.
You can always find the actual up-to-date information on workouts in our knowledge base. Enjoy your custom workouts and train on!