UCI Cycling Events in South Africa
In South Africa, there are three major and highly popular annual UCI cycling events on every avid cyclist's calendar to-do list. These stunning courses are iconic in the real world, but segments from these iconic routes are on ROUVY too! We will be exploring a few.
The Cape Town Cycle Tour in March
At the beginning of March is the Cape Town Cycle Tour, previously the Cape Argus, attracting over 35,000 cyclists from across the globe. It is the world's largest timed cycle race and is closed to all traffic. Riders have the complete freedom of the roads to themselves with their fans cheering them on in a fantastic vibe along a spectacular and scenic route.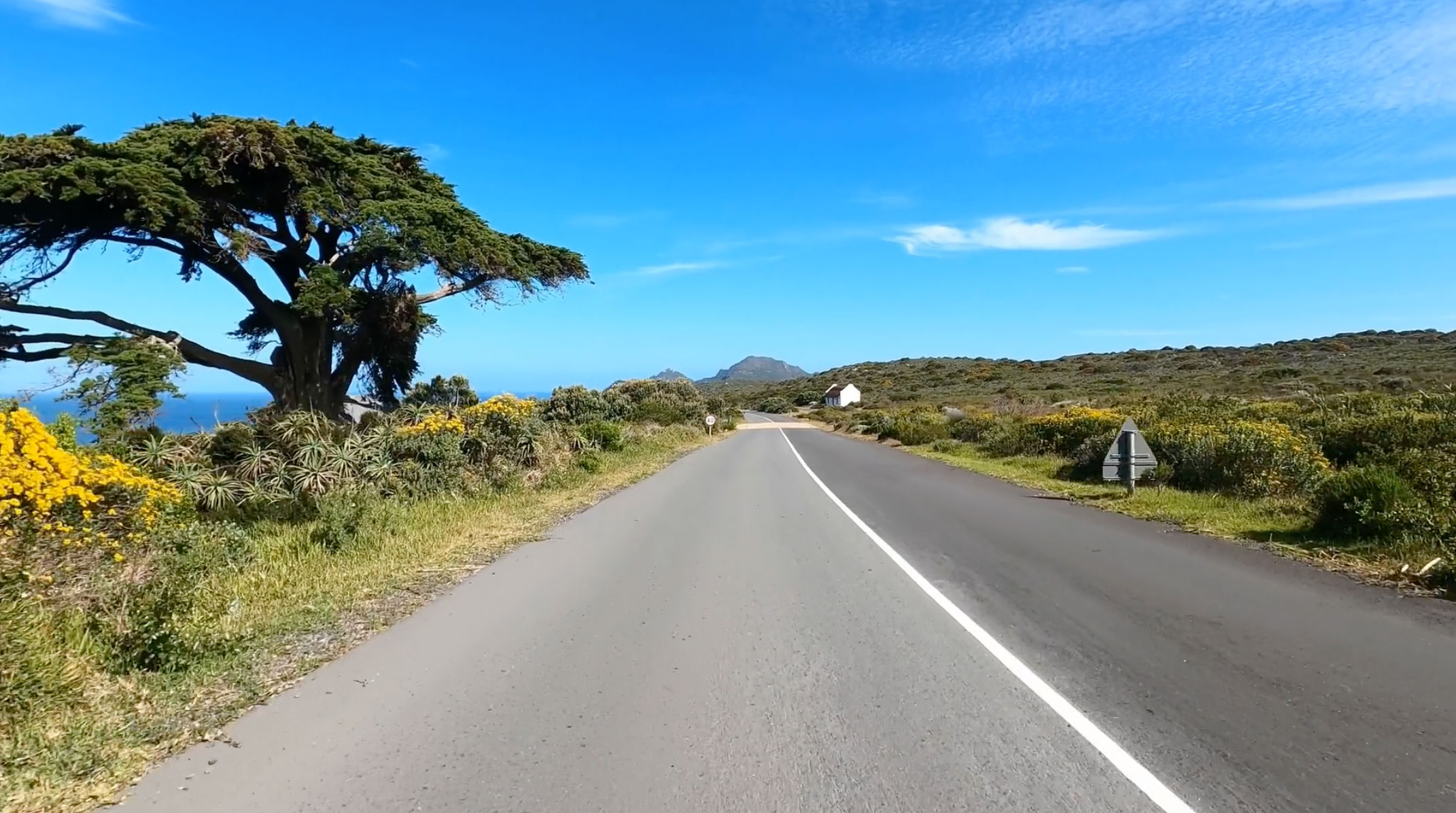 Photo: Cape Point Nature Reserve
There are many reasons why people travel from all over the globe to experience the beauty of Cape Town, and this is a great way to do it, with wide open roads on a breathtakingly magnificent route, making it a safe and pleasurable experience. A few famous participants have participated in the past, namely Miguel Indurain, Jan Ulrich, Lance Armstrong and the actor Matt Damon.
The famous and established cycle race leads you along an undulating and picturesque 109 km (68 mi) circular route from Cape Town down the Cape Peninsula and back. The route passes historic landmarks all the way around and begins at the Grand Parade in Cape Town city centre. The course initially follows a short section of the N2 highway to Muizenberg, then along the False Bay coast to Simon's Town and Smitswinkel Bay.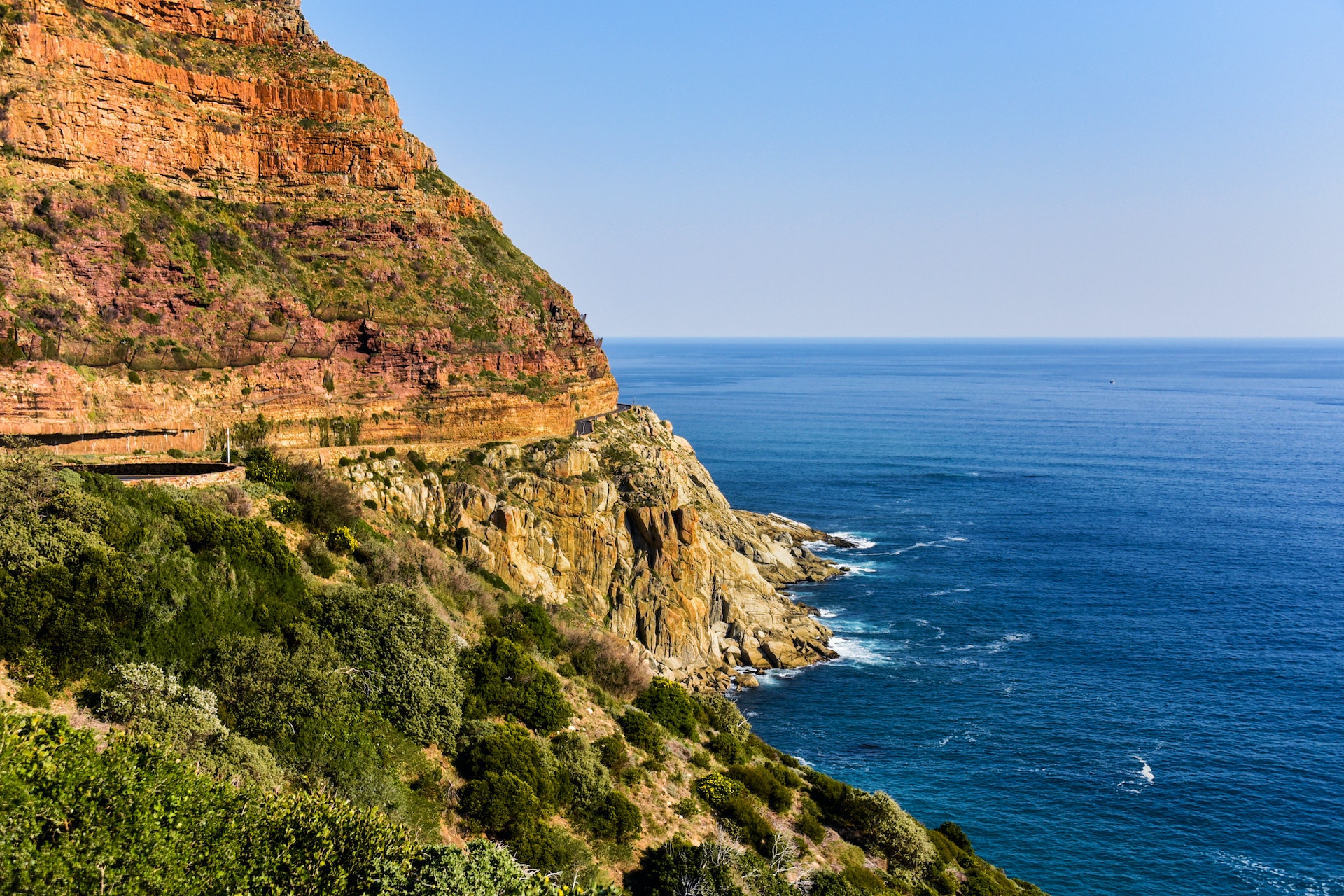 Photo: Atlantic Seaboard at Chapman's Peak
The route then crosses the peninsula in a westerly direction, past the entrance to the Cape of Good Hope section of the Table Mountain National Park (within Cape Point). It then takes you up north along the magnificent Atlantic seaboard, one of the world's top tourist destinations, through Scarborough, Kommetjie, called Misty Cliffs, a section cooled by an onshore breeze off the icy Atlantic sea. Then you ride to the chic area of Noordhoek, Chapmans Peak, Hout Bay and over Suikerbossie hill to Camps Bay and the finish line at the Cape Town Stadium in Green Point. The route is spectacular and most enjoyable, having raced it several times myself.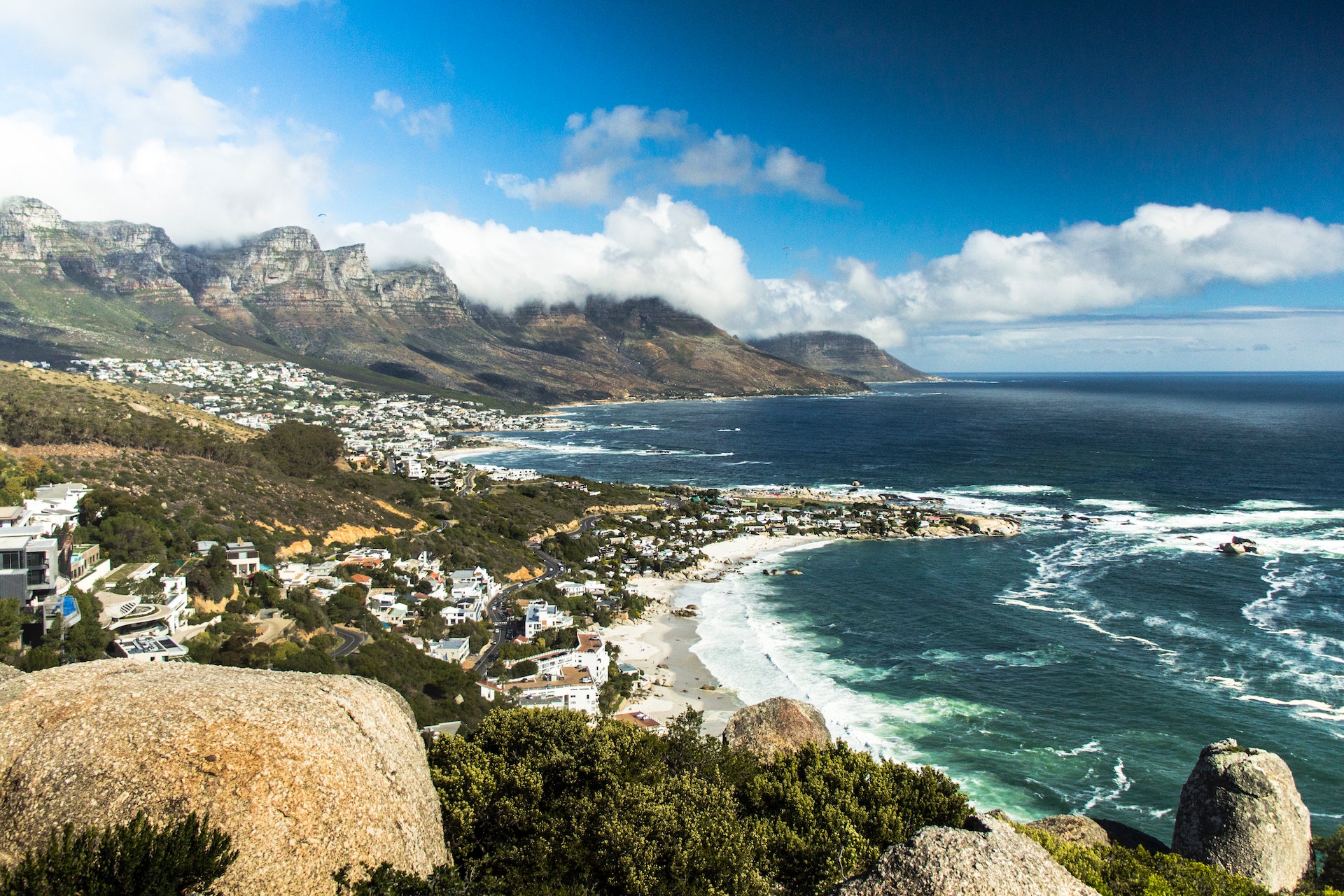 Photo: Part of Cape Town, Western Province
947 Ride Joburg in November
The 947 Ride Joburg, an annual challenging 94.7 km (58.8 mi) rolling course, is the world's second-largest timed cycle race after the Cape Argus Cycle Race. The popular event takes place every November in South Africa's largest city, Johannesburg, in the province of Gauteng. Between 20,000 and 30,000 participants complete the challenging 94.7 km course on roads fully closed off to cyclists allowing all riders a safe, traffic-free ride from start to finish.
The route takes you along a fast and rolling 97km route through parts of Joburg on some roads, such as a few highways that are normally only open to vehicles. One will ride past some of Johannesburg's most iconic landmarks through urban streets, usually bustling with traffic and pedestrians. Another excellent and popular race I have participated in several times (once as part of an all female UCI team) and can say that it's edgy, fast, and exciting!
The Cape Epic in March
The Cape Epic, known as the most brutal multi-stage MTB race in the world, is a famous event held in the most beautiful but remote, wild and untamed parts of the Western Province every year over various terrains and ungroomed trails. The race consists of eight stages and is over a distance of 660km (420 mi) and almost 16,000m (55,400 ft) of ascent. The stage race is definitely not for sissies! Having done this epic event back in 2005, I can certainly vouch for that! All riders participate as a team of two, initiated in the beginning and still stands as a form of safety insurance in untamed and remote areas.
Interesting facts about cycling in South Africa: Teams of two for safety
Teams must keep within 2 minutes of one another at all times or receive a time penalty. Team dynamics, especially among the pros, is a priority. Twelve hundred riders, staying overnight in tents along the way, are challenged mentally, physically, and emotionally - and both equipment and minds are pushed to the limit thanks to some of the harshest conditions found at any mountain bike event.
Some famous names in the teams of two
Famous names, among others, who have participated in the event are Nino Schurter, Bart Brentjens, Jaroslav Kulhavy, Christoph Sauser, Jakub Fuglsang, Karl Platt and Jose Hermida. Among the women are Sina Frei, Anna van der Breggen, Laura Stigger, Esther Suss, Annika Langvad, Ariane Luthi, Sharon Laws, Kate Courtney and Haley Batten, among many others.


Ride part of this famous 8-day stage race on this segment on ROUVY on the Two Passes in the Cederberg Wilderness of the Western Cape and read my route review to find out more about the area.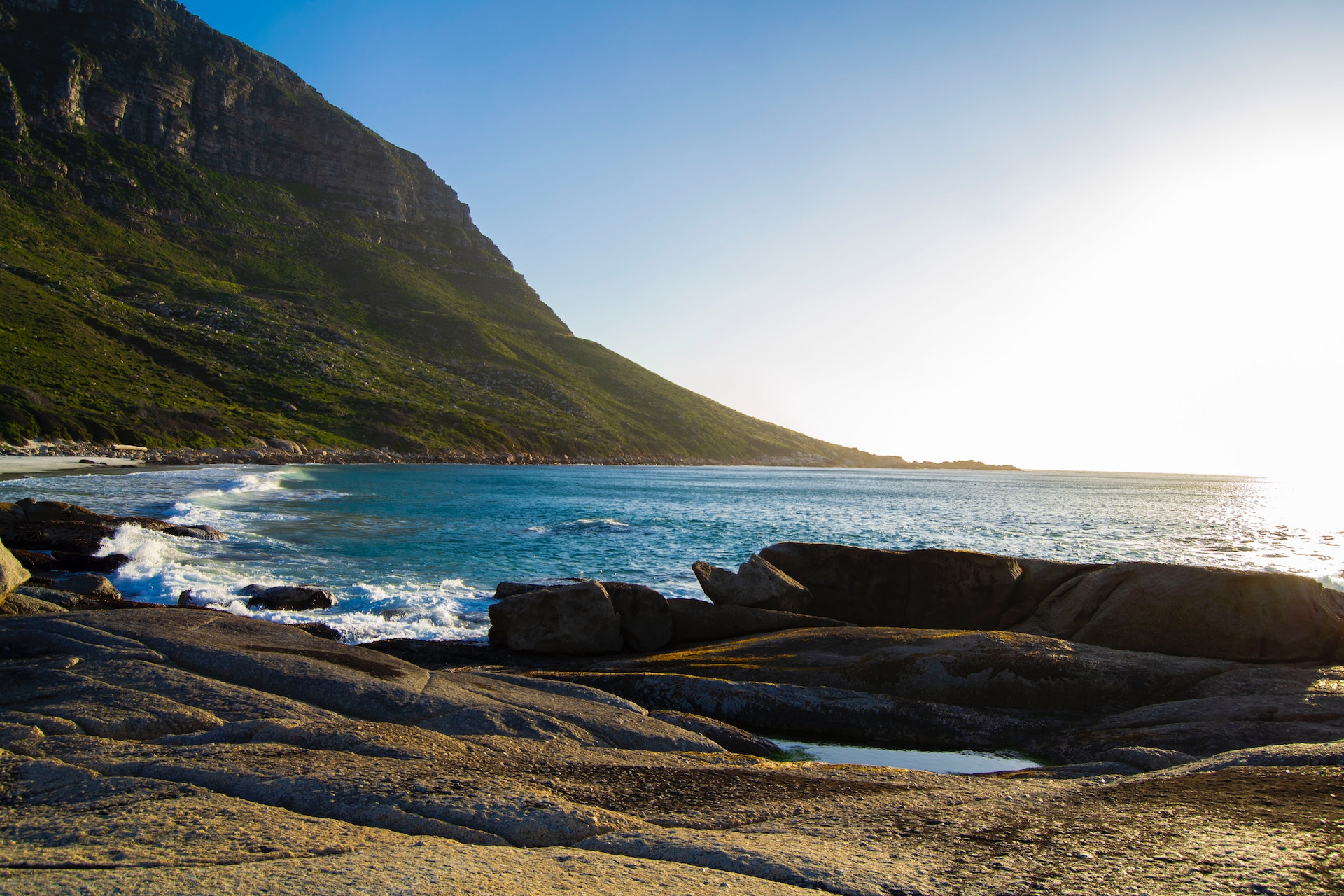 Visit these Cape Town virtual routes on ROUVY and challenge yourself
The historic Cape Point and Table Mountain nature reserve
Take a scenic ride through the magnificent Cape Point and its National Park reserve to the Cape of Good Hope, a headland on the Atlantic coast of the Cape Peninsula in South Africa, a key tourist attraction. On False Bay, we start outside the 200-year-old historic naval village of Simons Town, South Africa's most significant maritime base and harbour. Our undulating ride is home to many bird species, including African Penguins, ostrich, zebra, and baboons.
Look out for the ostriches - they can kick!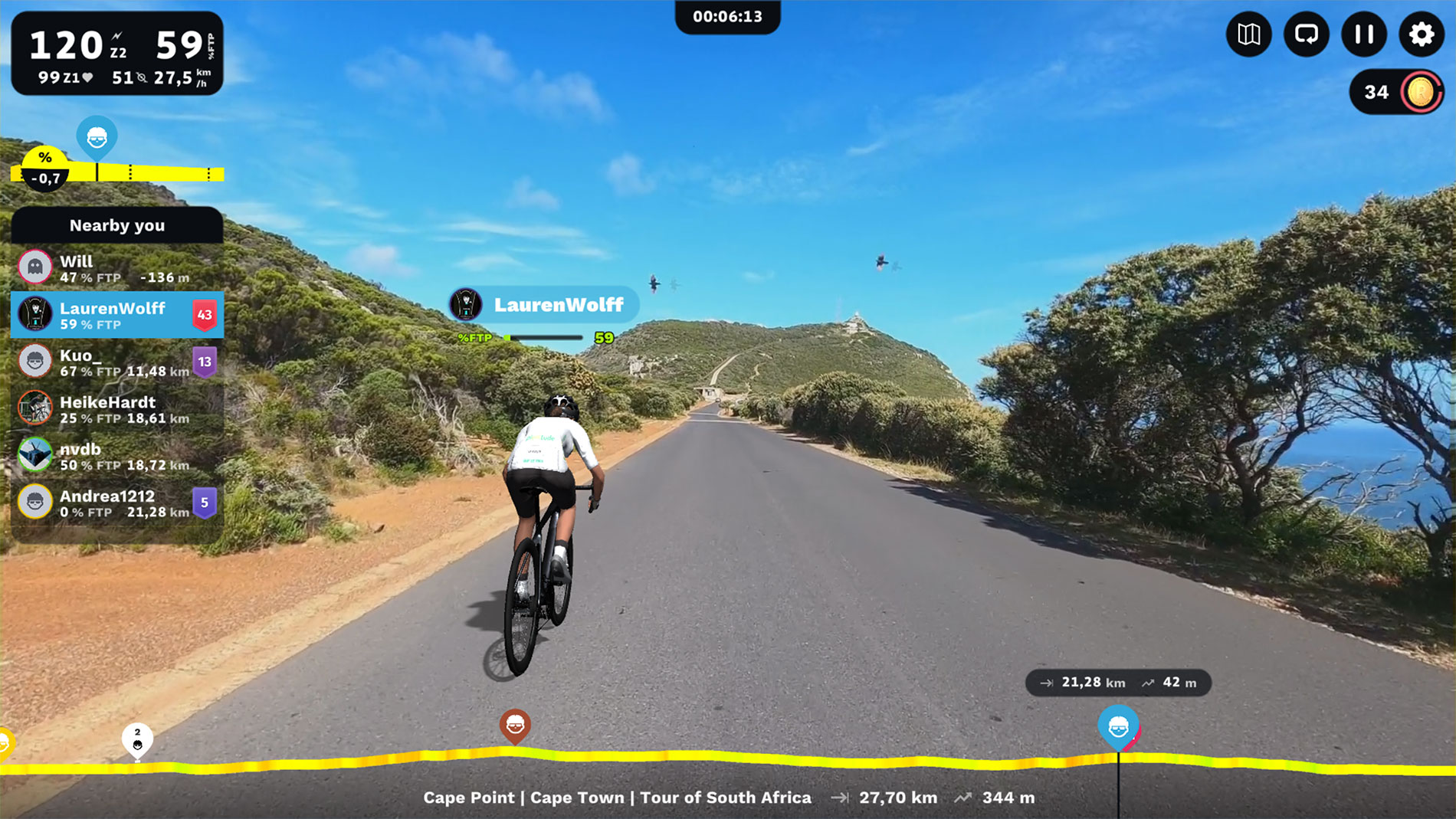 Cape Point - Table Mountain Nature Reserve virtually on ROUVY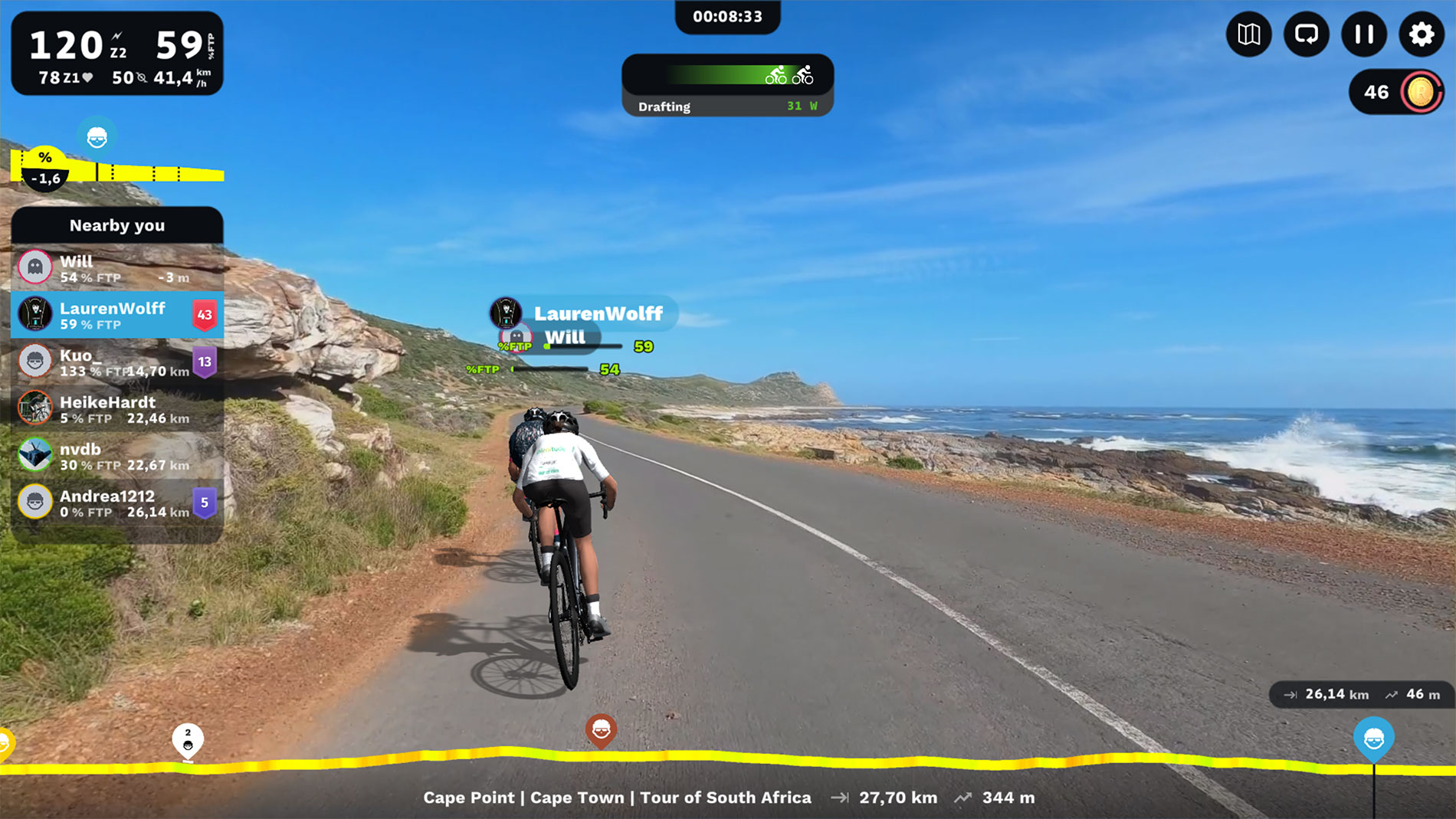 Cape Point - Table Mountain Nature Reserve virtually on ROUVY.
Explore the Cape Point in Cape Town on ROUVY
Estimated time to complete:
3W/kg - 50 minutes
2W/kg- 1h05
Read my route review about Cape Point before riding it.
Ride the magnificent coastal Misty Cliffs
Explore a spectacular conservation area near Scarborough and Kommetjie via Misty Cliffs in a unique enclave of the Table Mountain National Park, Cape Town, in South Africa. Ride metres away from the Atlantic Ocean in a peaceful and rural coastal setting that is one of Cape Town's most beautiful and popular surfing and kite surfing spots, one of the best places for crayfish and bird-watching and located around a small natural cove with pristine white sandy beaches.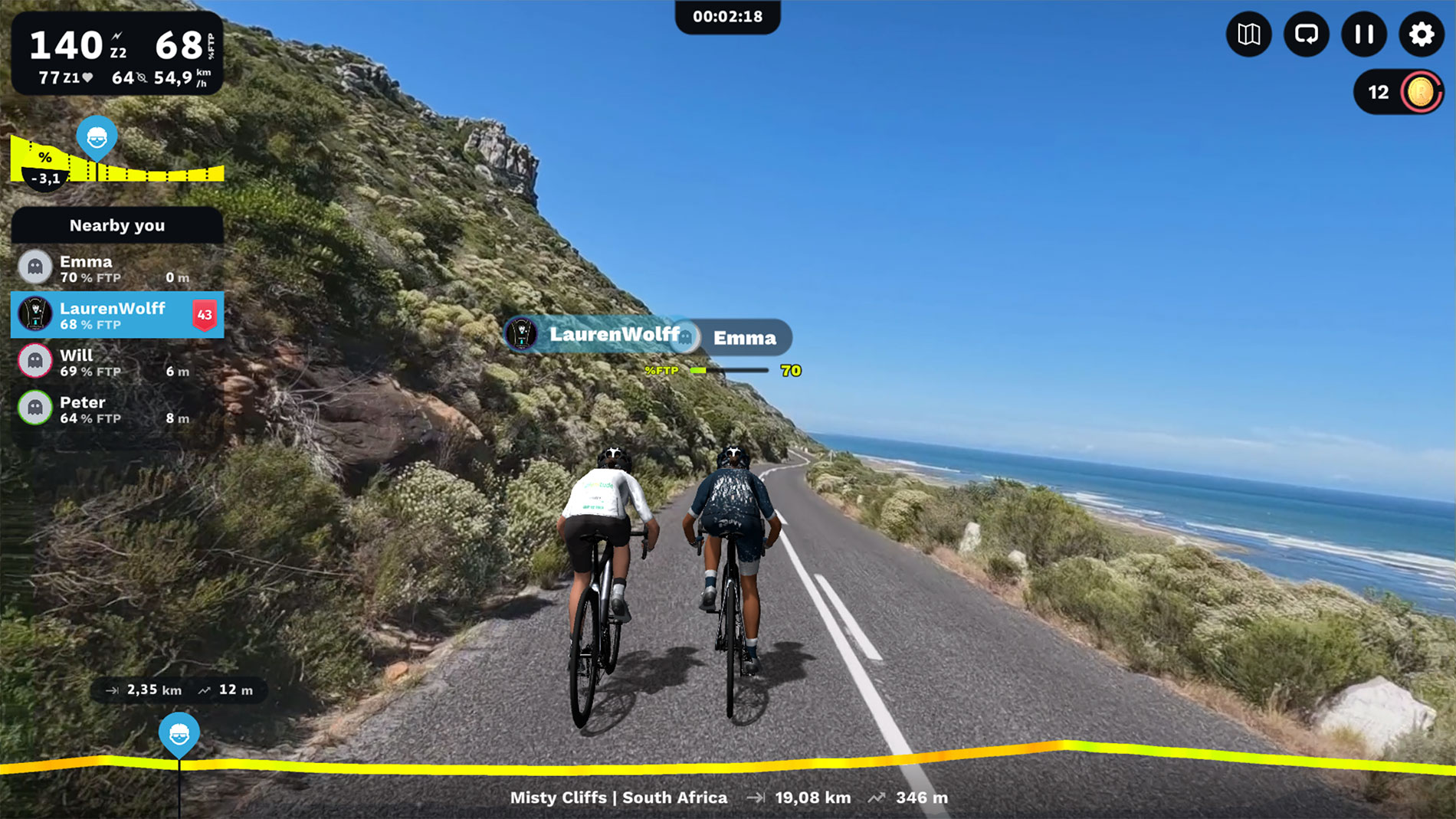 Misty Cliffs with my friendly ghost, Emma
Ride on the Misty Cliffs route in the Western Cape
Estimated time to complete:
3W/kg - 38 min
2W/kg - 50 min
Other exciting, beautiful and recommended routes to explore in Africa and extend your trip:
Take part in the Famous cycling routes series
Famous Cycling Routes is a special travel event on ROUVY that gives you the chance to ride across the world, exploring 6 continents in 6 weeks and offering the chance to win some fantastic prizes (as well as creating some great memories). You'll visit Australasia, Africa, Europe, North America, South America and finally Asia as you get a real taste of touring the globe.
Get your passport stamped and earn your badge when you complete the challenges and enjoy your journey! :-)