To better understand the toughness of the event, it's worth mentioning that not even the race organizers were convinced that anyone would complete the race, explains Oliver in the race recap video (embedded below). The fact that one of the greatest cyclists of all time, Alberto Contador, failed to complete the race only serves to underline this.
We had a really enjoyable chat with Global Cycling Network's presenter Oliver Bridgewood, who shared his personal experience from "without a question the hardest bike race'' he has ever run into.
Find out how Ollie prepared for the race, his tactics, his bike setup and the key thing that helped him finish the brutal race with a great time of 11 hours and 57 minutes.

In the GCN video, you mention about '650 other lunatics' that were taking part in the race with you. Are you a lunatic or just a good employee?
I think you have to be a bit of a lunatic to decide to get up at 4am in the morning and ride the height of Everest, especially when you don't have to (laughing). No one puts a gun to your head saying, 'you have to do it'. The average person on the street would say: 'Why, why would you do that!'
How did it feel to start a race together with Alberto Contador? Were there any other famous pros on the starting line?
There were a few very good local riders and also the just recently retired Steve Morabito. But Contador is one of the greatest of all time. How crazy is it to ride with someone who has won so much and also every single Grand Tour! It's pretty special, isn't it, to share the road with someone like that?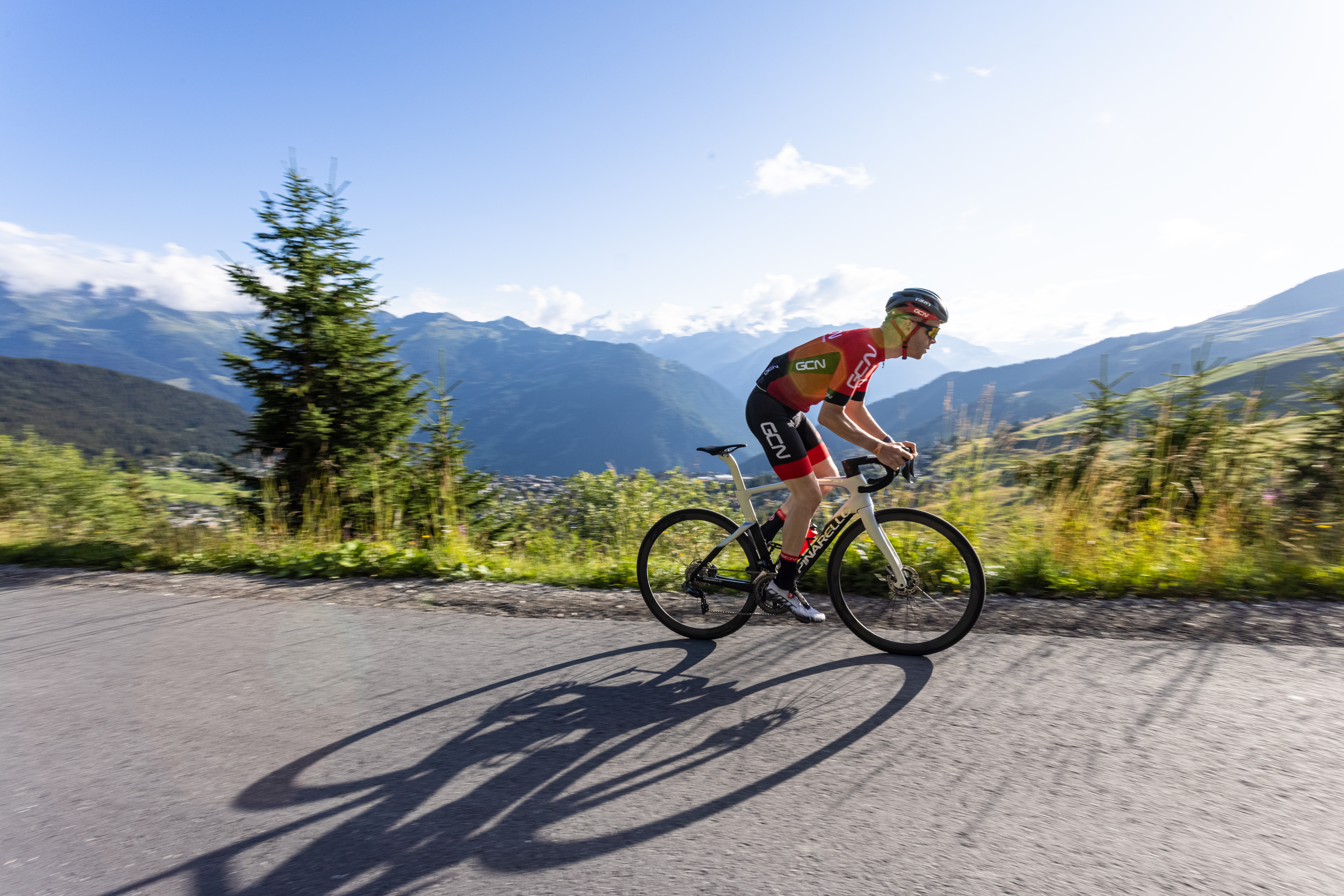 Is it at all possible to prepare and train for such a race? What was the key part of your preparation?
I think the key thing when you prepare for the Tour des Stations or anything, is specificity. So you have to make the training specific for the event and that is what I did.
First, you need to be able to ride for a very long time. So while you may not be able to go out and do a 12 or 14 hour training ride, because you can't fit it around your job and family commitments, you just do as long as you can. A 6 or 7 hour ride is good enough and it helps you focus on the endurance aspect of training.
The other thing that I focus on which, I think, is another big demand of the event is being able to do long sustained efforts of around an hour at a time. This means that you might have a sort of 2.5 hour training session, where you aim to do a 45 minutes ride, at the intensity that you plan to do on the event, after which you have a break which replicates the break you'd have on the descent. Then you do the second effort that's the same and try to hold the same intensity.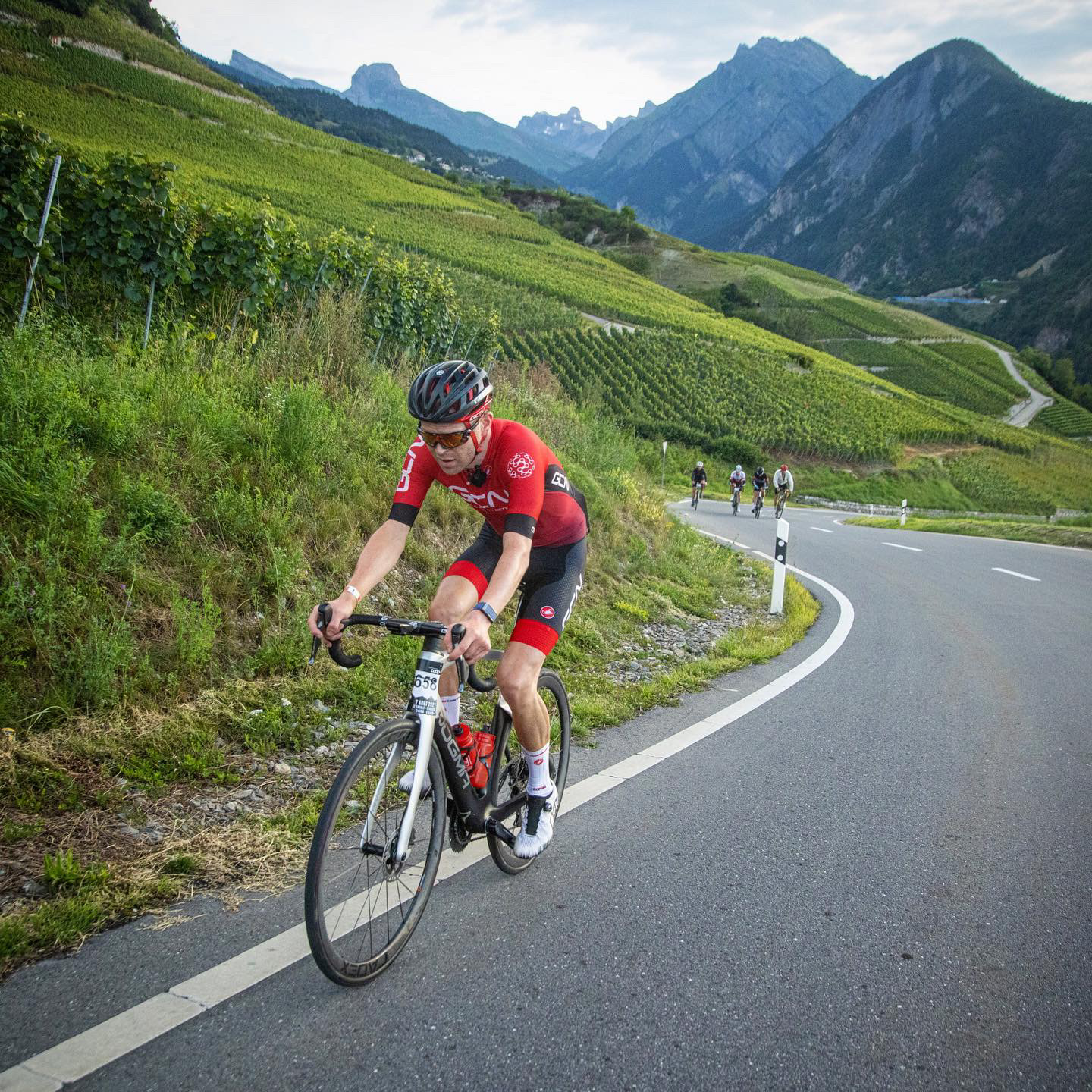 The key thing is recognizing the intensity that you're gonna be riding the climbs at, in an event like the Tour des Stations. You need to make sure that it isn't your flat out threshold max one hour power (FTP), as you are not gonna sustain that. So the key thing is working out how to get an easy pace but being able to sustain that over a longer effort.
On the road you have a lot of little rests - like you stop at a junction or you stop at traffic lights, if you live where I live (Bath, UK; editorial note). So if you ride on an indoor training platform, like ROUVY, you can replicate these long climbs and that is really useful training.
Is it enough to do 7 hour training sessions in order to prepare for an 11 hour race?
I definitely think you don't need to ride the full duration in training in order to do it. Ideally if you want to be the best you could possibly be, then YES, it would be great. But in reality it's not feasible for most people. It would also be very hard to schedule it, as you wouldn't want to schedule it say 2 weeks before the main event. For most people that would have such a large physiological impact that they wouldn't recover sufficiently.
Your plan was to consume 80g of carbs an hour. Can you do that just with gels and bars, during an 11 hour race?
There is not really any research out there that has been done by sport scientists on how to properly fuel on super long endurance events, because hardly anyone has done them in a controlled environment. I have thought a lot about it and my sort of strategy was to absorb the maximum amount of carbs that I train my body to intake and then giving my body the best possible chance to actually absorb it with the minimum stress possible.
So for me, that was basically taking in all the carbohydrates via a very simple drink mixture. Doing it that way, I stayed properly hydrated throughout the event. If you start having things that are quite nice like sandwiches, paninis or flap-jacks, you're getting things that you need but you're also getting a lot of things you don't need (fibre, protein, fat) and that puts extra stress on your digestive system. Also, it's slowing the rate you can absorb sugar as well.
It worked really well apart from the very end when I should have carried another bottle. But you live and learn!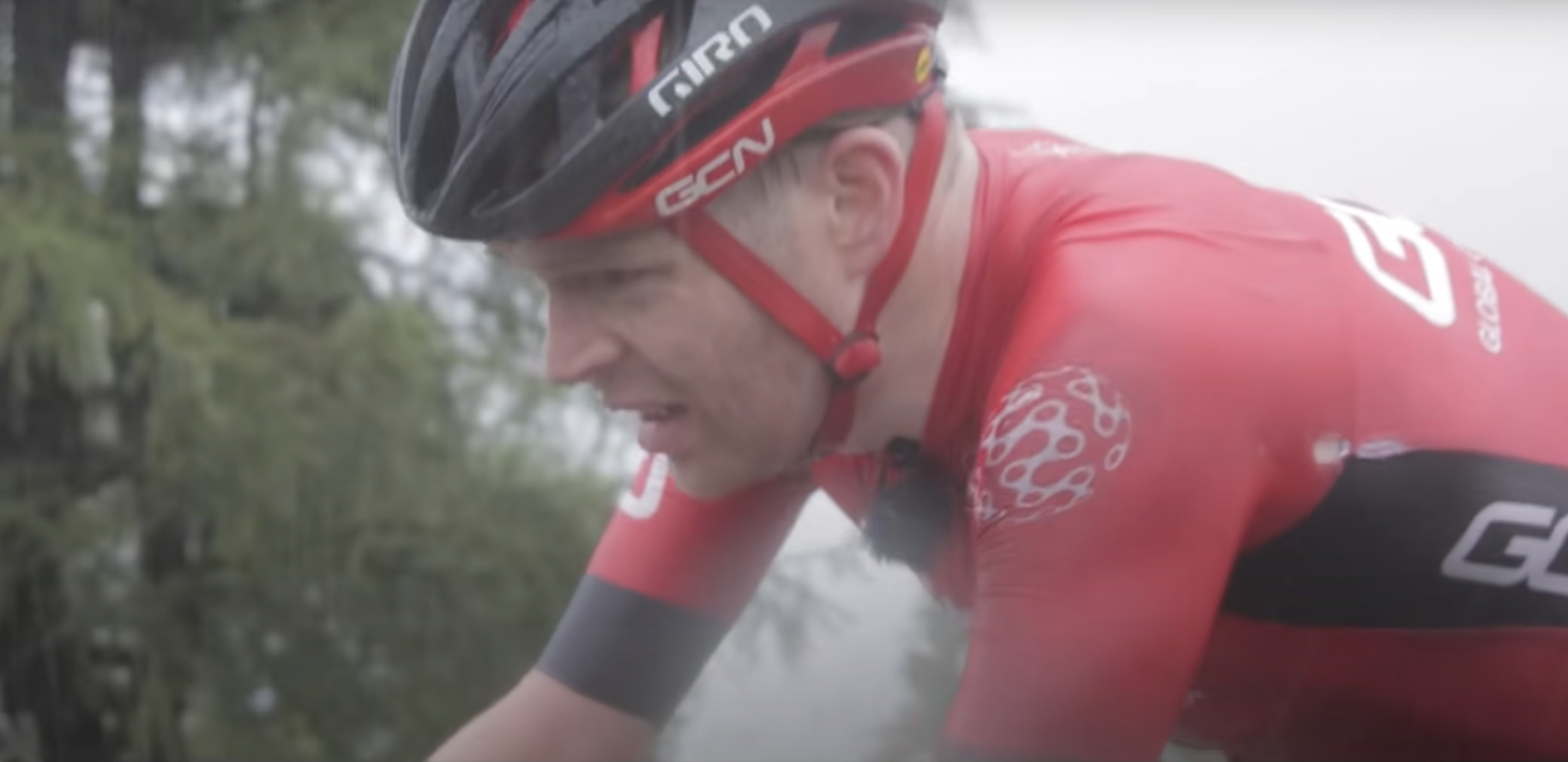 Soaked and powerless, reaching the last climb: Col de la Croix-de-Coeur
You ran out of food on the Col de la Croix climb. Does it mean there was no support vehicle?
In terms of food and stuff, I just had loads of energy powder and I kept filling up my bottles; plus I had a few gels.
What were your tactics for the race?
I've done quite a few endurance rides over 12 hours and the thing I learned was pacing. I was at the front, on the start line. When we got to the bottom of the first climb I was still riding with Contador. But then, at the top of the Col du Lein I could see I was in the 250th place, which meant 249 people went past me! It's quite difficult to rein in your ego, at that point. Holding back sounds really easy but it may not be so.
Was there any chance to actually enjoy the climbs and the gorgeous mountain and valley views?
Yes, definitely yes! You can always sort of look around. Nice thing about making a video is that you get to see different angles. When the camera is pointing at you, you can see what's behind you. 90% of the ride weather was really nice; it was just in the end that the weather closed in. Seeing Matterhorn in the distance was incredible.
You rode a Pinarello Dogma on that day. How did the bike help you finish?
I've had that bike since about a month before the race, so I was used to it. The bike I had before that was a Pinarello F12 which was the exact same, geometry-wise, just slightly lighter and 'better'. I was pretty nerdy about the setup. Although there were lighter bikes available, I did some maths and testing and I found that the Dogma was sufficiently aerodynamic and thus I didn't mind the few extra grams.
How about comfort? Did you also consider being comfortable and not just fast?
I was very fortunate to have been well fitted for the bike. You need to make sure you have a right position that works for you on your bike. It's not the right time just before a big event to change your position to something really aggressive.
I also used 28 mils tires which gave a lot more comfort on the road. When you work it out mathematically in terms of the rolling resistance gain, it worked out as being faster over the course of an event like that. Unless you are really really good, the average speed is below 30 km/h at which point the rolling resistance is more important so the wider tire is a benefit, also for the comfort.
What was the size of the crankset and cassette?
I put on a compact 50-34 and 11-32 cassette which has quite easy gears. I would say: go as easy as possible on the gears.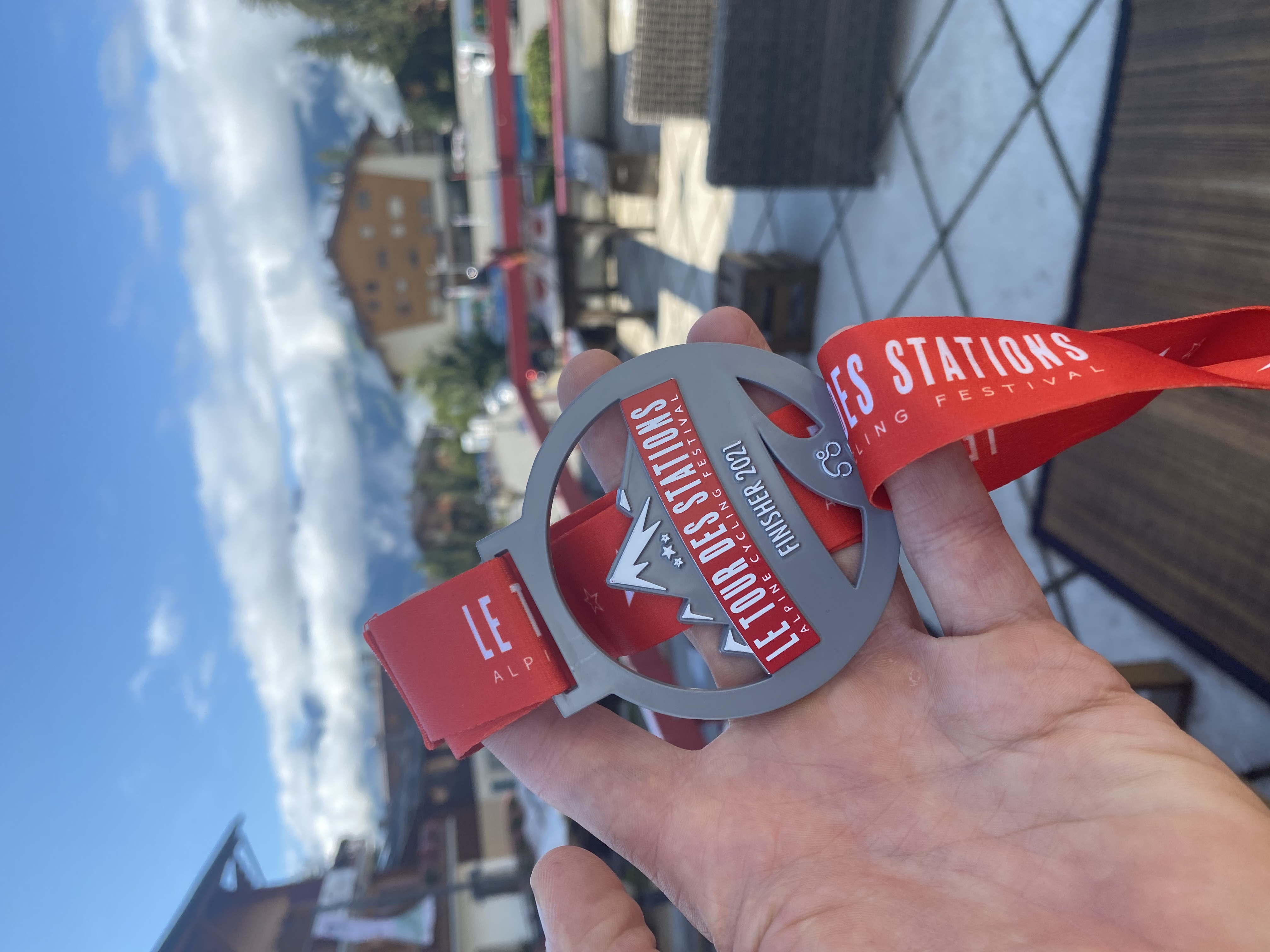 Who is going to take part next year, will it be you again or would you nominate another GCN team member?
(Laughing) I don't know; I don't know who else… I'd quite like to see Simon (GCN presenter and former pro, Simon Richardson) do it - see him suffer and find out if he can beat my time!
Thank you heaps Oliver, for a great chat. It was inspiring! I wish you many happy kilometres on your bike!
Want to taste the famous Swiss climbs? Join the 'Around the Worls in 50 Days' racing series and ride the routes on ROUVY!
All three events included in the racing week (link above) were part of the Tour des Stations this year.