To get a better idea of what the stage looked like, check out this short video showcasing the key moments.
Apart from being (obviously) an active road biker, how do you spend your free time?
I like to be active! Of course, a lot of my spare time goes into cycling. Now that the football season has picked up again, I help out my son's team as the assistant referee. In winter time, we usually go skiing in Austria. Last summer, I tried surfing the waves on Lanzarote and found out that I was as stiff as the board itself!
How long do you train indoors and what do you like the most about ROUVY? Is there anything you miss?
ROUVY is my favourite app! I train 2-3 times per week, and try to accomplish all the challenges. This year I haven't missed any challenge yet. The perfect training time is about 1.5 hours, which gives me the most satisfaction. I usually dread the longer rides. I look forward to the new work-out addition.
By the way, I usually don't train indoors. When it's dry, I set up my trainer outside in my garden. I need the fresh air!
So close! Fabio Jakobsen cheering for Ruud
As you come from the Netherlands where I believe pretty much everyone uses a bike daily to commute - can you tell us how you as a Dutchman relate to competitive cycling and training?
I indeed like to cycle. However, I don't get to cycle much to work. First of all, due to Covid-19, I've been working from home for the past 1.5 years. Secondly, my current work is approximately 115 km from home, so it's really too far to cycle to work. The good thing is that I've had more time to cycle on Rouvy! Finally, for a proper workout, I very much prefer to climb the 'virtual' mountains, than the (busy) flat cycling roads in the Netherlands.
What was your initial thought/reaction when you received the message that you had won the VIP tickets for 2021 La Vuelta?
Wow! Huge surprise! Read it twice! I almost could not believe it. Next, I asked myself, who shall I ask to join me on this unforgettable experience. My son, Thom, was happy to volunteer. It was a perfect birthday trip (he turned 21 on our way back).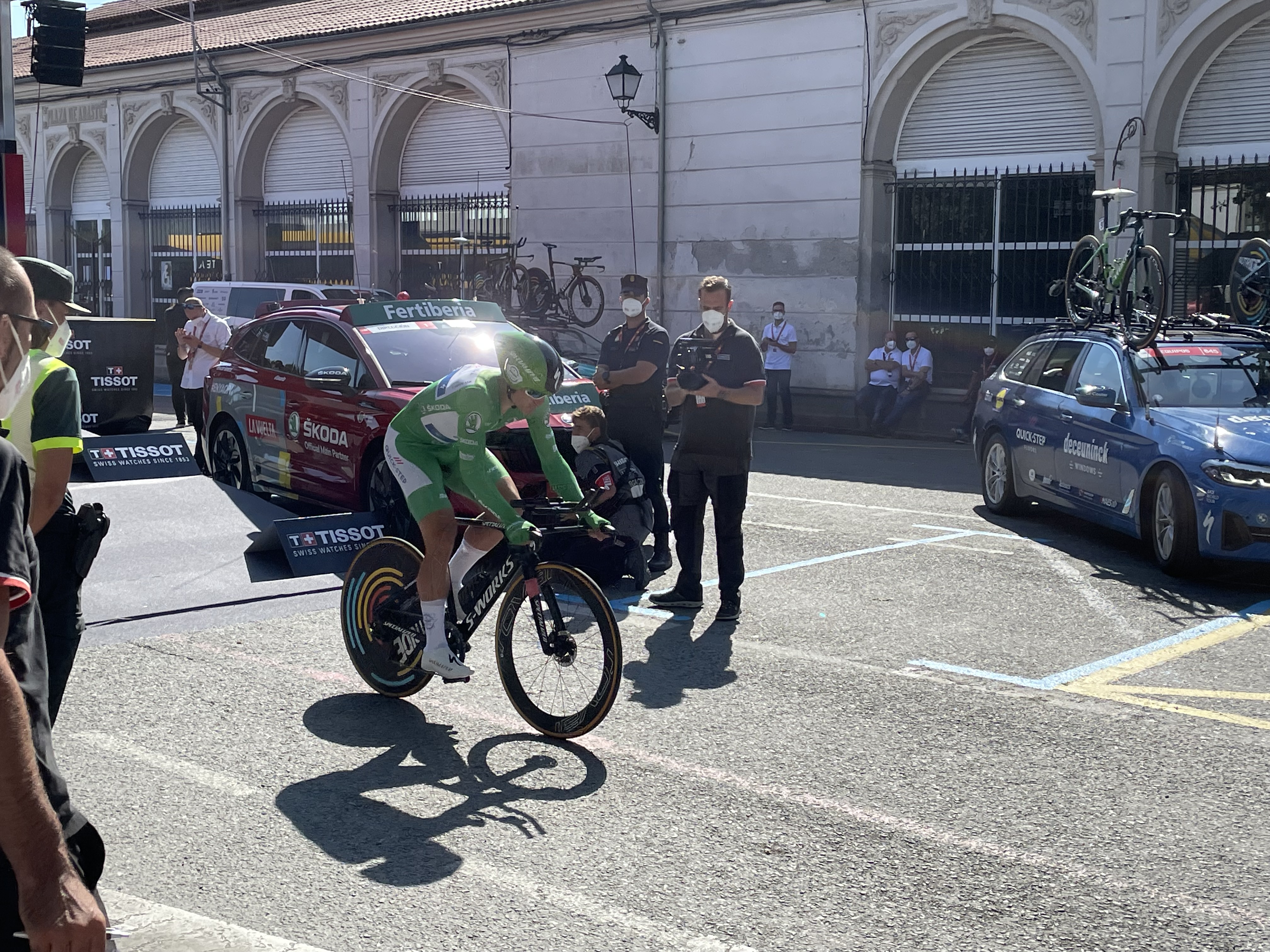 Fabio Jakobsen

Which day and stage did you visit? What was in your VIP program for that day?
We were VIP guests on the very last Vuelta stage. This was the time trial from Padrón to Santiago de Compostela. There was a separate area for the VIP guests in Padrón with food, drinks and entertainment. Unfortunately, we heard then that the helicopter flight was canceled. We didn't want this to spoil our day, so we decided to enjoy all the other good things of the Vuelta.
Following Bora-Hansgrohe rider Patrick Gamper during his time trial in the car was the highlight of the day! We joined in his effort right from the start until the very end. We were so close, so it almost seemed like the people were cheering for us! In the streets of Santiago, we even took the roundabouts clockwise at 50 km/h.
Look at the speedometer!
When we were in Santiago de Compostela, we were close to the finish line (again in the VIP area), so we could see all the top riders arrive.
After Primoz Roglic finished, we also witnessed the closing ceremony. We managed to exchange a few words with the Dutch riders of Team Jumbo Visma.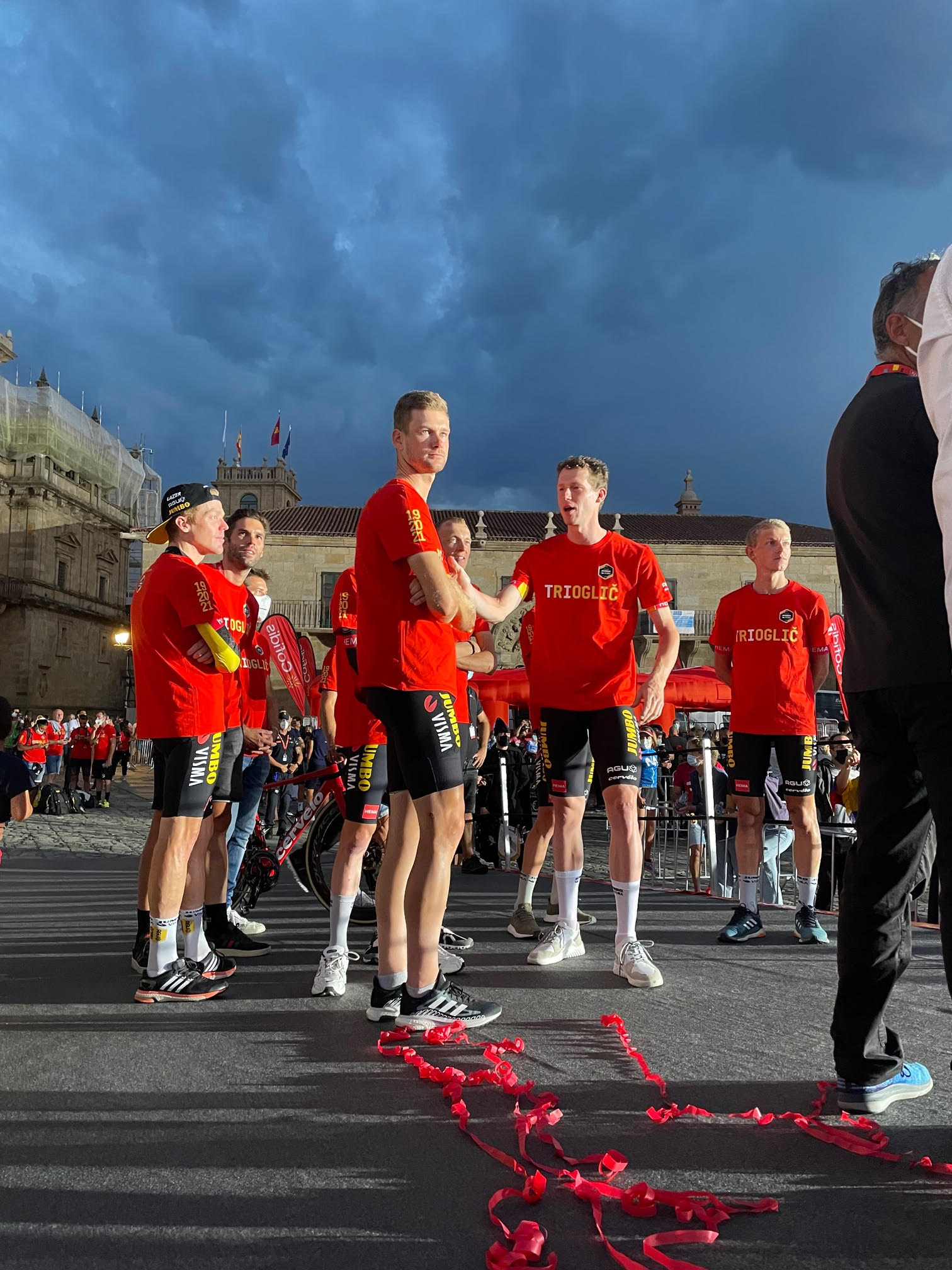 Sam Oomen, Steven Kruiswijk, Robert Gesink, Lennard Hofstede, Koen Bouwman, Nathan van Hooydonck
Have you ever seen a big racing event live? What impressed or surprised you the most about the race itself?
Not really! I remember that the Giro d'Italia passed through our town a few years ago. I made the mistake of taking pictures, so I actually watched the bunch passing by through my phone. In a few seconds they were gone...

Did you have favorite riders in the peloton and were you able to spot them?
Absolutely - Fabio Jakobsen! It was great seeing him winning three stages and the green jersey. Such a strong come-back after his horrific crash in Poland a year ago.

Did you know about some of this year's routes of La Vuelta, beforehand? If you didn't, having now witnessed the Vuelta in person, do you now feel really motivated to train more and come back to ride them, on ROUVY?
Although I often ride in Spain on Rouvy, I don't know the Spanish climbs that well. A few years ago, I cycled in Tenerife on the Teide and the brutal Mirador de Masca. Cycling in Andalucia, Mallorca and the Pyrenees mountains are still on my bucket list. But until I visit them...it's going to be Rouvy (the best alternative)!!

What is your best memory of the whole trip?
There were many unforgettable moments during the Vuelta Experience. But the best was to enjoy all this with Thom. The day after the Vuelta, it was his birthday. On our return back to Holland, we had a stopover in beautiful Sevilla, where we had lunch in the city center.
Arriving home, there was a surprise party for him at home with all his best friends (organized by his mother). It was an awesome weekend that left us with great impressions!

Is there a message you would like to share with fellow ROUVY athletes?
Haha, don't try the challenges on Rouvy! The chance to win a prize is negligible! Just joking!
Thanks a lot Ruud for the interview, I'm honestly touched! I'm happy with all my heart, thanks to ROUVY, that you had such a great time with your family and that you spent that time on a special event like the final stage of La Vuelta.
So, what do you do next time, when you see a prize to win on ROUVY?!
If you're keen to try some of the 2021 La Vuelta routes, simply look up 'La Vuelta' in our route database!