Hello Emidio, you are participating in Giro-E with the Fly Cycling team. How do you feel after almost 1300 km?
It is certainly a challenging distance, even when done on an E-Bike. The races are the same as in the Giro but the bikes weigh about 16 kilograms with a time schedule that involves compulsory high average speeds. But I feel good; I have trained for this day after day and I am happy that I am able to improve my condition.
Can you briefly introduce yourself to the ones who do not know you as a ROUVY ambassador?
I have been a Rouvy user since 2016. From 2019, I started collaborating with Rouvy and have been trying to convey, with my experience in indoor cycling, the numerous advantages of this training method.
In my day-to-day life, I am a manager in a large food company in Italy, and thanks to Rouvy, I am also able to have a high level sporting life. Over time, I have added to this, my passion for blogging and social activities, thus creating an Instagram page dedicated to sharing sports tips amongst amateurs like us.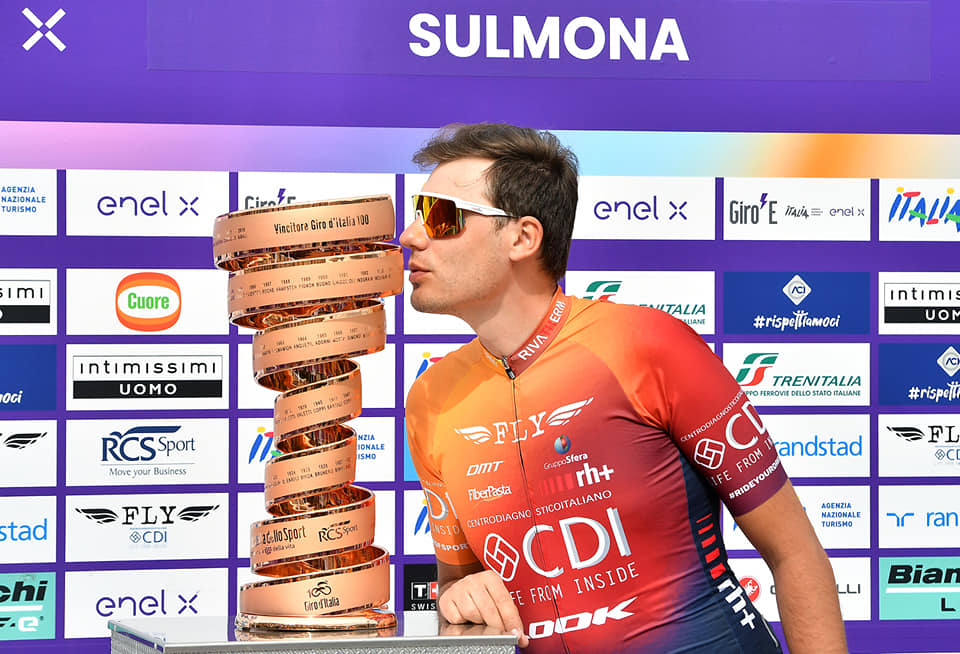 What does the racing day look like?
Every day is a new beginning; Italy is so beautiful and allows you to challenge yourself every day with a new path and scenario. Of course, riding every day is stressful, with factors like the team presetting process, the covid tests before each race, the safety protocols, etc. But these are the elements you have to get used to if you want to go through an amazing and fulfilling experience of this kind.
There is a lot of traveling. How hard is it to organize such a series?
A lot; a special thanks always goes to the Team manager who plays a fundamental role in a competition like this. Thanks to him/her, we athletes live in a bubble and we get the privilege to focus only on the races, while all the dirty work to enable us this pleasure is done by them. Transfers of vehicles, hotel reservations, meals, etc. are very complicated and could not be managed by us athletes.
How did you train for those extremely difficult races? You have a full time job and I believe it is not easy to combine both.
The time to prepare is inevitably short because I have a full time job. Since 2016, I have chosen to train for 40% of my season with indoor cycling, because the times are condensed and thus maximize the effectiveness. You also don't risk getting sick cycling at night. I therefore follow a structured training program, divided into macro and micro training cycles to get in condition for competitions.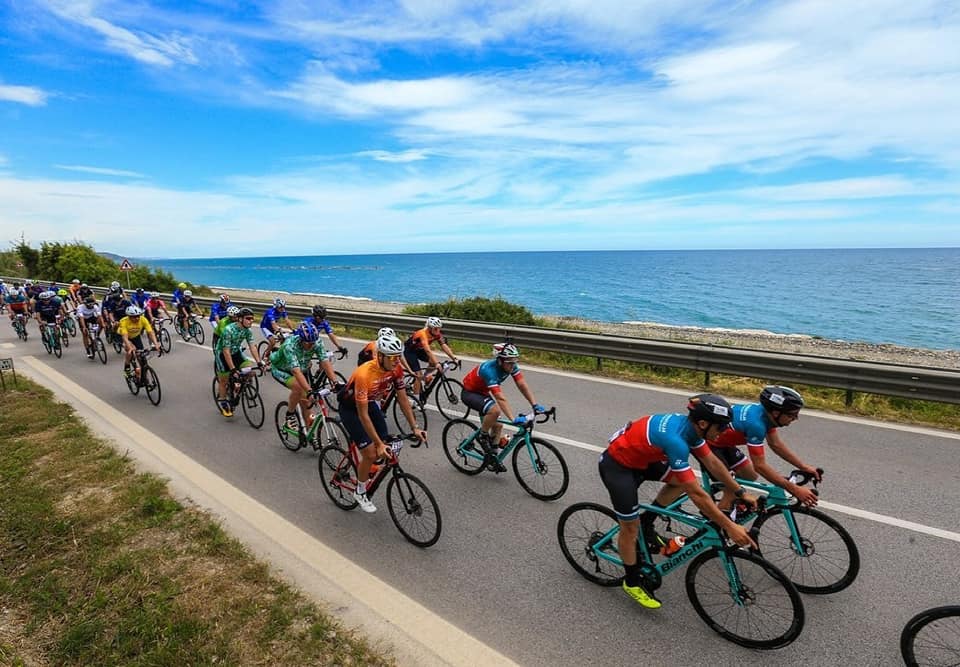 Do you like the Giro d'Italia routes? Did you train on them, or did you have to find other training methods because of the covid situation?
I haven't been out of my region in the last year other than for the Giro, so it was a whole new experience. Even though some routes were the ones that I had already ridden on over the years, they still pose you with surprises every time, so surely there is always an element of unknown difficulty.
How is the atmosphere at the races with the current restrictions?
It is certainly more stressful, but the rigid protocol allows us to be safer. Last time, I contracted Covid because the pre-race Covid tests were not mandatory then. But today, by doing the tests every day, the risk of contracting the virus has become very low. This makes us calmer despite the stress.. That way, the Giro D'Italia scores big time!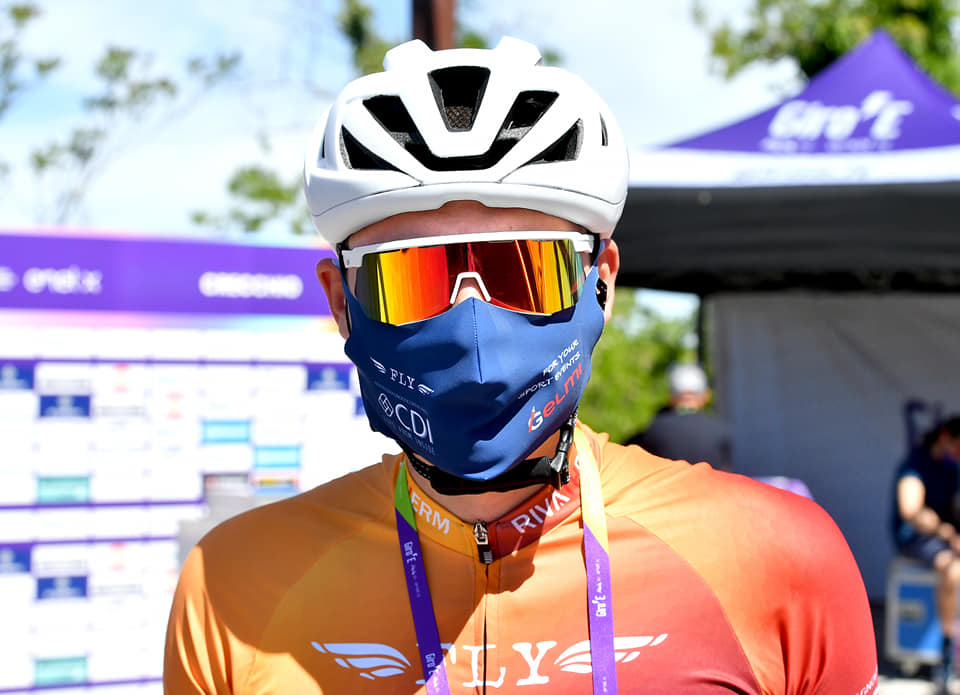 Are you also a part of the ongoing Giro d'Italia??
Giro E is slightly different from Giro D'Italia in that the team is changeable. There are two fixed captains who make the whole Giro and 4 other athletes who can vary from week to week. I may compete the first week, and then I can be called for other competitions to replace any other athlete.
How does it actually work with e-bikes? Are there any rules regarding their usage?
Yes, it's a real race! You can only use one battery per Race; plus there are several challenges along the way. In addition to the usual goals of the Giro D'Italia, we add the regularity races. These are the hardest because each team is asked to maintain a constant pace; all these races lead to winning jerseys.
E-Bikes are tools for playing 100% sports. Plus, they provide an important element to be managed in a race: In addition to energy strategies, you must have a strategy to not get to the end without the battery!
How does it feel riding an e-bike?
Well, I'm on my second racing experience with E-Bikes and I must say that they are really interesting tools. In a race like the Giro E, the use of the battery is really limited because, as you know, above 25 kilometers per hour the engine comes off. So, usually the averages in the race are about 30/35; sometimes you find yourself pedaling on a vehicle 16 kilograms uphill without the possibility of using the engine because you climb at a rate above the speed of 25 K/H.
Surely it is a tool that, if not used for a race of this level but for cycle tourism, allows you to get great satisfaction.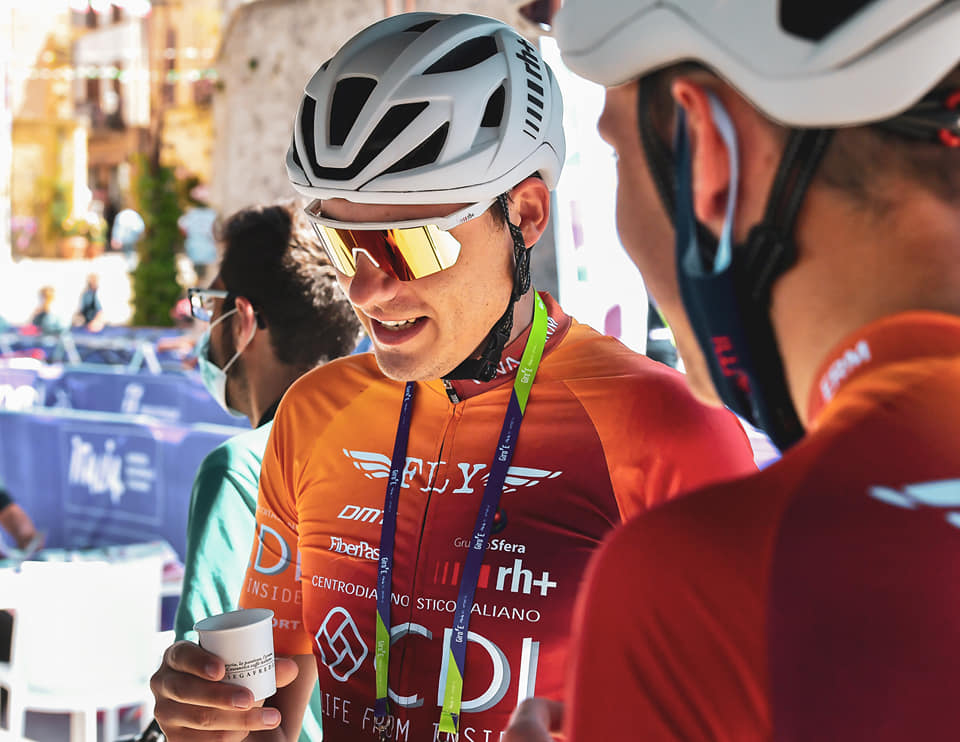 Do you have any highs and lows, from the first period of the series, you would like to share with us?
Certainly there were days when I was in better shape and then there were other days when I was not so. I was definitely tired at the end of the week because the kilometers and the difference in altitude were certainly felt. But it went well.
Which stage did you enjoy the most and which was the hardest one till now?
The most difficult stage was the one in my region where we reached the summit of Campo Felice. A lot of altitude differences and high speeds did not allow us to use the electric support and therefore we had a very strong race. The inclement weather was hard; it was cold and rain whipped us right from the beginning! But surely, this was both the toughest and was also the most beautiful race.
There was one day off. Did you recharge your batteries? What is the best method of regeneration for you?
The day off doesn't stop you; I did 40 minutes of Rouvy to dissolve the toxins and recharge my energy!
Thank you Emidion we wish you a good luck in next next races!