Based on multiple requests, from both race organizers and active members, we release 2 new event types. (Don't forget to update your apps).
MULTI-LAP
Multi-Lap on ROUVY allows one to set any video to a specific number of replays, thus enabling any video route to be turned into a criterium event. As of today, Multi-Lap will be available for official event organizers which in turn will be activated by ROUVY for them. So, at the moment, any ROUVY member is welcome to join our upcoming crit events, but the ability to organize those events will only be granted to anyone after public tests. Stay tuned for the official event announcements.
GROUP RIDE
Group Ride allows you to share your rides with your friends or other athletes from around the world. Enjoy riding in a group, stay motivated, do not worry about your performance and simply, enjoy exploring the world. Challenge others to join the ride without any podium aspiration.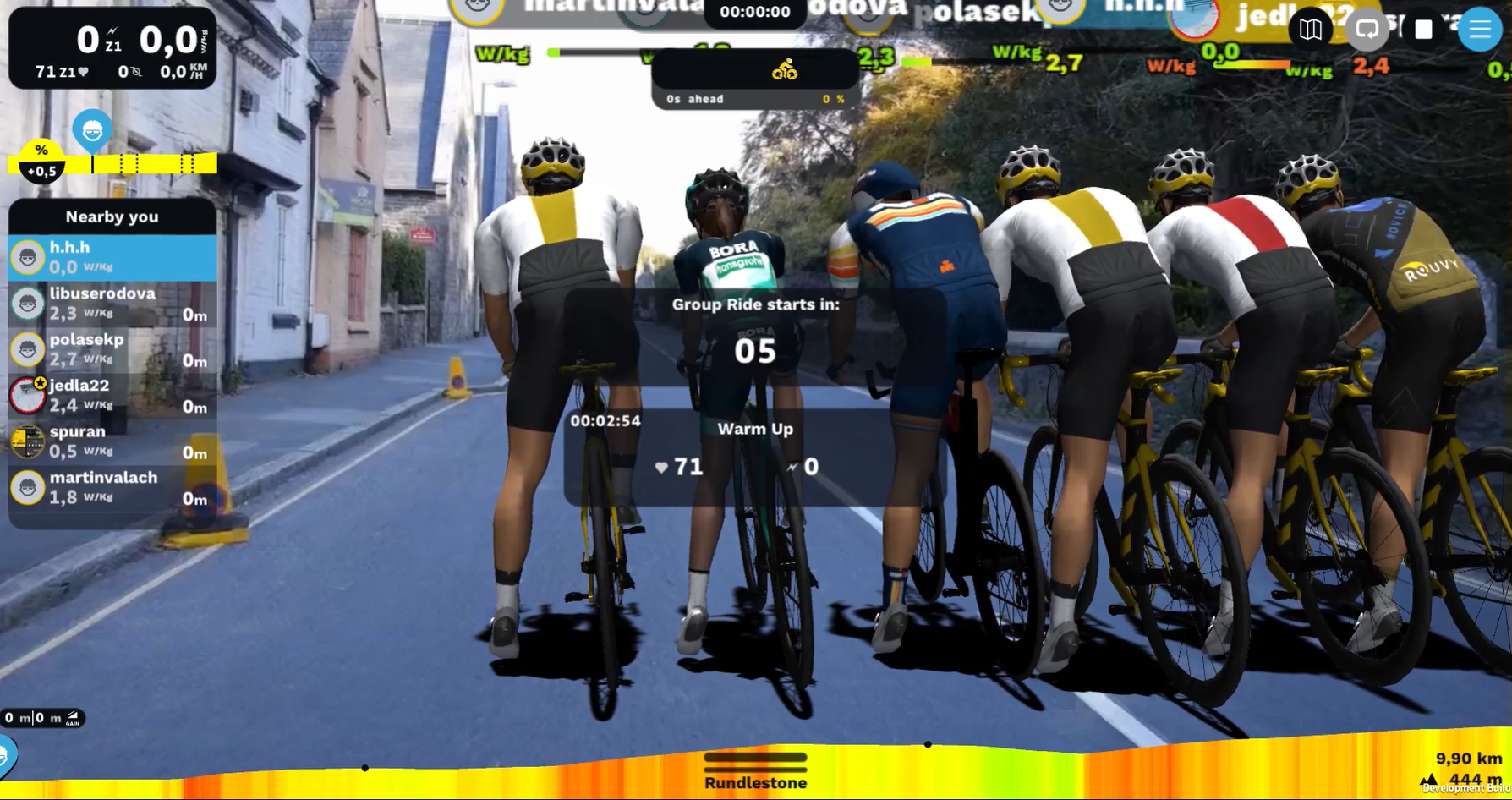 Event characteristics:
invitation driven
non-competitive - all athletes are welcome - no matter their fitness level
no official group ride results
a great tool to engage with new athletes outside of your circle, in a friendly way
communication with questions & answers is welcome during the ride
only TSS points are counted towards ROUVY Career
-> Goal: Joy of riding and bantering with your training partners!
HOW IT WORKS
When exploring the world with ROUVY Group Rides, you will be able to stay together with the Group Ride Leader, irrespective of your performance. Keep pedaling and the "ROUVY Magnet'' will keep you close to the Group Ride Leader - simply by giving you extra power. If you decide to challenge your Group Ride Leader and ride much faster than him or her, our magnet will pull you back to the Group Ride Leader, allowing you to stay with the Group yet enabling you to give the extra effort you want to.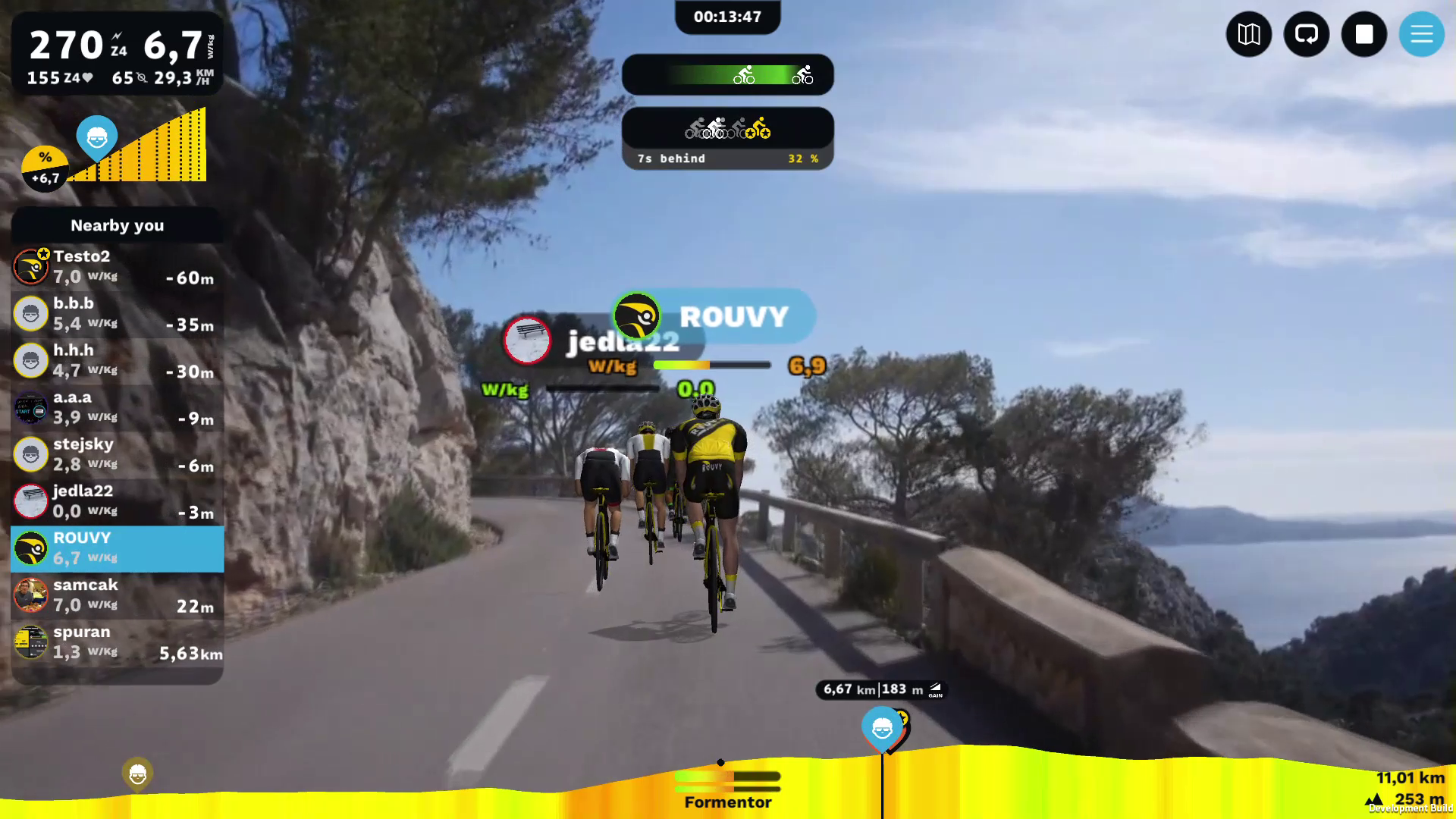 How the "Magnet" scenario works
In order to stay next to the Group Ride Leader, one must produce the same effort/watts as the Leader. When a rider produces less performance and starts losing distance, the magnet kicks in and starts "helping" the rider to stay with the group. It works the other way too - when a rider stays consistently ahead of the Group Ride Leader, the magnet kicks in and the rider will be "pulled back". It will get progressively more difficult to stay ahead. There will be an indicator visualizing position towards the leader (seconds behind or ahead of the leader and performance savings against the leader).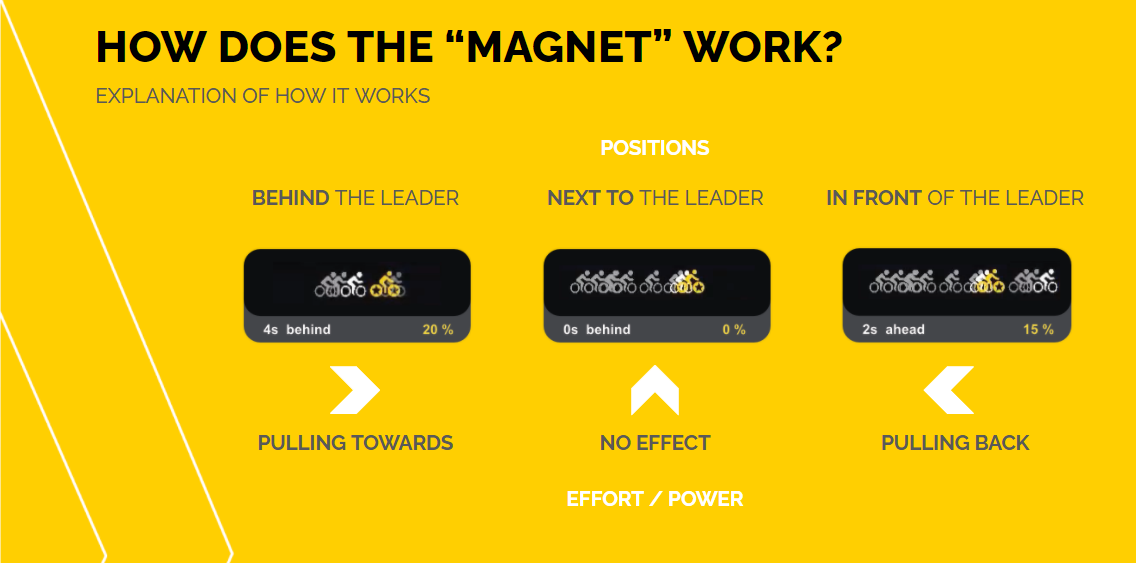 How do I know, who is the Group Ride Leader (and where he/she is?)
Group Ride Leader is visualized at any given point at three places simultaneously: on the profile, in the nearby list and within the avatar group.
What about the social aspect of the Group Ride? Is there a way to interact with the Group Ride Leader and amongst each other?
At this stage, we recommend you to use the Discord app. Group Ride Leader creates the room and invites participants who can then interact via audio, in real time. ROUVY will collect all the customer feedback and also consider introducing other means of interactions, including pop up messages and text messaging in future releases.
What will the participant see once a Group Ride finishes?
Riders will be presented with the traditional activity summary screen plus new additional information - data on power savings compared to the Group Ride Leader's performance.
Who can create a Group Ride?
At this stage, ROUVY organizes group rides directly or on behalf of the event organizers. A Group Ride is organized for either a specific length of time or a specific distance. Possibility to organize Group Rides will be available for anyone after the end of the beta period.
How to join a Group Ride?
Follow the "Events" section on rouvy.com. For the open events, instructions on how to join will be provided in the event description. For the closed rides, invites will be sent to selected athletes or protected by a password.
The first test group ride is set:
ZRG Group Ride
Route: ŠKODA Velotour Skyline – Beat Cima
Wednesday, Feb 17th, 19:00 CET
Join here https://rouvy.com/en/event-detail/377
See you on track! Enjoy the rides!
Any feedback or requests for specific improvements are welcome at support@rouvy.com!