Dear Matthias, firstly we would like to thank you for finding time for the interview - let's start.
What work do you do? And when do you usually have the free time to ride ROUVY?
I'm an academic in the Maths department at Manchester University. During the week there's usually some time for bike-related activities in the evening; longer rides are left for the weekend. I've always commuted to work by bike (about 11km each way) and was keen to keep this regular exercise going during the covid lockdown. I, therefore, started to set up a ROUVY race at 7am each morning -- the "Fake Commute". There's a group of hardcore indoor riders from all over the world who join me daily, and many of us haven't missed a ride since March. It's a pretty brutal affair, usually 30-40 minutes "all-out" on some hilly route -- it certainly wakes you up before a day in the (home-)office. (That's for the Europeans; for Australians, it's the equivalent of the commute home.)
How was your training during the cold months when you did not have ROUVY?
The regular (real-world) commute tended to keep me going all year round (apart from days when it's really icy, which doesn't happen very often here) but I reduced the number and lengths of the weekend rides during the cold and dark part of the year. Now cycling never stops.
What other hobbies or sports do you like to do in your free time?
I'm known to have read the odd book…
Do you ride on ROUVY with your close ones? Like family, friends, co-workers.
Nobody in my family has caught the cycling bug but I've made many genuine friends on ROUVY. I "see" most of them several times a week in various races. Occasionally, we arrange some mad long-distance indoor rides together and some of us have everested (and more) on ROUVY. Sadly the recent leaderboard reset has wiped all traces of our efforts. Bernd Eller (ridewithoutstomach) has prepared some wonderful routes for such activities.
Before and after pictures after completing ROUVY's longest ride ("Time2die II - Simply 10k": 374km and 10,021m elevation). YOu can check the details of the record on STRAVA.
BEFORE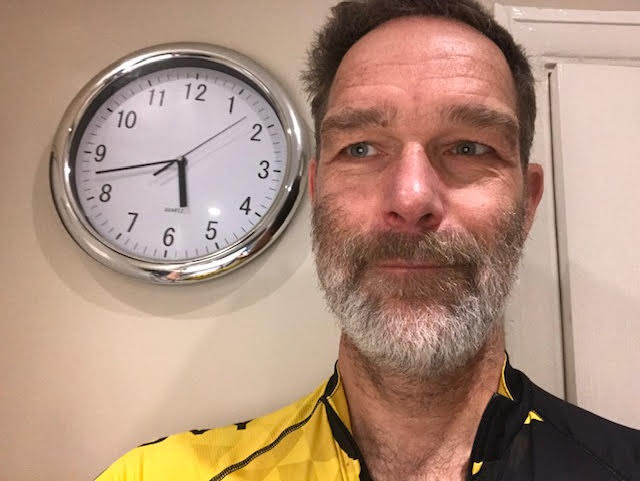 AFTER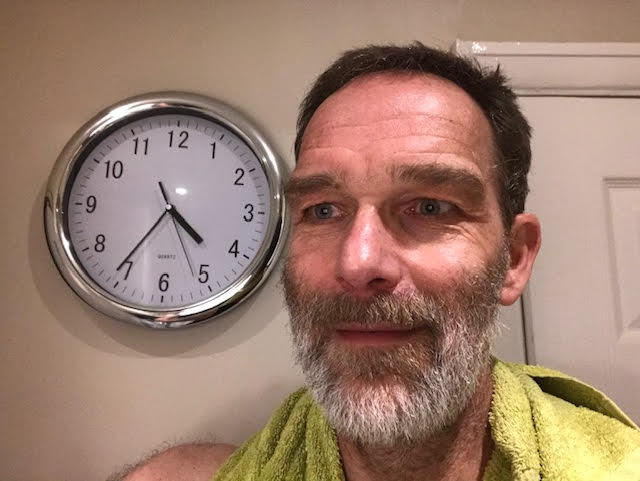 When did you find your passion for cycling?
I got into cycling towards the end of my school days and then did it big time when I was a student, with regular extended summer holidays cycling around the Alps. I had a bit of a break when the kids were little (though I always continued to commute to work). I got more serious again a couple of years ago, possibly to celebrate my midlife crisis... Anyway, whatever triggered it, I've never had so much fun!
Which place would you go cycling to right now if you had no limitation?
We have some beautiful landscape around here, with the Peak District on my doorstep, but you can't beat the Alps. Having said that, I've recently "met" a few keen Chilean cyclists on ROUVY and the pictures they post from their rides around the Andes are truly stunning, so that country has now made it onto my bucket list.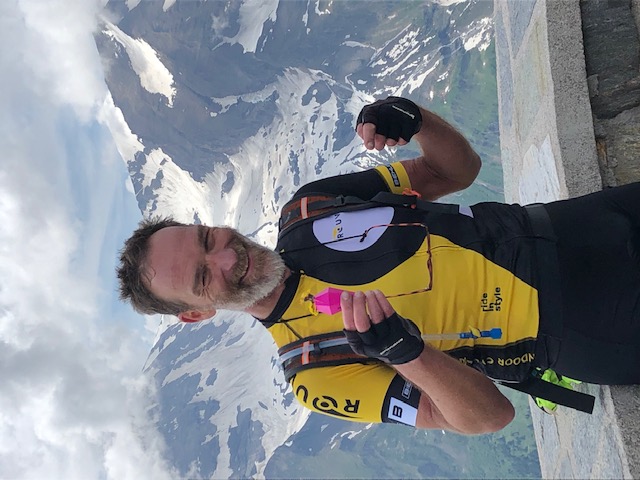 How did ROUVY make your 2020 better?
ROUVY rescued 2020 for me, if only because the "Fake Commutes" kept me sane(r)! Strangely, I've enjoyed indoor cycling so much this year that I've hardly been outside, even when the weather was decent. I can't quite explain why, but the group rides/races were all brilliant and the variety of landscapes on offer is amazing.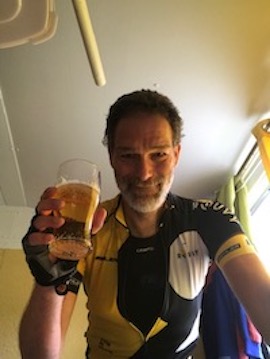 Thank you, Matthias, for taking the time. It is really great to get to know you at least a little bit more. Wishing you the best of luck and many cycling achievements!