Dear ROUVY Rider,
We've had many exciting years at ROUVY, but for me, none so thrilling as 2020. If you asked me to describe this year so far, I would say it is a year full of learning.
The world seems to have changed overnight, but our goal remains the same - putting a real indoor cycling experience into the center of what we do.

When I was studying, I loved going out with friends for a ride, competing with my mates outside or simply exploring new places. To have this feeling at any time was mine and my brother's vision when we were writing the first lines of the ROUVY app code. Today, the app allows you to travel the world from your living room, with friends from around the world, even if it is raining outside, already dark or there is simply too much traffic.

With ROUVY AR, iconic destinations that you may never travel to in real life became even more exciting and realistic. I am glad that at the beginning of the year, we were able to share this excitement with many professional riders that took part in "The Digital Swiss 5" racing series organised with the Tour de Suisse.

Gathering feedback from professional riders has helped us to understand what is missing from ROUVY when riding in a group. Drafting was one of the key discussion topics with the PRO riders, as you can feel a real difference when riding with your mates in a peloton. You can enjoy this feature soon, set for release at the beginning of the ROUVY season. In the meantime, look forward to a series of drafting races!

Becoming the official cycling platform for the IRONMAN races has opened our eyes to new ideas within racing itself. Time-Trial bikes with new aerodynamics or regular weekly races are great examples of how the athletic community can join together.

I believe that every athlete's goal is to improve performance whilst having fun along the way. This is the same for us, the ROUVY Team - we are powered by constant improvement of the app that makes your sport activities fun.

We put you, avid athletes, explorers, into the heart of everything we do.

I admit, not everything always goes according to our plans and time schedules. The ANT+ support for ROUVY AR is long overdue and I am happy that we finally finished the implementation for this and the feature will be released as public beta on August 19th.

To be able to work on desired features, we need resources that would allow us to grow our team. In the last 21 months, Whilst ROUVY AR has been uncharged, we have introduced over 130 AR routes, new avatars with custom jerseys, new races with our partners and much more.

To manage sustainable development, we feel the need for the introduction of a subscription plan for ROUVY AR and an update of the existing pricing plans. That is why, after 21 months of keeping ROUVY AR free of charge, we are now introducing a subscription plan.

Please find below the explanation of what this change means for you personally.


We are at the start of a new era for ROUVY and we would have never been able to achieve this without you. We value the relationship that you have with us and your loyalty. ROUVY is made up by people passionate for sports, whether in the ROUVY office or you, the rider on the road.

We want to keep moving with you towards more roads and features and we count on your support. Only together can we build something extraordinary!

Thank you.
Petr Samek, CEO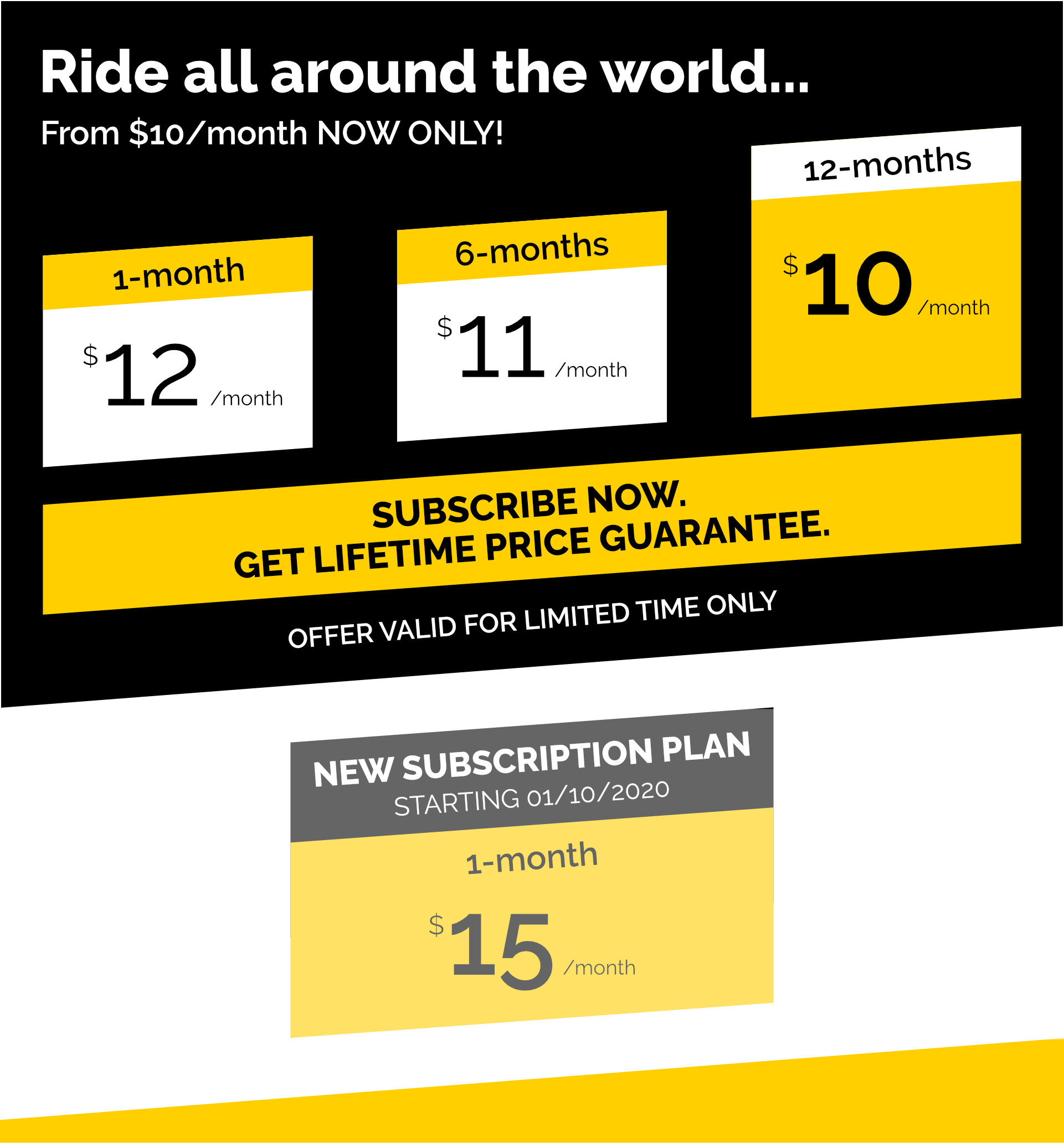 Find out more about the new subscription plans.