This victory was won by longtime professional biker Jan Škarnitzl from the team of the Cyklostar Mercedes-Benz Prague Trek, at the premiere competition of the Digital Series ROUVY Real Spring Classic. Jan defeated Jan Vastl (Pushbikers XC Team) and Martin Stošek (FUTURE CYCLING - NORTHWAVE) on challenging and hilly course Šumava MTB marathon České spořitelny, which is part of the series Kolo pro život. His efforts of climbing the virtual Šumava hills awarded him an impressive time of 0:45:01.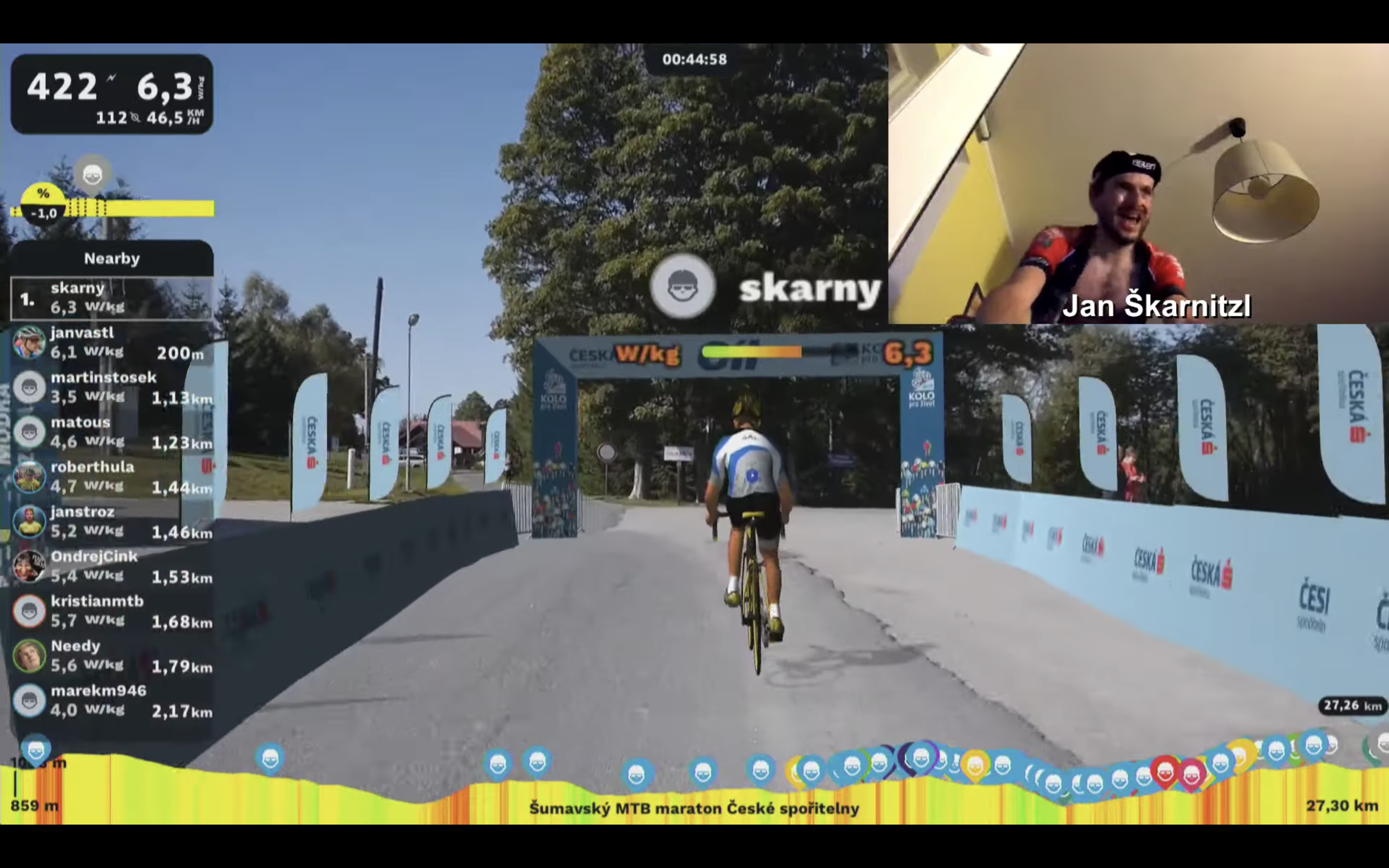 He enjoyed his first virtual race a lot. "It was a really intense experience. I have been training with ROUVY for several days, so I had a clear picture of ​​what will be waiting for us. I went through different route profiles, but none were set in race pace. That's why I used the start at ROUVY Real Spring Classics to test my limits, " he said. His enthusiasm for the race was evident from the start. "The motivation was the other competitors, especially Matouš Ulman and Jan Vastl, who were also my biggest rivals. Around the thirty-minute mark, I felt that the start was too fast so I began more closely watching the graphics of the individual riders as well as my own data. But fortunately, the race was coming to an end and I had made it to the finish", added Jan Škarnitzl.
Winter preparation was very complicated for this Olympic rider. In February, he broke his hand at the races in Greece. "I had to rethink the plans, get back home quickly, and undergo surgery. After three weeks, my family and I flew to Majorca intending to gradually start to train fully on the bike, but unfortunately, I only managed four training sessions. Then as recommended, we returned home." Now, Jan Škarnitzl is in quarantine, remaining solely at home. "But thanks to the ability to compete in virtual training and races, the time goes by much more quickly and for that I am grateful!"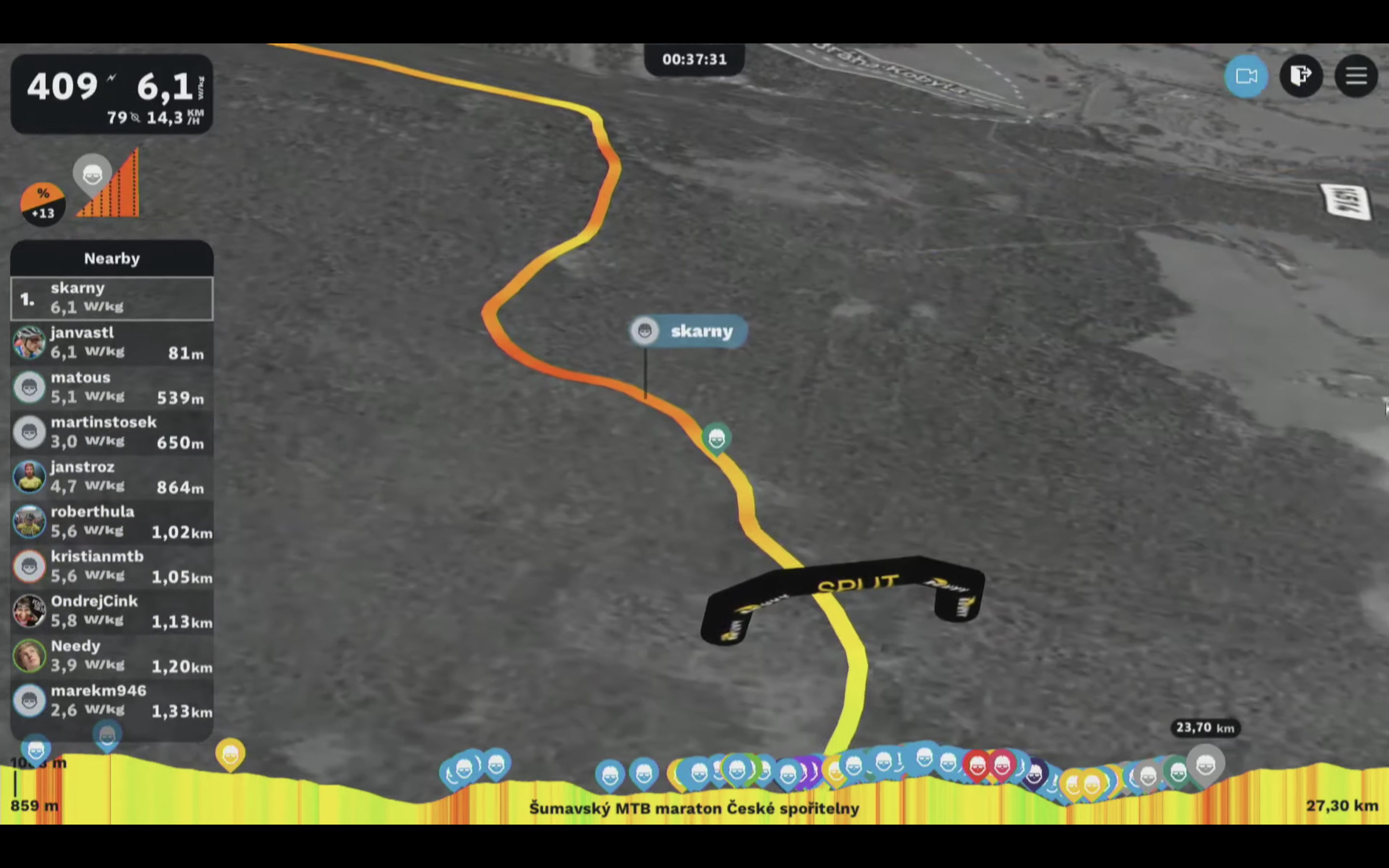 The start of the opening race of the cycling series ROUVY Real Spring Classics included 211 competitors, 180 of which reached the finish line. The race was recorded on the ROUVY YouTube channel.
The female winner of this race was Jana Pichlíková, riding for KROSS Bike Ranch team. The Vimperk athlete and cross-country skier Barbora Havlíčková also did well, finishing fourth on the "home" Šumava virtual track.
The series of cycling races ROUVY Real Spring Classics provides professional and amateur cyclists with an opportunity to race in a virtual environment when all sporting events are cancelled. In addition, many competitors are quarantined and are only able to train inside of their home. Cyclists and other athletes can still join the digital series. All you need is a smart bike trainer that can adjust the resistance depending on the tilt, bike and an iPad or computer. Due to the current situation, ROUVY is now offering a free 44 days subscription to ROUVY for all new subscribers. "We want as many as possible to be able to train and race with ROUVY from their homes. With access to virtual training, athletes won't experience any downtime when it comes to their cycling season and they can continue to have fun", said Petr Samek, CEO of VirtualTraining Ltd., Vimperk, which developed the software for indoor cycling training ROUVY.
All races can be watched live with commentary on ROUVY's YouTube channel. Races always begin at 6 pm UTC.
Dates of individual races and list of routes:
23.3. Sumava MTB Maraton České spořitelny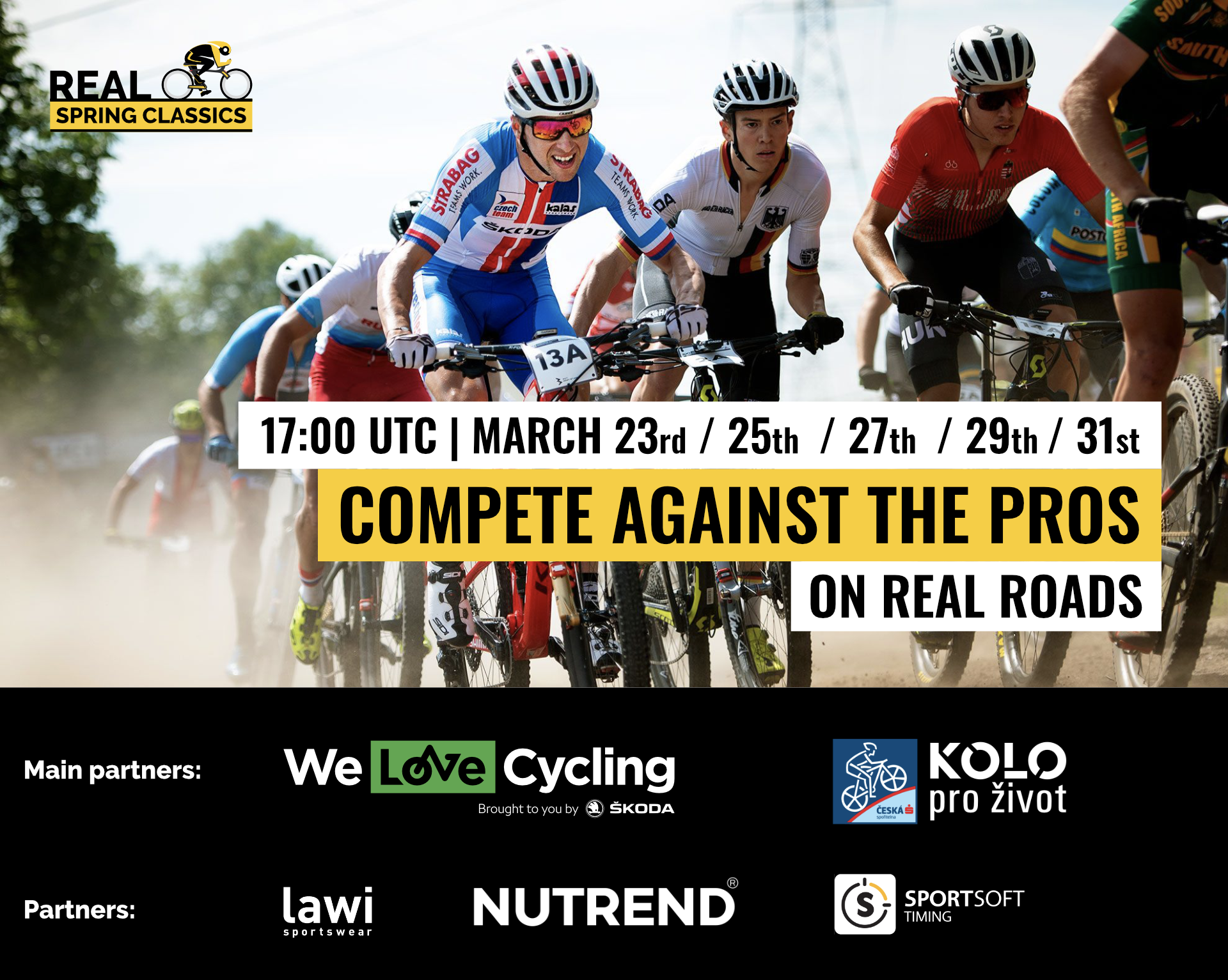 The proud partners of the ROUVY Real Spring Classics digital racing series:
Partners ROUVY_Real Spring Classics:
NUTREND, the market leader in sports nutrition and active lifestyle food LAWI, a manufacturer of cycling clothing
SPORTSOFT Timing, professional chip timing, and result service.