Where to begin:

Setup & equipment
Basically, all you need is a GPS device, heart-rate monitor and a smart-trainer. Do you have a big screen? You can connect your TV to any iOS, Android, macOS/ Windows device or Apple TV and multiply the immersive and fun experience from riding in the virtual reality of Rouvy.

We recommend having accounts on both TrainingPeaks and Rouvy. TrainingPeaks enables fitness tracking, which can help plan for all phases of endurance sports training. To get you started quickly, Rouvy's free trial comes with a 1-month free TrainingPeaks Premium account. If you have recently acquired any of Saris, Wahoo, Elite or Kinetic trainers, you will find a 30-Day Free trial voucher inside the box. Upon registration, you will receive a welcome email with an individual TP code.

If you choose not to set up a TrainingPeaks account, Rouvy has preloaded race courses. You can choose from multiple categories for Time Trial and other course locations around the world. If you have the GPS coordinates of an event you have already completed from TrainingPeaks, you can upload the GPS coordinates and replicate the course via Rouvy.
Nutrition
My advice here is to make sure you have a sports drink (Trailwind, Scratch Labs, Gatorade) on hand when training hard indoors. Make sure you have a fan too and plenty of water nearby to stay hydrated. Nutrition is very individual and needs some practice too. Using Rouvy to pre-ride a course is a great opportunity to test your race day nutrition.
Coach availability
Training with a coach is definitely the best option because they can help you figure out all the elements of a successful training cycle. help sync and set up your training devices, load training targets, nutrition and equipment guidance (Consider finding a coach on TrainingPeaks). However, if you do not want to work with a coach, you are still able to use the great features of both platforms, but be prepared to spend a considerable amount of time for self-education (Yeah, an advanced degree in Exercise Physiology and Computer Science can help, but not necessary).
Once you connect your accounts, the TrainingPeaks workout calendar does not sync automatically to Rouvy, so we recommend that you keep your training schedule in TrainingPeaks for the best all-around analytics.
Syncing Rouvy and TrainingPeaks
To sync accounts, download the Rouvy apps and create an account. Go to 'Settings' –> 'Cloud' –> TrainingPeaks and turn the 'Auto' switch on. After you log into TrainingPeaks, click 'Allow' to finish. If you are working with a coach, all of the structured workouts from your training plan will automatically upload to Rouvy, ready to ride. Rouvy only displays and synchronizes with TrainingPeaks workouts that contain the specification for 'Bike' Workouts. Other workout specifications will not be displayed in Rouvy apps (i.e. swim, run, strength).

Workouts - synced and ready to ride

After syncing your accounts, click or tap on the TrainingPeaks button in the menu. You will always find your next workout to ride there.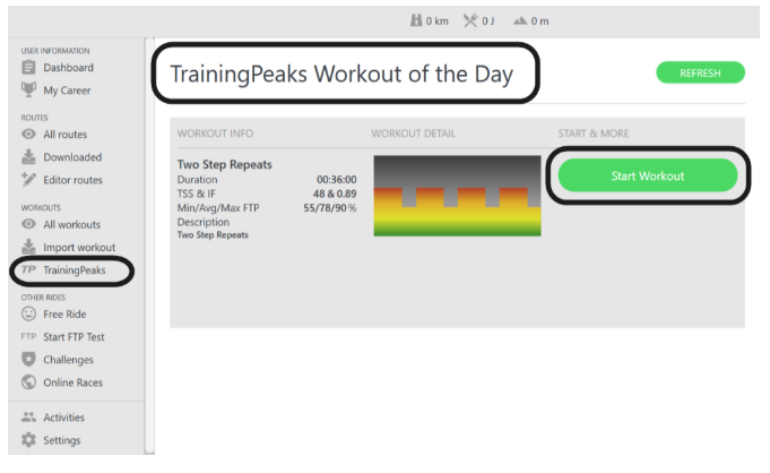 Again, you or your coach need to add a workout to your training calendar in TrainingPeaks in order to see any workouts on the Rouvy workout calendar.

IMPORTANT! Just like TrainingPeaks, Rouvy uses 7 Training Zones for Heart Rate and Power segments. However, TrainingPeaks offers different zone options (Friel, Coggen, USA Cycling, USA Triathlon). Therefore, make sure to complete the rider profile on Rouvy with the correct parameters like weight, height, etc. If your workouts are based on FTP, set your FTP in your Rouvy account manually, or take an FTP test. Without having both account/rider profiles in sync, you might end up with the incorrect training load, which will hamper training. Notice, all workouts in Rouvy are Erg Mode (ERG) by default.

If you miss a specific workout in your training plan you can check out some of the featured workouts in the Rouvy libraries. Once you finish your workout, the metrics will sync back to TrainingPeaks, ready for analysis for you and your coach.


Race Course Options

If you are a newbie in indoor training just keep in mind that rides on a trainer can feel on average 10% harder compared to your outdoor rides. Here is a brief explanation why this happens.
To give you a cutting-edge advantage, Rouvy simulates your cycling race course indoors. With Rouvy the course indoor replica, and always with realistic resistance, can be available in 3-4 options:

map only - see yourself (tag) moving on the map
HOW-TO: click/tap the menu -> 'Routes' -> type in the search menu the name of your route.
DETAILS: If there is no searched route in the library you can easily create your own custom one - download the course GPS points from the event website, and upload to Rouvy using Route Editor.

map + Google StreetView
HOW-TO: choose the route (AR UI should be turned off) -> 'Start Training', in the upper right corner of the screen, click 'StreetView'
NOTE: StreetView mode is not very recommended. Google camera shoots processing is very twitched and may differ from place to place but if the map is not enough you can try. (If you are not already familiar with the course, StreetView does help to orient which part of the race course it is)

GPS-synced video + map