WHAT'S NEW FOR THIS SEASON?
Our great news started two weeks ago. During September, we released the new Rouvy AR app for Mac and Apple TV, with new features and classic UK cycling locations. And what's more? Soon the Rouvy AR app will be equally available on other platforms!

We would like to set up our CAREER to be something truly special for you. We want to keep it as a feature that brings you even more fun and great real-life training experiences! And that's why we have decided to add some fun and surprises, step-by-step on the fly. You may have already noticed that for some Career levels, we have loaded "Coming soon" pictures. These are some of the "things" that we have prepared for you, and we want to unveil them down the road. So for this season, we have begun a little change to publish some "things" gradually to keep you excited during the whole season! So stay tuned!
NEW CAREER START IS IN FORCE
As you may have noticed, after switching the Career format to a strict annual timeline it works more like a "League."

Defaults:
Your Career Level (or "My Career," as you are used to seeing in the menu) will be reset every year to zero. Legends are and will be an exclusive club for the devoted ones.
All results - up to a date of reset - are counted as those reached in the last/current season.
Career resets will never affect any personal and all-time statistics. Your personal results for the 18/19 period are saved in the Season Results section on my.rouvy.com.
Former Legends will receive a special badge and/or a highlighted rider model in the augmented mode.
Part of the Community web, my.rouvy.com and rankings will go public (available without login) - coming soon.

Double Point Weekends and Outdoor Scores:
The Double Point Weekends will stay, and the schedule is going to be released soon.
Anyone is welcome to mix and proceed with the outdoor rides, where applicable.
We are aware that there is a large portion of our users who prefer the races and group rides over the other individual forms of training. For this year, we would like to schedule even more group rides. You will learn more about this soon!
19/20 SEASON PREVIEW
As with the Challenges, the 19/20 annual Career is again full of great prizes! We are grateful to our partners, who will give you a chance to win something valuable at every level as you progress. With prizes, you can get even more motivation to advance your Career. Below you can find an overview of these attractive prizes:


- Saris: 3 random draws every month for neck gaiter and beanies; 1 final draw for H3 direct-drive Smart Trainer
- Kinetic: A draw for 1 heart rate monitor every month
- ELITE: 1 draw for an Elite Suito direct-drive interactive trainer with accessories (tablet holder + mat)
- TrainingPeaks: A draw for 2 quarterly subscriptions every month; 1 draw for 1 annual TP subscription
- Wahoo: 2 draws for 2 ELEMNT ROAM GPS BIKE COMPUTERS
- Rouvy: Rouvy branded package for National Champion Career level + a surprise for our Legends, which be released soon

Last year, Elite became our Career partner for the first time - for the ELITE level - and came up with a fantastic prize: "An Experience Day at the Giro d'Italia Stage." And the result? It was really great!!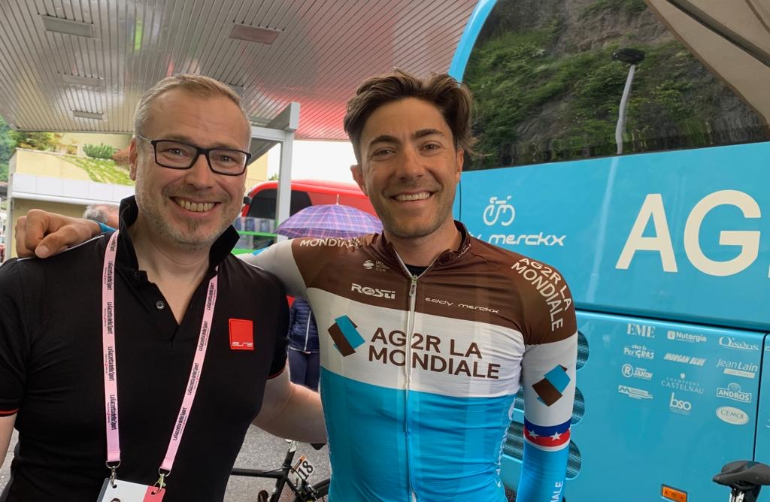 In the words of last year's winner, Joerg Müller: "What shall I say? 'Great' does not describe the experience. It was just unbelievable!!! I still cannot believe what I have seen and who I've met. I was sitting in the car and felt like part of the team, with all the trouble and work they have." We think this speaks for itself! Here you can see a small photo report on how last year's winner enjoyed it!

And right now, with the start of the new season, here is an opportunity for you to build a new Career ladder in 2019/2020. Don't hesitate, and go for it! Improve your physical performance, get ready for the outdoor season and win some of our sweet prizes!

In addition, we are still preparing new innovations for you - which we will gradually publish during the season! It is definitely something to look forward to!
Challenges for Q1 of the Training Season 19/20 are on the Roster!
As promised, we've published the first stretch of Challenges for the beginning of Season 2019/2020.
You again have a chance to win some of our sweet prizes and cool-looking Finishers Badges!
There are multiple reasons proving the indoor trainer has become a cyclist's year-round friend. Our Challenges are designed to do just that and are always easily found on the map and in your apps. Finally, let's jump to the menu:




Badge

Name/Dates

Prizes




Rouvy Challenge

October 1 - October 27

Branded Rouvy package




Saris H3 Challenge

October 7 - November 3

TrainingPeaks Kona 2019

October 11 - October 13

TrainingPeaks Premium subscriptions




Elite Challenge

November 4 - December 1




Hamburger Challenge #6

November 11 - December 8




Finisher's badge



Kinetic Challenge

December 2 - December 29



HolidayTour Challenge #6

December 16 - January 19



Rouvy Premium subscription

So, the Challenges for the beginning of Season 2019/2020 are now published. Registrations are open and we ́re looking forward to your wonderful efforts. Let's show the others that you're well prepared to beat the best and yourself in the first turn!

IMPORTANT NOTES:
Unless it is a type of exclusive promo and directly stated, you don't have to take any extra action to be eligible for a prize. Join and complete the Challenge task, and you have a chance to win!
To make it easier, we will send a reminder for the Branded Challenge a couple of days/weeks in advance. Facebook is not a reliable way to keep up with Rouvy updates, so we strongly recommend you subscribe to the newsletter (if you haven't already). We don't bother with miscellaneous items and send updates only when there is something important to say.
Standard Challenges will stay on the map and in apps with no special reminder.
Challenges for January - March (Q1 of 2020) will be announced in mid-December.
Enjoy the beginning of the new season with new Rouvy Challenges and Career!
Good luck in the draws!