Cycling eRacing
eRacing is a new discipline where cyclists pedal endless miles on a stationary trainer connected to an indoor cycling application, such as Rouvy, that simulates a realistic racing experience. The attacks, counter-attacks, and strategic drama play out in the virtual world on a computer screen. eRaces are becoming a phenomenon of this age because they're accessible for both professionals and amateurs on any performance level.
Rouvy was immediately excited about this new discipline and with the existing Online Races feature, Rouvy was eager to become a platform hosting eRace events. And when it comes to the destination of the first Rouvy eRace, there's no better place than Colombia.
There is nothing unusual about the fact that this year's winner of Tour de France comes from Colombia. This country is a mecca of cycling where many professional and amateur road races like Grand Fondo are organized every year.
Cycling Challenge Show
Cycling Challenge Show is an eRace organized by an indoor training center located in Medellin - Colombia, led by Juan Esteban Arango Carvajal, Colombian road and track cyclist.
This year, the competition was supported by Rouvy and was held for 3 days from 28th to 30th of June. The competition of 160 men and 60 women in total, provided competitors the opportunity to progress through various rounds from qualification to final. Each round had a capacity of 30 spots which meant that each individual race accommodated 30 riders, participating on 30 smart trainers connected to 30 tablets enabled with the Rouvy app. Each competitor could watch his race submission on his own screen in front of him.
Fans were able to really enjoy the race atmosphere thanks to excellent speakers and 2 big screens streaming interim results along with the faces of the competitors. See the video on our Facebook page on how Rouvy and the Cycling Challenge Show became a part of changing the history of cycling!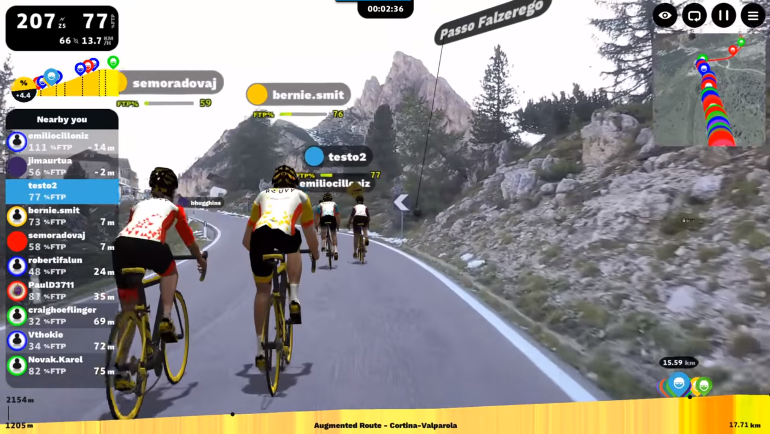 Rouvy Augmented Routes
In preparation for this event, Rouvy specially prepared 3 Augmented Routes in length of 10-20min on average, to keep the intensity of the event exciting and captivating. Those routes are available on Rouvy as CCS routes so you can try them and compare your performance with the best Colombian cyclists right in the Rouvy App.
CCS Routes:
https://my.rouvy.com/virtual-routes/detail/33483
https://my.rouvy.com/virtual-routes/detail/33536
https://my.rouvy.com/virtual-routes/detail/33805