Hello Jean, at first thank you for your time for the Rouvy Legend interview!
What is your home country and the town where you spent your childhood?
I was born and raised in Montréal, the second largest city of Canada.

Please, could you describe your story of getting acquainted with cycling and your first bike?
Like a lot of kids in the '60s, my first bicycle was a Mustang with the long and high handle bars and the long "banana" saddle. I liked to ride, but it was mainly my way to go from point A to point B. Then, I got my first car and cycling was mainly over. I started to gain weight and I started smoking. At the age of 48, on the 27th of April 2008, I made the best decision of my life. After 34 years as a heavy smoker, I quit; I also started to eat better and decided to walk a lot. After 6 months, I had lost 25 kg. and I was down to my healthy weight. At one point, walking was not enough, so I decided to buy a new bicycle and started to commute to work. I was living in the USA, in Seattle (WA).
I bought a touring bicycle, a NOVARA. Heavy bicycle, but very solid. I still have it, but almost never use it.
My second bicycle was a 2011 FELT Z4. This was my first road bicycle. I had an accident with it, and I replaced it with the same brand, but the 2016 version. I just love it!

Where are you based at the moment?
I now live in Gatineau, across the river from Ottawa, the capital of Canada. My wife and I moved back to Canada after 12 years spent abroad: 6 years in the USA and 6 years in Brussels, Belgium.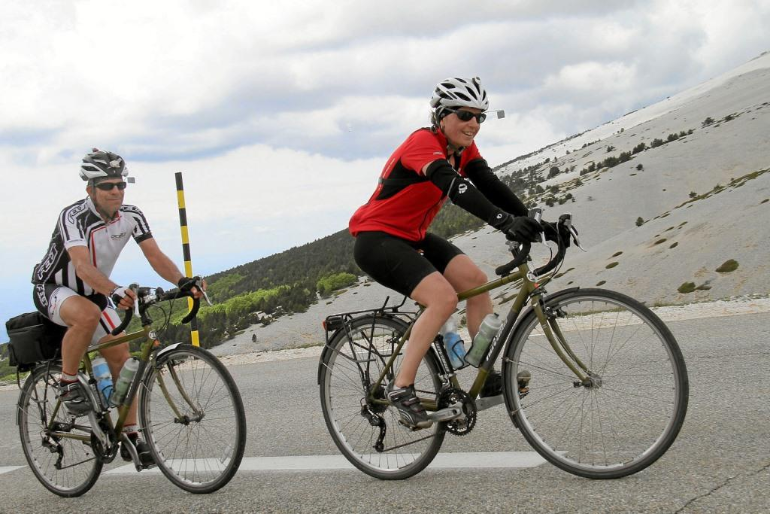 What are you doing outside of the training room (workplace)?
I work as a Technical Advisor in the Information Technology area for the government of Canada.

Nice! How does it look your "PainCave" like (bikes, trainers, accessories)?
Until very recently, my trainer was a Cycleops Indoors Cycle IC 300 Pro. It is a great indoors cycle, but it has a minor downside: the 300 model does not automatically adapt to slopes, so I needed to adjust it manually. One month ago, I just bought the TACKS NEO 2 Smart Trainer, and wow! It just took my training to a new level. Its realism, combined with Rouvy's, makes it almost like cycling outdoors.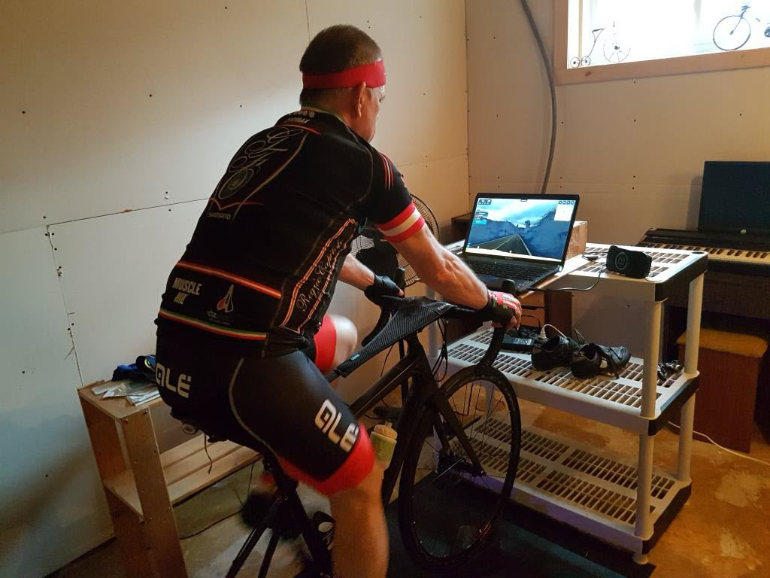 How long have you been training on Rouvy?
Since August of 2017.

Great job! Which types/brands of trainers have you already tried? Which one is/was your favorite?
Only the 2 models explained above: the Cycleops IC 300 and the TACX NEO 2.
My favorite is absolutely the TACKS NEO 2. But, I loved my indoors Cycle. I rode more than 900 hours on it, for more than 26,000 km. It had a great life!

How many hours per week do you usually spend on a trainer during the winter season?
Around 8 hours per week.

Did you focus specifically on a "Rouvy Career"? When did you start?
I completed the 2017-2018 season as a World Class, and I set my goal to become a Legend for this season. So, I started on the first day of the season and on the 27th of April, exactly 11 years after I quit smoking, I became a Rouvy Legend!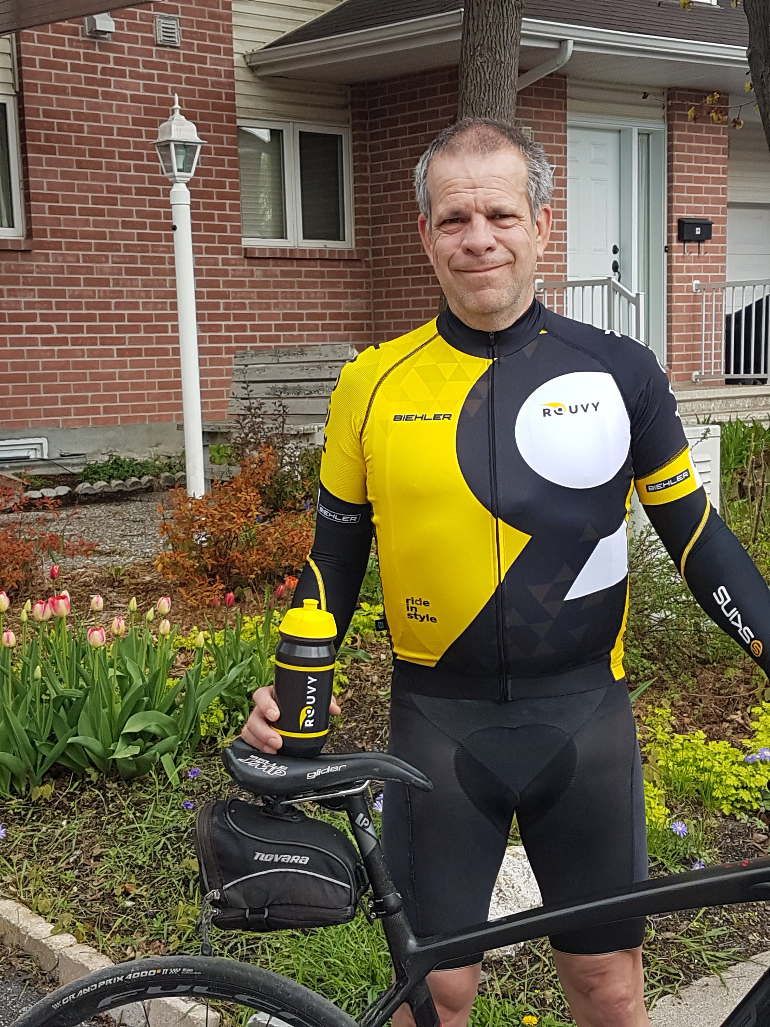 Wow so big goal! That's great! Which task was the hardest one for you to accomplish in "My Career"?
Reaching 10,000 points was a very long process. Also, spending 4 hours or more riding indoors was hard, especially the Ardenne and the "Otztaler Radmarathon III." But, let's be clear: for me hard means fun! The sensation of accomplishment at the end of a tough ride is so great!

Which feature do you consider as most useful in Rouvy?
Most certainly, the virtual routes that come with a video. Also, AR routes are awesome. Riding around the world is also a wonderful way to experience the greatest rides that exist. And as one of your ambassadors said: workouts are definitely the best training we can get. In other words, all features have a purpose and everyone has his/her picks.

Do you still miss something in the Rouvy App? Any particular feature?
With the new User interface, we do not see the total climb of routes while we ride them. I liked this feature in the old interface, because it gave me another visible objective to reach. And, the more AR routes there will be, the happier I will be.

Yes, we are still working on more AR routes for you! :-) Why do you think each cyclist should try Rouvy?
Winters are long in Canada. The outdoor cycling season is way too short. People who like to ride on a bicycle have a great opportunity to do it 12 months per year. So, with Rouvy, weather is no longer an excuse. The weather is great? You go outdoors and with your power meter, you accumulate points for your Career. The weather is too cold? Too hot? Rainy? Snowy? Well, Rouvy is waiting for you to enjoy riding indoors in any part of the world!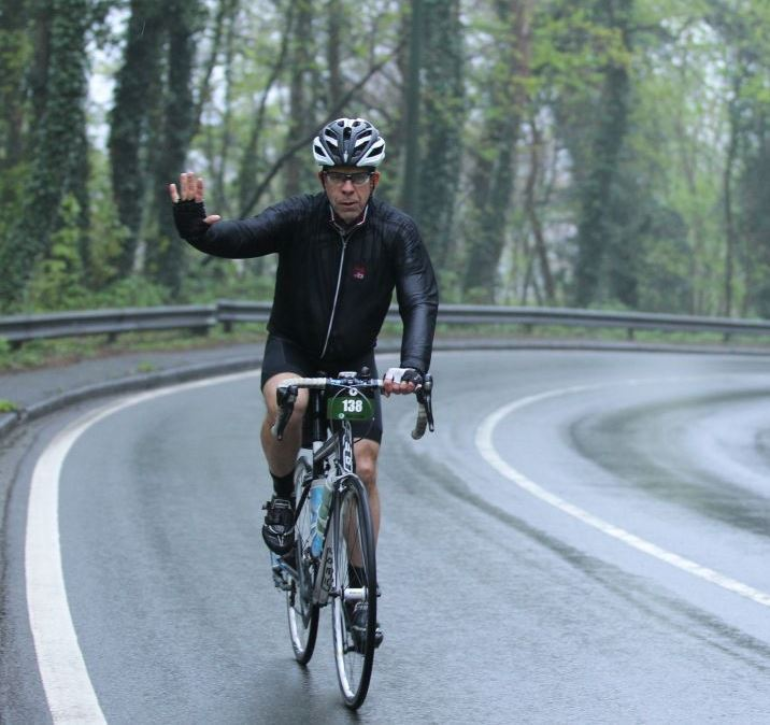 How do you balance your work, personal life and cycling trainings?
My work schedule is flexible, and I live close to work. While my wife is still at work, I am back home from work and already on my bicycle. And on the weekends, we ride together. If she is busy elsewhere, I hop on my bicycle.

Any advice or final words of encouragement to the cycling community?
Whether we ride for pleasure or to compete, whether we ride for 20 km. or 200 km., the most important thing is to have fun and enjoy every minute of it!
Nice! :-) Thank you for taking the time to chat, Jean! One more congratulation and all the best from the whole Rouvy team for your cycling efforts!
We hope you've enjoyed this interview as much as we have. For his great achievement, Jean received a package containing a new Rouvy jersey and cycling bottle.

Keep up your pace and ride on, Jean!