Hi Tomáš, Welcome to Rouvy! First, thank you for your time doing this interview! We are very pleased to have you on board. Thank you!

First of all, you were primarily involved in road cycling. Is that right? When did you find yourself becoming dedicated to being a triathlete?
Yes, that's right, but when I was at university, I made up my mind to start with triathlon. I started swimming systematically, and I have always liked running, so triathlon was just a tiny step away. It turned out to be one of the best decisions of my life.

Which results stand out as the most memorable for you? Which contemporary successes have you appreciated the most?
I personally value the title of National Champion in the middle distance the most. Also, I've had a few top 10 places in the world series of Ironman in the PRO category, such as 6th place in IM Nice, 8th place in IM Mallorca, 9th place in IM Zurich. Thanks to triathlon, I have had a chance to travel half of the world, so I have plenty of memories.

Do you still have goals that you want to achieve in the future?
That's a great question! As I said, I have always liked running, so my biggest goal at the moment is to run a marathon in 2:25. This goal also keeps me motivated for training.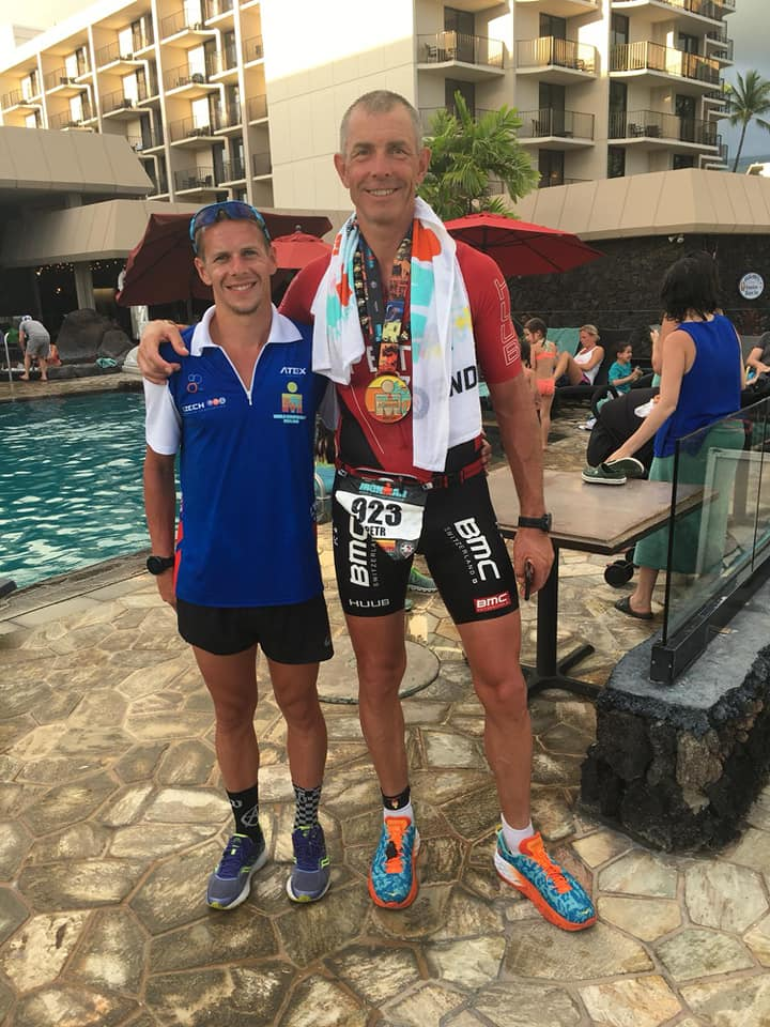 What the Tour de France is to cyclists, Ironman Kona in Hawaii is to triathletes. Did you participate in this race yourself? How many times?
Yes, that's right. Ironman Kona is, for many triathletes, their lifetime goal and the peak of their sport's career. I have never competed in Hawaii (so far). I had several attempts in the PRO category, but my performance had never reached the needed height for my dream to come true. I still have to wait a few years, than I will try my form in AG. But, I have had the pleasure of going to Hawaii three times as a trainer. I know the local route perfectly. It is a magical place!


In 2018 (last year), you made a part of this video for us in Hawaii. What was the atmosphere like in the environment of such a race?
I recognize that though I was filming the route on Wednesday, the race actually took place on Saturday; therefore, there were many athletes tuning their form while I was filming. I counted how many world champions I met that day - I think there were five of them. The person who lived the furthest away from Kona was Faris Al-Sultan (2005 World Champion), who was accompanied by his wife.


How was recording the route of a well-known race? Were there any complications (traffic, weather, etc.)?
Filming the route was quite difficult and complicated. I knew what I had to do, but there were many problems I had to deal with. The biggest issue was the heavy traffic - Queen K is probably the most frequented road on the Big Island. I also had to maintain quite a slow speed...around 50 km/h. Due to a rough tarmac and strong wind, the quality of the video is impaired in some places.


Regarding Rouvy - do you have experience with the Rouvy app? Do you use it for your training?
Of course! I use the Rouvy app alot. I have probably tried all the premium routes. It is a great project, and many athletes from our training group are using this app, too.

Would you recommend Rouvy as a part of training for triathletes?
Definitely! There are about 40 active competitors in our training group, and most of them are using the Rouvy app. Everyone is excited about seeing the epic route from Hawaii. We use the Rouvy app for its training functions as well, such as the FTP test and structural trainings.
We will keep our fingers crossed for your running efforts! Good luck and thank you for your answers, Tomáš!
We hope you've enjoyed this interview as much as we have. And thanks to the Tomas's cooperation - you can ride part of the Ironman Kona route - AR Kona in Rouvy. Happy riding!