What is your home country and the town where you spent your childhood?
I am French; I was born in Venezuela, and lived in a number of different places when I was a kid, most significantly near Grenoble.

Woow, that is very interesting! :-) Please, could you describe your story of getting acquainted with cycling and your first bike?
I can't really remember my first bike in detail because I was a bit too young (small blue machine to which my family attached stabilizers, until I got skilled enough to ride on 2 wheels). As I grew up, my family would gradually take me further away for rides into the hills, so the bike changed to an MTB with multiple gears. Then, shortly after turning 10, we started going into the mountains, and I got my first road bike - way older than me - it was a traditional steel machine with mudguards, rear rack and downtube shifters that used to belong to my mother. I kept riding it into the mountains for a few years (for my first 100km ride, etc.), until I grew too tall for the frame. We still have a few of those old bikes, and they can still climb mountains, if asked nicely, but it has become a bit difficult to find replacement parts (unfortunately).


Where are you based at the moment?
I am currently living in the UK, where I have been working for a few years.


What are you doing outside of the training room (workplace)?
In my spare time (hmm, wait, maybe I wasn't supposed to say it like this?), I have a job as a software engineer / applied mathematician with particular interest in scientific applications / research.


How does it look your "PainCave"(bikes, trainers, accessories)?
My indoor training setup consists of a road bike (cheap, reliable Cannondale Synapse alloy), my trainer and a laptop to control the trainer via ant+. Essentials include floor protection for sweat and a music system for distraction. I generally use a dedicated wheel for indoor training, in order to avoid damaging good road tires.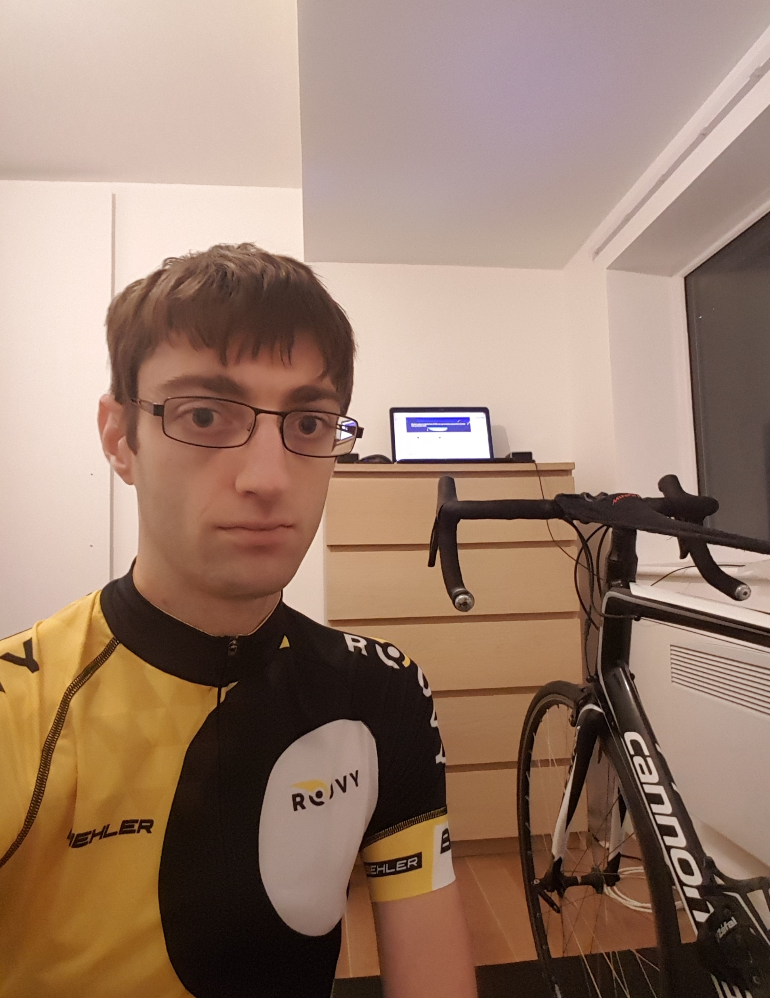 How long have you been training on Rouvy?
I have been on Rouvy since March, 2017.

Good job! :-) Which types/brands of trainers have you already tried? Which one is/was your favorite?
I've tried a couple of machines so far - both wheel-on interactive trainers. I bought the original Bkool trainer at the end of 2013, as it was the cheapest option on the market, and replaced it in February, 2017, after the resistance control broke. My current unit is a Tacx Genius smart trainer, which is my favorite largely because it is more sophisticated, with support for bluetooth as well as ant+ fec, and easier to pack away if necessary. Generally speaking though, I feel that those trainers are a bit lacking when it comes to simulating the very steep gradients (the feel of the resistance doesn't seem realistic, and the system can also be a bit slow to adjust to changes in the gradient), and things get fairly noisy at high speed, so I am considering upgrading to a higher end model with direct drive in the future.

How many hours per week do you usually spend on a trainer during the winter season?
It's difficult to say exactly, because I never try to measure on average, but it would be around 10 hrs. per week. Typically, it's around 1-1.5 hrs. per day (could be a bit more, depending on outdoor commute time), and potentially swapping outdoor weekend rides for indoor training when the weather is really bad.


Did you focus intently on a "Rouvy Career?" When did you start?
I started taking the Rouvy Career seriously in March, 2017, roughly about the time I registered. I was using it as a way to set objectives when I was returning from a running injury.


Which task was the hardest one for you to proceed in in "My Career"?
I think probably any task involving the Haleakala climb. That's a fairly long (and potentially brutal, depending on how one approaches it) session in excess of 3 hrs., and I'm not hugely fond of very long indoor activities. Aside from that one, tasks requiring the completion of multiple challenges (not really hard, but they take a long time to complete).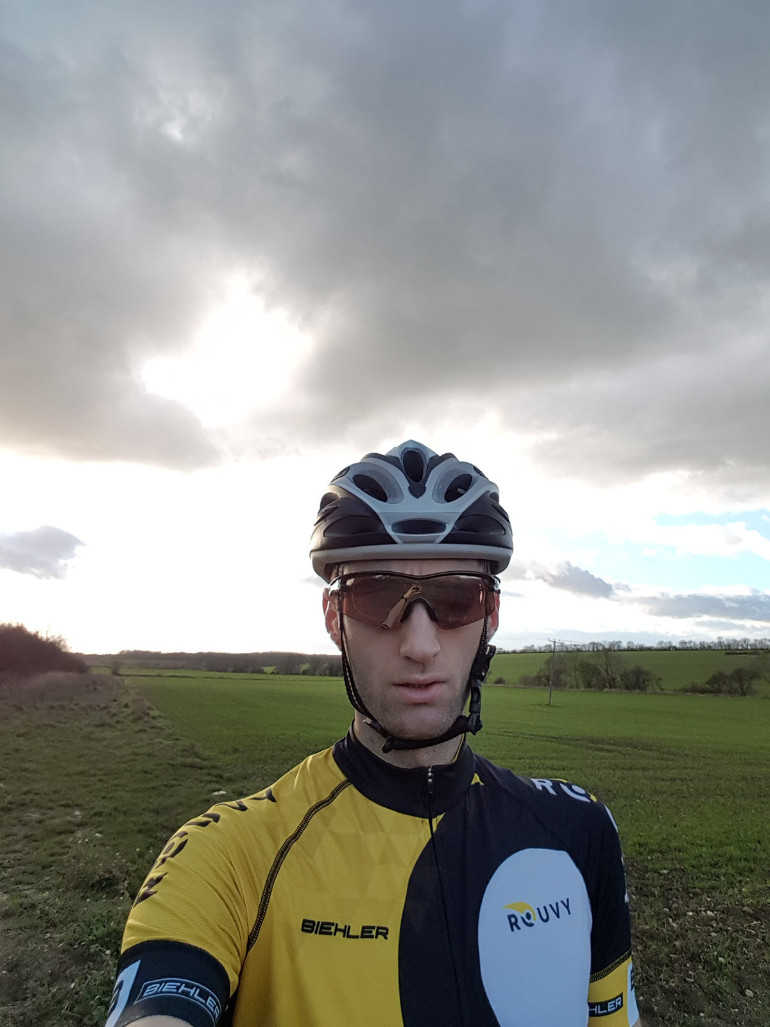 Which feature do you consider as most useful in Rouvy?
Without a doubt, the videos...especially on mountain routes. Without those views, life would get boring for an alpine climber living in a flat country.


Do you still miss something in the Rouvy App? Any particular feature?
I don't know if it's urgent to have these in Rouvy because Strava has them, but information about training load / fatigue, etc. can be interesting. It would also be nice to have a rating like in Training Peaks, where we could see what type of rider we are based on the power curve (Power Profile), and maybe some guidance about how to improve a specific area.


Why do you think each cyclist should try Rouvy?
Definitely for the videos of real routes; I think those make indoor training a lot more interesting than it normally is. There's a good selection of routes around the world, with good contributions from the global community.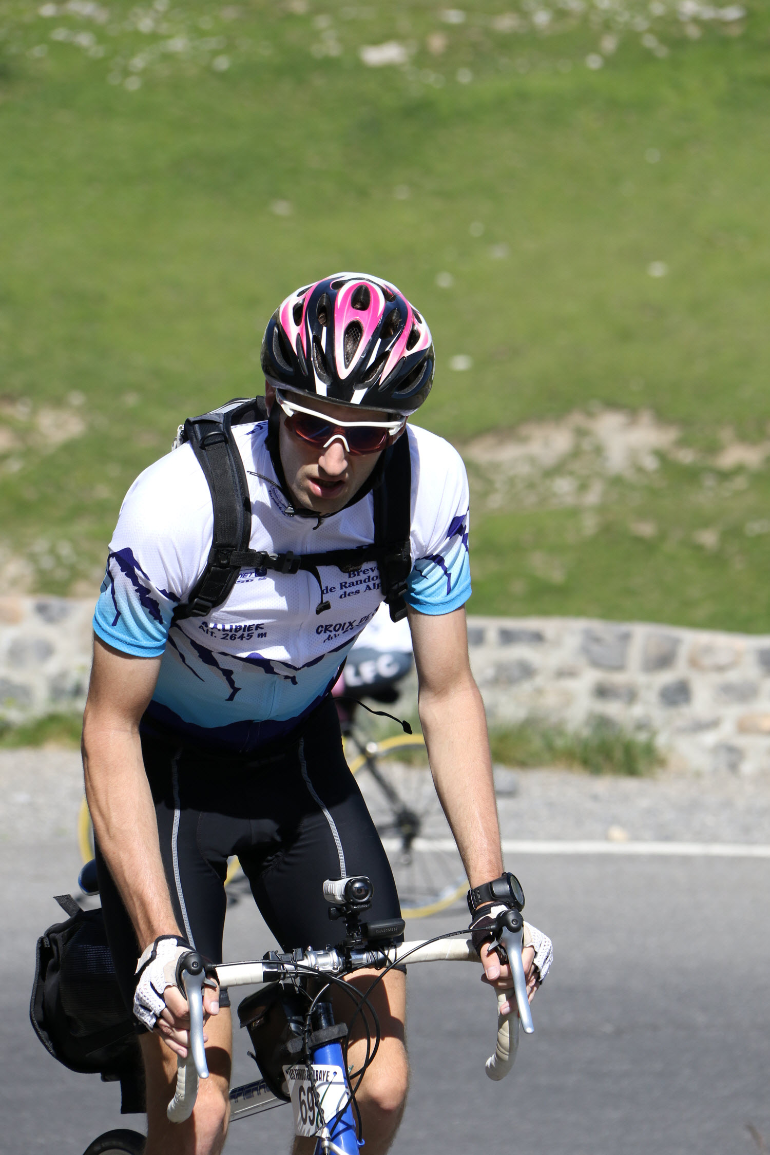 How do you balance your work, personal life and cycling training?
Fairly easily. In recent years, I've often used the daily trip to the office as a training session (about 50-60 min., twice a day), and generally added indoor training (1-1.5 hrs.) before dinner, several days per week. Weekends are usually good for longer rides. Whenever a different activity comes up, I can just reduce / remove training sessions accordingly. It's actually not a bad idea to take it easy from time to time anyway.

Do you have any advice or final encouraging words to the cycling community?
It is difficult to give advice without knowing everyone's objective, but I guess the idea is to start by determining what one wants to achieve and work from there (i.e., just aim to climb the highest roads and work on power-to-weight). I think we are quite fortunate nowadays, because there is so much information available on how to train to improve specific aspects of performance. So, it's really just a case of experimenting with various options and finding what works best for you. With regard to planning the training, I generally favor doing the toughest sessions indoors for safety reasons: those can have a negative impact on awareness / concentration, which is not ideal when you have to share the road with all sorts of other vehicles.

Thank you for taking the time to chat, Michel! One more congratulation and all the best from the whole Rouvy team for your cycling efforts!

Note: Michel has also become the winner for the Wahoo Climbing Challenge in season 2018/2019!

We hope you've enjoyed this interview as much as we have. For his great achievement, Michel received a package containing a new Rouvy jersey and cycling bottle.


Stay healthy, fit and ride on, Michel!