Greeting Eva, thank you for your time for Rouvy interview!
What is your home country and town where you spent your childhood?
I come from Brno, the second largest city in the Czech Republic. I have lived there most of my life.

Please, could you describe your story of getting acquainted with cycling and your first bike?
I've been riding a bike since my childhood. It's something you just need to learn like writing, reading or swimming. I remember riding my granddad's bicycle and not being tall enough to use the saddle. When I was 14 years old, I bought myself a mountain bike (after saving some money from a summer holiday job). But, I wasn't really cycling so much until recently. When our second son was born, my husband bought me my first road bike, and my dream came true.

Where are you based at the moment?
I live with my family about 30 km from Brno, where both of us (my husband and I) are working.

What are you doing outside of the training room (workplace)?
After parental leave, I return to work part-time at IBM GSDC Czech Republic in Brno.

How does look your "PainCave"(bikes, trainers, accessories)?
We situated our "PainCave" in the room next door, where my mum used to live. It happened that we had 2 trainers, so both of us can have our bikes fixed to it. At first my husband had to always change the bikes whenever I wanted to train indoors. But now, having my own trainer, I can get on my bike more often :-). At the moment, we're using our old Notebook, but it would be nice to have a big screen there as well. Maybe one day...In the summer, we had to start using a big fan. It was unbearable without that.
At the moment, I have 4 bikes: 2 road bikes - one of them is fixed to the trainer, so I can go training whenever I find the free time. Then, I have a gravel bike I use when I feel sick of traffic on the road. But, from time to time, I tend to forget it's not an MTB. And the last one is my old cross bike, which I use when going for a short ride with the kids.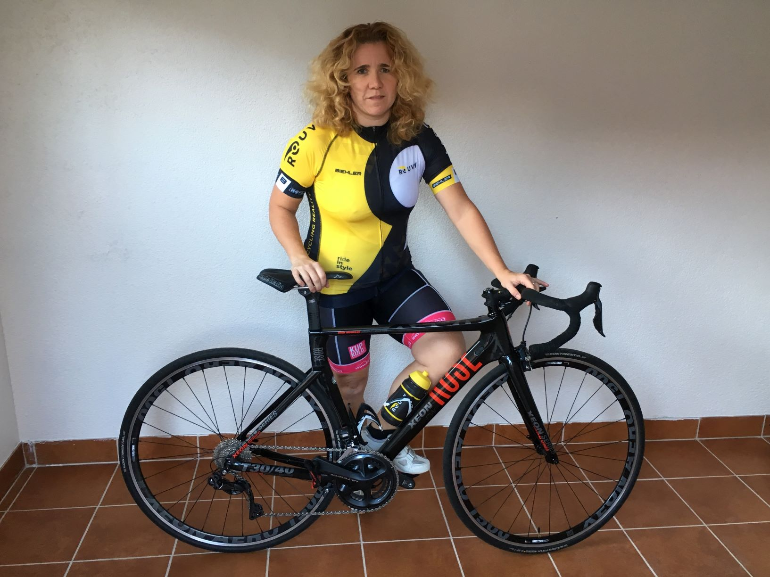 How long have you been training on Rouvy?
We started on Rouvy in November, 2017, after my husband finally decided to get a trainer. My colleague from work recommended Rouvy to us. ;-)

Great! Nice to hear it. :-) Which types/brands of trainers have you already tried? Which one is/was your favorite?
At first we bought TACX Neo. But, during the Climbing Challenge, it stopped working. It was winter time and my husband just could not be without training, so we got an ELITE Drivo till we solved the problem with the TACX. After trying both of them, I prefered TACX. So when we got it back again, I started to use the TACX Neo. And my husband was kind enough to keep the Drivo.

How many hours per week do you usually spend on a trainer during the winter season?
I guess it could be about 5 hrs.

Good job! Did you focus specifically on a "Rouvy Career?" When did you start?
I think I discovered Rouvy Career soon after we started on Rouvy. I decided to give it a try. The tasks looked interesting and, yes, I hoped to be lucky in the draws. But it looks like I'm not the lucky one ;-). Anyway, I did not expect to get this far. Some of the levels/rides were really challenging. At first, I could not imagine I'd be able to finish such tasks. Rouvy Career made me push my limits a bit further. Thank you for that.

Which task was the hardest one for you to proceed in in "My Career"?
10,000 points in the last level was pretty tough due to lack of time (especially considering that my outdoor rides don't count). But I have to say HALEAKALA. I wouldn't have finished this one without the support of my husband (who had ridden this route some time ago). He kept coming to check on me, bringing me the drinks and telling me I'm doing great.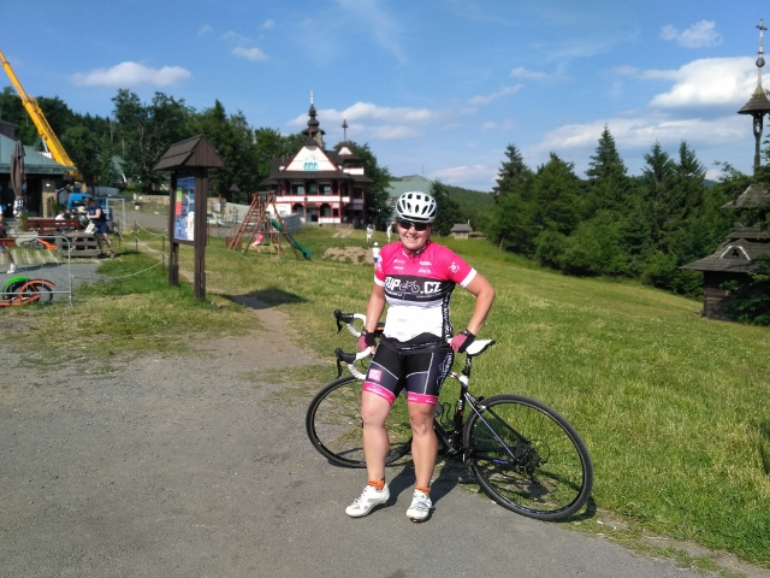 Nice, that you have so big support in your husband! Which feature do you consider as most useful in Rouvy?
The first reason we chose Rouvy for Virtual Training was the videos. There are plenty of choices on Rouvy. You can find famous climbs there, or, if you just don't feel like climbing, you can pick some not so ascending routes. I do like seeing where I am on the profile of the route, as well as the percentage of the climb or the watts. It's great to have all this data ahead of you.
Do you find anything still missing in the Rouvy App? Any particular feature?
It would be great to be able to join the routes of your choice, so you could ride them without any interruption (to simulate, e.g., some of the etaps of TdF).

Why do you think each cyclist should try Rouvy?
Virtual Training is a great choice when it's raining, freezing cold or you're sick of traffic on the roads. But, it gets boring to sit there on the bike and just listen to music, or watch some movie, or even one of the grand tours on the TV. Rouvy has made it much more enjoyable. You can ride so many different routes around the world with real life videos. It makes you feel you are really climbing, e.g., the Alpe d'Huez, and you put all your efforts into the climb, so you get off the bike absolutely exhausted. Rouvy offers much more than that. This Rouvy Career thing made me try other features I wouldn't probably have tried at all (Interval Workouts, online races or long rides).

How do you balance your work, personal life and cycling trainings?
This is tough, but everything is possible. It depends how much you want to compromise. We have 3 kids (4, 7 and 9), and my husband is cycling a lot. And both of us are working. But basically, our day starts very early, when the kids are still sleeping. I think less is better than nothing. So, I don't mind getting in a 1-2 hr. ride or only 20 min. indoors. Those 20 min. on Virtual Training can be very intense, so it makes me happy enough. I should say that I am very lucky to have a part-time job, and also, twice a week, I do work from home. On such days, I get the kids to Kindergarten and school, and then, I have 40-50 min. for "Rouvy ride B4Work." Morning rides are such a great start to the day!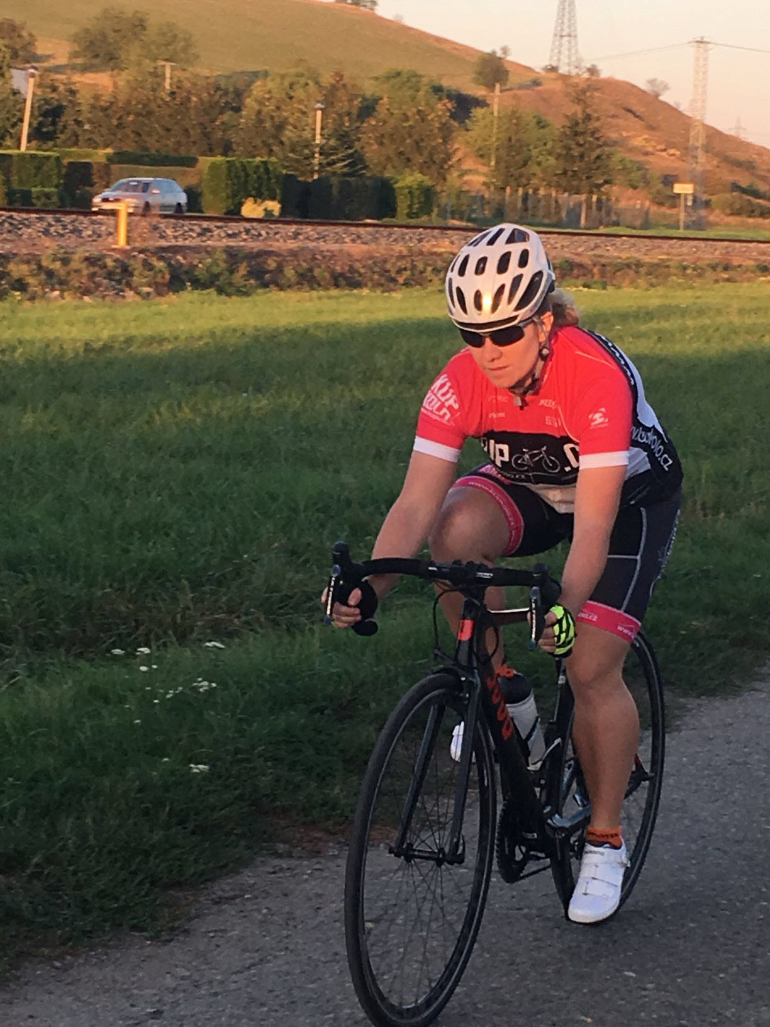 And finally, do you have any advice or final words of encouragement to the cycling community?
Don't give up! Slow down to catch your breath, if you need to, but don't give up. It just feels great to find out how far you are able to push your limits.
Thank you for taking the time to chat, Eva. One more congratulation and all the best from the whole Rouvy team - you are really our first czech and second women's Rouvy Legend! Keep up your pace and ride on.
We hope you've enjoyed this interview as much as we have. For his great achievement, Eva received a package containing a new Rouvy jersey and cycling bottle.