Hi Radka,
welcome to Rouvy! We are happy to have you on board. Your life is very interesting and inspiring, so we are really looking forward to getting know more about you.

When you were a little girl, you used to race on a mountain bike and then, you tried more sports. When did you find yourself becoming dedicated to being a triathlete?

You are right. I have tried lots of sports. I actually started with tennis, but I wasn't good at ball games :-). I loved cross-country skiing, running and cycling, and at one point, I had to decide which one sport I would really like to focus on; so, triathlon was the best choice for me as it was a combination of 3 sports I loved :).


Which results stand out as the most memorable for you? Moments which instilled excitement and confidence in you?

I think every good race, or even just good training, gives you more confidence and even more motivation to keep working hard towards your bigger goals.

One of the biggest achievements in my career would be racing at the 2012 London Olympic Games. But overall, I have to say that my best year of racing was probably 2018, just after I had my baby, Ruby. (Ironman 70.3 Asia Pacific Champion, 5th at Ironman 70.3 world championships and 4x 70.3 Champion, 3rd at The Challenge Championship).

You are from the Czech Republic, but you moved to Australia because of love a few years ago. Was it a difficult decision for you to leave your Czech family so far behind?

Of course, it is difficult to have my whole family and friends living on the other side of the world, but that's life and I now have my own family here in Australia. I am lucky that I still travel back to Europe twice a year, so I get to see my family. Also, luckily, we live in the 21st century where we can use the internet, so I am in touch with my family on a daily basis. :-)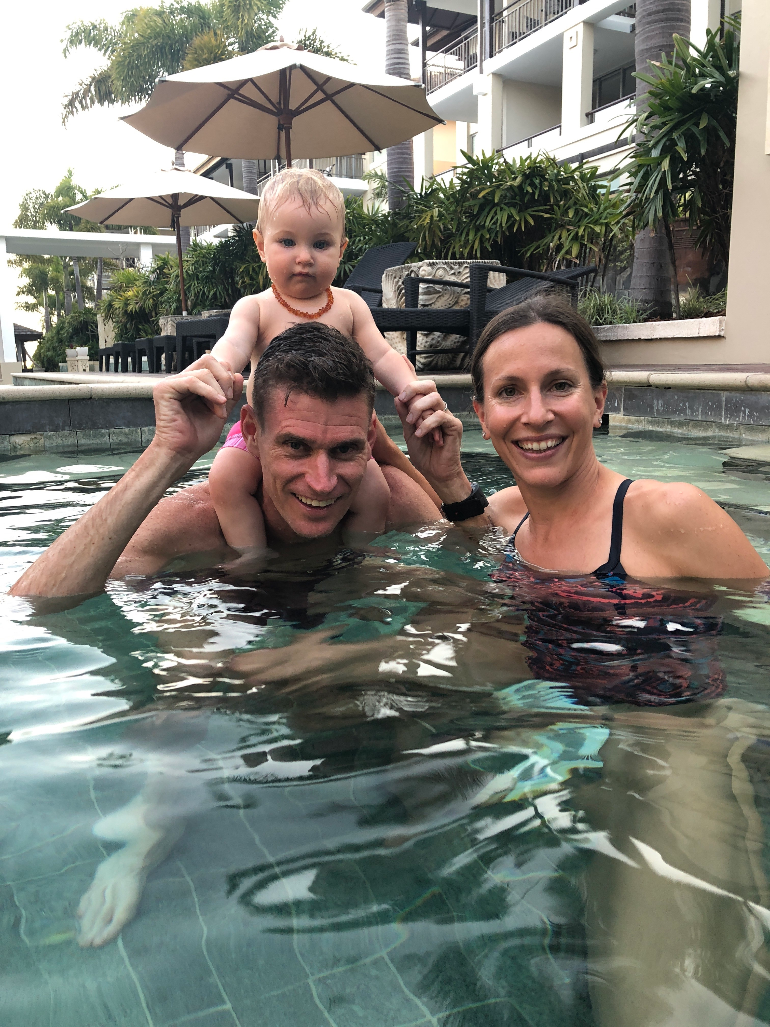 Two years ago, you got married to your Australian partner, Brad Kahlefeldt, who is also a triathlete and Olympian from both the Beijing 2008 and London 2012 games, and is a medalist from the World Championships in 2005, 2007 and 2010. Brad finished his career this year in March. Does he miss racing?

Brad has had a long and amazing career, but he just felt it was the right time to retire and start thinking about the future for our family. He is starting a new business, and he is very busy with this and, also, with our baby, Ruby. He did miss the feeling of training, so he is now focused on "just" running and this is his job now. He is running marathon races; he has run a 2:26 in Melbourne and he is looking forward to pushing his limits in this exciting sport.

Brad is now your coach. How long has he been coaching you? Do you always listen to him?

Brad has been coaching me since we started dating. We never really talked about it - it just happened organically. He is such an amazing athlete, and has so much experience that I was more than happy to follow his tips and training. I always listen to him as I trust him 100%.

How much time do you spend alone on your training? Is Brad your frequent training partner or do you join any group?

When Brad was racing, we were training together almost all of the time (he would just do a bit more or faster or longer than me, but the base was the same). Now, since he retired and we have Ruby, I am doing all my training alone. This is a big change for me. No group, no training partners. This is mainly because I am not flexible with my time. I train based on Ruby's schedule, and if I go for training, then Brad is watching Ruby, so we never run together. (I think we have run together 2 times since Ruby was born. That was when we had my or Brad's mum watching Ruby :-). It felt almost weird to run with Brad again :-). I miss it, but I am not complaining. :-)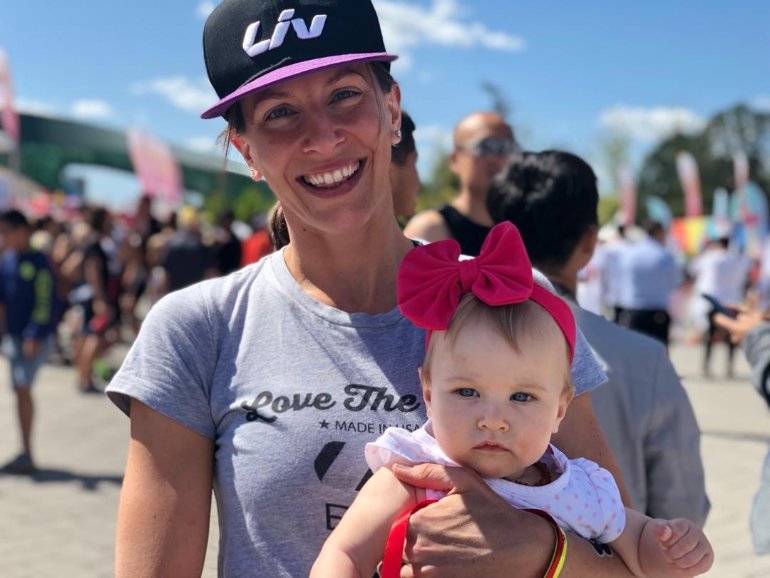 I guess, that there used to be a lot of triathlon topics in your conversations. But this past January, you became parents to Ruby. How did your daughter change your lives?

Haha, you are right! :-)

Life has changed completely. We never talk about triathlons anymore...maybe only to just quickly ask, "What should I run/swim/ride today?"

Now most of our conversation is about Ruby, i.e., what she did that day, what she needs, what to do with her, what to pack, to cook, who will give her a bath tonight, etc. We both love it.

Even my conversations with friends have changed - as now, we just talk about our kids and share tips on what to buy/cook/do with our babies. :-) It is funny how life changes.

Do you feel that motherhood and racing are a tough and tiring combination? What is your daily routine for being a good mum, but also a perfect triathlete? Do you need more time for recovery?

Being a good mum is a tough enough job on its own. :-) But, I think that sport and training have actually helped me to have a perfect balance in my life.

I have to be very organized, and I have to plan the day very carefully. For example, if you waste your opportunity for a morning swim, then you know you won't be able to do your training for the day...if I have Brad or someone watching Ruby for 1 hour, I want to do the most with my time, and so, I do my training 100%. I focus on that training and then, I am back with Ruby. That makes me happy, and they say happy mum = happy baby. I think this is why it works for us.

And yes, there are days where I think it is just too hard to do it (mainly when Ruby isn't sleeping well). But then, luckily, I have Brad to help me with Ruby, so he can also change the training based on my feelings. I think the advantage of being a mum is that your body somehow recovers faster. I used to have a nap after every hard training session before we had Ruby. And now? There is no time for a nap, but I am still alive. :-)

How much time do you spend on a trainer compared to running and swimming?

Most weeks, I do 3x-2 hours on the wind trainer, and one day each week, I have a chance to go for a longer ride outside. However, I don't ride longer than 3.5 hours. Having said that, I do make an effort to ensure most of my rides contain quality training.

What do you like the most on the Rouvy App? Any recommendations for other Rouvy triathletes?

Sometimes I have to get up very early to be able to do my training (best before Ruby wakes up), so I start at 5 a.m. Mentally, this can be very hard, but I know that I can "meet" with some other riders on the Rouvy App, and that helps me to feel not alone on these crazy early mornings. Also, many times I feel tired and I would think to myself, "I can't do a hard ride," but then, I just select a nice ride and, usually, I feel better after a warm up. Then, I am motivated to push hard again.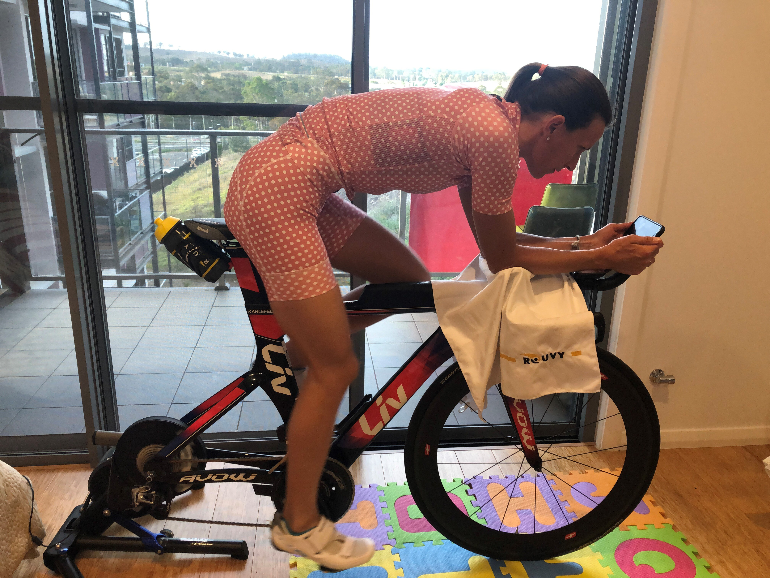 Christmas time is now at the door, and you keep racing in big races of 70.3 triathlons in Asia. How does that feel for a Czech girl, who used to enjoy an off-season with a snow-white Christmas? Do you plan to race the whole year, or do you plan to take some time off?

Good question :-). Triathlon is a sport which you could do the whole year round, if you were a machine. There are races starting in January, and there are races still in December!

I usually like to race Laguna Phuket Triathlon as my last race of the season (late November), and then, have a nice offseason. But this year, we thought we'd extend the season until December, as there is the 70.3 Taupo in New Zealand, and I would love to see this place. So, this is a great opportunity. After that, I will take an offseason rest, and this is great timing, as I will have my offseason in December (3-4 weeks ) during the Christmas holidays - and that's the best time! :-)

I still feel that having a "white" Christmas is the real Christmas. It provides a special atmosphere. This is one thing I still can't get used to it here in Australia. It is 40C. degrees outside, and there are Christmas decorations everywhere. It feels like a good joke. :-) Walking around in flip-flops and buying Christmas presents… :-).

Hopefully, I can bring my little family to the Czech Republic in 2019 to celebrate Christmas on snow, which is how it should be. :-)

What races are ahead of you now?

As I am writing this, I am in Taitung, Taiwan, racing on the weekend of the 18th of November in the Challenge Asia Pacific Championship. Then, the following weekend, I will be back in Australia, racing the Ironman 70.3 Western Sydney, and then, my last race in 2018 will be the Ironman 70.3 Taupo on the 8th of December.


We will keep our fingers crossed for you! Good luck and thank you for your answers, Radka!
Cover photo by: AsiaTRI.com
Others photos by: Radka and Giant Bejing