Perhaps you've heard about the PowerTap App created for PowerTap by VirtualTraining. It´s designed for outdoor data tracking and analysis, presenting itself as the first foray on advanced pedal metrics (APM) usage. So the next logical step was to get ahold of and implement APM support into our indoor platform - Rouvy (formerly VT). In cycling (even non-professional), we hear our buddies, coaches and experts talking about power, trying to find the best solutions for training efficiency. In times when human bodies are close to the limits of their muscular output, details in training routines are crucial to beat the best. Quite often everyone is trying to find something which can help them to improve even more. Now is the time to come up with this game changer -- to offer something different.
The step was logical, and we've started to work on the implementation of this feature in Rouvy. From the perspective of some, focusing on APD (advanced pedal data) indicators indoors makes even more sense than outdoors for pedal stroke efficiency training. Why? From personal experience and discussions with other athletes, it's obvious that we can control our pedal stroke so much better indoors, and focus on making the pedal stroke smoother. It´s quite easy to make the APD frame bigger/smaller by dragging overlay borders. Our iOS apps support all possible views; Desktop and Android offer "just" Force Vector view. As far as we know, APD would be useful not "only" for pedal stroke and overall improvement; we also see the great potential of APD in the bike fitting domain, based on consideration of power distribution during the stroke.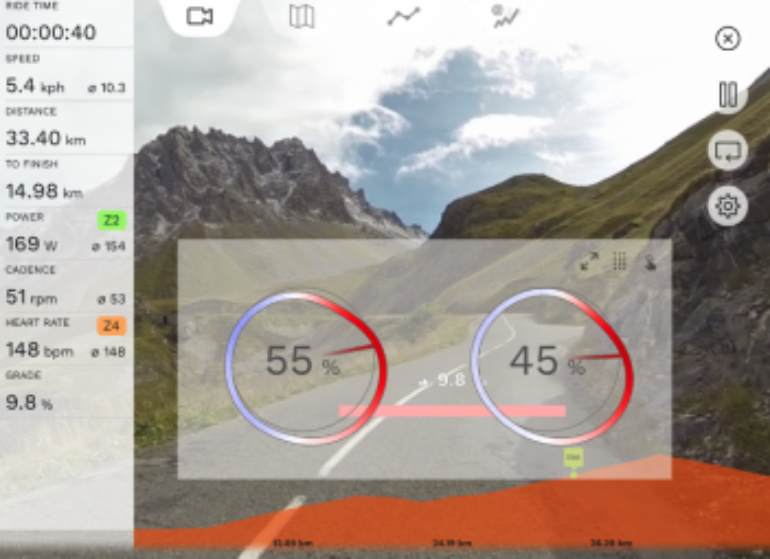 At the moment, you can get hold of APM only with PowerTap P1 pedals, but support for other power meters with advanced pedal data, like those of Garmin and Elite, is in the works as well. Note, a little arguably, that pedals are the most precise type of power meter on the market. Being the closest point of direct pressure, sometimes pedal indicators can demonstrate 5-10 watts of positive difference on average compared to other types of power measurement. It's not something that is really significant, but it is something to be aware of for those who care about maximum existing accuracy.
During this season, we've launched upgraded 'Activity' detail. To get to Rouvy Virtues, our APD analytics dashboard, go to the "Training Diary" and simply click the training activity you have recorded with your pedals. You are there! Now it is possible to analyze pedal strokes even post-ride, which is most important mainly for discussions with a coach(es). What´s unique? Rouvy shows second-by-second measuring and that's the key.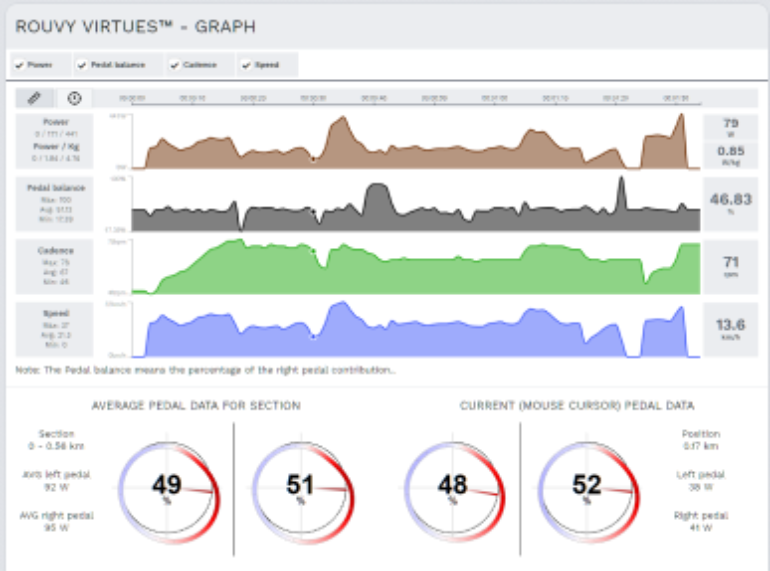 We believe APD will turn into a "routine training tool" in a few years, and we're happy to be part of the very beginning. Right now, most "data providers" extracting different cycling metrics (including us) are not occupying the position of mentor. That means that we're not able to authoritatively assert what´s right or wrong in a user's pedaling technique → we're "just" a provider and a solution for visualization of these advanced metrics. Unquestionable (does such a thing exist in the universe?) interpretation of APD is the next phase in the development of the paradigm. Any new concept in sports science typically needs around a decade to evolve - collect a proper amount of data, undergo research, be proven in practice and, finally, gain mass popularity.
Ride with us to continue improving and discover unique insights about our favorite sport. We count on your feedback and help to spread the word!
P.S. If you wanna dig deeper into APD, you can read articles produced by Hunter Allen:
ALLEN, Hunter. CYCLING POWER METERS: SINGLE VS DUAL-SIDED VS. BI-LATERAL. In: PowerTap [online]. 2017 [2017-06-07]. Available here.
POWERTAP ADVANCED PEDAL METRICS EXPLAINED. In: PowerTap [online]. 2017 [2017-06-07]. Available here.
Remember, Rouvy is just a provider of data. We're not able to help you with the analysis or interpretation of received values. For better understanding, please contact your coach.