Story and History
The story of VirtualTraining began with two brothers, Petr and Jiri Samek, in the small town of Vimperk, South Bohemia. The brothers studied in a gymnasium with a cycling major, and loved to ride bicycles. While studying programming languages at Prague Polytechnic University, they realized that they did not have a tool to measure the results of cycling competitions. So, in their free time from studies, they launched "SportSoft" together with two other guys, Karel Hudecek and Jiri Kortus. An application was developed for result measurement in different sports tournaments. As passionate cyclists, they had been struggling during the wintertime, and could only admire their bicycles in the garage.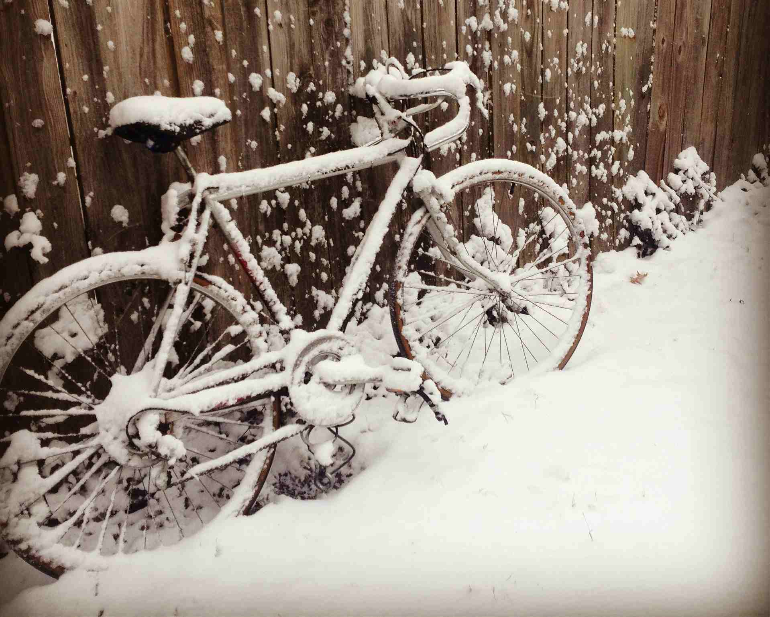 Maintaining physical conditioning in a fitness gym was only a partial solution, so they decided to try to do something about it. In this way, the Idea of an application with a strong accent on personal development and fun (to the extent possible) was born. Time proved that it is possible to bring the outdoors into the living room - close to reality. All routes were defined by the real resistance level from the very beginning! After years of different experiments, VT grew into a solid cycling tool. You have probably never heard of our side projects and solutions, but those are also part of our portfolio from the past:
ErgoCycling – A fitness solution purposed for commercial use in fitness and sports centers.
CASRI - Diagnostic Load System for assessment of the current state of the soldier's organisms for the Czech Republic Army.
In 2011, Saris turned to VirtualTraining, a Czech team of young developers whose feature packed software by that time already supported world-wide known Daum ergometers and Kettler trainers. With the SaaS ecosystem flourishment, software recently moved to virtualtraining.eu. Partnered with CycleOps and Powertap for rolling out a year-round solution, currently we support all kinds of indoor trainers and brands like Tacx, Wahoo Fitness, Elite, Kinetic, SRM and many others. By the way, you can automatically sync your outdoor data with Rouvy - not only via the PowerTap app, but also, Magura eLECT, 3T Cycling, O-Synce Mobile or Bulls Mobile. (You can find them in the app stores.)
Why Rouvy and Why Rebranding Was Needed
Mainly focused on product development and actively promoted by Saris Cycling Group, our product became associated with CycleOps. It was a logical step for us back then to closely work with one big partner. The partnership with Saris Group helped to bring the solution to US customers, and gave it a push to the global market. Our service uses people across all continents and from around 50+ countries. As you might well understand, having an .eu domain is not what works well for an international audience. After the company's 10 years of existence, and with the goal of bringing our indoor cycling reality platform closer to global customers and partners, VirtualTraining has become "Rouvy". "VirtualTraining" will continue to exist as a corporate legal entity, an umbrella company name and an owner of the Rouvy trademark with corresponding licenses.
New User-Friendly Identity
Due to the new company identity, our main website was redesigned and restructured. So, here is what is behind the rebranding:
New Name: Rouvy
Meaning: Until recently, we assumed that the word did not possess any particular meaning. However, when visiting the local Vimperk castle museum with his kids, one of the VT founders heard a remarkable story. A manuscript chronicling the history of the castle possessed a picture of a jester riding the muflon. At the beginning of the 1800's, there was a jester that served local Schwarzenberg dukes. He loved local Sumava steep hills, but did not like to walk on foot. As you have probably heard, mustangs had been always scarce in Central Europe...so, inspired by cowboy riders, he decided to mount one of the wild mouflons. Their descendants still can be found in local meadows. The idea turned out well. He managed to tame one of the biggest mouflons. It was stubborn and hardy, and attacked the hills easily. From that time on, the jester was always going to the mountains, riding his fellow mouflon by handling its horns. The nickname of the mouflon and exclamation command to go faster was "Rouvy, rouvy!". About that time, Baron Karl Drais, during a visit to his relatives in Vimperk, got his idea of the first bicycle prototype ever by watching and hearing the jester riding the mouflon. His earliest two-wheeler, the Laufmaschine, got its unofficial name after the mouflon, which in the German language sounded like "rover." Later, John Starley invented a safer and easier-to-use bicycle (that first looked like our modern models) and inherited the unofficial name of Laufmaschine. By 1883, all products of Starley company (which a little later became Rover Cycle Company Ltd.) were being branded as "Rover."
Domain move
VirtualTraining.eu --> Rouvy.com
Old domain will continue to work for a period of time.
Logo & icon
You are welcome to use it when and where applicable.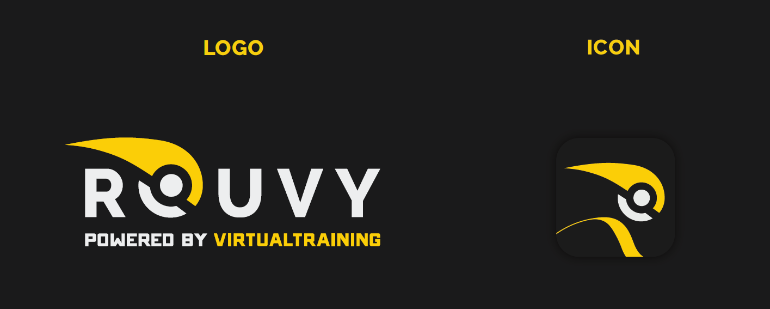 We understand that awareness for the new platform identity will take considerable time. That is why the "Powered by VirtualTraining" version of the logo is to be used for the next 12 months. Use guideline and design source files are here.
Slogan: "Indoor Cycling Reality"
This one was a hard one. Among multiple options and limitations, this one was chosen as we feel it is most closely associated with what we do.
This guy is fast and furious…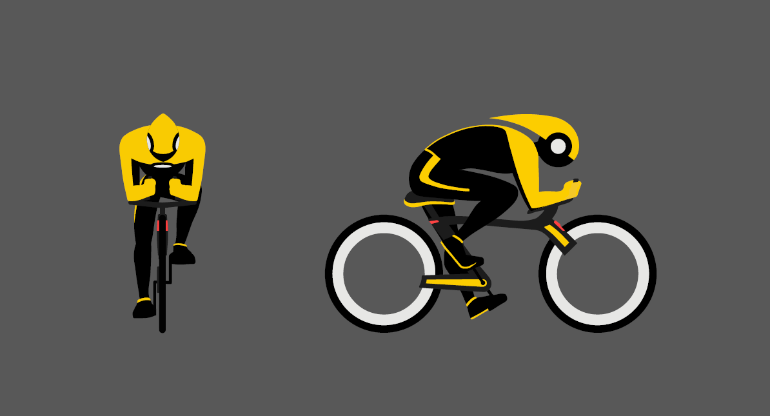 His name is Rouvy and he will be your virtual assistant in training (and hopefully a motivator).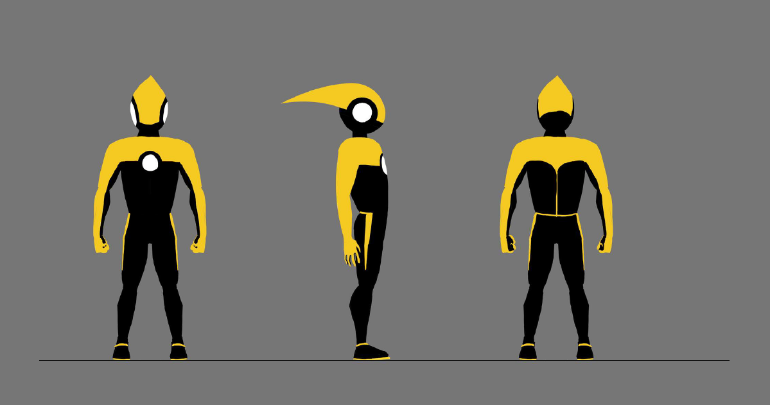 New Features & Changes
Rouvy VirtuesTM
"Virtues" is the new name for all of our Statistics and Advanced Pedal Data Analytics (in public beta now).

At the moment, you can get hold of it only with PowerTap P1 pedals, but support for other powermeters with advanced pedal data, like those of Garmin and Elite, is in the process as well.
Rouvy League
The Career and Challenges concept is set for a change.

Changes will be published in September, while taking effect later. Rouvy riders are to be awarded with great prizes for their efforts all year long.
Rouvy Guide
You will be able to enjoy a wide range of new motivationally guided videos. They are Ideal for fitness purposes. Get a glimpse of what is coming!
KnowledgeBase Update
The knowledge base will be completely updated in the next couple of months.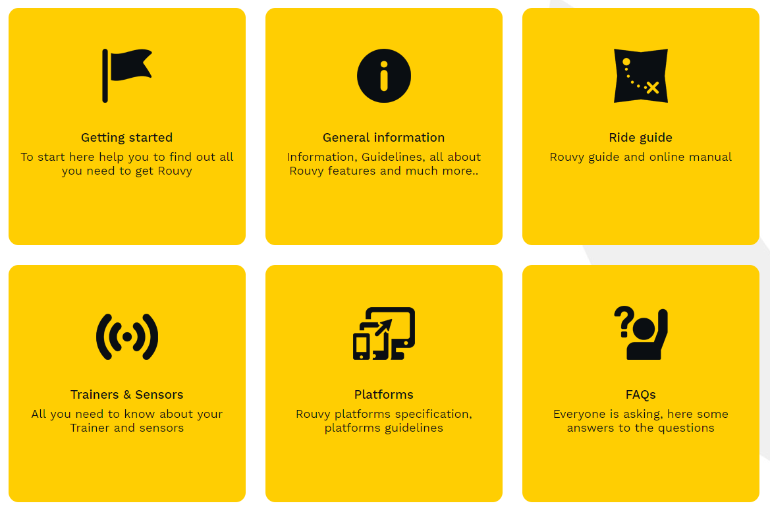 User Experience
The training app has undergone serious simplification improvements. Now it is easier to connect your training hardware and manage subscriptions, so you are ready to ride in a few clicks.
Simplification

Smaller improvements

Improved SignUp process
Improved Login
Redesigned trainer & sensor setting
Connect & Ride*
Restructuring of web dashboard
Synchronized UI for the desktop and web

Redesigned cloud settings
Redesigned mapping of buttons via remote control and keyboards
Updated FAQs
Updated German translations
* Your first ride could be set up by a few clicks. Select "Connect & Ride" -> Select trainer -> Start a ride. The scanning of trainer & sensors is more intuitive now with some tips in case of troubles.
Pricing changes
In general, pricing underwent a simplification of pricing plans, improved subscription and trial management.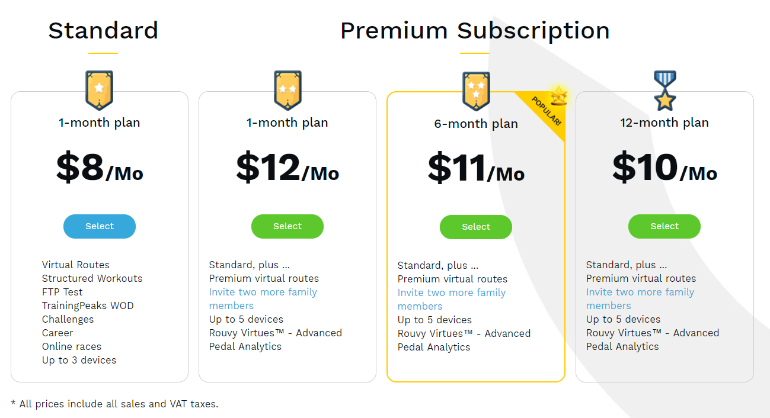 Explanations
Now, (once activated) every single subscription plan is working across all apps you use. There are no special tariffs for different apps.
You are encouraged and strongly recommended to buy and activate subscriptions via the Rouvy web. In this way, it will seamlessly work across all apps.
The price of USD subscriptions have been set lower for all existing customers. That includes 1-month and 6-month premium plans.
Payments in EURO are a little higher now, due to VAT and other fees for managing EUR currency.
Annual premium subscription remains at the same price.
Advanced Pedal Analytics is a premium-only feature.
Due to Apple & Google policies, it is still not possible to easily transfer between pricing plans when buying via iTunes or GooglePlay accounts. You can buy and activate our Premium plan only via the Rouvy web.
WHO WE ARE TODAY
The Rouvy team is international in its background, and consists of people with considerable experience in different areas, such as software development, customer service and marketing. The required mix of technical geekiness and business expertise is fused with a passion for sports that unites them all. Some team members possess postgraduate degrees in Physical Education and Training, while others worked, or are still working, as coaches for kids and teenagers in their spare time. One of our developers is a member of Czech National Team in XC skiing. We will get you acquainted with some of our team members over time.
Mission + Vision
Rouvy is proud to be one of the TOP 3 most used software applications by the cycling community for indoors. The platform includes 1500+ routes with high-quality synchronized videos, workouts, multi-rider mode for group rides, online races and more. We see our mission as making indoor cycle training more engaging, productive and competitive by simulating outdoor riding routes and competitions. Rouvy is striving to become a one-stop destination for tracking and handling of all year-round personal cycling training data. In the next 5-10 years, we will remain an indoor reality cycling platform with no lock-in, opened for both trainer vendors and integrations with other eco-system players. Our focus is on personal development, and 100% reality level will stay there.
Plans For the Next Phase
To widen support for any smart cycling hardware out there
To come up with MacOS support ASAP
To improve VirtuesTM and analytics overall
To continue with simplification and tweaking of user experience
To continue stability improvement and shorten bugs' lifetime in the backlog.
We thank you for your patience and apologize to those of you for whom the implementation of these changes seemed to be a bit confusing. Don't hesitate to contact our support staff with any issue you may have.
More great and exciting things are coming from us and our partners. The next indoor season is to be the best ever so far. Stay tuned by following the announcements and ride on!