VirtualTraining Career is underway for almost 18 months and we are very excited to present you the most active users. A couple of them has achieved a "Legend" status. We will bring interviews with them in the closest time to share their stories and experience. Aside of that, this "VirtualTraining Spotlight" section of our blog from now on is to be updated on a constant basis. So, everyone is given a chance to share his personal story (which we are impatiently awaiting to hear and broadcast) with the cycling community.
We are so thrilled to have such enthusiastic users in our community who help us make VirtualTraining even better every day! The first one is Larry Tomie from Canada, Ontario. Let´s take a look at how he got through VirtualTraining Career to reach the legend status.
Thanks for taking the time to chat with us, Larry. So, what is your home country and town where you spent your childhood?
I was born and grew up in Sault Ste. Marie, Canada. A city of approximately 70,000, located on the border of the province of Ontario and the state of Michigan.
Please describe your story of getting acquainted with cycling and the first bike.
I fell in love with cycling in the early 1970's, when multi-speed bicycles became readily available in North America. My first bike was a beautiful blue and white Raleigh Grand Prix.
And where are you based at the moment?
After working and living in Toronto for ten years, I was able to return to Sault Ste. Marie.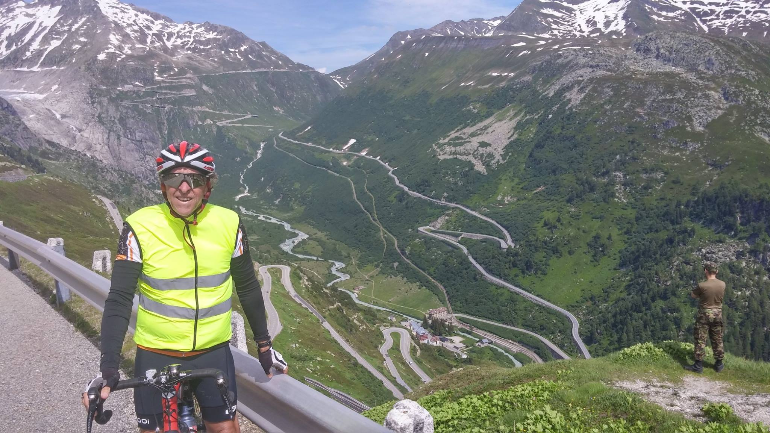 What are you doing outside of the training room (workplace)?
I worked in the food and beverage industry for 10 years, then I was with the Provincial Government for 25 years. I am now retired. Outside of the training room, I enjoy trail running, swimming and of course cross country skiing, as we have lots of snow here in Canada!
My "PainCave" looks like... (bikes, trainers, accessories)
My "PainCave" is based on a Cervelo R3, Wahoo Kickr and I use the CVT Desktop/ANT+ solution. I have sensors for heart rate and cadence and a floor fan. For viewing, I use a 71 cm television and listen to pop music or classic 70's/80's rock and roll. I'm fortunate to have a large window right beside me that I can open or close as needed. One time I was struggling up the last few kilometers of Agnello (Sampeyre) Nieve Final surrounded by snow, I had the window open and there was a large snow storm blowing outside. The snow was blowing through my window and on top of me. My wife came downstairs to see, took one look, shook her head and retreated...
Sweet (-:). It could be a nice episode for a movie about cyclists. How long have you been training on VT?
I signed up with VT on October 30, 2015.
Which types/brands of trainers have you already tried? Which one is/was your favorite?
I have ridden many types of trainers over the years. I began with a basic set of rollers, then rollers with air turbines, next was the rear wheel on a cylinder style, then a CycleOps Fluid and finally the Kickr.
I put many hours of training on the CycleOps Fluid and still have it. I took a break from indoor training for a few years and then decided to attempt the 2016 Marmotte race and so I needed some motivation to return to indoor training. I had read about "smart trainers" and had seen Team Sky using them during the Tour. When my local bike store (Velorution) offered me the Kickr to try out at home, I couldn't resist. It never made it's way back to the store.
I tried out a few other virtual programs but found I preferred a real picture as opposed to a "cartoon". VT seemed to have the widest range of routes and so I kept going back to it. It soon became my favorite.
We are reaaally proud to hear that! How many hours per week do you usually spend on a trainer during the winter season?
During the winter, I usually ride about 8 to 10 hours per week.
Did you focus exactly on a "VT Career"? How have you started?
Progressing through the "VT Career" path was a big motivator for me. It also helped me to learn about training with a power meter as I wanted to understand how TSS, IF and FTP impacted my accumulation of performance and career points.
Which task was the hardest one for you to proceed in "My Career"?
I felt that the hardest "Career Promotion" to fulfill was promoting from a "Professional" to a "National Champion". Three of the four routes are very tough - South Palomar South Grade, Col du Galibier with Telegraphe and Stelvio (Bormio). And the "1,250 points" milestone took a lot of riding.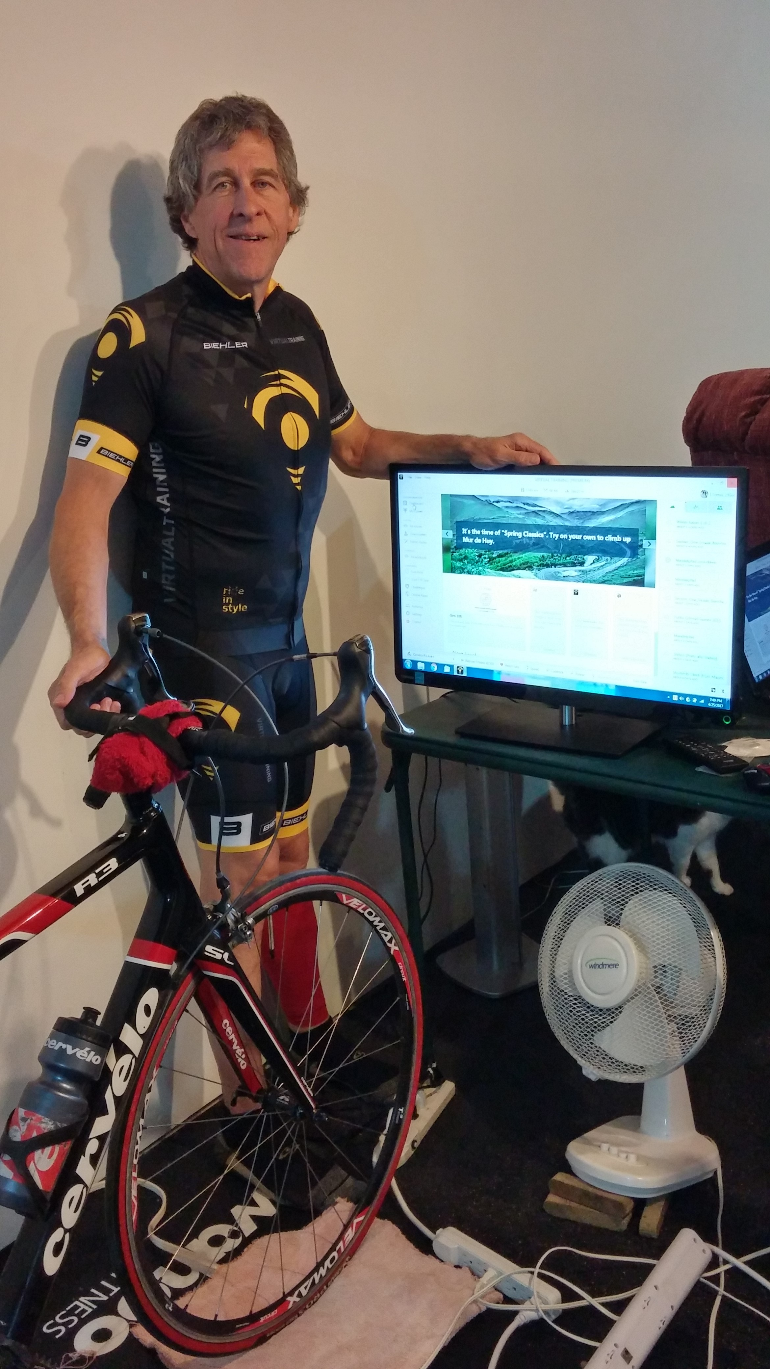 [Over 18 months Larry completed 778 rides with the total distance of 9791.4 km. Longest Ride: 120.6 km. Total time: 426h 35min. This is incredible but at the same time a quite achievable result for any goal-oriented cyclist that trains on a constant basis. Here we have to note, that at the moment it is not necessary to ride the same amount of miles to get a "Legend" status. It is being awarded based on the mix of completed levels, challenges and scored points.]
Which feature do you consider as most useful in VT?
I love being able to edit my power and heart rate zones so easily. It's great being able to make the individual zones as wide or narrow as you prefer. I find the large yellow Z3 symbol great because then I just look for that dot to know if I'm in the FTP range I want. No need to try to read numbers, just focus on going hard!
I also love the Virtual Partner feature. I recently used it to pace me to a great time on the Tour de France prologue. I sort through the times and find other cyclists with similar Watt/Kg values and that gives me the confidence that I should be able to keep up with them.
Do you still miss something in VirtualTraining App? Any particular feature?
A feature to VT that I would love to see, would be the addition of a "Flamme Rouge" kite at the 1 km to go mark of a race. Could you digitally add it to the course when "Race Mode" is selected?
Some kind of age group breakdown would be nice as well.
We will add these items to our development plans. Why do you think each cyclist should try VirtualTraining?
I know all cyclists could benefit from Virtual Training. VT offers solo climbs, group rides, virtual races, live races or workouts. So most cyclists should be able to find a program that appeals to them. Having all your metrics displayed right in front of you is awesome. You don't have to worry about road conditions, cars, weather, etc. Just focus on your cycling!
How do you balance your work, personal life and cycling sessions?
I'm fortunate being retired and so I can enjoy my cycling anytime. I do take breaks for other sports and for travel, but it's great to be able to get on my bike and do some VT riding whenever I want.
Any advice or final encouragement words to the cycling community?
Cycling is a great sport, and so good for you. VT gives you the opportunity to cycle all over the world, from the convenience and safety of your own "PainCave".
Congratulations and best regards from the whole VT team! Keep up your pace and ride on.
We hope you´ve enjoyed this interview as we have. For his great performance and endurance, Larry received from VT a package of handy items personally signed by Jaroslav Kulhavy - European champion, 2012 Olympics gold medalist in London and silver medalist in Rio.
There is a chance for everybody to be highlighted in "VirtualTraining Spotlight". What does it mean? If you are fond of pushing pedals and an active VT user, please drop a few lines about yourself to info@virtualtraining.eu. That would let us know that you are ready to be featured in VT Spotlight and we´ll contact you right away for more information!