Remember, high intensity does not mean training for PROs only! By sticking to an advised plan, all workouts work for any fitness level and follow the same goal. Whatever your level is, we want to help you make it one step better.
During the first/introductory week, you focused on gaining your fundamental strength and fitness that you can build upon. You already know why and how endurance training is important and now it's time to take the next step!
How to start
Like with every week of the January training plan of 'Get Back In Shape', the workout days are Tuesday, Thursday, Saturday and Sunday. It's good to stick to these days and rest in between. If you should miss one of your training days, then don't worry, you can always use one of the free days to complete the workout!
All you need to do to start your workout is to open the app, tap the 'Workout' button in the bottom right corner and pick the right workout for the day, such as '18.1. | Rise and shine again'. If you haven't updated the app after 1st of January 2022, be sure to do so!
Why is high intensity training so important?
Even 20 to 30 second intervals can not only prepare you for the races and fast rides, but can also help improve your endurance. And it's not just that! You can see the benefits of high intensity interval training (HIIT), really quickly, after only a couple of weeks of training.
The duration of efforts could be from a couple of seconds up to a minute or more and they repeat multiple times. As you can see below, HIIT sessions usually do not exceed an hour and so are a great form of training, if your time is limited.
To make the HIIT effective, your body must be ready to adapt to this kind of intensity. To do so, it must be well rested. Overstressing your body can not only lead to making you excessively tired but can also not lead to changes that are needed to adapt your body for high intensity.
It is important that you remember that high intensity training gets you up quickly but may not move you forward in the long-term horizon, as we explained last week.

4 sessions are ahead
Rise and shine again

Tuesday the 18th of January workout is a day when you still get your legs spinning but mainly, it's a day to recover as you only had one rest day after two intense endurance rides. Remember: Rest or die!
The Japanese island of Okinawa and it's interesting and exotic forest will keep you entertained throughout this easy 45-min workout.

Back to work

Thursday the 20th of January is a day when you get back to work. It's going to be intense, but try not to give up! Make sure you position the fan in the right direction, otherwise you're going to swim in your sweat. This training is going to be hard but should not lead you to exhaustion.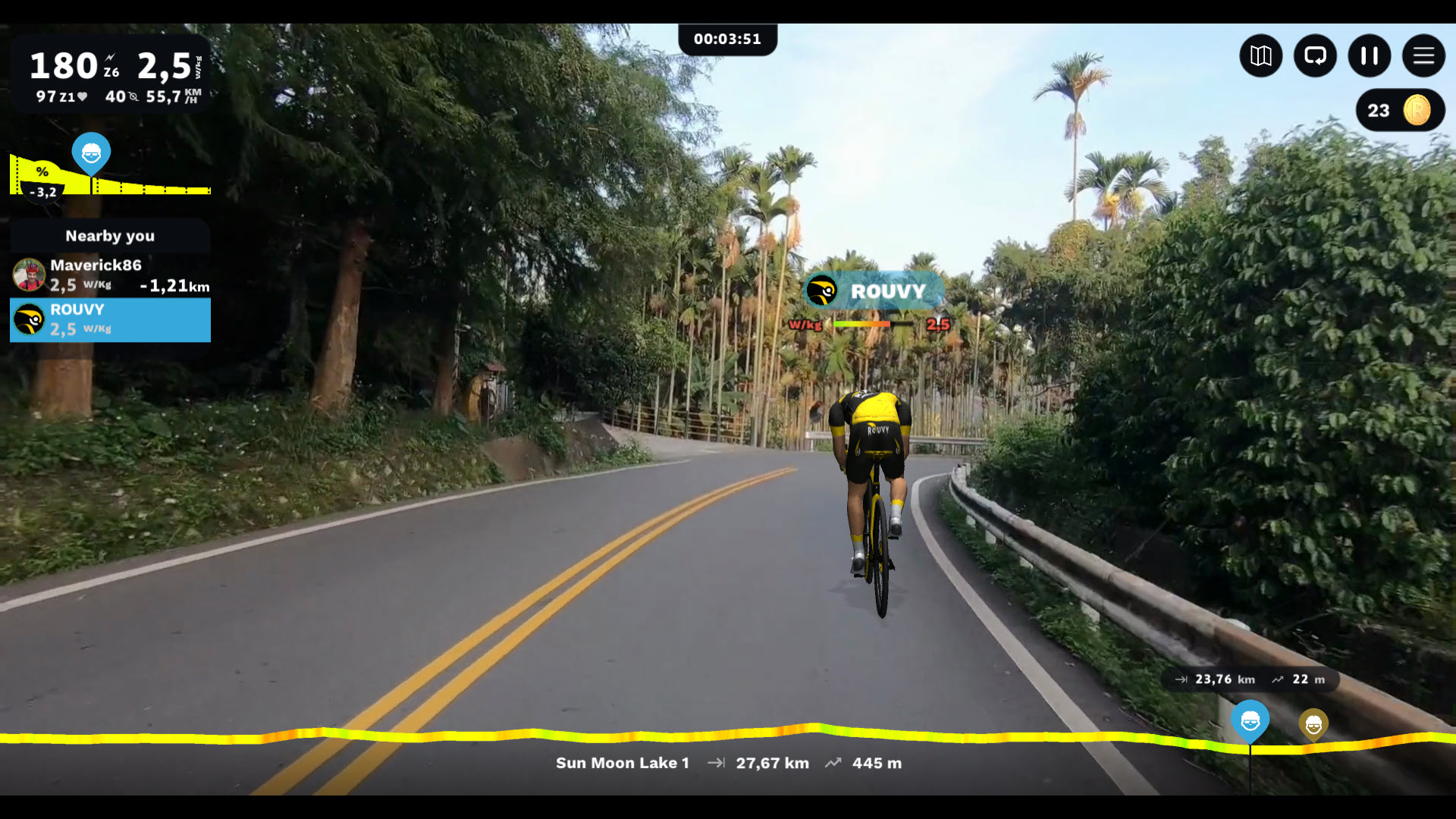 To complete the Thursday workout, you are still going to stay in the Pacific Ocean, just a bit further south-west. The route follows the shores of the Sun Moon Lake right in the centre of mountainous Taiwan.
It's getting intense

If you are not used to HIIT sessions, you are going to remember Saturday the 22nd of January as a day when you rode harder than you thought you could. The session is not only intense but also pretty long. Just one more day of hard work before the rest day is ahead so keep pushing! If it really is your first HIIT, then it might feel very uncomfortable and unusual. But you will get used to it in a certain way!
Enjoy, if you can, the fantastic views as you fight your way up the Anzère climb, well known for being part of the brutal, long distance Swiss race, The Tour des Stations.
The final touch

Can you reach the level of 200% FTP? Sunday, the 23rd of January, is when you try. It is going to hurt, but moving forward basically hurts sometimes. Remember, if there is no power in your legs anymore and your power output is significantly lower, you can skip the last repetition. On the other hand if you still feel good, add one more!
Remember to really push as hard as you can. It makes no sense to go slower and do more repetitions. The desired changes in your muscles won't happen if you really don't go full gas.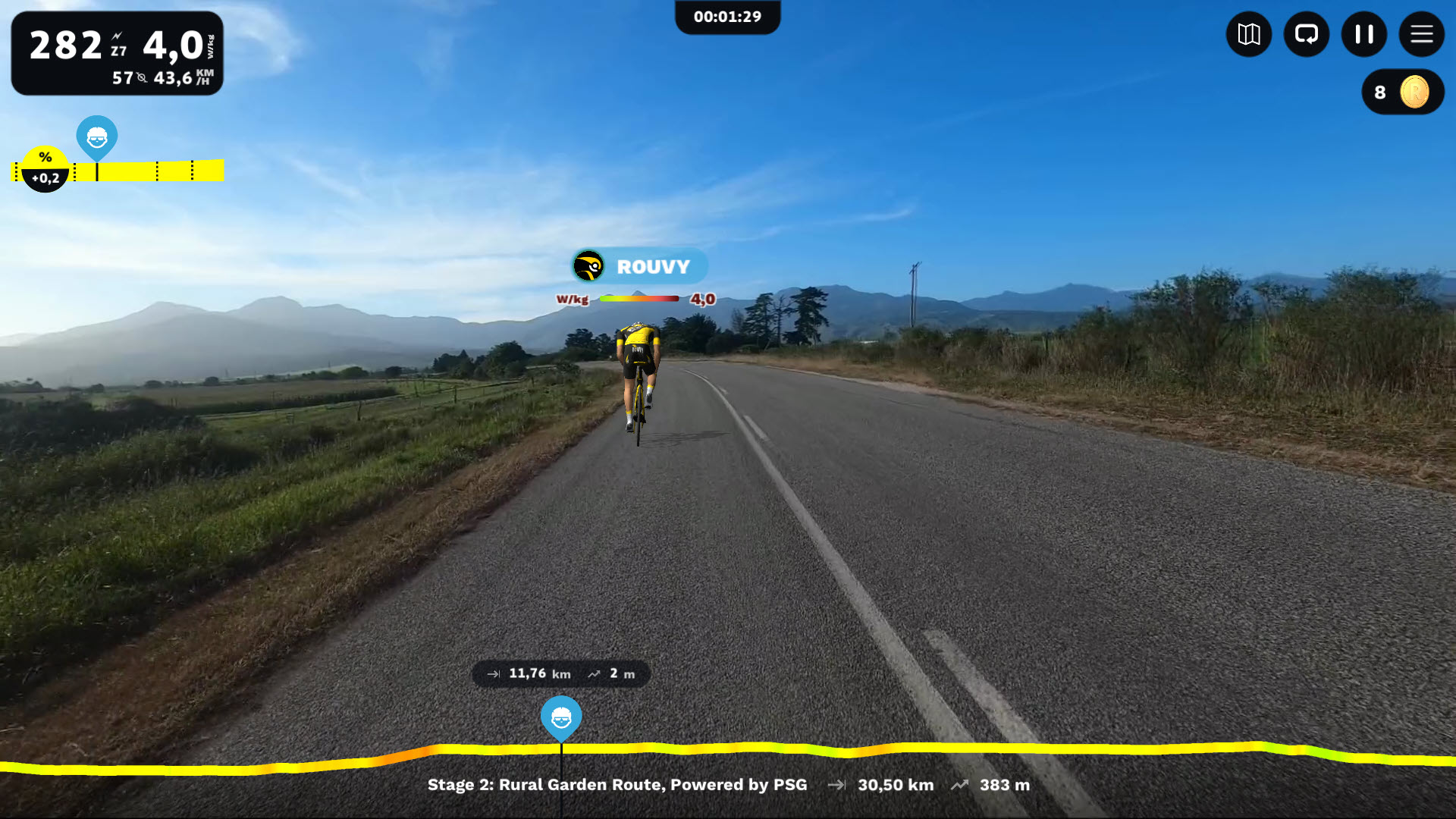 As you keep pushing to your maximum, one may wonder if the epic countryside route scenery in South Africa is a dream or reality.

The following week, 24th to 30th of January, is dedicated to tempo training. Workouts are going to be less intense and shorter, making it a great way to finish your full-month efforts. Keep up the good work!