Daniel is a former runner who became a triathlete and so the need to train on the bike arose. After a stint with Bkool and trying out different trainers, he found his ideal setup using the ROUVY app and his preferred indoor trainer.
He had no intention to progress in the ROUVY Career, but it 'hooked him' and within a year, Dani progressed substantially in his fitness not only in cycling but also in running. Read Dani's story and learn about how a runner became a cyclist, how the ROUVY Career can help you achieve your fitness goals and see how one can make training fun and motivating.
From a runner to a triathlete

Where do you come from and what do you do for a living?
Hi! My name is Dani and I come from Blanes, a little town on the Costa Brava in Spanish Catalonia. It is a beautiful place to do sports! I'm 46 and I work in a container shipping company at the port of Barcelona.
(Dani's ROUVY account here)

When did you start cycling and what about your family, are they into cycling as well?
I started cycling about 12 years ago. I was mostly a runner and I used to get injured every winter. Some months before my first marathon I had to undergo surgery, so I had to stop running for some time. That was the point when I seriously started with cycling so I could accelerate my recovery as soon as possible to go through the marathon. I never quit cycling again and started with triathlon.
My wife also does triathlons but she only does it for fun. Moreover she is afraid - or better said – afraid of riding outside because of the traffic, so she is a big fan of ROUVY!
Are there any nice areas to ride outdoors around where you live? Can you name a famous climb or a famous route in the area?
There are plenty of good roads around my home! You can go north through the Costa Brava where you can ride along the coast with spectacular views of the small rocky beaches.
If you go south, then you go straight to Barcelona. That's the flatest and longest road to practice for flat competitions or just to do easy workouts during winter. By the way, you have the Ironman Barcelona AR route to check out this road!
You can ride to inland Catalonia in order to enjoy some climbing; for example there's the famous Montseny. There you have the longest climb around, with about 25 kms of continuous climbing. Moreover, you can finish it by climbing the 'El Turó de l'Home', a tough extra 5 kms at the top that most of the riders avoid because of its crazy gradients.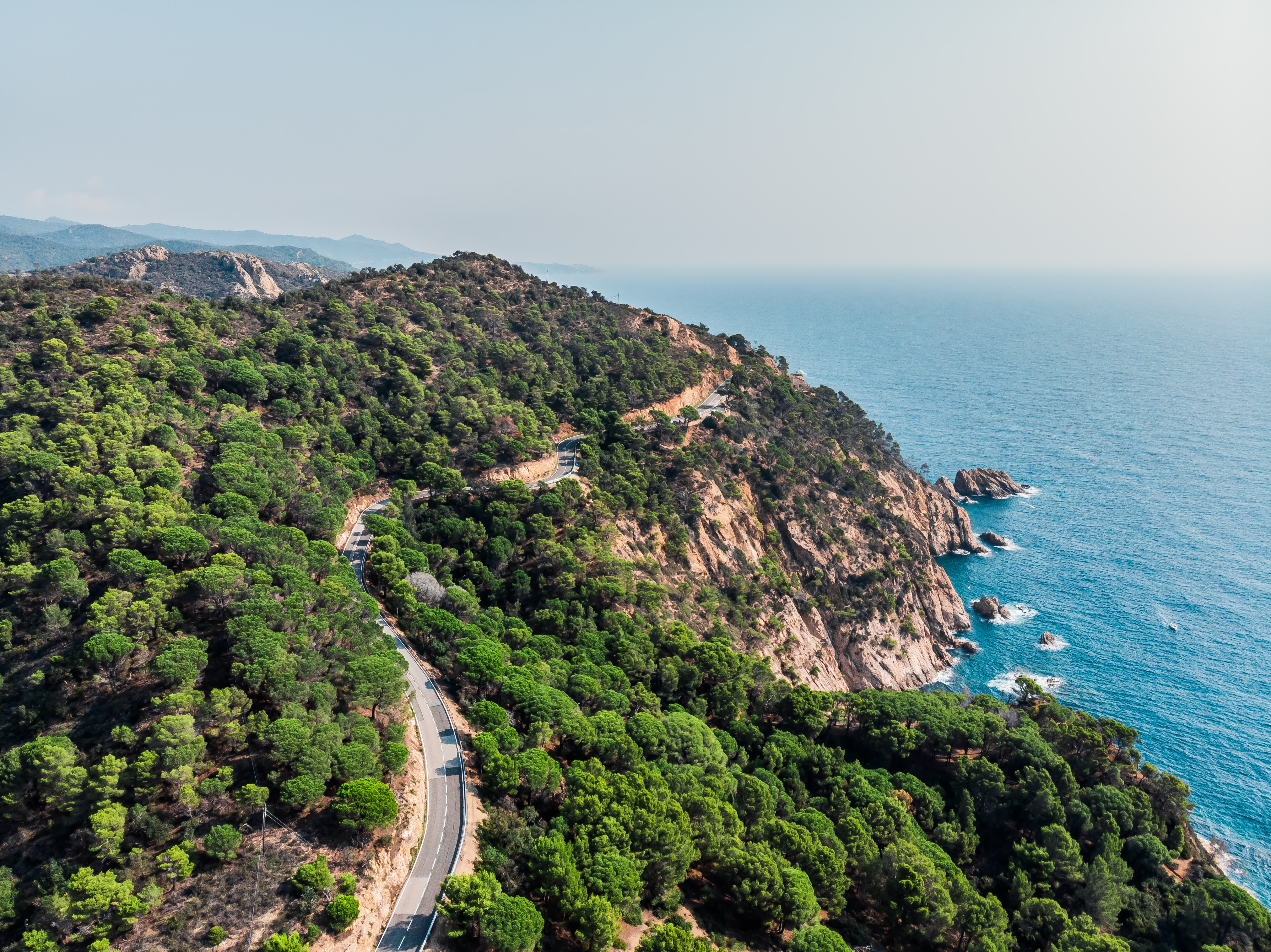 Costa del Brava
Can you name one strong cycling memory you have – either a good one or a bad one?
I cannot count the bad ones, hahaha! It's taken me a long time (and seriously I mean A LOOOONG TIME) to get comfortable on the bike. I had plenty of difficulties for years. I couldn't develop a rhythmic pace; I was always panting and my legs were burning. I was close to quitting many times, but the aim to finish my first Ironman kept me on the road.
My first really bad bike memory was on my second half Ironman. After a terrible experience I was out of cycling and all other sports for 6 months!
I have a lot of good ones, too! Usually, these are related to competitions. For example the 'Half Altriman' in the Pyrenees, a 90km ride with 2,200m elevation gain, was a good one. So was the Ironman Nice, 180km also with 2,200m elevation. But out of the competitions, the one I enjoyed the most was climbing the 'Pico de las Nieves', the highest point in Gran Canaria with one of my sport-crazy friends. I love that island and I enjoyed that crazy 50km climb!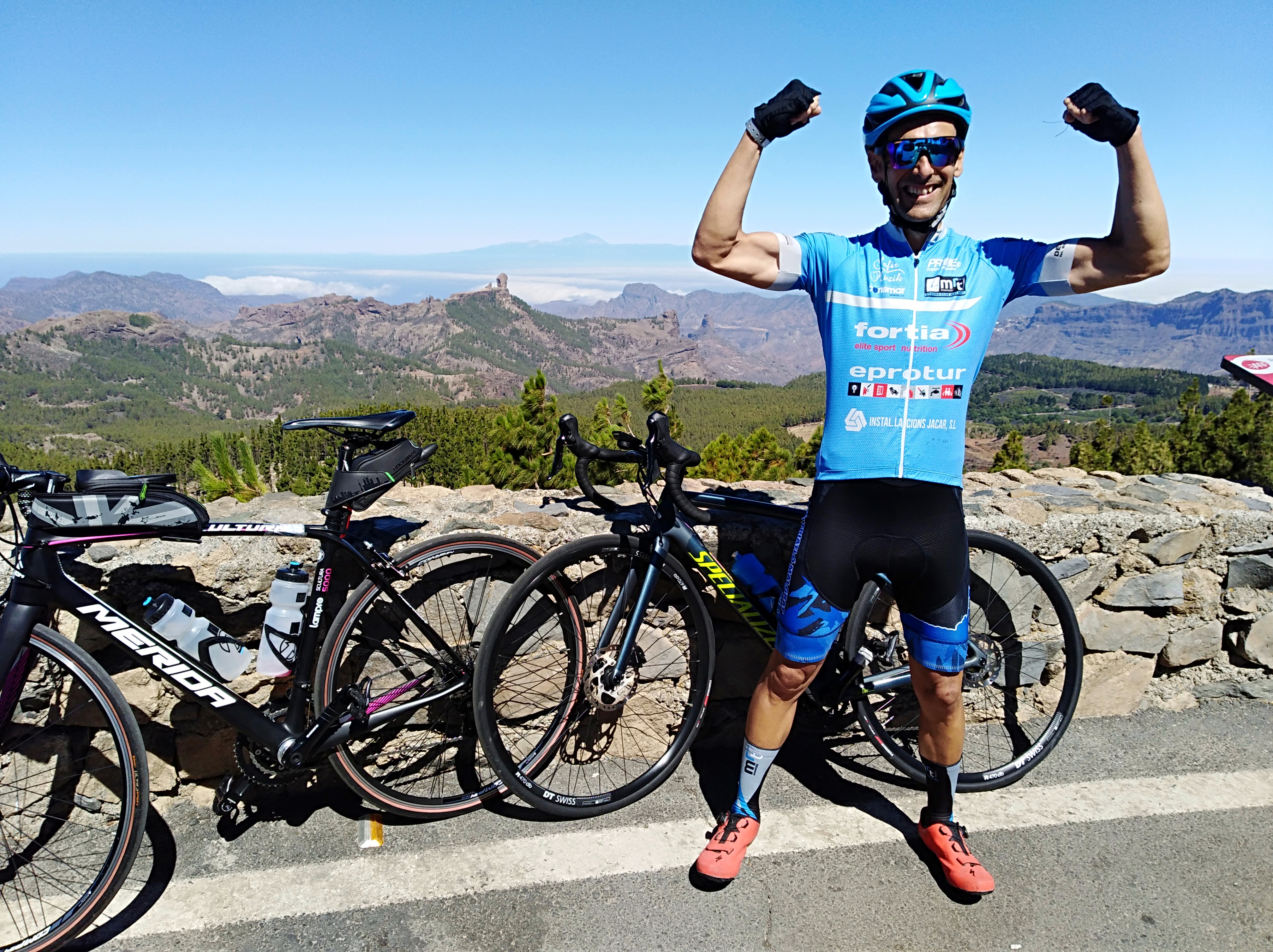 On the top of Pico de la Nieves, Gran Canaria
When did you start riding indoors and which platforms did you try?
My first platform before ROUVY was Bkool. I bought a Bkool smart trainer five years ago for my wife to prepare for a triathlon because she never rides outside. Also I used all kinds of trainers at home on work days, to train during the work week.
Some years later I tried ROUVY and I was totally amazed by the quality of the videos and week after week, I was getting more excited about the countless possibilities that came with it! I also started using Zwift, but it is a totally different concept. Zwift is mostly social, and it's a video game. ROUVY is improving a lot and I have always said that if I had to choose only one platform, it would be ROUVY.
What is your current pain cave setup? Are you planning any improvements?
I've got totally hooked on smart training. I have the Wahoo Kickr, the Kickr Climb, the Wahoo and even the Wahoo mat! And my last acquisition was a Rocker Plate to simulate balancing on the bike. They're all absolutely amazing!
I really don't go outside, almost never, but the incredible thing is that I am in very good shape! I think it's a record that I did not ride outside for six months but I am in better shape having trained indoors for those six months!
My former pain cave is very sad now, haha! I used to have my pain cave in the third room of my flat, but my child fortunately grew up and so I was thrown out of that room; now I have my bikes, trainers and PC in the dining room. Fortunately, my wife also uses it, so we did not need a divorce!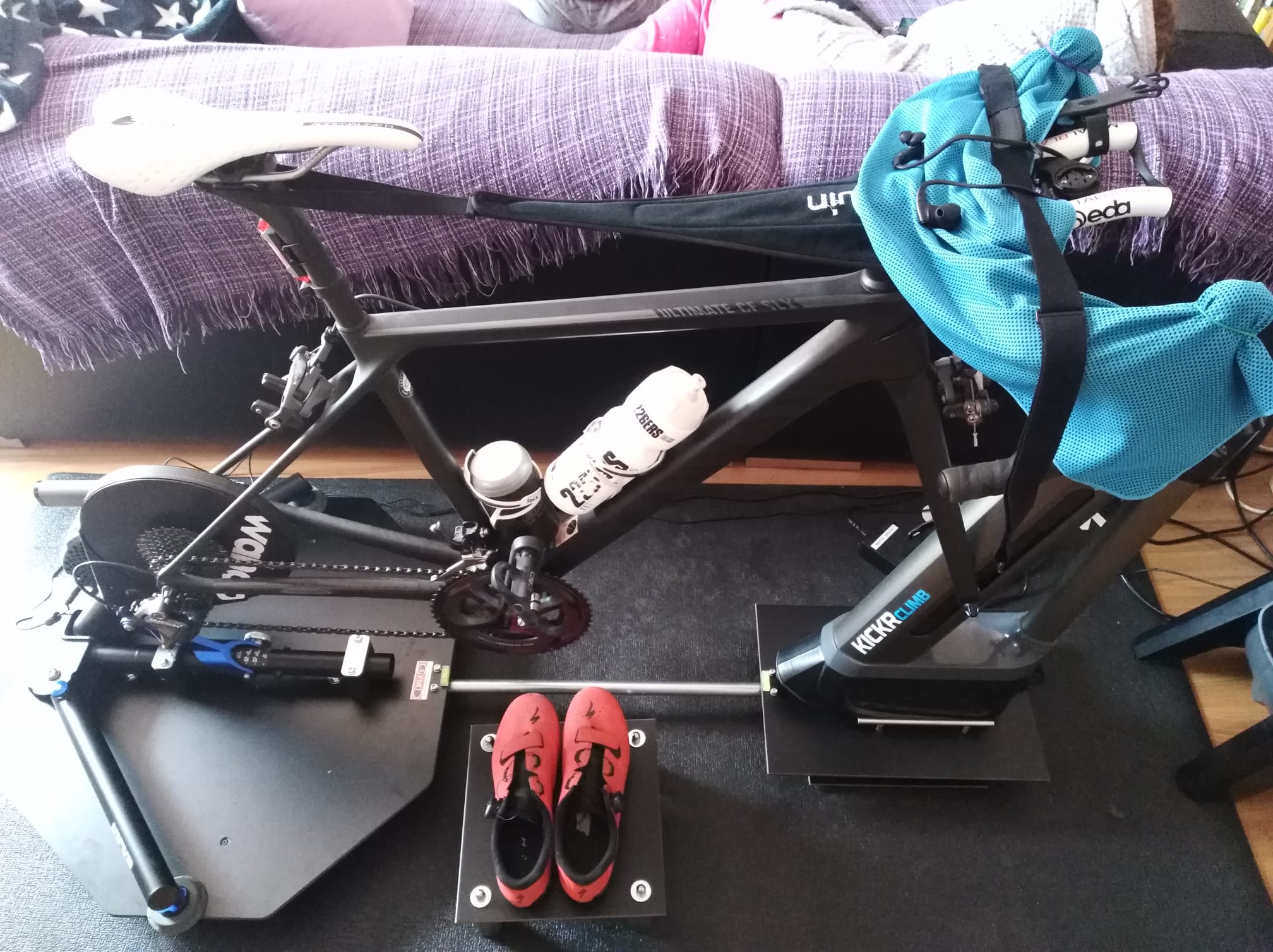 Career improved both my cycling and running endurance
Last year in December, you started working towards reaching the Legend level in the ROUVY Career. What was your initial motivation?
At first I didn't even know what the ROUVY Career was about, but little by little it grew on me. At first you go up levels quickly and that hooked me. The mistake was that although a lot of people talked about TSS points on Facebook, I had no idea what it was all about.
When I realized what the ROUVY Career was about and what a TSS point was, it was really late, maybe February or so! I calculated how many TSS points I had to achieve per week until the end of the season and I thought 'sh*t', IT IS IMPOSSIBLE! And that was my motivation.
Impossible is the word I needed to go through with my plan. And I did it! One week before the season ended. It was very very very hard. Some weekends I did six hours of riding to get the points. The Double Point Weekends were absolutely crazy, I actually used some Fridays off work to get the points. I also had an Excel sheet with automatic recalculations of the TSS points! If you want it you have to fight for it!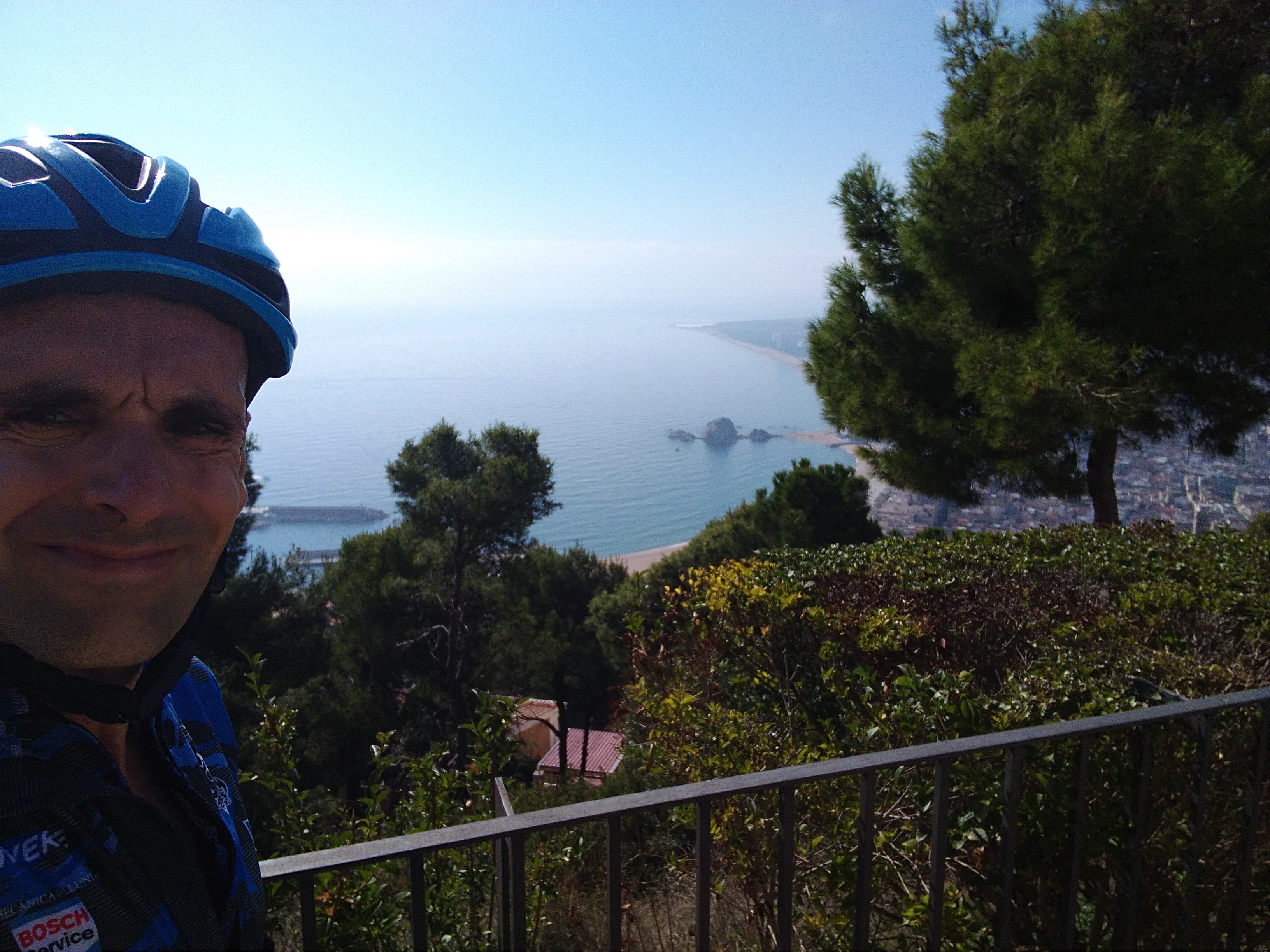 What was the main benefit to you?
As I said, it was improving my bike skills and shape. I never felt in such great cycling shape as I did on my way to the Legend level. I am very grateful for that! Last year, I prepared for an Ultra Trail on the Gran Canaria (yes, you can notice that this is my favorite place in the world!). It was 130km long with over 7,500 elevation gain crossing the island while running (running, walking or whatever you could in 30 hours).
Most of the preparation for this challenge was done on ROUVY so that I wouldn't get injured, as one is prone to injuries with trail running. I picked extreme climbs on ROUVY and it was really fun - I did a lot of 'more than 3 hour climbs', sometimes even five. And after that, I immediately went outside to run for one and a half hours on the mountain. These were extremely good training sessions; you didn't need to run eight hours on the mountain which would have been extremely dangerous for the legs!
Did you get any support from your family or friends?
Yes! My family was always with me. It was another 'crazy dad challenge' for my kids. They always asked me how I was going to get to the ROUVY Legend club. My son was like 'wow,… you are going to be a Legend!', haha! My wife is used to these crazy things, I am very lucky she also loves sport. Otherwise it would be extremely difficult or even impossible to do it!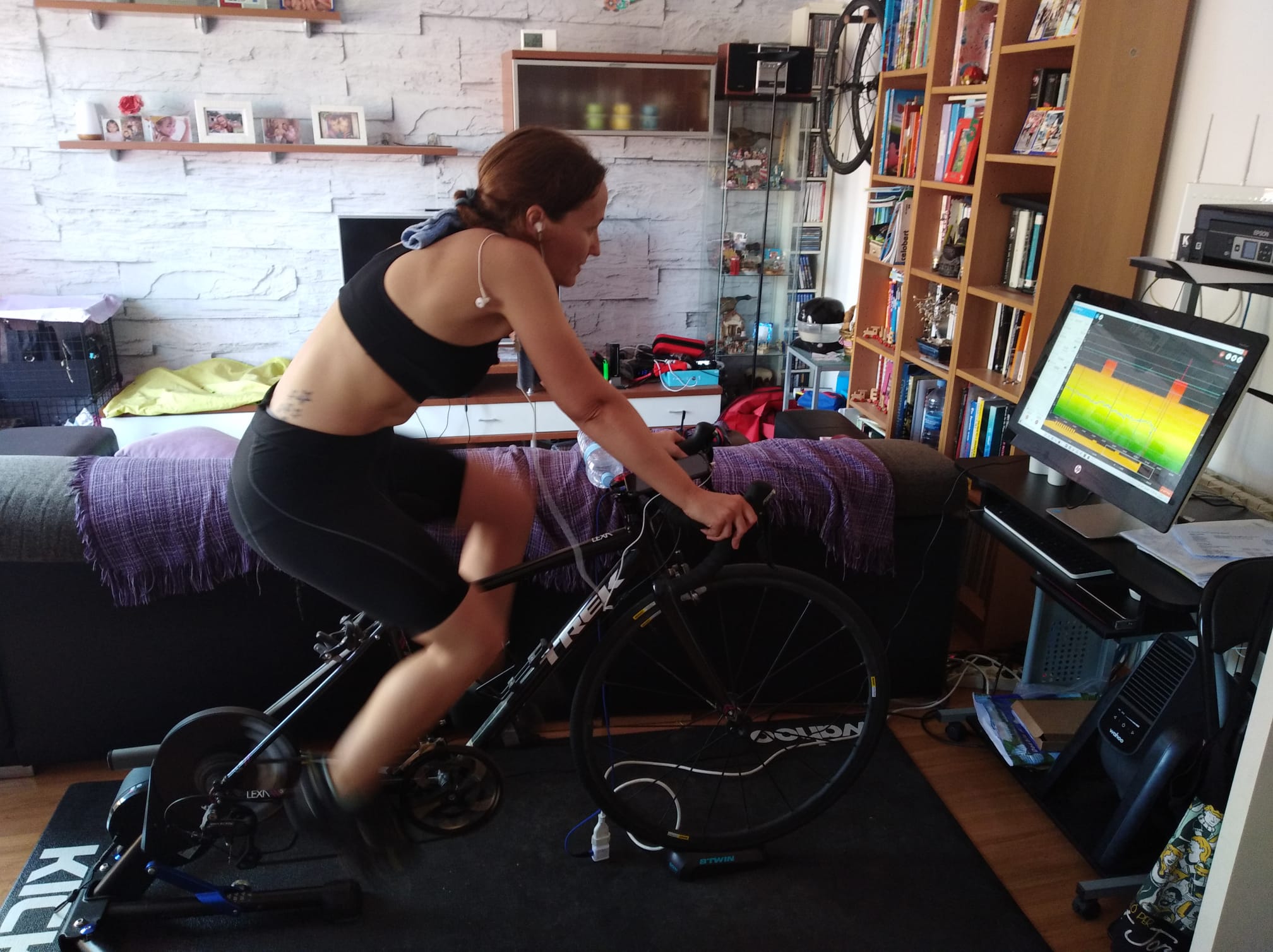 Dani's wife sharing the same trainer setup (before an upgrade)
How many kms and hours have you ridden?
You are not going to believe me. I have no idea! I don't have Strava and I don't upload all my training to Garmin either; so all my data is spread across different apps. I can only say that I've done 8,344km, only on ROUVY. Together with Zwift and outdoor rides, it totals around maybe 12,000kms. No idea about how many hours but…. TOO MANY!
After that many hours on a bike, do you see a benefit in your triathlon races?
The point is that I have not yet tried because of lockdowns! I continue running, swimming and biking, but I have not proved myself yet in a triathlon. Next July 2022, I am registered for the Ironman 70.3 Andorra, with a lot of elevation on the bike. That will be my real test.
The greatest benefit I see is that 'I DON'T HAVE TO TRAIN'! I just train because I want to and I like it, without pressure, without plans, without the stress of knowing that I HAVE to do a specific training. This is very relaxing!
The new ROUVY Career format is approaching! Are you going to take part similarly to last year or are you going to balance your effort in between all triathlon disciplines more equally?
Well when I finished my last Career I thought 'NEVER AGAIN'. And when I saw you were going to launch a new ROUVY Career format…you know… maybe… but only if it is impossible! Hahaha!
Now I am back on triathlon training, but as I said I am not on a specific training plan. Sure I will start a new Career and I will see where it takes me! I think the most important thing in the Career is to stay motivated. One thing I loved about the Career was that I went onto the trainer and I didn't have to think about what I was going to train that day. I just followed the Career and my motivation was always at the top. I think that with the new ROUVY Career it is going to work the same. Career will be my training program!
Moreover, one of my favourites on ROUVY is that you can create a 2D route with a track so you can simulate competition;, this is extremely useful when you are preparing for a race!
Is there anything you would like to share with other ROUVY athletes that I didn't ask you about?
I have to say that ROUVY has so many possibilities of training for everybody. One of the things I like is that ROUVY is in constant evolution and listens to people's demands. Now we have Workouts, a new Career, new accessories for avatars and many more. ROUVY is growing a lot and I think it has a great future. I wish you my best!
Thanks Dani and I wish you many happy hours on ROUVY and all the best with your Ironman 70.3 Andorra in July!
If you want to take advantage of the new ROUVY Career, January 1st is the time to start!