To get a better idea of what the final Stage 21 looked like, check out this short video showcasing the key moments. Primoz Roglič made no mistake about winning his third Vuelta a España. He concreted his overall win with the stage win.
Apart from being (obviously) an active road biker, how do you spend your free time and what do you do for a living?
I work as a software engineer for a large corporation. With two lovely small children, there is very little spare time but this year I did enjoy a little bit of gardening.

How long do you train indoors and what do you like the most about ROUVY? Is there anything you miss?
Last year with the pandemic and lockdowns, I decided to invest in a smart trainer. I should have done that years earlier! With ROUVY, I can train when the weather is bad. Plus, my job usually requires me to replay recorded meetings or watch technical video material which now I usually watch while exercising on ROUVY.

What was your initial thought/reaction when you received the message that you had won the VIP tickets for 2021 La Vuelta?
Well, actually I didn't win the tickets. They were gifted to me by another Rouvier that I hadn't even known before! It was by pure luck and of course the generosity of Hana Sedida, whom I am very grateful to, for giving me the chance to enjoy this experience.
Hana won the tickets but she is from London and she also had another trip already booked. A couple of weeks after her winning the prize, there was this ROUVY online race that I posted to Strava where a few other people had also participated. I noticed Hana had posted a picture with the prize. I clicked on it and in the comments section, she had asked if someone was willing to take the prize. As I live only 50 kms from the La Vuelta stage, I commented, and she was incredibly kind and passed me the two tickets.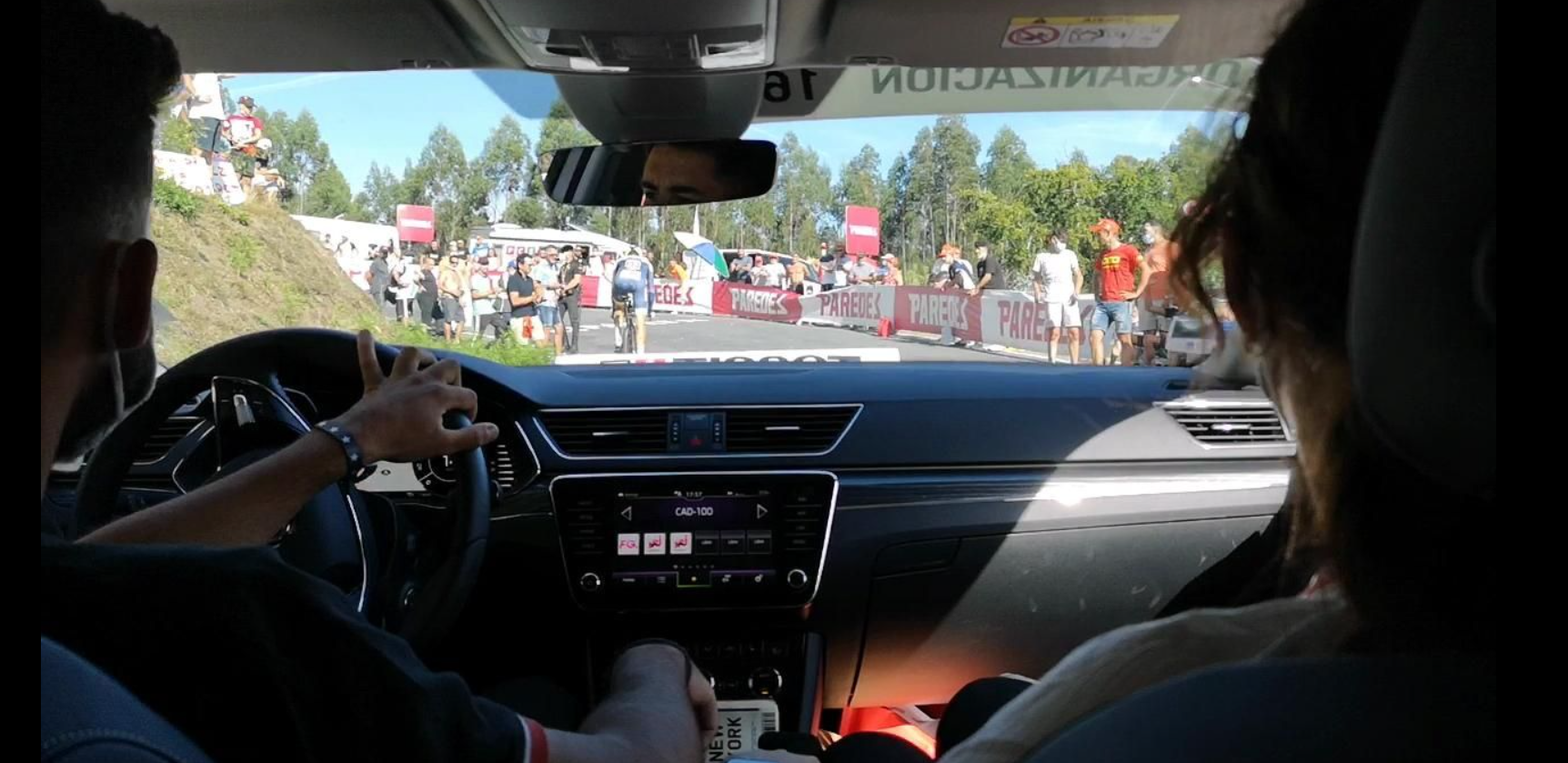 Which day and stage did you visit? What was in your VIP program for that day?
It was the last stage. Time trial. The VIP program included the entrance to the VIP area and also following the race from a car. There was also a helicopter ride but unfortunately, the helicopter doesn't fly on the time trial races. Finally, there was also the VIP area at the end of the race. These were fenced-off areas but were actually quite crowded. But, we still got the chance to get real close to the famous pro cyclists and also watch the prize ceremony.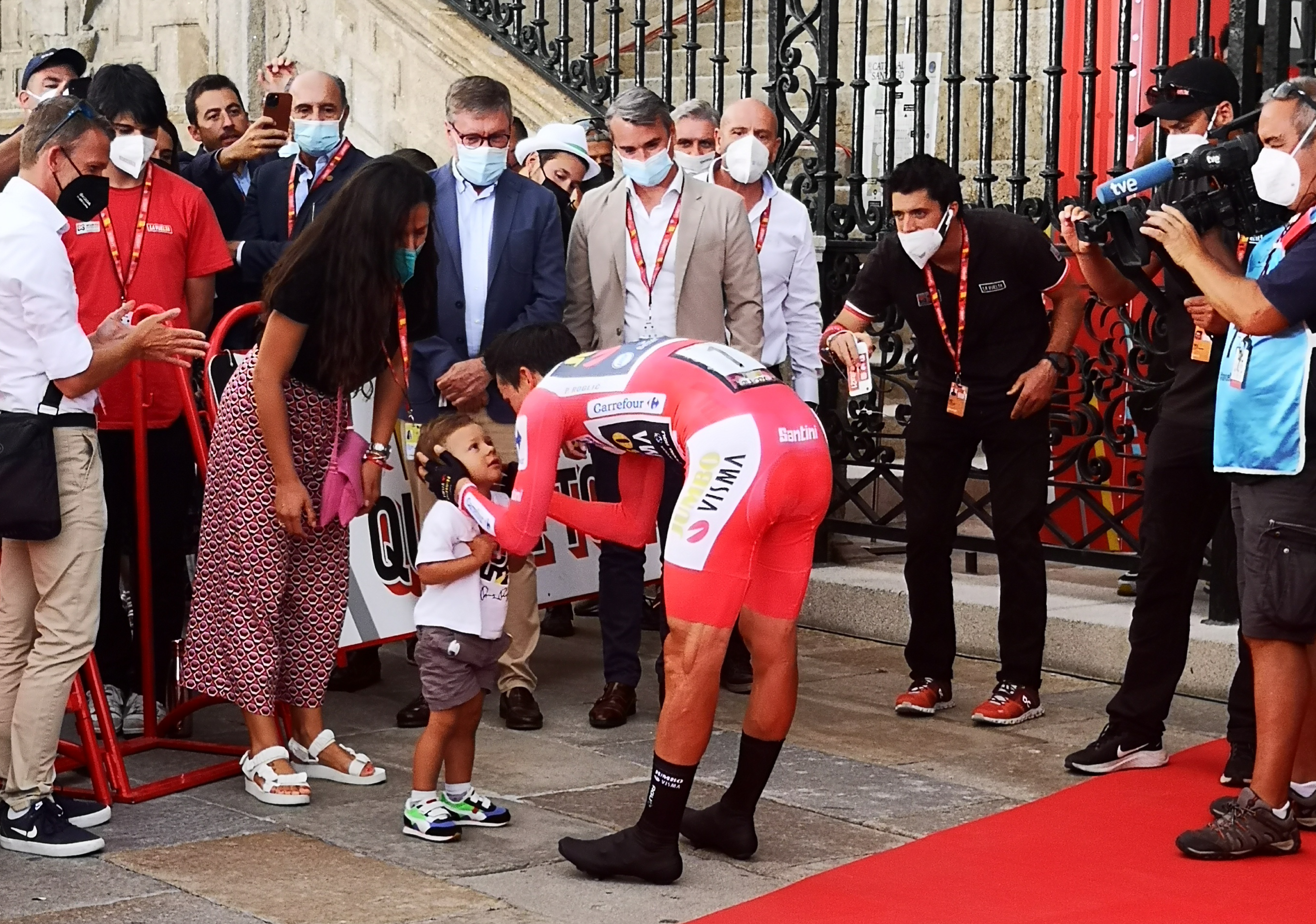 2021 La Vuelta overall winner and Stage 21 winner Primoz Roglič as seen from the VIP area

Have you ever seen a big racing event live? What impressed or surprised you the most about the race itself?
No. It's the first time. What surprised me the most was the amount of people watching the race. Lots of families were sitting outside their houses cheering the cyclists; so were lots of groups of friends and even musical groups. Of course, the fact that the stage was a time trial made it very attractive to people that got to spend a great evening.
Did you have favorite riders in the peloton and were you able to spot them?
I don't have any favorite riders but I could spot all the top riders from the VIP area; we were located at the end of the stage which was pretty cool.
Having witnessed La Vuelta in person, do you now feel really motivated to train more and come back to ride them, on ROUVY?
Well, I wouldn't be able to compete so that won't be my main motivation, but yes, absolutely!

What is your best memory of the whole trip?
Following Wesley Kreder from Intermarche during the 35km of the time trial and watching all the people cheering was pretty cool. It's definitely something I won't forget.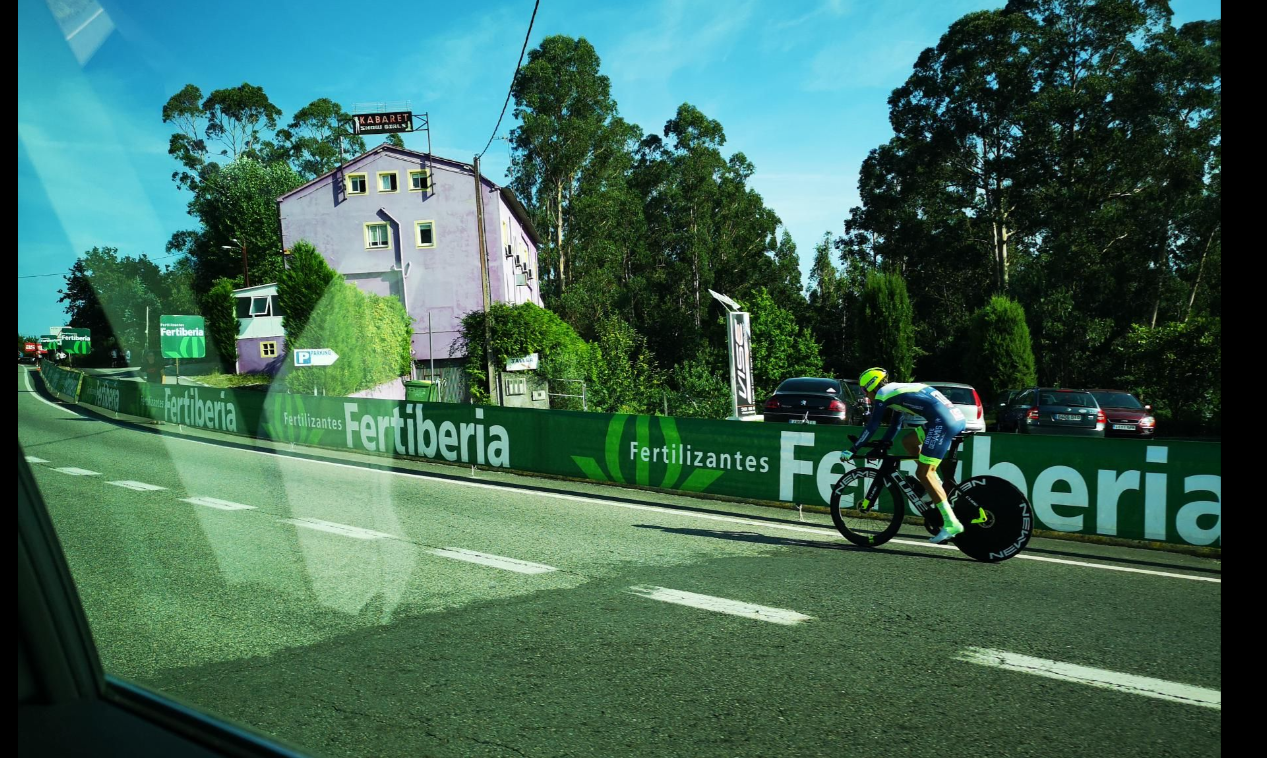 Following Wesley Kreder from Intermarche

Is there a message you would like to share with fellow ROUVY athletes?
Specially to Hana, thanks a lot for being so generous and kind and then thanks not only to the fellow ROUVY athletes but to all the people at ROUVY. Thanks for making this platform so great! Having a platform that lets you train, but at the same time gives you the opportunity to view the world as if you were there, is amazing. Keep up the great work!