The wheel is spinning
Sweat drops on the winding road
Mount Rokko is high...
The racing fun begins on the streets of Kobe, Hyōgo Prefecture and snakes its way through the city, passing the metropolis. Winding through a few villages the landscapes of the course gradually change to a classic Japanese deep green forest giving you plenty of space for peaceful zen-like contemplation inspiring you to concentrate on nothing but turning your pedals :) to be able to make it to the top.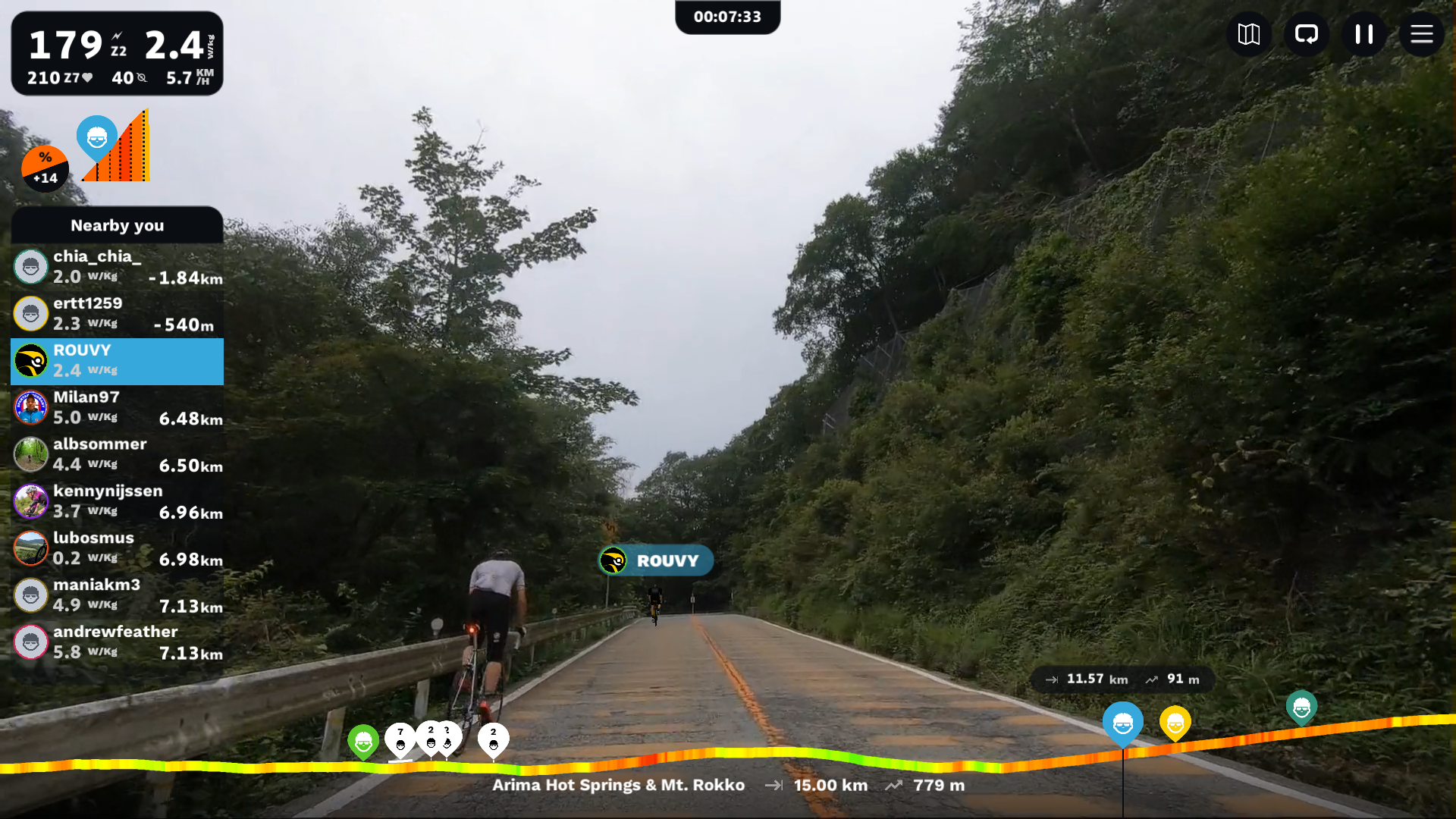 You have an opportunity to race alongside the pro riders from Japan. Be sure to save some energy for the last I/3rd leg of the race as it is going to feel a bit like a ramp test. However, before reaching the finish gate you will find both a fairy-tale-like light and the tunnel, bringing a true delight and meaning to this green journey :).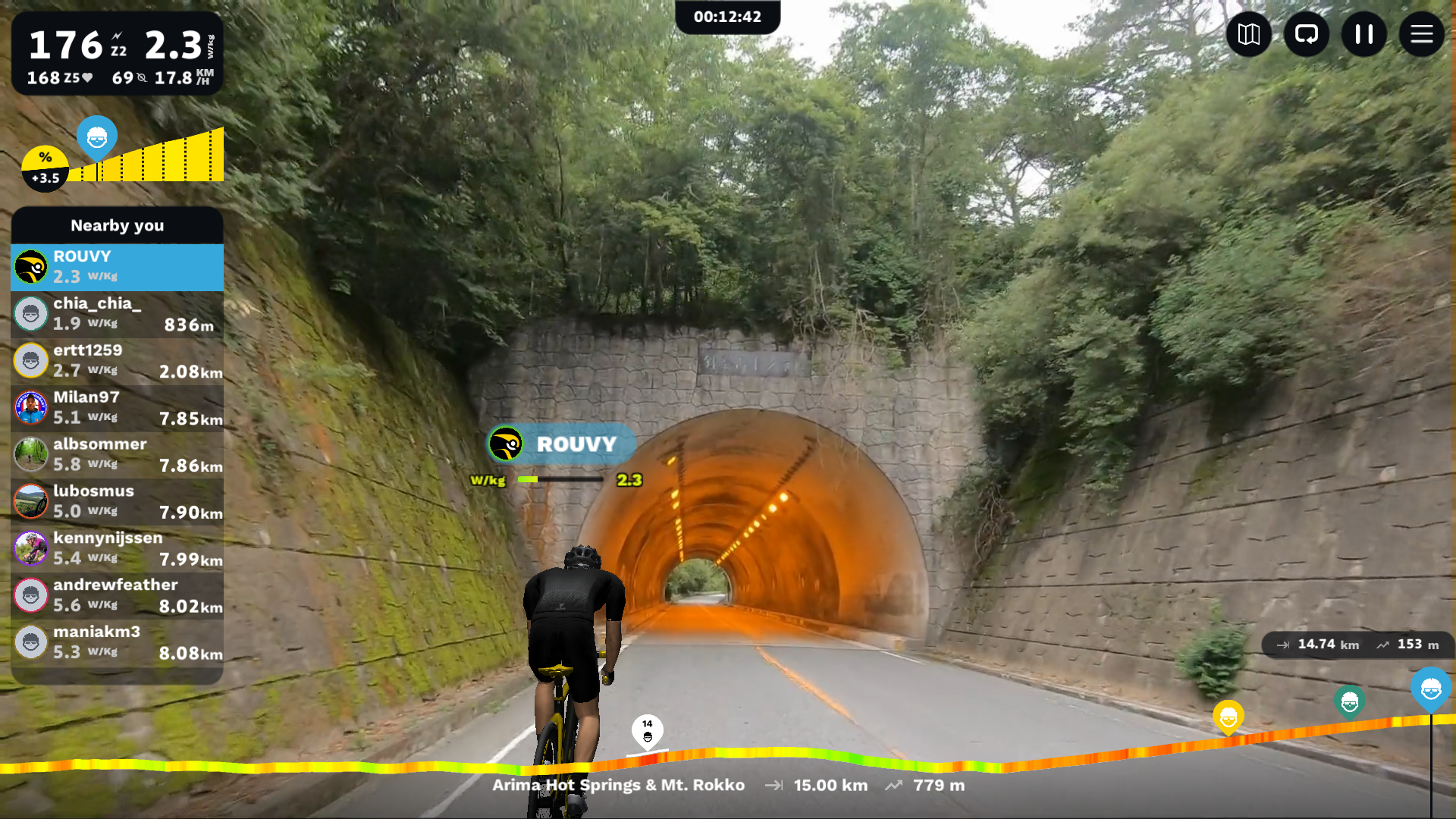 Rush to the summit of Mount Rokko in the 15km challenging uphill race on the 22nd of July!
MAIN EVENT
Arima Hot Spring & Mt. Rokko Virtual Ride Race 2021 | 15:00 JST/08:00 a.m. CEST
This race is an open, free-of-charge public event and anyone is welcome to join this ride with the pro riders.
PRIZES
Riders who reach the finish line in less than 60 minutes will have the chance to win the lottery prizes.
Raffle for 1 person / prize
a WAHOO original big towel
Casa Ciclismo's original Onsen towel
free 3-month license for Casa Ciclismo's secure cycle parking at Arima Hot Spring.
PRO RIDER LINEUP
辻善光

Yoshimitsu Tsuji

Team: TeamZenko

兼松大和

Yamato Kanematsu

Team: Infinity Style

安原大貴

Daiki Yasuhara

Team: MATRIX POWERTAG

遠藤正律

Masanori Endoh

Team: Zwift Warriors Cycling

37 years old

height / weight:169cm 62kg

born:Nara Prececture

2010: Tour de Kumano 1st Stage : champion

2011: Japan Cup Criterium : 4th

2012: Japan Pro Tour Shirahama Criterium : champion

2012: Japan Pro Tour Wangan Criterium: champion

37 years old

born: Osaka

Climber



2017: Mt.Fuji Hill Climb Organizer Selection : champion

2017: Tour de Utsukushigahara Cycling Race 2017 champion class: champion

29 year old

height / weight : 174cm / 62kg

Born: Osaka

2011: join to MATRIX POWERTAG

2015: JBCF Tsugaike Plateau Hill Climb: third

2018: JBCF East Japan Road Classic Gunma Day 2: 4th

2019: Tour de Kumano Stage 1: Mountain Award

2019: West Japan Challenge Cycle Road Race : Champion

34 years old

born: Osaka

weight: 52kg

2021: Chikusa Plateau Hill Climb 2021 Class C : champion

2018: Takatori Castle Sengoku Hill Climb 2018 by age group : third

2019: Mt. Ibuki Hill Climb 2019 by age group : 8th
RULES
Smart trainers only
Drafting is ON
Race Classification - Men/Women
Register for the main race HERE.
BROADCASTING
The races will be live-streamed on Youtube Live in Japanese only, watch here.
PRIVATE 'WATCH-ONLY' IN-PERSON EVENTS
Physical Esports Exhibition race | 11:00 JST/ 04:00 a.m. CEST
To be a top competitor, strong physical shape and persistence are required for staying on top during the competitions. 5 esports gamers will be given 30 minutes to reach the finish gate, as a challenge. Who is the fastest esports gamer?
-> This race will be held as a private event. Enjoy watching the live stream!
Corporate Competition Exhibition Race | 13:00 JST / 06:00 a.m. CEST
Corporates around Arima and Mt. Rokko come together to challenge the hill climb. Each company makes a group of 3 riders. Each rider can switch only once anytime during the race. They will be given 60minutes to reach the goal gate.
-> This race will be held as a private event. Enjoy watching the live stream!
Race Big in Japan!
CREDITS
EVENT VENUES
- Main: Arima Hot Spring Cycling House "Casa Ciclismo"
*only invited people can visit the event. Public viewing is allowed at Bar de Gozar.
- Sub: "eSPARKLe Kobe"
One esports player and one corporate participant are going to join online from this event venue for the exhibition races (watch-only races). Spectator seats are prepared for the event.
Main organizer & host:
Arima Hot Spring & Mt. Rokko Virtual Ride Race Executive Committee
(ArimaTourism Association Youth Team / TRÊS CORVOS ARIMA / Nishio Rent All Co., Ltd. / Xebec Co., Ltd. / West Nippon Telegraph and Telephone Corporation, Kobe Chamber of Commerce and Industry Kobe Sports Industry Conference)
https://visit.arima-onsen.com/
Sponsor: Keibunsha
Partners: Wahoo Fitness Japan / ROUVY / Sunvolt / Hyogo Esports Union / Mont-bell
Advisor: Shiro Yamaguchi (Department of Human Society Associate Professor, University of Marketing and Distribution Sciences)