Dear Bernd, could you share with our users the story of your life?
I am now 53 years old and I can say, cycling is my passion for over 30 Years. As a Project Manager, i used cycling every day to calm down, by riding hard :-)

But that isn't my story, that's normal life and the story of my life begins on 29.7.2016 as the Oncologist said: You have stomach cancer, a 50mm tumor in the junction to the esophagus. The risk to die is over 80%, but we believe you can survive (ok my wife was crying and I was focused on surviving at the exact moment). She gives me a lot of information about removing the complete stomach and Chemotherapy. I ask her one thing: "Can I ride my bike ?"
And she said: "Yes u will ride but never that hard as before."
OK, that was exactly that Moment where my goal was born: "I want to ride the Pico del Veleta again after all that fxcking torture" - you should know I have climbed this highest paved climb in Europe 3 times before cancer.
The Therapie start 3-4 weeks later and after the fourth chemo I really was short before dead, and that isn't a joke. I felt that once more it will kill me. I was riding my bike till the second chemo and after that, it wasn't no longer possible. The surgery was the biggest disaster I've ever gone through, the Epidural anesthesia didn't work and I woke up with a feeling that they have removed my complete guts and that was exactly that was they have done. I got that many Pain-Killers that I couldn't speak, read and they say they couldn't give me more and the pain was still there like without. 5 days without any sleep. After 6 weeks I left the hospital with a lot of painkillers and came back every week with another escalation. Like lung infection, or pain attacks… Enough.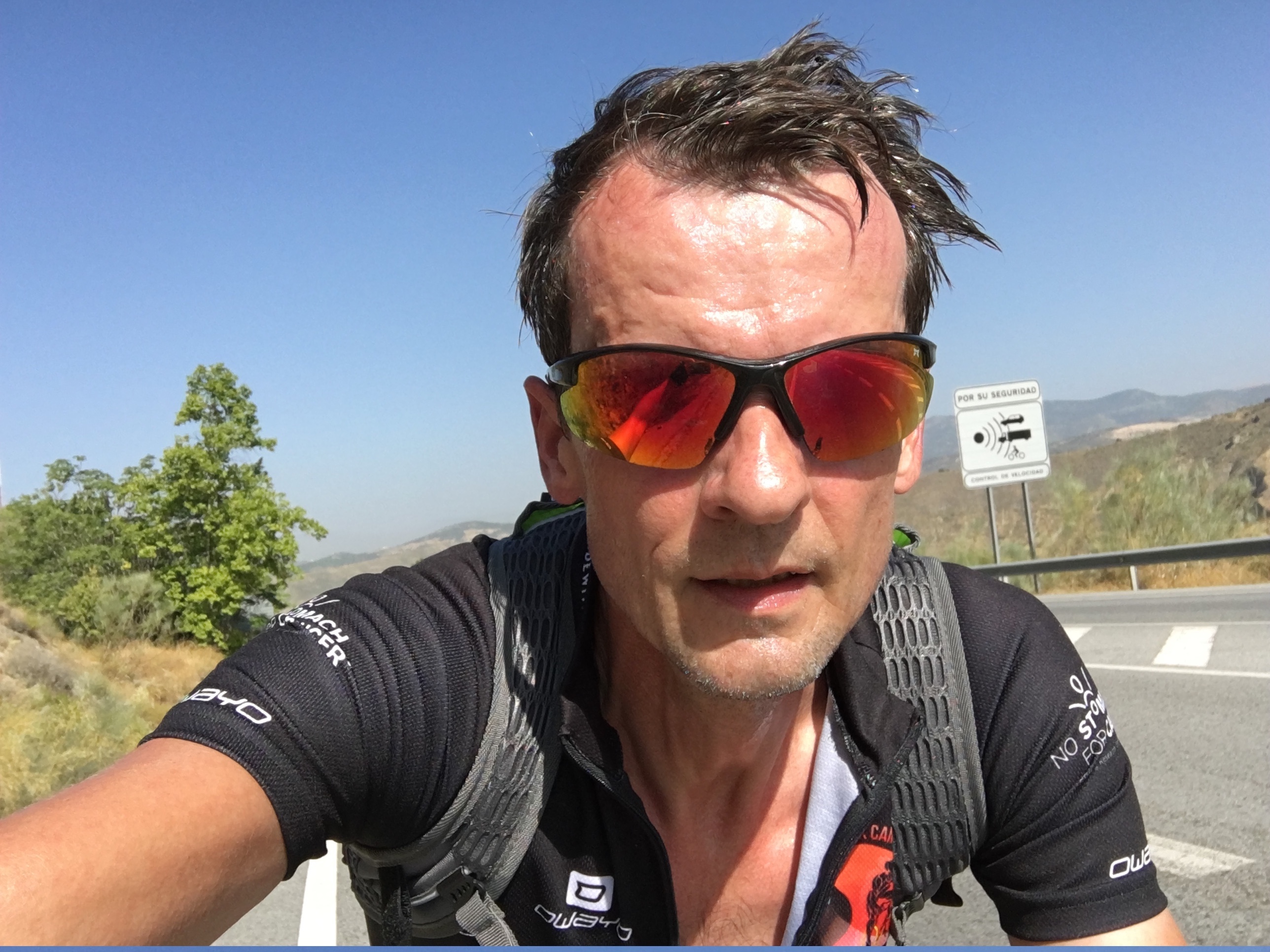 What was the hardest part about getting back on track after you survived a battle with cancer? Life track and cycling track.
Pain – Pain – Pain – every sip of a drink, every snack u eat goes directly into the intestines and the intestine gets normally predigested food and normal temperated. Eating – Drinking – Hurts and the whole life is only one thing: U must eat – U must drink – every 2 hours you need to eat because you can't eat anymore that portion u can eat with the stomach. Then the next big issue: you can not drink and eat at the same time, you need time between. What's todo if u thirsty and need to eat now to not follow in a sugar-shock → it took years to manage this and today it's always the biggest issue. How is this to handle on a bike? How can I ride my bike – still have that pain in the bowel? Ok. Let's try only 4 weeks after the past chemo after Total gastrectomy, starting with 5km and handle to manage the pain, happy that my wife could be with me with her e-bike, learned to handle the pain, and learned to drink on the bike. Every day I go a little step more and always on my mind was the Pico del Veleta. The first 50km was done after ¼ Year and in 2017 I could reach 100km and the local climb "Feldberg Kittelhütte".
What was the toughest ride on a bike for you?
I have one ride, not the toughest, but the most emotional ride I have ever done and I believe u already know which one. I was climbing the Pico del Veleta in July 2018 – 15Months after my last chemo. The weather in Granada was really great and I started early. The pain starts at "Steps Hell" and every sip gives pain in the stomach, this happens now on every hard ride. As I reached the "Big Kirmes" the weather wasn't what I wished for that day, a storm was blowing hard, but I thought "This is my Day – Fuck you Storm". Normally I would prefer don't ride in that region with this storm, but all that things I had to manage to → go and do it now. In some parts, the storm was strong that I should stop and wait and hold my bike. Bad thing: in some parts the climb was extra hard - a good thing on some parts extra easy with the wind :-) 3 km before I reached the peak all things break out of me and I only could cry. I have done it! YEAH!!!
As I came back to Granada and met my wife – I said to her "Damned that was so hard! I never ride my bike again!" She was laughing loud. One year later i have done it again and created the route "Pico del Veleta" which you can ride on ROUVY and of course the Route "A395 -Pico del Veleta downhill
As Matthias Heil saw that I have not only created the climb but also the downhill he asked me if I can create a virtual Everesting – And this is the hardest ride I have done: time2die (check it here) – its 3,5x Pico del Veleta and I could manage it 3 Times in 17 hours. After that my body was out of control because I could not eat/drink enough – it's harder than the Eversting I have done 6 weeks later: vEveresting – 8922m in 15 hours 42 min (8,5 times Alpe de Huez). It's a little disappointed that we still can't do an official Eversting on Rouvy.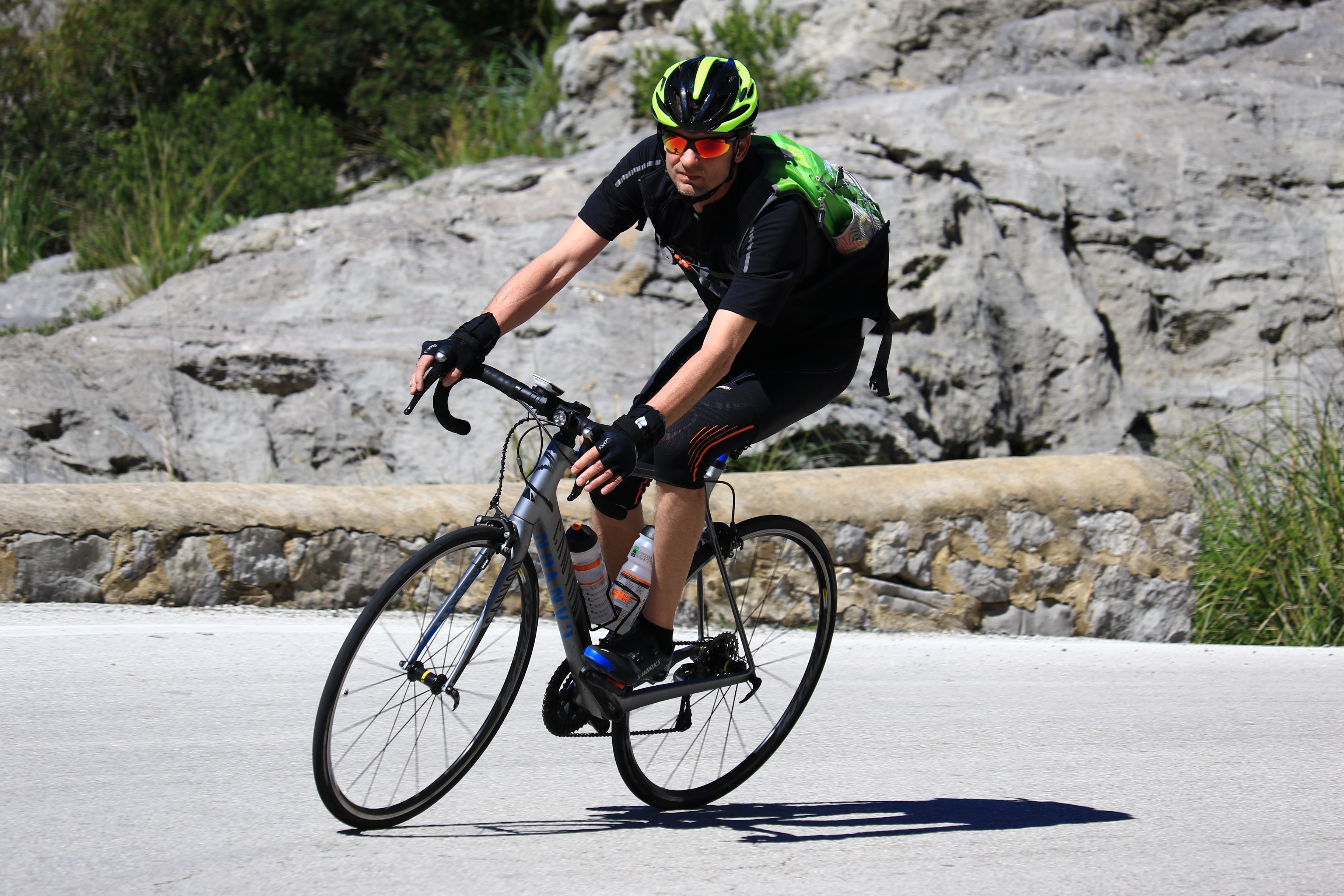 How cancer changed your life and attitude for a living?
There is nothing that could stress me anymore because I can't handle stress after all that.
I don't care about many things, let it be. I live and I would live a little bit longer. I only do what I want to do and give a shit about what others think. I only go to work a half-day and need the rest of the day to do what I want to do → cycling (if I don't lay down with fatigue).
What makes you happy these days?
Since the Covid pandemic, it's harder to be happy. Normally I enjoy riding and make some nice stops to drink and eat something in cool locations, but now that's not possible and of course, I am very afraid to get Covid – I hate to be ill. So it makes me happy to be healthy as I am, that's enough and of course, I love to ride a hard race on ROUVY – I love to fall down from the bike and think "Yeah, you can ride very strong (and wait for the muscle pain – lol)". And I can't wait till we have nice weather and I can produce more nice ROUVY routes → that is my second hobby. And I love to help the community to create ROUVY routes.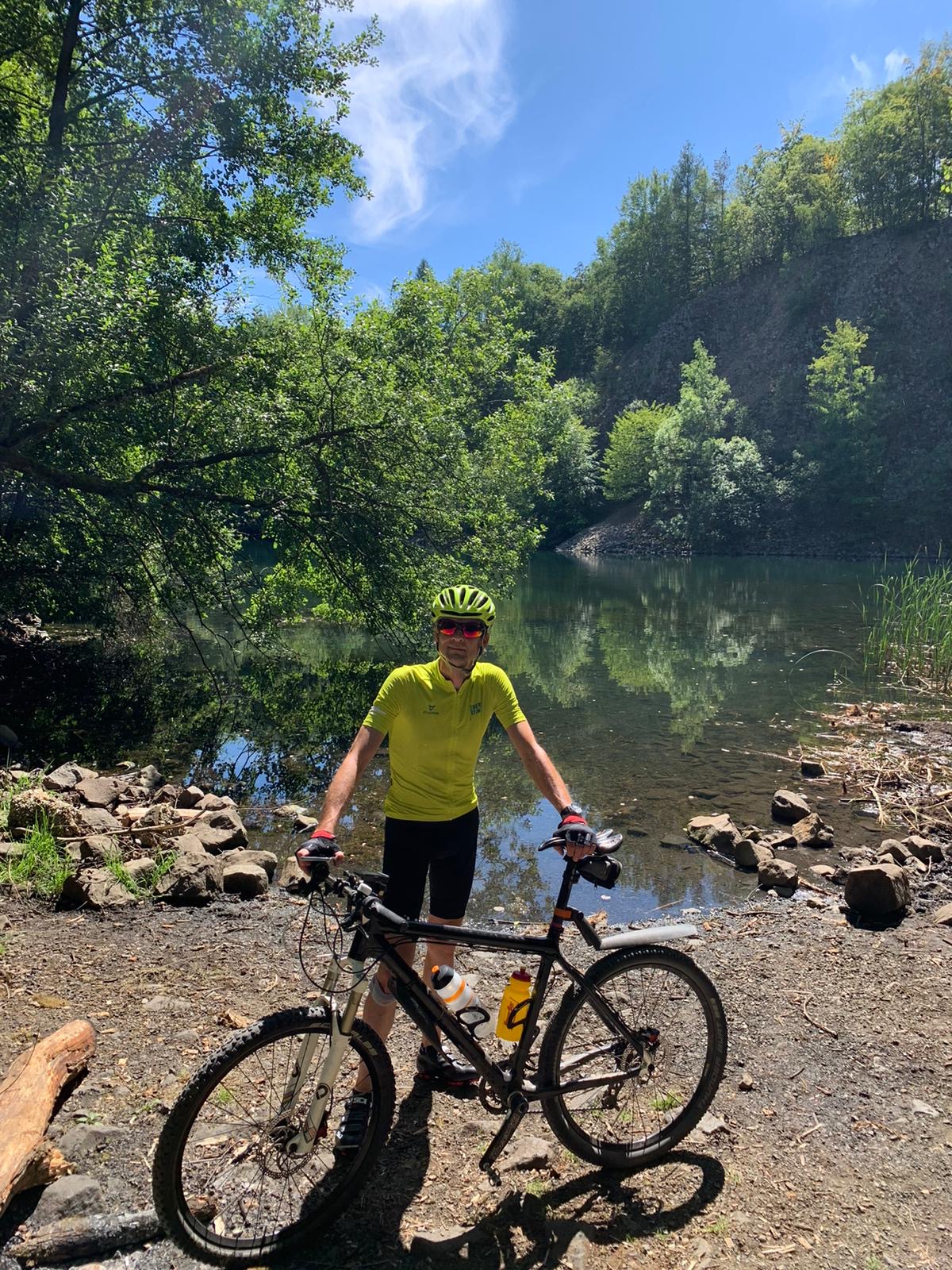 What would you like to tell other ROUVY athletes through this post?
Don't think u can't get cancer or any other terrible illness – I lived without smoking for over 21 years. I haven't drunk alcohol for over 25 years and ate healthy. I have done a lot of sport – normally u should think you live forever. You don't! Please go to the annual check-up!
Bernd, thank you very much for sharing your story with us. We love and support all the passion. Thank you!