In addition to providing a significant fitness boost, this week's workouts and IRONMAN VR25 on the weekend can serve as a dress rehearsal for IRONMAN VR27—our Kona Celebration, the week of October 5-11. Settling on your routes, practicing your transitions, and dialing in your set-up and nutrition will help you go into your IRONMAN VR better prepared, mentally and physically.
Completing a full-distance race virtually is no small feat. The triathlon world watched in awe earlier this year as IRONMAN world champion, Jan Frodeno, completed that very same task in his own home. The physical and mental challenge is one thing when you're surrounded by crowds and supporters; it's another thing to muster the courage and stamina to do it on your own.
Decide on Your Format
The IRONMAN VR27 Kona World Championship Celebration week offers four different options for completing your virtual IRONMAN. You can do the distance in seven days (Oct. 5-11), in any order, and either indoors or outdoors. The second option is to do the distances in three days (Oct. 9-11), in any order, and either indoors or outdoors. The third and fourth options are done in the traditional 17-hour format, one featuring a run as the first leg and the other a swim. These are regulated races, completed in order, and with a mix of requirements for the activities.
Once you decide on which format you'll be racing, you can proceed with planning out your race. The week-long and seven-day formats will allow you to recover between sessions, and plan them according to how you feel and your life schedule, whereas the 17-hour formats will count your rests as your "transitions," or part of your overall time.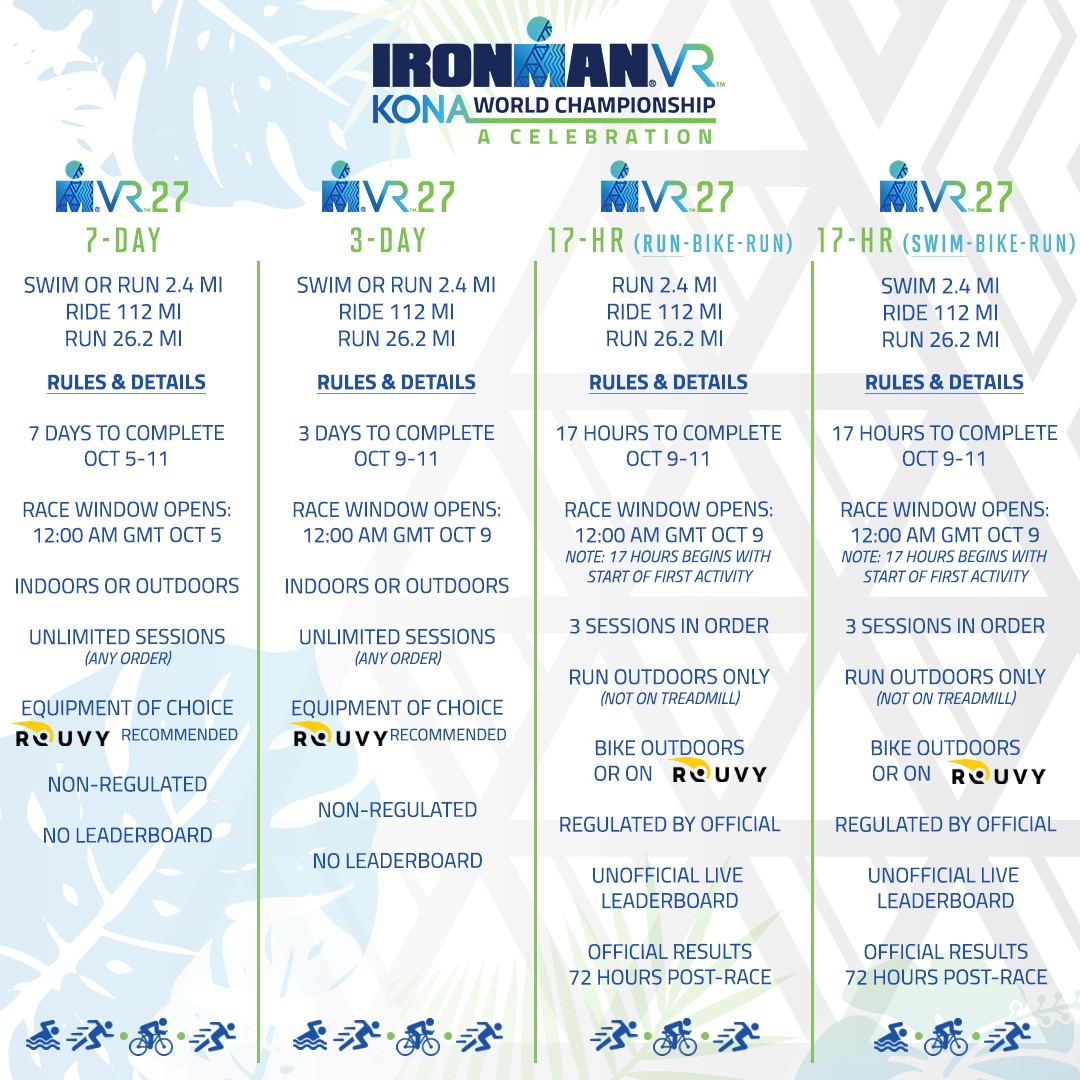 Indoors or Outdoors?
When it comes to the question of whether to complete your activities indoors or outdoors, ask yourself a few questions: Are you comfortable with your indoor set-up and have you been training this way for at least a few weeks? It's important not to try anything new during race week—this is not the time to test your brand-new set up.
It also depends if you're simply testing the distance, trying to set a personal best in power, or make the leaderboard.
"If you have this perfect outdoor loop and you know what the distance is, it's going to be more realistic to what your IRONMAN experience is going to be like to be," says McQuaid, adding in things like navigation and bike handling that are part of IRONMAN racing.
McQuaid says that if it's just logistically easy to ride indoors, Rouvy is a great option. "It was exactly what outside feels like," she says, adding that the element of camaraderie in the app is a perk. "It's not going to be as boring as you think—when you're focused on an effort, time goes by quickly." Completing your bike indoors also allows you to line up your nutrition within easy reach.
If you decide to ride indoors, the pros recommend multiple fans (cooling is essential with the lack of airflow indoors), music, and even television. If you're tackling an outdoor ride, you'll want to plan your route well in advance, perhaps recruit some friends for segments, and try to talk your family and friends into setting up some fueling and cheer stations.
Nail Your Nutrition
VR offers a unique, less stressful chance to test your nutrition and hydration preferences for IRONMAN racing, if you haven't already. If you know what works for you, go with that. Again, don't try anything new during race week or on race day.
"If anything, I preloaded my electrolytes quite a lot. Double the amount of nutrition I would normally take," says Pallant. Many pros report that they had more nutrition available on their indoor race than they thought they'd need, just in case.
Remember, your nutrition needs will change depending on what format you choose. The three- and seven-day formats will allow for better digestion between activities, and allow you to do a mini carb load before each as well. For those of you tackling the 17-hour formats, follow IRONMAN Certified Coach and Nutritionist Susan Kitchen's advice below for fueling and hydrating.
Fueling: "Establish a fuel plan, test it out in training, and stick to it on race day. For events lasting between three and 17 hours, consume 40-90 grams carbohydrate/hr (160-360 calories) from a combination of rapidly oxidized carb sources such as glucose, maltodextrin, and fructose mixtures. On the bike, the body's absorption rate is higher due to lower heart rates so fuel at the middle to top of the range recommended above. On the run, with higher heart rates, plan on taking in the lower end of the carbohydrate range. On the bike, start fueling within the first 10-15 minutes since you will be in a calorie deficit from the swim. If you choose solids, such as a sports bar on the bike, taper off one hour before T2. Opt for liquids and gels rather than solids on the run and choose easy-to-digest formulations. Fuel and hydrate early and often. Waiting too long to fuel increases the possibility of dehydration, which can cause gastrointestinal problems."
Hydrating: "Plain water is a good thirst quencher but not an effective hydrator. Drink early and often on the bike with the goal of consuming 4-8 oz (120-240 ml) every 15-20 minutes consistently. Do not depend on thirst to tell you when to hydrate—drink according to your schedule. A good indication of proper hydration is the need to urinate once every 2.5 hours on the bike. That means twice during an IRONMAN distance event. 500-700 mg/hr sodium is a general recommendation, although no firm guidelines have been established. Research suggests consuming 1 gram sodium/hr during prolonged exercise where heavy sweat loss is expected."
Taper Right
For IRONMAN VR24, the weekend before the IRONMAN VR, we offer an opportunity to dial back the training and learn about the art of rest. Make sure you're not overcooking yourself the week before your IRONMAN VR, even if you feel great. Finess is a combination of work and rest, and rest will deliver you much fresher to your start line!
Find Your Why
Closing out the year with a goal like this will not only prove that you can finish the distance, it could give you a massive boost in confidence. Before you take your first pedal stroke, make sure you define why it is you want to complete this impressive achievement.
"An IRONMAN Is a day where thing constantly come at you that you have to deal with," says Melanie McQuaid, HOKA IRONMAN VR21 Pro Challenge Women's Champion. "VR gives you a chance to eliminate some of those variables, for athletes who want to test the distance. You can smooth the bumps and just test yourself for a very long day."
"You've got to remember why you're doing it, and why you love it," says Emma Pallant, HOKA IRONMAN VR4 Pro Challenge Women's Champion. "Is it 'I didn't think I'd complete this and now I can,' or is it that you had a certain goal in mind?'"
Whatever it is that motivates you, help us celebrate the IRONMAN World Championship and all our past champions. Celebrate your own year of consistent training. Celebrate your love of triathlon. Whatever it is, don't forget to smile.