INTRODUCTION
The IRONMAN Virtual Racing Series gives athletes the opportunity to race wherever they are in the world. There are eight weeks of newly announced IRONMAN VR Championship Series racing in July and August. We are in a unique moment in history, athletes are needing alternative ways to fuel their competitive fires
, get on the saddle, and push some watts! Plus, we need to remember how to run again!
IRONMAN Virtual Racing Series unveils IRONMAN VR Championship Series designed to identify and reward top-performing athletes with the opportunity to earn IRONMAN 70.3 World Championship Qualifying slots. Competitors can register at www.ironmanvirtualclub.com.
The 'Classic Division' is a relaxed format with no official competition element. Athletes can complete their activities however they want.
The 'Challenger Division' is a more competitive format. Athletes competing in the Challenger Division are required to complete their activities outdoors or on the ROUVY platform.
The 'Championship Series is the most competitive format where athletes:
Must complete the bike leg on ROUVY Race Mode with a compatible trainer
Must complete the run leg outdoors (not net downhill course)
All three segments must be completed within 12 hours in a specified order (Run, Bike, Run)
Must have completed either 1 IRONMAN VR event (5150 or longer) OR a 5150, IRONMAN 70.3, or IRONMAN race
Learn more about race divisions at IRONMAN Virtual Racing Series Divisions Explained.
It is time to get racing. Your pain cave is set, your fitness is coming together, and you are preparing to finish your first IRONMAN ROUVY Challenge! What should you do to build or maintain fitness? I recommend keeping the intensity high and preparing for the IRONMAN VR Championships by training your anaerobic threshold.
WORKOUT RECOMMENDATION
A Brick workout is a bike ride followed immediately by a run (with just enough time to change clothes, if you so choose). Running after a hard bike ride is one of the unique challenges of triathlon racing and one you need to prepare for in training.
- Brick workout (sample workout)
Warm-up: 20 minutes on the bike Z1 ramping to Z2; watts 45-76% of FTP; HR 65-79% of LT; RPE 1-4
Main-set Bike: 2 x 15 minutes Z4; watts 92-100% of FTP; 94-100% of LT; RPE 7. Recovery 5 minutes Z1 easy spin between sets.
MS2 Run: 30 minutes at 94-100% of threshold pace; 96-100% run LT.
Cool-down: 10 minutes easy jog
Total: 1h:30minutes (can add an additional bike interval or run duration)
- Run Description - Lactate Threshold pace is about 25 to 30 seconds per mile slower than 5K race pace (or about 15 to 20 seconds per mile slower than 10K race pace), and corresponds to about 94-100 percent max HR. The pace should feel "comfortably hard".
- Bike Description - Lactate Threshold is just below to just above TT effort, taking into account duration, current fitness, environmental conditions, etc. The bike portion can also be done on one of many ROUVY IRONMAN recommended routes.
ROUVY ROUTES
ROUVY provides a list of existing official IRONMAN routes, recommendations for training, and performing your event. Athletes must complete their bike leg on the ROUVY augmented cycling reality platform. Begin to practice for your event by following the link below.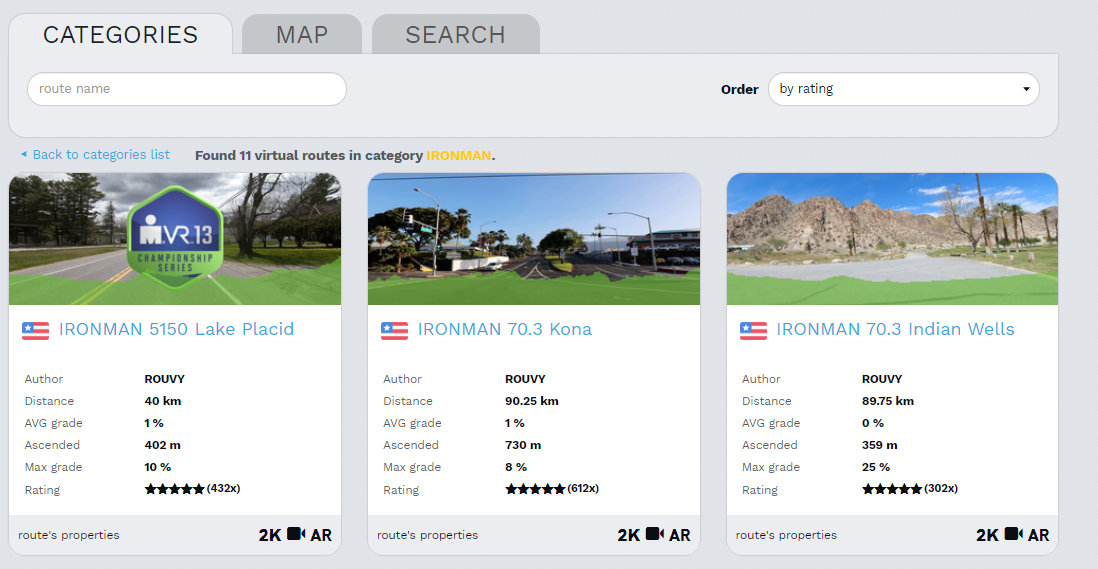 (There are currently 11 official routes and the updates happen every week.)
IRONMAN 5150 Lake Placid
IRONMAN 70.3 Kona
IRONMAN 70.3 Indian Wells
IRONMAN SUPERSEAL Sprint
IRONMAN 5150 Eagleman
IRONMAN 5150 Arizona
IRONMAN 5150 Indian Wells
IRONMAN 5150 Port Macquarie
IRONMAN VR3 Sprint - Canyonville
IRONMAN 70.3 Boulder
IRONMAN 5150 Boulder
Catalog and course details: https://my.rouvy.com/virtual-routes/category/ironman
RACING YOUR EVENT
With the ROUVY augmented reality you can practice pacing the official cycling course of your event. You can practice to perfection with ROUVY by virtually riding the IRONMAN event course. And as the official virtual training partner of IRONMAN, not only do you get the advantage of riding the course, you also receive feedback about your movements through the course. Rouvy also allows you to practice your nutrition and hydration plan for your event, and when to add extra effort combined with areas of recovery.... on the course!
CONCLUSION
Be sure to track your data and upload it to IRONMAN VR. You will also need to be sure to follow ROUVY's race rules too. You can find rules at the IRONMAN VR Competition Rules. Enjoy this moment of the history of IRONMAN racing.