During the winter months, endurance athletes can spend countless hours in their personal "Pain Cave''. And during the winter months is the time of year, we spend countless hours, 12-15 hours if you are like me, riding indoors, next to a fan, staring at … a wall… or TV which is not necessarily a better option. But the same thing can happen when the temps reach 37℃! Or during a COVID-19 pandemic! (smh, I had too). Going indoor to train can help take your cycling to the next level!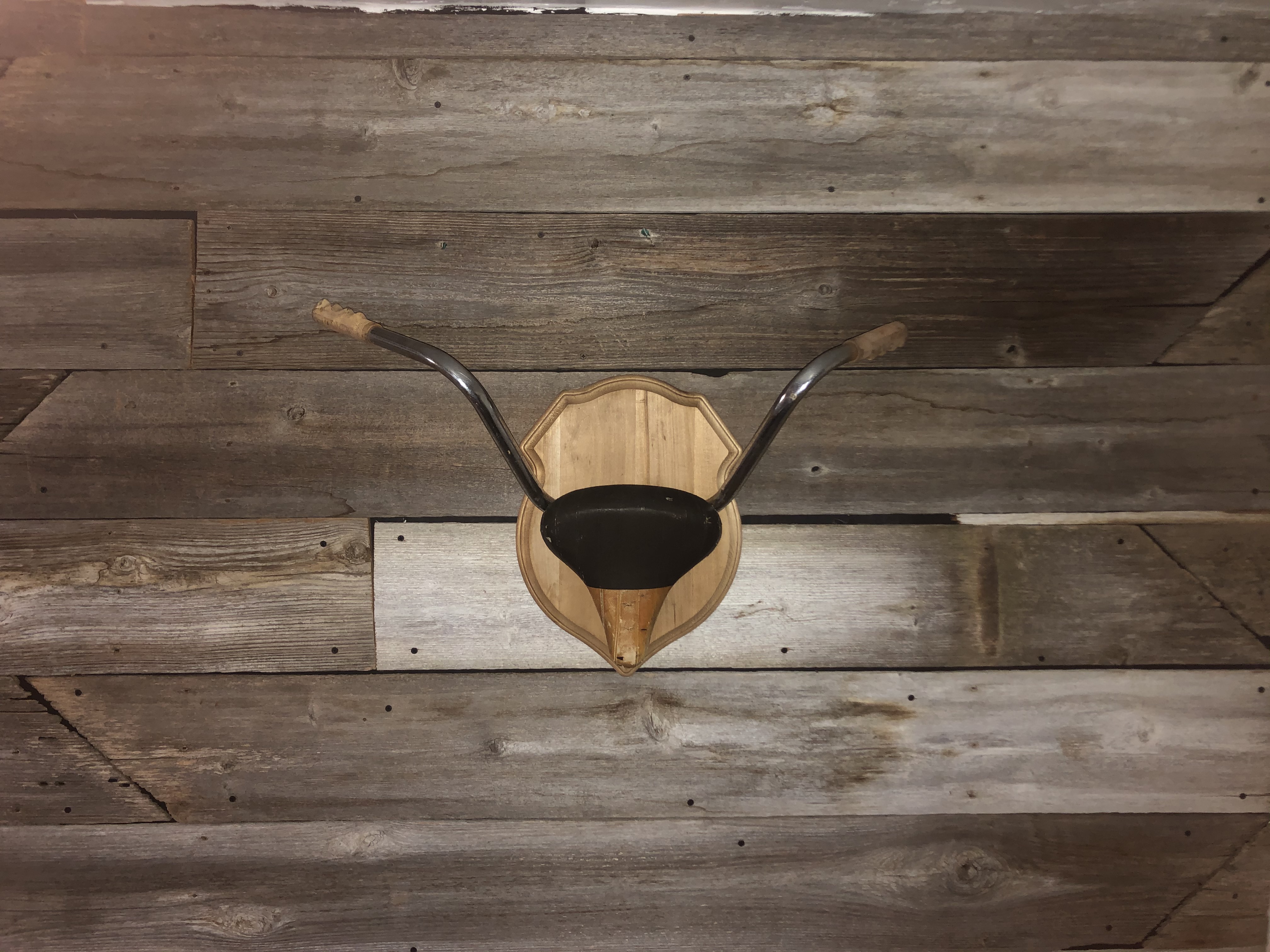 - Actual Picture of my Wall
When putting your personal "Pain Cave '' together, Rouvy is here to help! Here are a couple of suggestions to make things a bit more tolerable when setting up your own personal "Pain Cave". As Bob Roll once said, "put pain in the bank, so you can make withdraws", and in our "cave" is where we make deposits.
PLACE
First, make sure you set up your trainer in an area with little traffic. Meaning you need to set up a spot where the kids have a hard time bothering you with crying, food requests, "brother is not sharing", "I have a question", and so much more (currently I have a 6 and 8 yr old). Also, keep the setup away from the laundry and your bed because most often when your bike is on the trainer it can slowly become a clothes hanger. One more thing, keep the trainer in an area where your significant other or roommates can still hear themselves think, the trainer can have a loud vibration sound which can get pretty intolerable to others.
TRAINER
The next thing we need is a solid, smart trainer. Of course, such training machines as Saris H3, Wahoo KICKR, ELITE Suito or Direto are best of class but If $500+ still hits your pocket hard you can get away with it and start low with just a speed sensor (or power meter) and "dumb" classic trainer or simple rollers.
The biggest benefit of smart trainers is in resistance control. Power and resistance are crucial values that are used in all ERG workouts based (or not) on FTP and geo-synced course simulation. In this way, the "low cost" trainer together with just a speed sensor is the worst option. If you want to take full advantage of the ROUVY application you definitely need a smart (controllable) trainer.
The other piece of the puzzle is a great online-based cycling software like ROUVY. Sign up for a free trial and get right to it, start riding courses around the world, bringing indoor cycling into reality and vice versa.

- Yep, this just a studio promo image :)
BIKE FIT
In my opinion, being on a bike in good form is one of the more important factors when cycling. A proper bike fit can make any trainer session 10x more bearable. But if your posture is bad, off even by a few mm, you will feel it and that can make any trainer sessions very, very bad. Get a bike fit! or learn how to set up your fit on your own by going to any Local Bike Shop and asking how. Search for a Professional Bike Fitter in your area. If you want to ride a bike efficiently, fast, and without pain… Get. A. Bike. Fit!
DEVICES AND SENSORS
While the range of devices is dependent on the location of your "cave" in the house and whether you will use an additional big screen, you can start as low as with just a phone. Other available options are most tablets, PC monitors, and your phone. You can also use an HDMI cable to connect from your PC or laptop to display on your big screen TV for the deeply immersive and fun experience. (Consider Apple TV connected to a big TV screen as an option, since this version of the indoor setup is getting more and more popular due to its relatively low price, ease of use and minimum space).
There are also a few other devices that you can use. Such as the Garmin or Wahoo Elemnt which can sync with your devices and can control your smart trainer. To get the best feedback from training it is recommended to use an HR sensor. Like power output can be used as an "objective" measurement of your fitness, the HR can be used as a "subjective" measurement - how your body reacts during the exercise. When zone training an HR monitor or power meter is a must to make sure you are training in proper zones. Guesstimating intensity can only lead to either overtraining or the dreaded athlete plateau.
FAN/OVERHEATING
The next item for your pain cave is a good fan. The heat has been shown to increase heart rate and rate of perceived exertion while exercising. And without adequate air circulation for evaporation from sweat on the body, how can we use sweat to help cool our body? We can't, that's how. The air from the fan blowing over our body allows for blood to cool, which will help lower our internal body temperature when we are working hard in Zone 4... when we are in the pain cave! Or any time for that matter.
Wahoo Fitness makes a fan called "Headwind" and paired with Rouvy this is a pretty cool function. Just turn it on and it will automatically regulate the wind according to your power output or alternatively, you can choose a manual mode. But, the point of a fan is to cool the body, not really simulate a headwind. Which is why I use a large one like this: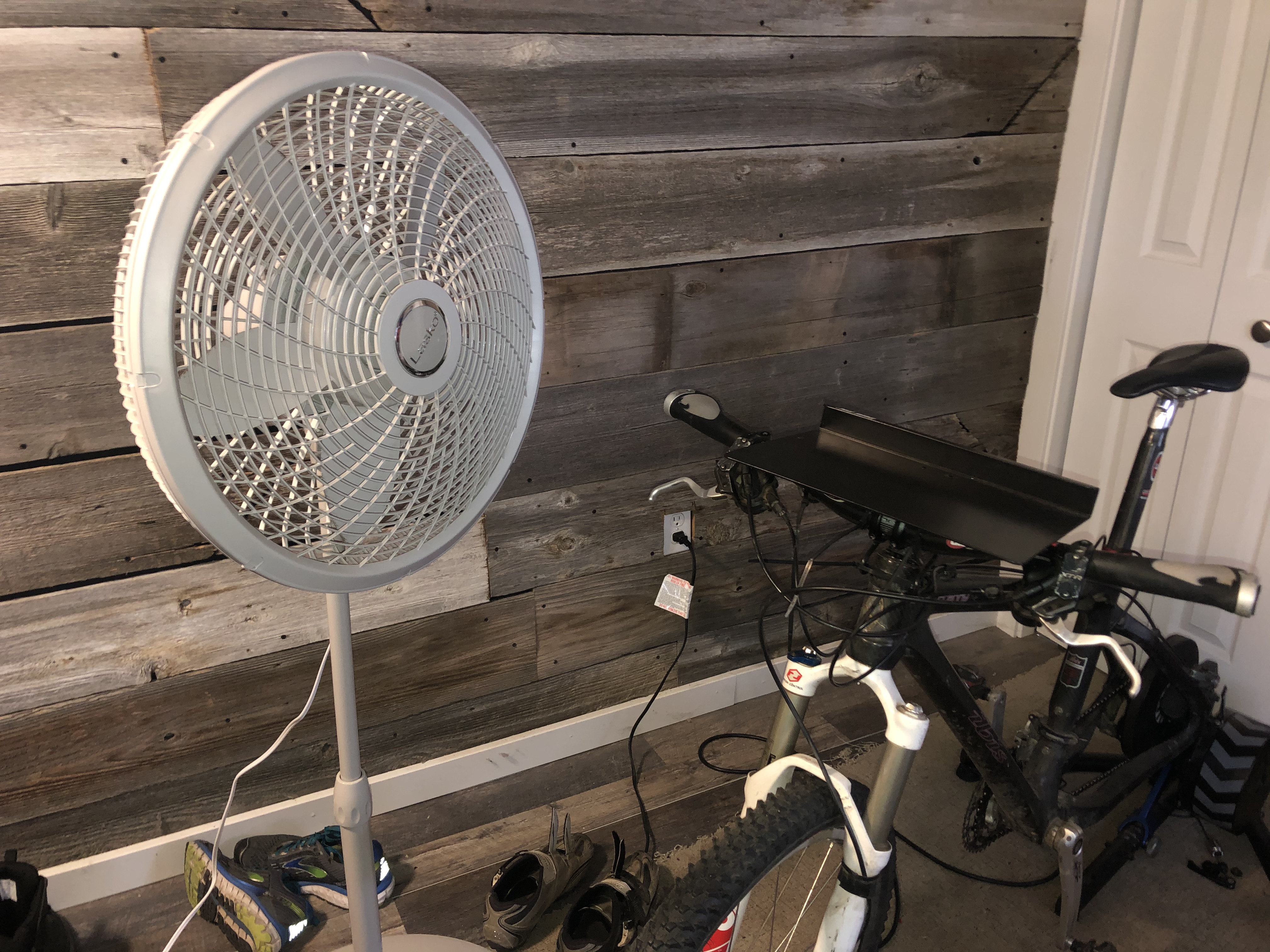 - My Fan next to my Wall!
Then fan size/power may well depend on how hard or long training sessions you have but just make sure to get any fan even small or cheapest ones on Amazon will be better than not having one at all.
MAT/TOWEL
Next, you need a towel and a sweat pad. I don't think I need to say more about this, but for content purposes, you need a towel to wipe the sweat off your face or hands! And trust me when I say when working hard in Zone 4, a towel is not enough to catch all the sweat. Sweat will get all over your bike, water bottle cage, and the floor! There are plenty of sweat mats out there to buy from any trainer vendor but if you need something quick, use a large beach towel or as I did an old piece of carpet.
TABLE
Depending on the device you are using, session longevity, and available space this piece of the furniture might or might not be needed but in most cases, it is very handy. You can put needed items on it, grab food or water a bit easier. You can buy a cool version from Saris or just bring up anything lost around your room corner. I recently had an athlete I coach tell me that they get a 3-hour long ride in during the workday. He rides by putting a table in front of him and makes phone calls, completes paperwork, general work while pedaling.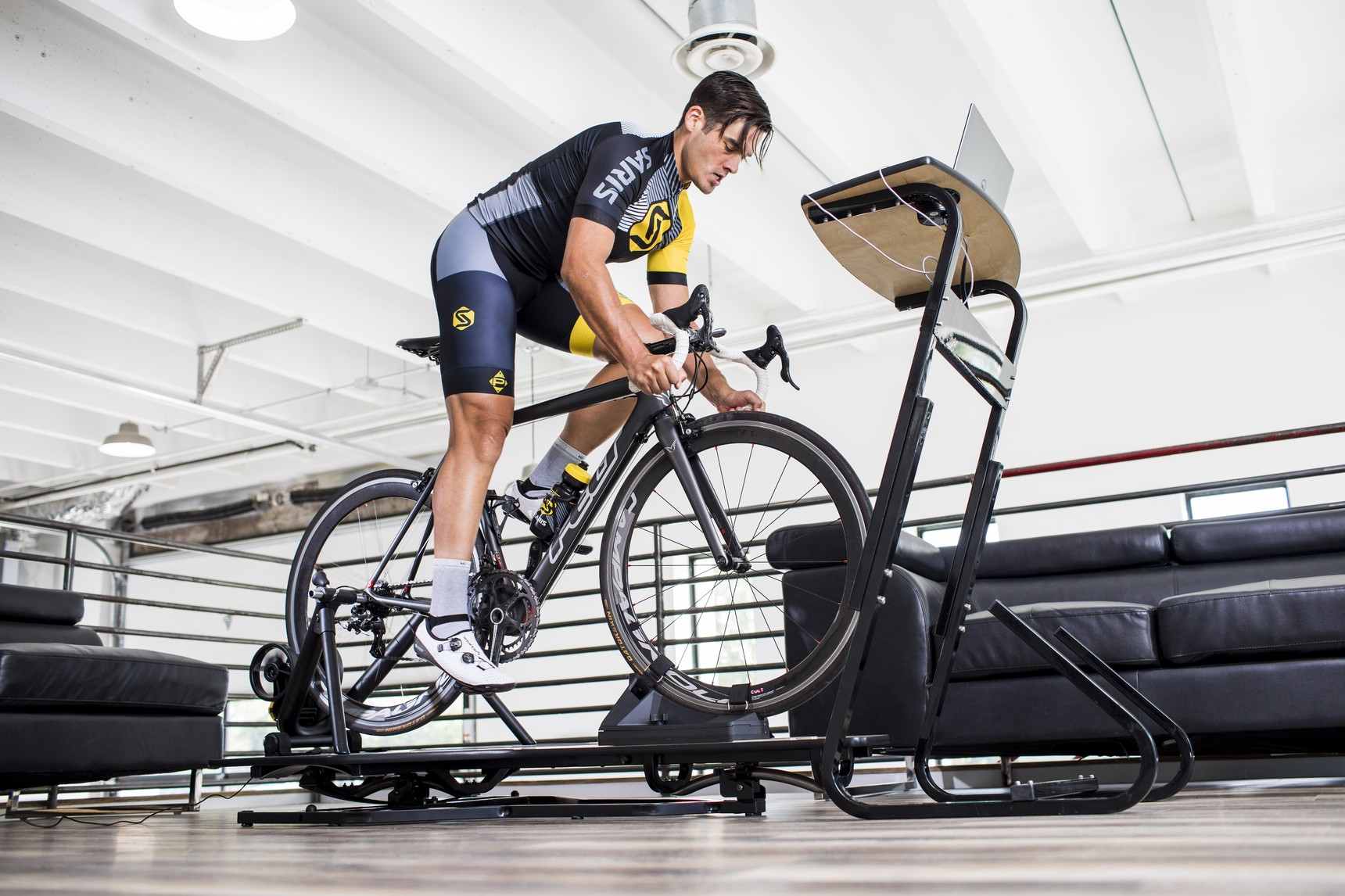 NUTRITION/HYDRATION
To make sure you can put in the effort while in your pain cave you need to be well hydrated. This is a great time to test your water intake and sweat rate. You can weigh yourself before and after your ride to determine how much water you need to drink and replace the water you left on your sweat mat. The sweat rate can be very individual, you can find a way to calculate your sweat rate here.
Regarding nutrition, science has shown that humans are able to absorb 60-70 grams of carbohydrates per hour. So, a good sports drink like Tailwind or something from Skratch Labs is recommended. This is also a great opportunity to try out your nutrition and hydration while on the bike. Try working on your nutrition plan to see how you respond. How much are you able to consume without upsetting your stomach? What brand or type of hydration or gels/blocks suit you?
Source: C.A. Rosenbloom, E.J. Coleman (Eds.) Sports Nutrition A Practice Manual for Professionals. 5th edition. Academy of Nutrition and Dietetics, Chicago, IL; 2012.
EARPHONES
Lastly, something I personally prescribe to is music. Today music can be quickly delivered from your phone or PC. Music can also decrease a lot of the monotony of Zone 2 base intervals during the colder/rainy months. Music can help motivate us when we need to dig deep for the higher intensity intervals later in the build phase. Up to you which you prefer more, earphones or speakers just make sure to have some option. [Of course, if you 've got kids in the house, earbuds are a no-go as you might be interested to hear what is going on out there ;)]
Another option that can really deliver a needed distraction from the base intervals is a good podcast. Today there are a plethora of podcasts, but I personally look for exercise physiology related podcasts. These can also be helpful when you are traveling through Rouvy's ample virtual routes. Nothing like music to help the time go by.

To clear things up a bit more clearly, when doing 4 x 10 minute Sweet Spot Intervals Z3-4, I like to use music. When I am doing my 3-4 x 12 minute Steady State Intervals (Zone 2-3) I listen to podcasts. I can't really pay too much attention when I am in the pain cave making deposits.

APPS
Apps are pretty much needed these days to use most devices. These apps can help take your training or cycling to a new level. If you are not already using ROUVY, Wahoo, or TrainingPeaks now is the time to get to know them and why they are important.
Trainer vendor apps like Wahoo Fitness, Saris or ELITE's My E-Training. If you are using the Wahoo Kickr, you will need to download their personal Wahoo Fitness app to calibrate their smart trainer.
ROUVY (rider profile completion). Weight, height, age, and FTP are all used to simulate real-world environments. Not much sense to ride in the Alps at a lighter, younger, faster profile. Simulate the real world virtually. TODAY!
TrainingPeaks (setup sync) optional. (Both automatic data sync and TP Workout of the Day are available.) If you are planning to track workouts, track progress and work with a coach, TrainingPeaks is a must-have. In fact, it is hard to find a coach that will not require workout tracking with software like TrainingPeaks.
Strava (set auto-upload in ROUVY). Strava can be useful for tracking all your KOM's. If you are into miles and elevation gains and racing your friends, Strava is the app for you.
Optional: Garmin sync (post-ride: manual, via Strava or Tapiriq). Garmin also allows for fitness and performance tracking. Garmin Connect can sync with your smartwatch, device, or phone and you can customize workouts, even work with a coach.
TRAINING/AGENDA
Indoor cycling with Rouvy is changing the way endurance athletes train year-round. In the next articles, we will take on different training aspects including how to get the annual training plan or agenda structured. The weather will begin to cooperate and riding outdoors is right around the corner. But in the meantime make sure you are putting plenty of trainer time in the pain cave before the outdoor season starts. That way you can begin your season on top and ready to make withdraws.