Our goal has always been to bring you the most realistic riding experience when you connect and ride on Rouvy. That´s why we keep developing our technologies to offer you an even better feel of riding outdoors. For this reason, we are preparing the new edition of Augmented Routes.
The new Augmented Routes 2.0 are going to have a higher resolution video and better smoothing. The big difference is also in the profile smoothness. You are going to feel exactly what you see on a video. See the details of profiles and other differences in an example below and form your own opinion.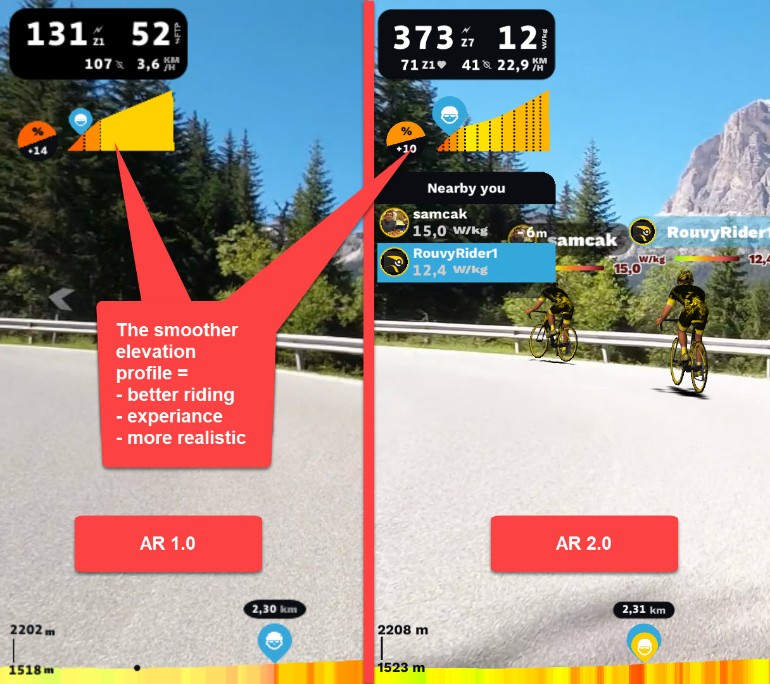 Amazing, isn't it?
This process will take us some time to prepare, giving each of your favorite routes a new look, so we ask that you be patient. We might offer you only a few Augmented Routes at the beginning of the process, but within several weeks, you will enjoy all Augmented Routes more than ever before, and it will be so worth the short wait!
It also means that you will get a chance to make new route records! Augmented Routes 2.0 are going to have new parameters, so they will behave like brand new. All records from the previous version of Augmented Routes will still be available for you. You can find the answer in our Knowledge base.