"Ride as much or as little, or as long or as short, as you feel. But ride." - Eddy Merckx.
This is motto, which follows our very special Legend - Christophe Gino, perhaps because of that he becomes a legend for the second time. Let's take a look at his story - how he did it.
Greetings, Chris! What is your home country and town where you spent your childhood?
I was born and grew up in a small village in the North of France. Except for Flanders, which is a "bit" hilly, the rest of the landscape is quite flat. Then, I moved for my studies (engineering in aeronautics) to the middle of France.

Please, could you describe your story of getting acquainted with cycling and your first bike?
As I lived a few hundred meters from the primary school, I went there on foot. But when I was 11 years old, my secondary school was 4 km away. So, my parents offered me a new yellow road bike with three gears and a race handlebar! I was more than happy, and proud of my bike! I rode - 4 times a day, 6 days per week - to school, and on Sundays, I was riding 30-40 km with older people in the "cyclotourism" club of my village. During my childhood, I discovered the freedom a bike can give you, and the pleasure you can find with bicycle riding. Nowadays, I've got plenty of bikes: 3 race bikes, 3 mountain bikes (hard-tail, full suspension, 26'', 29''), 2 beach racers, 2 fixies (only one "street legal," the other one having no brakes at all), 1 time trial bike, 2 city bikes and, of course, another road bike dedicated to the trainer! And for the last few years, I have been considering buying a fat-bike (although where I'm based at this moment, there is less snow than where Larrie T. (another Legend) lives)! You know the rule: "N+1" !!! - ;-)
Nice! Where are you based at the moment?
I now live in The Netherlands! It's nearly impossible to find flatter, and it's definitely a problem for someone who loves climbing - and descending! But, we'll come back to that problem a bit later.

What are you doing outside of the training room (workplace)?
When I'm not training (I did not say "outside the training room"!), I work in an organization in The Netherlands! And, first of all, I commute between home and work every day by bike (20 km in total), whatever the weather.

Besides my work and cycling indoors, I do other things, like outdoor cycling. You understand perfectly well that the bikes cited above are not there just for making a nice collection! And for me, outdoor cycling means road, off-road and beach, all of them during training and competitions, during the day and, from time to time, during the night! I also like skiing and swimming.

In the past, I did some other activities, like scuba diving and motorbiking. At that time, these were my passions. I had a hypersport motorbike 1000cc with more than 170 hp for the road, and a few off-road motorbikes: an MX (motorcross) bike, a trial bike and an Enduro KTM. I participated in competitions in Belgium, Sweden, France and, of course, The Netherlands, where, several times, I did the Dutch Championship Enduro. I trained in motorcross parks (mostly Gouda and Bleijswijk NL). I learned a lot about finding the best track (off-road, but also on the road), jumps, curves, obstacles clearance, managing (high) speed (sometimes above 240 km/h), developing the sense of anticipation, and I acquired different techniques/skills on the road, gravel roads, mud, sand, stones…

On the other hand, scuba diving and apnea (with a PB in the swimming pool for static apnea of 06:21) gave me the opportunity to improve cardiovascular, endurance and breathing, to relax and gain better control my emotions.

I also did yoga for 15 years, in order to improve my fitness, flexibility, mental and breathing (with pranayama exercises).

All of these activities helped me as well to define and assess risk, without putting myself in danger.

I'm very lucky at the moment to live in The Netherlands, where there are a lot of beach races organized during the winter season. I do around 7 competitions per year. It's always tough and challenging due mostly to the weather conditions (hard wind, freezing cold, rain and, sometimes, snow) and the soft sand. I did the world´s longest beach marathon 5 times (135 km from Hoek van Holland to Den Helder, NL). It's a wonderful experience to cruise at more than 50 km/h on the beach with a strong tailwind, if you're lucky on that day! During these beach races, I can sometimes really see the pros in action (as there are, at the moment, no special races only dedicated to them). When you see Tom Dumoulin, Sebastian Langeveld, Thijs Zonneveld or Johnny Hoogerland passing you with at least a difference of 10-15 km/h, you realise how powerful they are; they command respect and your effort suddenly becomes extremely relative…

Beyond cycling, I'm also a runner (from short to long distances, such as a marathon, both on road and trail), and practice fitness in a sports club (strength works for power, without gaining too much mass, and core works for preventing back strain). I've learned lots of things doing marathons, such as regularity, consistency (training and training!), how to go deep inside you to find your inner strength when everything hurts. That same year, I clocked 2:53 in Paris and Berlin, and 2:52 in Amsterdam.

I learned, as well, that in order to progress, you should not only focus on distance, but also on intensity. To avoid the diesel effect, it's definitely important to train very hard for short periods of time. That's why I do, for instance, running competitions from 5 to 42,1 km. The same applies for cycling activities.

My "PainCave" looks like (bikes, trainers, accessories):
I have, in fact, two paincaves: one here in The Netherlands (my garage, solely for me) and another one in France. I have a permanent bike with triathlon saddle and extension dedicated to indoor training.

An anecdote: I had a Trek 1.9, 20-speed till 2nd stage of the Giro 2018 Challenge, where I literally destroyed the bottom bracket box on the aluminium frame! There is, in fact, a lot of torsion in the bottom bracket with a direct-drive trainer when out of the saddle! So, fortunately, I could swap with my Scott Addict before the 3rd stage. As my Scott is not intended to be used indoors, I found another frame and rebuilt the bike with a 22-speed.

A Wahoo KICKR first generation completes the equipment, and I opted for the Rouvy Desktop App with ANT+ pairing and Ethernet connection combined with a 48'' flat screen.

I added two heating/cooling fans at the feet level and one cooling fan for the body! On my right side, there are some spare jerseys and towels, as I can sweat a lot! And on my left side, there is a cupboard full of dried fruits, cakes, bananas, bottles, sweetened condensed milk, fruit marmalades and pastes, nuts, pepernootjes (only the Dutch and Belgians can understand this!), chestnut spread, candies, and so on...everything which is forbidden for the kids!!! ;-)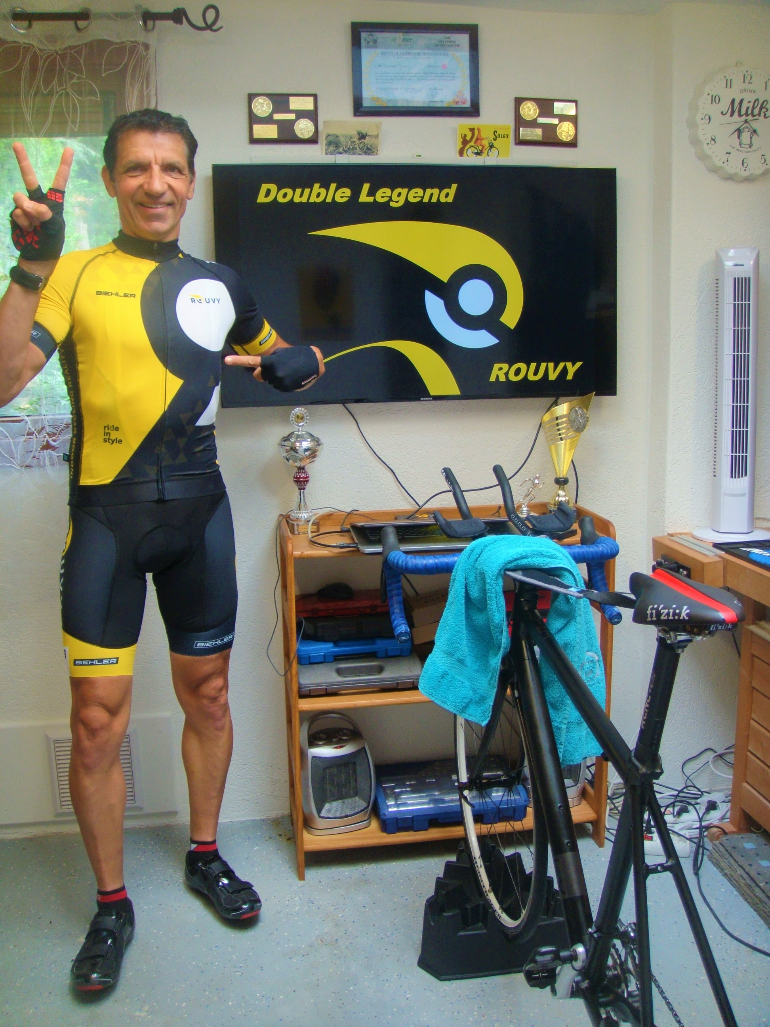 How long have you been training on Rouvy?
I started using Rouvy (formerly Virtual Training) on December 31, 2014. I was so sad to not be able to train as much as I wanted during winter, and, additionally, the fact that in order to do some climbing, I had to go mostly to Limburgs to find some "hills" (maximum altitude 323 meters!), so I decided to buy a Smart Trainer!

Which types/brands of trainers have you already tried? Which one is/was your favorite?
At that time (end of 2014), Wahoo was the leader in that market with their KICKR direct drive. Nowadays, the choices are much bigger…and my purchase, although not cheap, was a really good idea. I could train whenever I wanted, in a safe manner, comfortably I would (nearly!) say, and in an efficient way, according to the time spent. Since then, I'm still using my KICKR, which seems to last forever, except for the belt! I've done one or two replacements per year!

Therefore, I haven't tried any other smart trainers. But, obviously, there are really good ones distributed by different manufacturers (just look at the sponsors of our Challenges throughout the whole season). These trainers are always more responsive to the slope, giving a better real feeling, more silent.


Woow! We are happy, that you have been enjoying Rouvy app so long time! :-) How many hours per week do you usually spend on a trainer during the winter season?
I think, on average, I train indoors more or less 7-8 hours per week throughout the whole year - maybe 10-12 hours during the winter, and 6 hours in the summer - except for this season, 2017-2018, where I spent on average 15 hours per week during the winter season, in order to speed up my career to become Double Legend!

So your diary is fully of Rouvy training! Great! :-) Did you focus exactly on a "Rouvy Career"? When did you start?
I focus on everything! Challenges, Online Races, Career...but this is, as you know now, just a small part of what I do.

Regarding Career, I started since its creation. I would add that it's a good thing to balance long-term achievements (Career) with medium-term (Challenges) and short-term (Online Races) ones.

I'm really happy with the new concept of Rouvy: reset of Career in the beginning of the season and starting again from scratch!

Of course, it was a great achievement for me to become Double Legend in mid-April this year, after participating in the Amstel Gold Race (Spring Classic event)!!!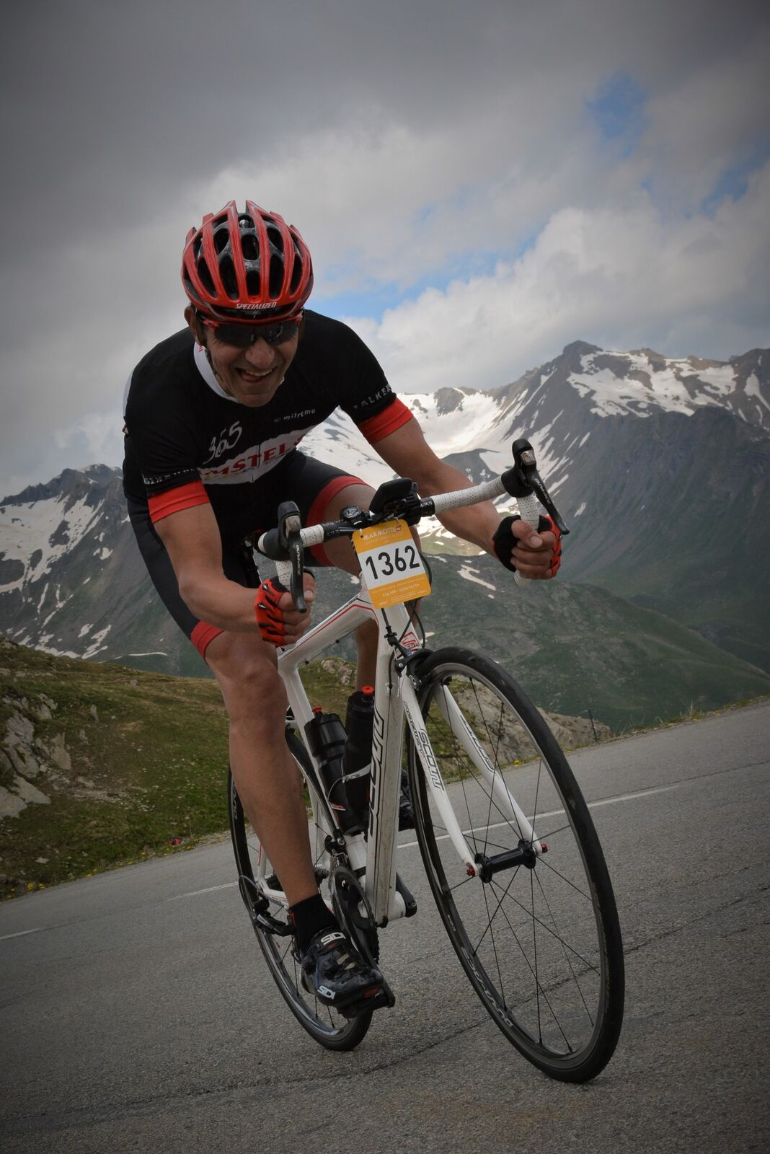 Good work!! :-) Which task was the hardest one for you to proceed on in "My Career"?
I do not think there are some "hard" tasks in the Career path...if you've normally trained, with some rest before these tasks, and, most importantly, if you believe in yourself, you'll manage to do it all.

For me, the hardest tasks are the Online Races, as I invest all I can in them! I like competition, and I cannot help but push myself to my limits there; but, as I'm out of breath and suffering a lot there, I always kept my family away from my paincave during these events! ;-)

Challenges where a minimal (read maximal!) climbing or distance is required are not a problem; you always can do them at your own pace. It just becomes a question of time needed. I even like such events. For me they are always challenging. Indoors, my longest ride was 310 km (Lofoten) for the 30 Miles Challenge in February, 2017 - and in July 2017, I did, on my own, my longest ride ever - going to the North of Holland; then, back to the South (end of Zeeland), and finally going back home, totaling more than 406 km in one day for the Endurance Challenge.

Besides that, after having completed some hard climbing challenges, in June 2017, I was prepared to do the "Galérien du Ventoux" (FR): 4 different climbs of the Ventoux (Géant de Provence) within 24 hours (one on MTB from Bédoin and the others on the road from Bédoin, Malaucène and Sault). It represents 182 km and more than 6000 meters climbing. It took me 10h30 to do it.

I also remember when I was fighting with Peter F. during the Tour de France Challenge 2016, where I climbed 28000 meters within a week. And, in October 2017, there was a similar fight, this time with Pablo D.H. in the Rouvy Challenge.

And I should thank Rouvy for all of these achievements, for helping me to have a good fitness level and for all its members (I cannot cite them all) who lead me to always go further, higher, because I'm not trying to beat the other riders in the end, but myself!
Which feature do you consider the most useful in Rouvy?
I like the Online Races, as they are mostly short, which gives you the opportunity to push hard on the pedals, especially when motivated by the other racers.

I also like the possibility of adding virtual partners when doing a ride; although, I would prefer to add more than 3 riders (Desktop App).

Then, it's great to do workouts (I have all the collection from Sufferfest), and to that point, I encourage Rouvy in their development of creating their own workouts with videos. I found the first one developed (VO2max intervals) quite well, giving advice with a bit of humor, and, of course, nice shots taken from the best and most popular videos from their database! There are 3 Rouvy Guides workouts now, so continue keeping on this good track, Rouvy! ;-)

Of course, having Challenges all year round keeps me busy and motivated. Until now, I have completed them all (actually I obtained 49 badges!), except for 3: the very first one, Holiday Tour, because I was not aware of it; CycleOps, abandoned after the first stage due to a serious illness, and Kona Ironman 2017, which took place only during a weekend and I had no trainer at that moment! Bad luck!!!

I also appreciate the Premium rides - there are more and more available routes. Last year, I discovered Ardennes (featuring the popular climbs Stockeu, La Redoute, Roche aux Faucons), Paillères and Plateau de Beille, and was more than happy, as they are famous climbs that I actually did during some cycling events like Liège-Bastogne-Liège or KlimClassic and L'Ariégeoise.

In the same way, I'm always delighted when doing indoor rides that I do in real life during events - such as La Marmotte Alpes (twice, finishing at the top of Alpe d'Huez, with Glandon, Télégraphe and Galibier before); La Marmotte Pyrénées (even harder with less kilometers, but more climbs: on the menu card, you climb the full Tourmalet from both sides, Aspin, Luz-Ardiden and a few others!); Tour des Flandres (with its well-known cobbles); Amstel Gold Race (with its 34 climbs), and 3 Ballons (Vosges FR, with its famous Planche des Belles Filles, offering you the last 200 meters at 22% slope!). As far as France, I did all the most famous climbs (Alps, Pyrénées, Jura, Vosges); Belgium (Huy 20%, Paterberg), and The Netherlands (Cauberg, Keutenberg 22%). But I'm always enthusiastic to discover new horizons via Rouvy, like in the US (where I have never been), or some exotic countries.

About the videos, special thanks to Jesus T. for all his impressive, professional quality videos mostly in the Pyrénées!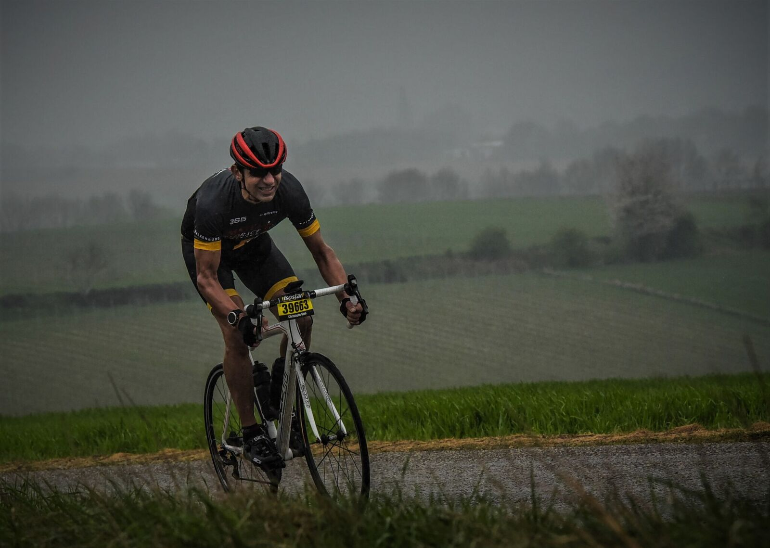 Do you still miss something in the Rouvy App? Any particular feature?
Yes! I would like to see some kind of velodrome, where you could find other riders during the whole day - with small events organised, like Keirin, individual pursuit or simply races.

Finally, what I definitely miss is the kick you can get when being on your bike in the real world, feeling gravel under your wheels, the wind in your face (although the fan can more or less do the trick!), feeling the reactions of the bike when cornering or descending a track! Everybody doing downhill rides knows what I'm talking about: the concentration needed, your subtle movements to keep the bike in line with the track you choose. But about these things, Rouvy cannot do anything. Fortunately, I expect that within 10 years, we will have bike simulators reproducing all these factors in combination with 3D screens. Indeed, Wahoo started this autumn with their Wahoo KICKR Climb, which simulates the gradient of the road, and Tacx reproduced the cobbles feeling on the chain with their Neo. So wait and see! ;-)

Ha! There is still a bit of room for improvements (joke)! And just one last thing - as my time is an important thing - I already asked Rouvy 2 years ago (at that time, Virtual Training) to add the option in the settings to show a clock somewhere on the screen! It's of great interest in order to be on time to go to work…or not to miss lunch with your wife! ;-)

Rouvy told me to invite my wife to do indoor cycling as well! She did not agree! I still wonder why?

Why do you think each cyclist should try Rouvy?
Rouvy is a platform for indoor cycling, which has improved a lot during the last 4 years. The price is not expensive, considering the high-quality of the product. There are more and more workouts and rides of great quality (especially the Premium ones).

Rouvy is (nearly) complete, and it is very easy now to have your equipment connected via ANT+ or BT. You can definitely make progress using Rouvy, as it is really versatile: you can focus on your weak points while maintaining your fitness level. It's very important for me, as a climber and a runner, not to gain weight; although I pay a lot of attention to the nutritional aspect!



How do you balance your work, personal life and cycling trainings?
That's a problem! I cannot hide that it is difficult!!! My wife has known for a long time that it is not easy to live with a marathoner! I definitely have to juggle my work, my family (the kids are grown-ups now, and are studying abroad, making my life a bit easier!) and all my sports.

I even have difficulties balancing sport and rest! In fact, as Jesus T. said, I need at least 48 hours in a day!

That's where Rouvy is of great interest! The time invested is only for cycling in an efficient way: no preparation of the bike, just shorts and a jersey, and hop-on, no flats, no cleaning of the bike after (except the sweat with a cloth!), nothing to repair, and so on.

On top of that, it is safe and you can squeeze in half an hour or an hour easily during your day. And, if needed for a "good" reason (!), it's always possible to stop for awhile, and go back to where you were just after… ;-)

Any advice or final encouraging words to the cycling community?
I would just say a few words: Believe in you, have a strong mental outlook, take the opportunity to ride with others, who will help you to push your own limits a bit further each day. Don't forget: "Limits are made to be exceeded!!!" But always stay on the safe side! Ride with a helmet outdoors; do not go beyond what you can...

Always be proud of what you did, if you indeed did your best! And never give up! … I will always remember runners passing the finish line of a marathon after more than 6 hours. I saw them literally destroyed, having difficulties walking. I always thought about them - how they had suffered, independently from their level, because just like me, they had dug really deep inside and thrown everything they had during the race!

Enjoy riding! Cycling is a low-impact sport/activity, and maybe we will still be there in a few decennia, riding like my French compatriot, Robert Marchand, who was still riding at the age of 102 years!

"Ride as much or as little, or as long or as short, as you feel. But ride." - Eddy Merckx.

My story was a bit long, but everybody knows me a bit more now! Thanks for reading…and I'll see you with great pleasure during the Challenges and Online Races, and, who knows, maybe in the mountains somewhere in the real world!?!
Thank you for the time taken to chat. Congratulations and best regards from the whole Rouvy team! Stay healthy, fit and ride on.
We hope you´ve enjoyed this interview as much as we have. For his great performance and endurance Christophe - our first "Double Legend" received a package of the new Rouvy jersey and cycling bottle.