We´re back with another VirtualTraining Spotlight, this time with a bit of a twist. Instead of highlighting one of the Legends, we wanted to present one of the most active and loyal cyclists, Jesus Tabuyo.
This Spaniard is not just "a user", he´s one of our best Route Creators! If you've spent time in VirtualTraining, you've likely experienced some of his routes like Peyresourde, Navacerrada, or Puerto de San Lorenzo. We're so happy he willing to talk with us to share his experience and advice. Now, let´s chat and get to know Jesus!
Hi Jesus, thank you for finding time for us. We start with a traditional question, where did you grow up?
I was born in San Lorenzo de El Escorial, a historical small town near Madrid (Spain) and it was there where I spent my childhood.
And how did you first get acquainted with cycling? How did you acquire your first bike?
I've liked bikes and cycling since I was a child. At the beginning, the bicycle was a toy to play with, especially in the summer. It was in this playing that I discovered I enjoyed being able to do a hill without stopping or going further than my friends. This attraction for the challenge was the seed for my cycling "addiction".
I feel that I´ve had several "first bikes". My very first bike was bought by my grandad when I was maybe 7-years-old, and it was the bike on which I learned to cycle. Then, when I was 12-years-old, my parents bought me a BMX bike. It was very special for me. I still remember with a smile on my face how they surprised me. I spent a lot of time with and had a lot of fun on that bike, with its blue frame and yellow clinchers, and still, have it as a relic. My first road bike was a Peugeot, 2x5 speed, no automatic pedals, outside cables, "shifters" in the frame. That road bicycle was my father's bike and he passed it to me.
Nice story. So, where are you based at the moment?
Nowadays I live very close to the place that I was born, in another town, midway between San Lorenzo de El Escorial and Madrid city.
What are you doing outside of the training room (aka: what do you do for work)?
I have an office job, doing investments (both financial and real state) so I spend a lot of time in front of a computer screen. It´s not the ideal place to work, but I enjoy what I do (the majority of the time).
Please visualize your "PainCave" space for us (i.e., bikes, trainers, accessories)
I have a reserved room at home solely for my Pain Cave, as it's an "essential" place for me.
In my Pain Cave I have a permanent bike installed on the CycleOps Hammer smart trainer, an indoor bike (IC 400 Pro), a dedicated PC (only to be used in my indoor sessions) and a projector to display the computer screen in front of me on the wall.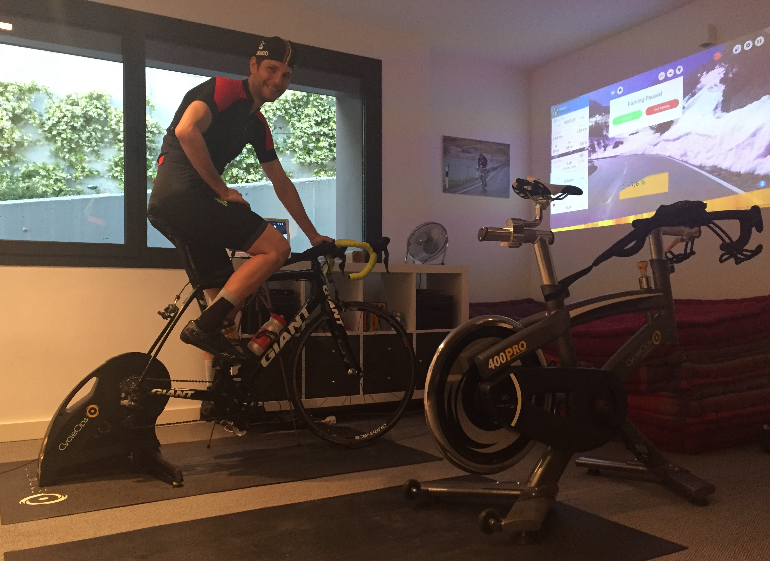 And how long have you been training on VT?
Since November of 2013.
Which types and brands of trainers have you already tried? Which one is your favorite?
I´ve used many types. I´ve used traditional rollers (Tacx), traditional trainers, smart trainers (Tacx) and indoor bikes (simple and smart). I started using VT paired with a smart indoor bike (Cycleops IC 400 Pro) and I´ve been using it until this February.
Since February I've been using a direct drive trainer (the Hammer), and this is my favorite one.
How many hours per week do you usually spend on a trainer during the winter season?
My average is about 7 hours per week throughout the whole year. In my case, there aren't too many differences between summer and winter.
Jesus, we know you are very active in the creation of custom routes. What is your motivation for this activity?
It was the ability to create your own video courses inside VirtualTraining that first grabbed my attention. For me, it was (and still is today) the main feature of this platform versus its competitors.
I like to have the possibility to simulate indoors the courses/roads that I enjoy riding outdoors. It´s the best-known way to bring indoors what you would like to ride outdoors.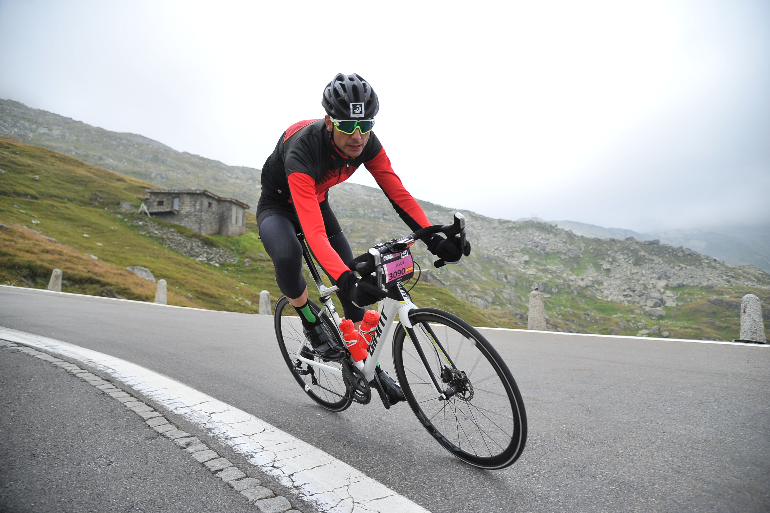 What criteria do you use to choose the routes you build in VirtualTraining?
I try to have the indoor route best simulate the outdoor ride, so I look for one or several of the following characteristics:
A traditional cycling place, easily known by the people who follow pro cycling races. Climbs like Morcuera, Navacerrada, Lagos de Covadonga or Somport are typical mountains of "La Vuelta España", as Peyresourde or Marie Blanque are well known Pyrenees mountains of "Le Tour de France".
Beautiful landscapes on quiet roads with as little traffic as possible.
Climbs. I like climbing.
Personal memories. Routes that were a good experience for me.
What equipment do you use for the route recording? Do you prefer a car or bike in this case?
For the last few years, I´ve been using a GoPro 3. I prefer to mount it on the outside of the car. I don´t like the "on-board" feeling of the film when recorded by a camera mounted on the bike.
Perhaps the most important question for our users, have you already thought about new routes for the next indoor season? Which ones?
Yes. I have two projects in mind.
I want to film a new version of Abantos from San Lorenzo de El Escorial because I know that I have the capability to improve this old route, as it was one of my first creations when I was discovering the VT route editor.
I want to create a VT route of a very symbolic climb for me, one that's very unknown, but one of my favorites roads in Spain. It is "El Morredero": 27 kilometers in length, 1300 meters of elevation gain and sections up to 15% of slope.
That is marvelous. On our side, are there any particular routes you would like to see in the VT library?
I miss some of the iconic climbs that have not yet been added to our VT world. For example, Tourmalet and Aubisque in Pyrenees, Gavia and Finestre in Italy, and a better version of Mount Ventoux.
Please provide your advice for recording routes.
Mount the camera to a car or motorbike. It helps a lot to have a stable image (the suspension of the vehicle helps a lot, and you avoid the movements of the handlebar if mounted on a bike). I don´t like to have the camera inside the car, as the view across the glass removes part of the sensation of being on a bike when then the route is ridden indoors.
I like to record with the car at a low and constant speed just to avoid the "unnatural" speeds of other things (cars, people, etc.) recorded and then reproduced in the VT indoor ride. I also try to record at times when I will find less traffic to avoid interruptions and big changes in my speed during the recording of the video.
Good tips. We hope you will be heard )). Back to indoors, which feature do you consider as most useful in VT?
The most useful thing of VT is the constant improvement of the tool. Since I am a user of it, continuous improvements have been done, new characteristics, new features, better designs, etc. It's been fun to watch VirtualTraining grow into a full-blown tool.
But if I had to choose a concrete thing, I´d choose the ability to create your own video routes.
Thank you for appreciation. But what's still missing in our cycling platform?
I wish there were two tools to "control" your training and performance over time: a performance tracker chart, and a power fingerprint curve (the best average power per time in a curve).
To say another thing, I'd like to see more use of the racing mode by us, the users. I find few races with few racers in them.
Why do you think each cyclist should try Virtual Training?
It works (and the software is stable). It is easy to use. It is complete, with a lot of features and various ways of using it: you can ride a video course, a GPS route (no video), you can do a Workout.
It´s challenging, both in advancing in your career from Novice to Legend or completing the various Challenges. It´s a way to "compete" against others or against yourself. It´s a tool to train as you can control, measure and compare your efforts. It´s a diary in which you can storage your ridings. For me, it is addictive; I enjoy riding indoors using VT.
And the last question with your final words of encouragement. How do you balance your work, personal life and cycling training?
Why do you think that I can balance those 3 things? I feel I am no expert on this as I feel these are imbalanced in my life! I don´t have any trick to achieve such a difficult thing. My "balance" is not a defined or a programmed one. I just need more than 24 hours a day!
Can't agree more! Good luck and best regards from the VT team! We are sure we will have an occasion to talk to you again.
We hope you've enjoyed this interview as much as we have! Do you want to be highlighted in the "VirtualTraining Spotlight"? If you are fond of pushing pedals and an active VT user, please drop a few lines about yourself to info@virtualtraining.eu. If we hear from you, we'll be in touch right away for more information.