This week we're moving from Canada to the Pacific Coast of the United States to shine the light on another VirtualTraining Legend. Oregonian physician, Steve Vander Waal, shares his insights for the inspiration of us all. Find out how to maintain health, relieve stress after work and proceed in training – even if you have experienced a series of accidental car encounters.
Hello Steve, so what is your home country and town where you spent your childhood?
I was born in 1948 and grew up in the small town of Pella in the state of Iowa, USA. About 5000 people lived there when I was young.
Describe your story of getting acquainted with cycling and the first bike.
I was probably 5 years old when I got my first bicycle. Growing up in a small town, it was my means of getting to a baseball practice, the swimming pool and I used in to deliver newspapers for my paper route. I got my first good bike when I was about 26, a Fuji, fell in love with road cycling and then rode about 200 miles every week.
And where are you based at the moment?
I have lived in Manzanita, Oregon, for the past 33 years. It is a very small beach town on the Pacific coast. A very temperate climate so I could ride outside year round, although it rains a lot.
Sounds great. What are you doing outside of the training room (workplace)?
I work as a physician, specializing in internal medicine. I have my own practice in Gearhart, Oregon.
Nice. Please give us an idea how your "PainCave" looks like (bikes, trainers, accessories).
I have a room in the house that I use as a getaway space. It has my books, computer, etc. I have my bike set up in it near a window with two fans for cooling.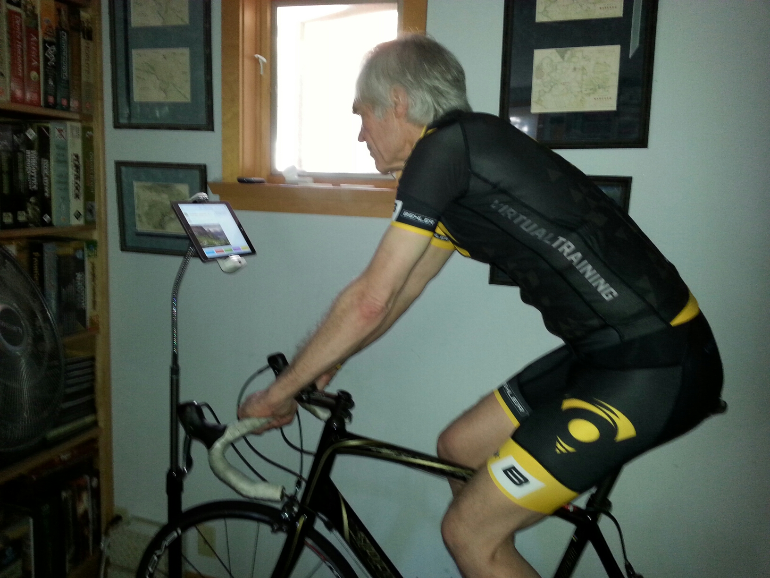 How long have you been training on VT?
I started using VT in December of 2013.
Which types and brands of trainers have you already tried? Which one is your favorite?
I started using VT with a Cycleops 400 and then got a Phantom indoor trainer. I was never very happy with the resistance unit and so bought a Cycleops Hammer trainer last December. The Hammer is perfect for my training and the resistance is the most realistic that I have tried.
How many hours per week do you usually spend on a trainer during the winter season?
I ride 6 days a week year round and usually spend about 7-8 hours per week on the trainer. I ride exclusively indoors anymore. I have been hit by cars on 4 separate occasions resulting in 22 broken bones so have stayed off the road for the last 5 years since my last accident.
Sorry to hear that, at least now with VT you have a "work around" for riding safely. Did you focus exactly on VT Career? When did you start?
I started working on the career mode of VT when it was first offered about 18 months ago.
Which task was the hardest one for you to proceed in "My Career"?
The races were the hardest because of difficulty in time scheduling. I finally set them all up when I could ride them and hoped someone else would join.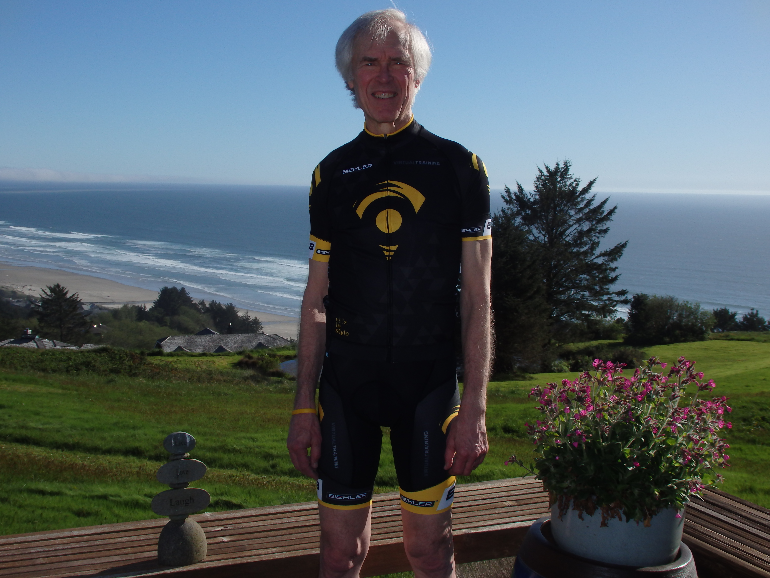 [Since 2013 Steve has completed 1190 rides with the total distance of 19 232.9 km. Longest Ride: 67.1 km. Total time: 934 h 34 min. This is incredible, and at the same time, it's quite achievable for any goal-oriented cyclist that trains on a constant basis. Here we have to note, that at the moment it is not necessary to ride the same total distance to get a "Legend" status. It is being awarded based on the mix of completed levels, challenges and scored points.]
Which feature do you consider the most useful in VT?
I value the videos the most. Years ago, before power trainers, riding a trainer was extremely boring as all you could do was set it up in the garage and look at the wall while trying to stay motivated. The competitive aspect is important - to be able to compare my times with others around the world. The challenges set up by VT have been fun as well.
Do you still miss something in VirtualTraining App? Any particular feature?
Some way to access which videos have been posted most recently. I know sometimes I see a route that looks good but then can't locate it later.
It is true that we have a huge amount of routes being added on a constant basis. We will think about some sorting by date. Why do you think each cyclist should try VirtualTraining?
I think it is a great way to maintain your motivation to train when you can't get outdoors.
How do you balance your work, personal life and cycling training?
I am self-employed so I schedule time 6 days a week to spend on the bike. I ride after work during the week and spend time Saturday and Sunday mornings on the trainer. I am now 68 years old so that training is important in maintaining my health. It's a great stress reliever after work, also.
Any advice or final encouraging words to the cycling community?
I think the VT site is great for maintaining conditioning when you can't get outside and ride. I appreciate the effort that goes into making VT a great site.
Thank you for your loyalty, Steve, and congratulations from the whole VT team! Stay safe and keep up your pace.
We hope you've enjoyed this interview as much as we have! For his great performance and endurance, Steve received from VT a package of handy items personally signed by Jaroslav Kulhavy - European champion, 2012 Olympic gold medalist in London and silver medalist in Rio.
Do you want to be highlighted in the "VirtualTraining Spotlight"? If you are fond of pushing pedals and an active VT user, please drop a few lines about yourself to info@virtualtraining.eu. If we hear from you, we'll be in touch right away for more information.