Together with CycleOps we present you the following video workouts that are now available in VirtualTraining Apps. Don´t hesitate and use these guided workouts to improve your abilities before the upcoming races or just competitive rides with your buddies. Workouts are purposed for both beginners and experienced cyclists. As we said, those are guided and you´ll get a step by step instructions how to proceed and what to do. Find them in "CycleOps" category in workouts section!
Workouts
Here you have a short review on each one.
General Intervals
Time crunched? Struggling to proceed? This 30-minute turbo trainer workout combines aerobic strength and sprint intervals to launch your legs into an anaerobic state that will put you over the edge.
30 Min VO2 max
This workout is designed to help your body process oxygen better to help produce more watts. During this 30-minute workout you'll tackle three intervals, each f 3 minutes in length. Why? Because those VO2 max intervals are a great way to train the skeletal muscle to process the oxygen once it reaches the muscles – helping produce more power. So line up this workout if you're ready to help your body become more efficient at producing power.
Climbing Intervals
Prepare for the road or mountain season with these climbing intervals. Designed to help building leg strength, these in- and out-of-the-saddle intervals will also fully prepare your muscles for the next attack. Plus, this workout can be done on rollers – as Tyler demonstrates in the video – or an indoor bicycle trainer.
30 minute FTP
A functional threshold test, or FTP for short, is a test that evaluates your fitness levels including gains and losses. (We recommend to get a consultation from a local coach or training studio, in case you would like to receive the most correct evaluation results derived from the FTP test.) This FTP test is a quick way to monitor your training results and improvements. It can be done every month or every other month. Plus, if you're looking for a 20 minute suffer session you can also do this as a stand-alone workout that'll get you ready to crush your next time trial.
Sprint workout
Get out of the self-doubt and prepare yourself to sprint all out with this 30-minute trainer session. With full efforts and minimal recovery, these maximal efforts are for quick sprint gains in your training.
Race Winners
Get ready to build some high-end power with this 30-minute indoor bike trainer workout. It's also a great workout if you want to visualize a real life ride/race situation while training indoors. During this workout you'll simulate an "attack" that can separate you from the rest of the race, and then you are forced to keep a high intensity before one final sprint for the win or town line sign on your group ride.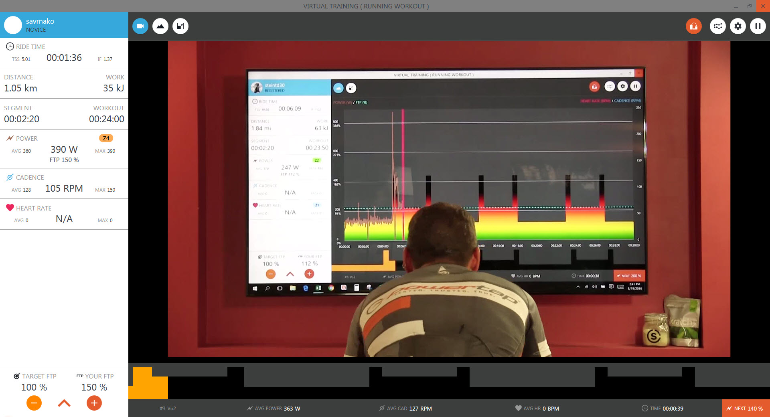 What is needed for a quick to start? Try any compatible trainers and download one of our Apps.
CycleOps workouts are available not only to Premium members, but also you can find them as a part of any Standard subscription! Enjoy your ride and feel free to share your training impressions!