You may argue that we've organized longer stage races at ROUVY. You are right; the 'Around the World in 50 Days' racing series lasted 49 days. But there is a huge difference! While the said event may have consisted of 21 racing days spread over 7 weeks, this time, you're going to experience something even better and will see for yourself how great an undertaking it is to complete a Grand Tour.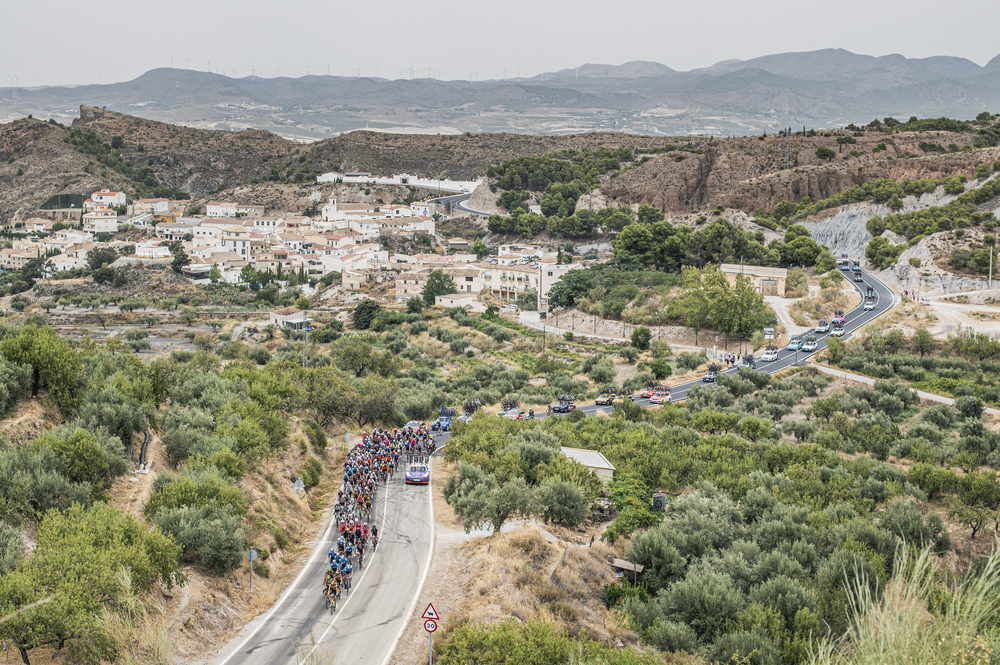 Taking part in La Vuelta Virtual Grand 10 is going to help you understand how much suffering and pleasure one has to accept in equal measure, in order to cross the finish line.
When we thought of the concept, we took into consideration two aspects: Staying as close as possible to La Vuelta 2021 while still making the race doable for a wider audience of ROUVY athletes and not just for a handful of semi-pro riders. For easier orientation, we've summed up the entire race in a chart below:
TIME TRIAL - Dec 7th | STAGE 4 - La Vuelta 2021 | Anquela del Ducado | TT Prolog | 10km, 59m
FLAT - Dec 8th | STAGE 6 - La Vuelta 2021 | Cullera | 20km, 85m
Day off
FLAT - Dec 10th | STAGE 6 - La Vuelta 2021 | Valencia | 30km, 41m
FLAT - Dec 11th | STAGE 8 - La Vuelta 2021 | El Algar | 34km, 145m
FLAT - Dec 12th | STAGE 8 - La Vuelta 2021 | Cartagena | 36,7km, 386m (Burgos BH PRO Ángel Madrazo joining)
Day off
HILLY - Dec 14th | STAGE 11 - La Vuelta 2021 | Valdepeñas de Jaén | 27,7km, 679m
HILLY - Dec 15th | STAGE 11 - La Vuelta 2021 | Priego de Córdoba | 27,3km, 637m
Day off
MOUNTAIN - Dec 17th | STAGE 17 - La Vuelta 1995 | Luz Ardiden | 35km, 343m (Burgos BH PRO Victor Langellotti joining)
MOUNTAIN - Dec 18th | STAGE 12 - La Vuelta 2020 | Alto de l'Angliru | 12,3km, 1230m (Burgos BH PRO Óscar Cabedo joining)
TIME TRIAL - Dec 19th | STAGE 21 - La Vuelta 2021 | Santiago de Compostela | TT Epilog | 30,8km, 613m

Concept: From the ocean to the mountains

As you can see the concept is simple and follows the scheme that the majority of Grand Tours use. The initial race is a time trial, where the first leader of the general classification is decided. Then, a short and intense race based on a 2021 La Vuelta Stage 6 ensues which is then followed by the first rest day.
The spirit of the second racing block is defined by the proximity of the Mediterranean sea. All the routes where you will be racing between the 10th and the 12th of December will still be sprinter-friendly and follow the coastline, which makes them not only fast but also scenic.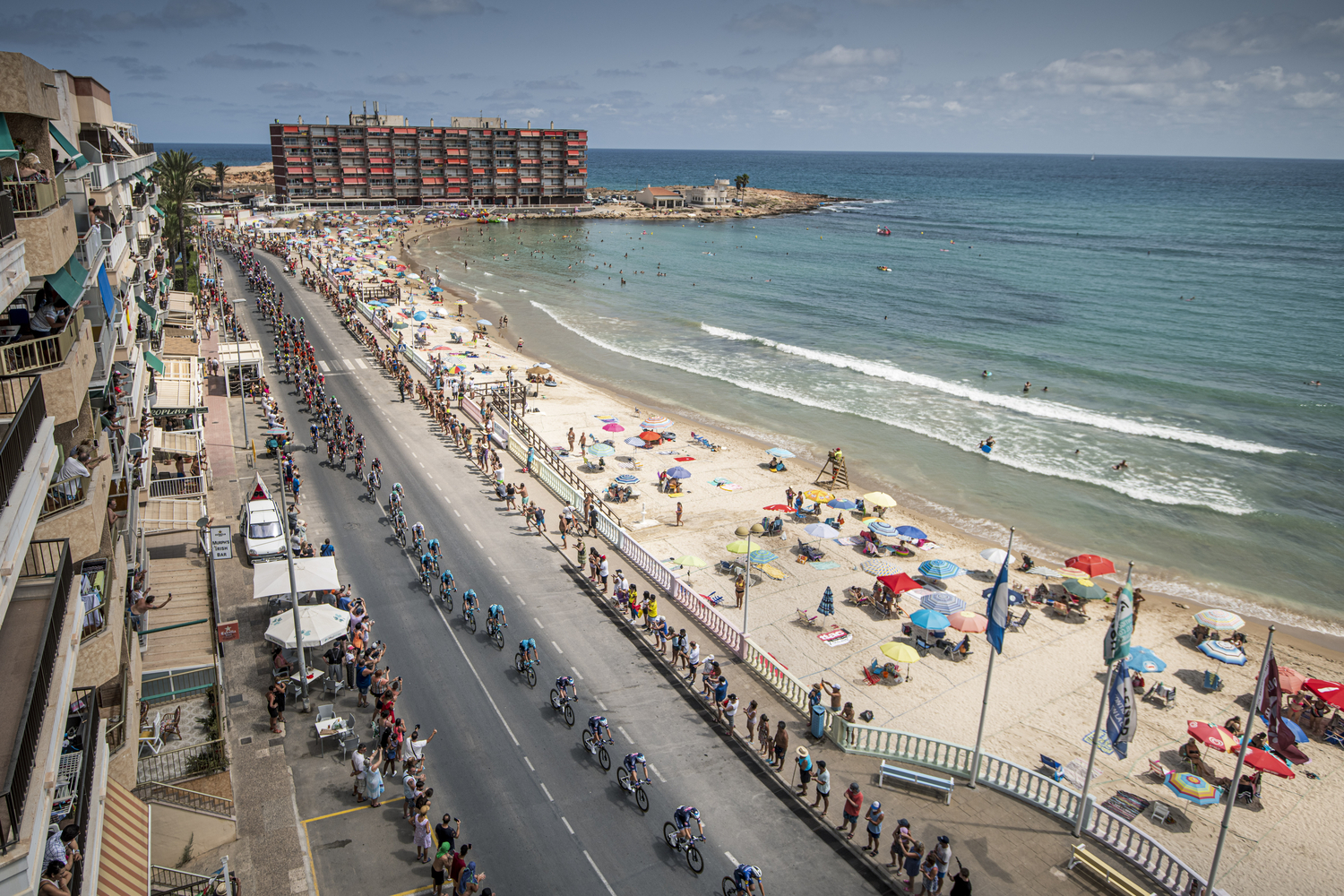 Coastal part of Stage 8 on 2021 Vuelta a España
After a second day off, it's time to start exploring the mountains! Both parcours of the third block are sourced from the 2021 La Vuelta Stage 11, where a really interesting battle between Primoz Roglic and Magnus Cort Nielsen happened. The Slovenian snatched victory from Cort Nielsen inside the last 500 m of the race!
Just like at the 2021 La Vuelta, the middle bit of the race consists of two stages that are considered 'hilly': neither of them exceed 700m of climbing. That makes the 'Valdepeñas de Jaén' and the 'Priego de Córdoba' ideal routes to warm up for the last three stages, of which two are considered mountain stages - for a good reason.
The barbaric climbs

We are speaking of two king climbs, the infamous Luz Ardiden and Alto de l'Angliru. The former is likely to be familiar to you because it has been featured in both the Tour de France and La Vuelta, a couple of times. Or, it could be because of the rare gentlemanly gesture towards Lance Armstrong on the 2003 Tour. In case you want to find out a bit more, check the 4 MOST EPIC ROUTES YOU CAN RIDE ON LA VUELTA VIRTUAL GRAND 10 blog post.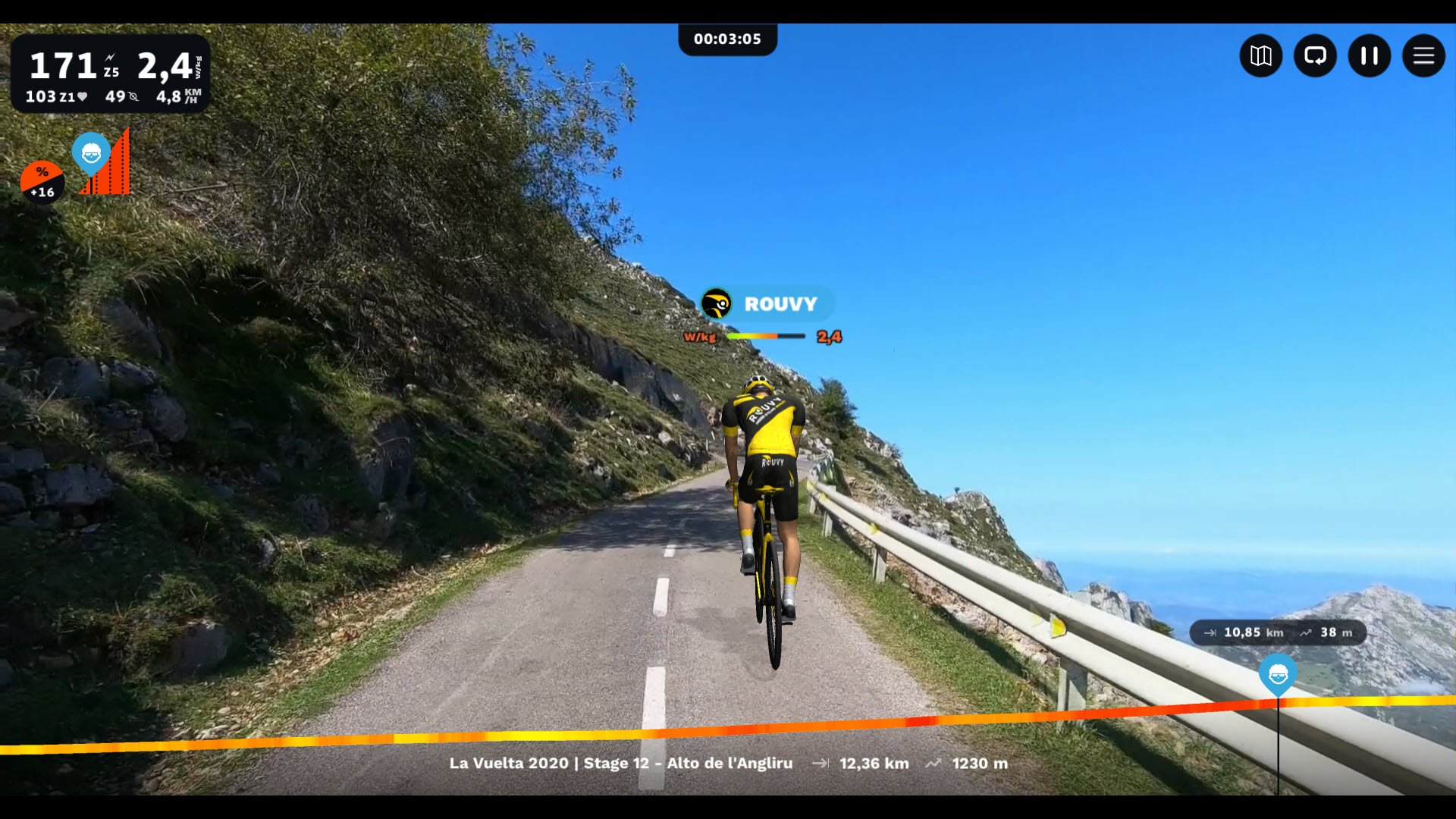 La Vuelta 2020 Stage 12 - Alto de l'Angliru

If you also feel that Alto de l'Angliru sounds familiar, that's likely because it's one of the most brutal climbs that ever appeared on any Grand Tour. The pro racers often use words such as 'inhumane', 'bloody' and 'barbaric' to describe the stages where this climb appears.
Feel the emotions

Of course, it wouldn't be a Grand Tour if there was no epic individual time trial finish! 2021 La Vuelta started literally inside the Burgos Cathedral and unusually occured 'only' within the boundaries of Spain.There couldn't have been a better location for the finish line than the Santiago de Compostela, a culmination of world-famous pilgrimage route.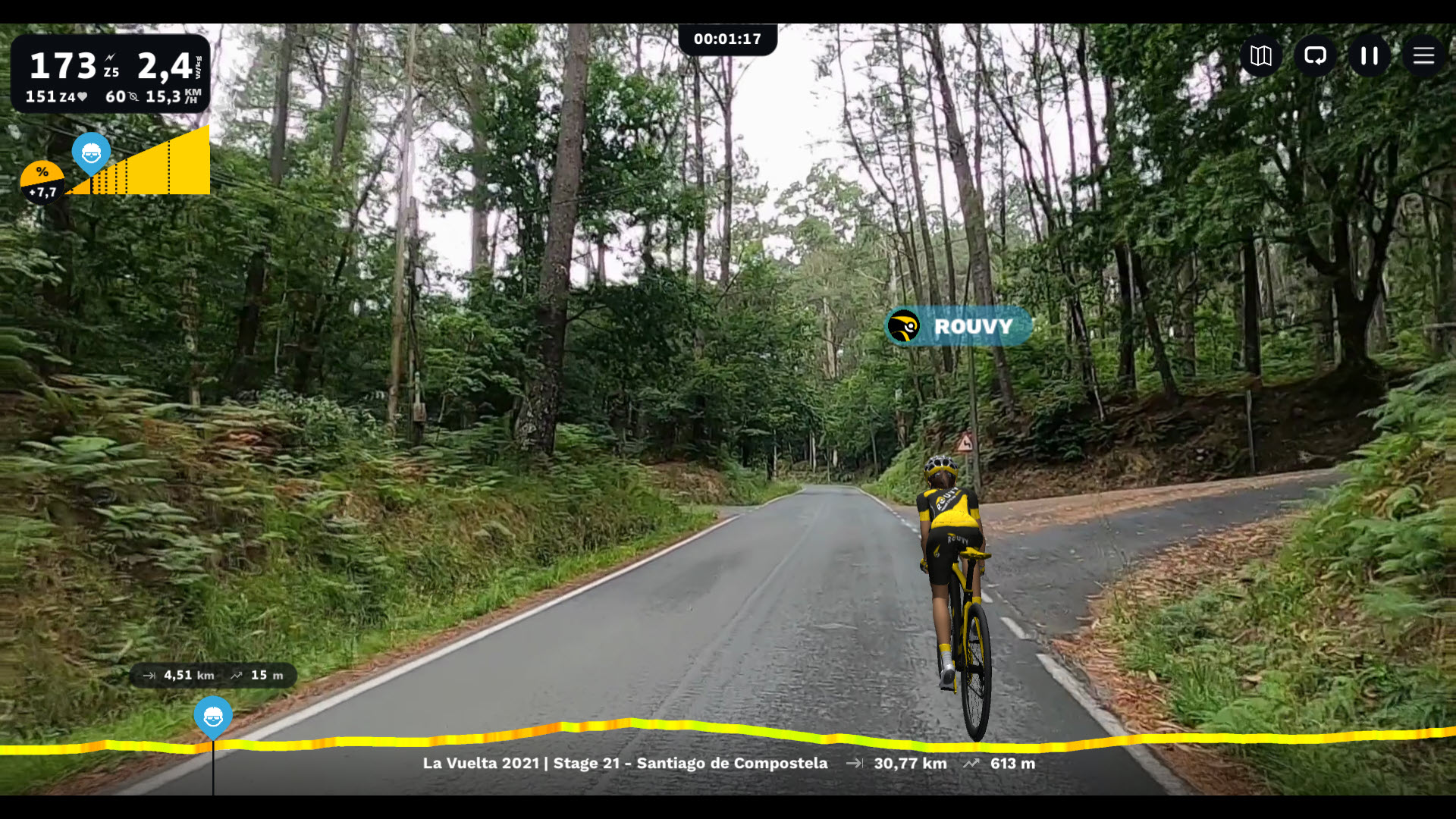 Blasting through lush green forest near Santiago de Compostela
Even for pro riders, crossing the finish line of a Grand Tour is often a moment cherished for life! That is why winning a Stage in any of the Grand Tours is equally prestigious as winning some of the stand alone races.
Just like on a famous Grand Tour, your effort on 'La Vuelta Virtual Grand 10' is going to peak in the holy city, in the lush green northwest Spain. Push the pedals the hardest you can, collect your last points towards the general classification (GC) and enjoy the special moment when crossing the finish line!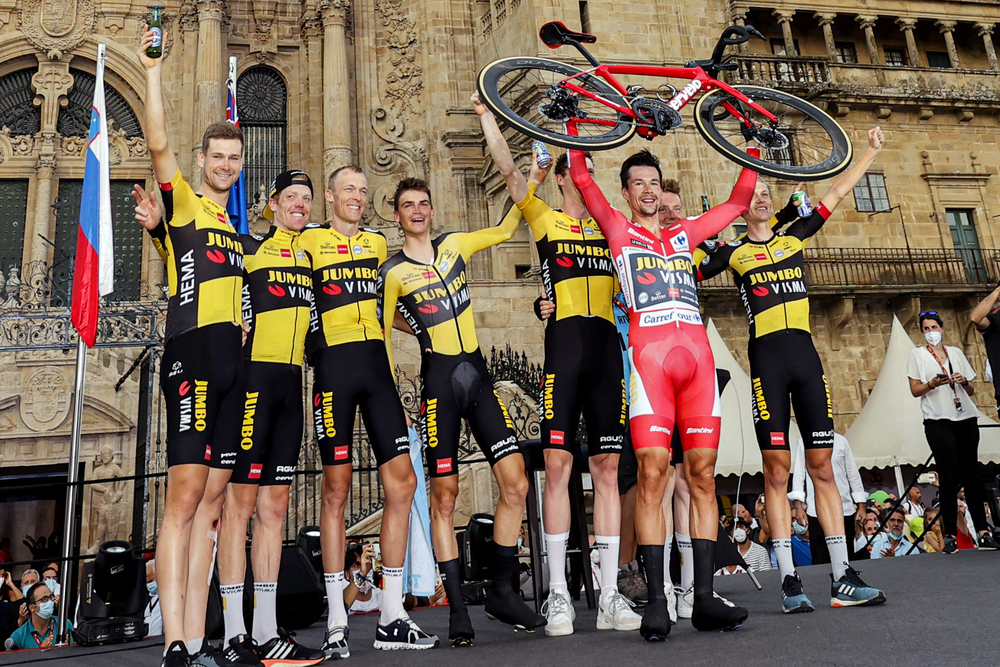 Primož Roglič and Jumbo Visma teammates on a podium in Santiago de Compostela
Participating means a chance at winning

You need to be damn fast if you intend to win the prize money at La Vuelta. On ROUVY, the only request is that you participate. What's in the draw, then? The biggest bait is definitely the chance to win an ELITE Ecosystem, the ELITE Rizer or the ELITE Direto XR-T. The list of prizes is really long and includes ELITE trainers as well as the super-fine clothing from Santini and cycling merch from WeLoveCycling.
Even though only your 5 best results count towards the GC, our advice to you is not to miss a single race! The La Vuelta locations are all amazing and the real Grand Tour experience is complete only when you finish all stages, right?!