I really looked forward to interviewing Alex, knowing how much history he has in common with Vancouver, British Columbia and the RBC Granfondo Whistler race that has its fourth and final race on ROUVY this week.
What I didn't expect was to learn so many interesting facts about how tough it used to be for a pro, 40 years ago. Read on and find out!
Cycling and traditions of the '80s

On the 1986 TdF, you were one of the few, if not the only one, wearing a helmet. What is the story behind it?
The rules for wearing helmets changed by country. In Belgium you had to wear a hairnet. In France, it was optional. You didn't have to wear a helmet at all, if you were a professional. Growing up racing in Vancouver, I had to wear a hairnet and so later on, during any bike race, it just didn't feel comfortable without it.
As an amateur you had to wear one, but then when you turned pro, you were free not to use one. It was almost like a badge of honour not wearing a helmet.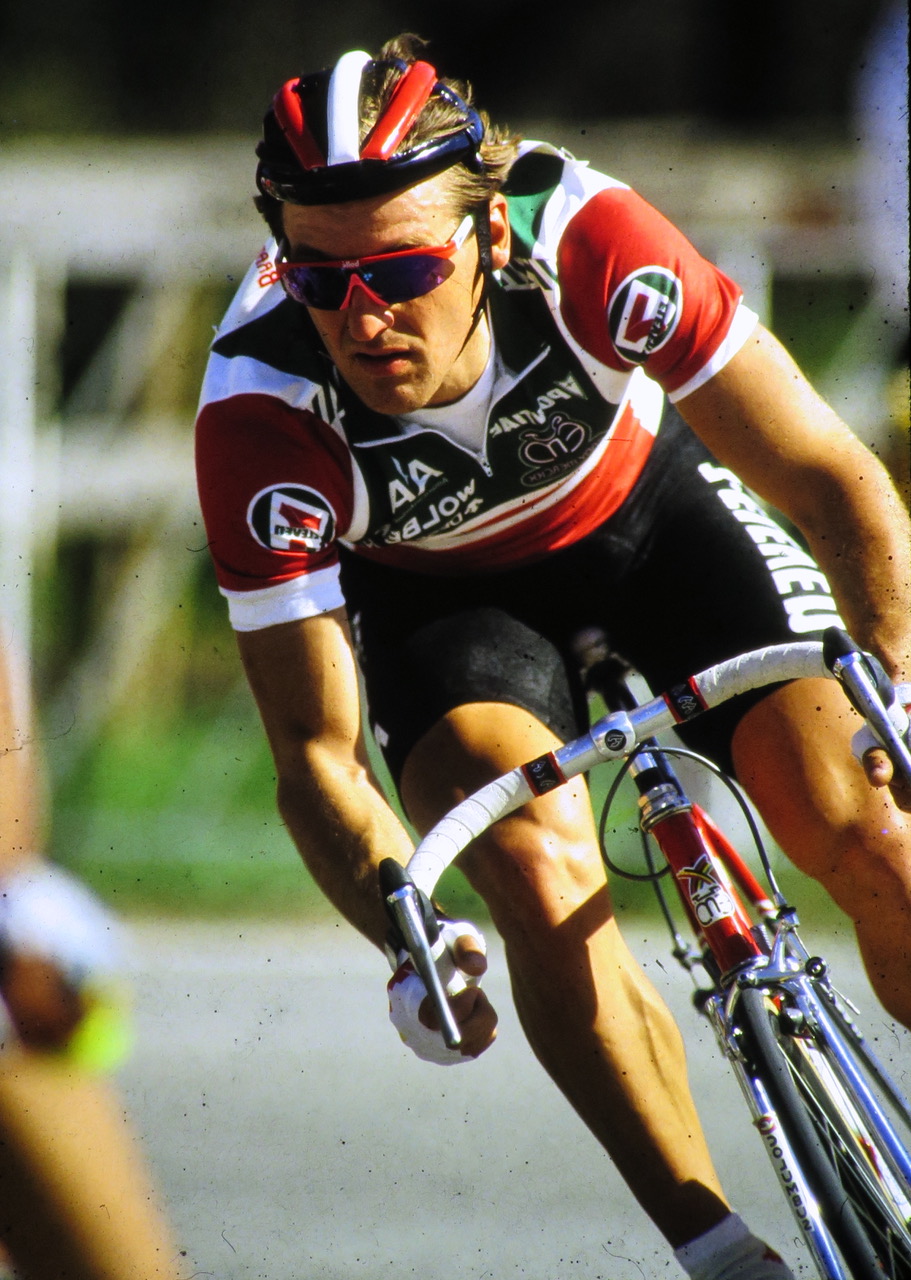 Alex cornering
The Eddy Mercx bike you used to race with, in the late '80s and early '90s, was custom made for you. Was it usual that pro riders used custom-made frames at that time? As far as I understand, most riders use frames that are not customized these days.
I often reflect on how the pros now can only choose between small, medium, large and extra large frames.

Every rider of the team (Alex raced for 7-Eleven at the time) had a custom made frame by Eddy Mercx specifically for us. And in fact, Eddy Mercx made Andy Hampsten (who won the Giro for us), 20 (!!) custom made frames to try to find the best fit for him!

In the '80s, the tradition was that you had to have a custom made frame, there was no other way around it. As time went on, I think people realized that what was happening in the frame underneath was not really important. What matters is where the saddle is and where the handlebars are.
That kind of fits into the same scheme of traditions as with the helmets, right?
Yes, absolutely. It took so long to change! Just look at the power meters. SRM had the first power meter but it took 10 long years for the teams and coaches to accept that it could be a useful tool!
So I guess it's been the same with the radios?
Yes, exactly! It's a whole other story. No one wanted to believe that radios could be useful. In fact, 7-Eleven team were the first to use the radios on some small races to try them and we realized it was a big advantage.
What was the support for the pro teams in the '80s; did you fly Concorde for your European races?
(Laughter) We were a famous pro team but the support we had was very basic. There were no team buses and we stayed in cheap hotels. Sometimes, there were mirrors on the ceiling, if you know what that means, Martin!
For a few years we were sponsored by American Airlines so we could fly business class from America to Europe, which was a real luxury. Though, there was smoking on the plane!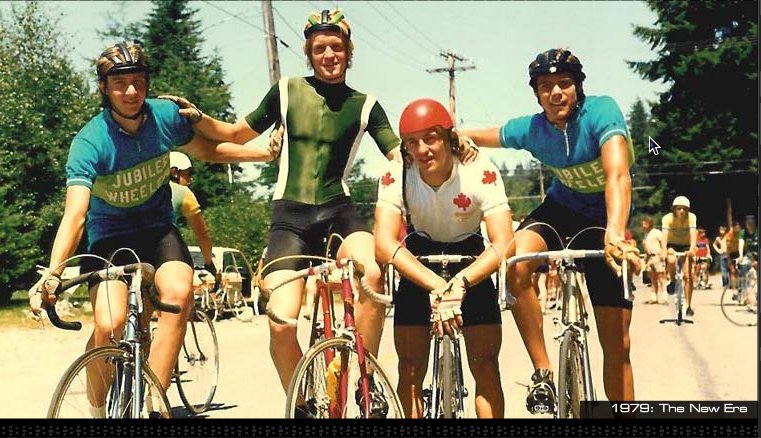 Alex is the second from right
Even as a hobby cyclist, I'm used to training in places like Mallorca over winter. Did you have similar winter training?
I grew up in Vancouver, which is a bit like Belgium or England in winter. We never earned enough to go for an extended time in Hawaii or Mexico to live and train somewhere warm in winter. So I just had to learn how to ride in the cold and rain. We had special winter bikes with fenders and plastic rain jackets. That meant you were sweating more than getting wet from the rain!
You've had a very successful career as a track cyclist. What made you change the direction of your career to road cycling?
As a junior, I started racing on a track because of my ice hockey background that gave me really good anaerobic power. I was good enough to go to the junior world championships in 1979, in individual pursuit. As time went on, I realized that if I want to be a professional cyclist I have to be a road cyclist. At that time, there was no direction such as being a track pro cyclist. So road racing was the best natural progression.
Did you continue to live in Vancouver during your professional career?
I was able to stay in Vancouver because it was a good place to be in winter to train, as I didn't mind the rain. I had friends in Vancouver, so it was a good place to recharge batteries over the winter. I liked coming back to Vancouver and riding the road to Whistler!
In late '88 I bought a house in Boulder, Colorado because a lot of my teammates were living there. Being at altitude was a good place to train. I could have made that decision a bit earlier but I hadn't! I lived in Boulder for a few years, then I met my wife and we moved back to Vancouver.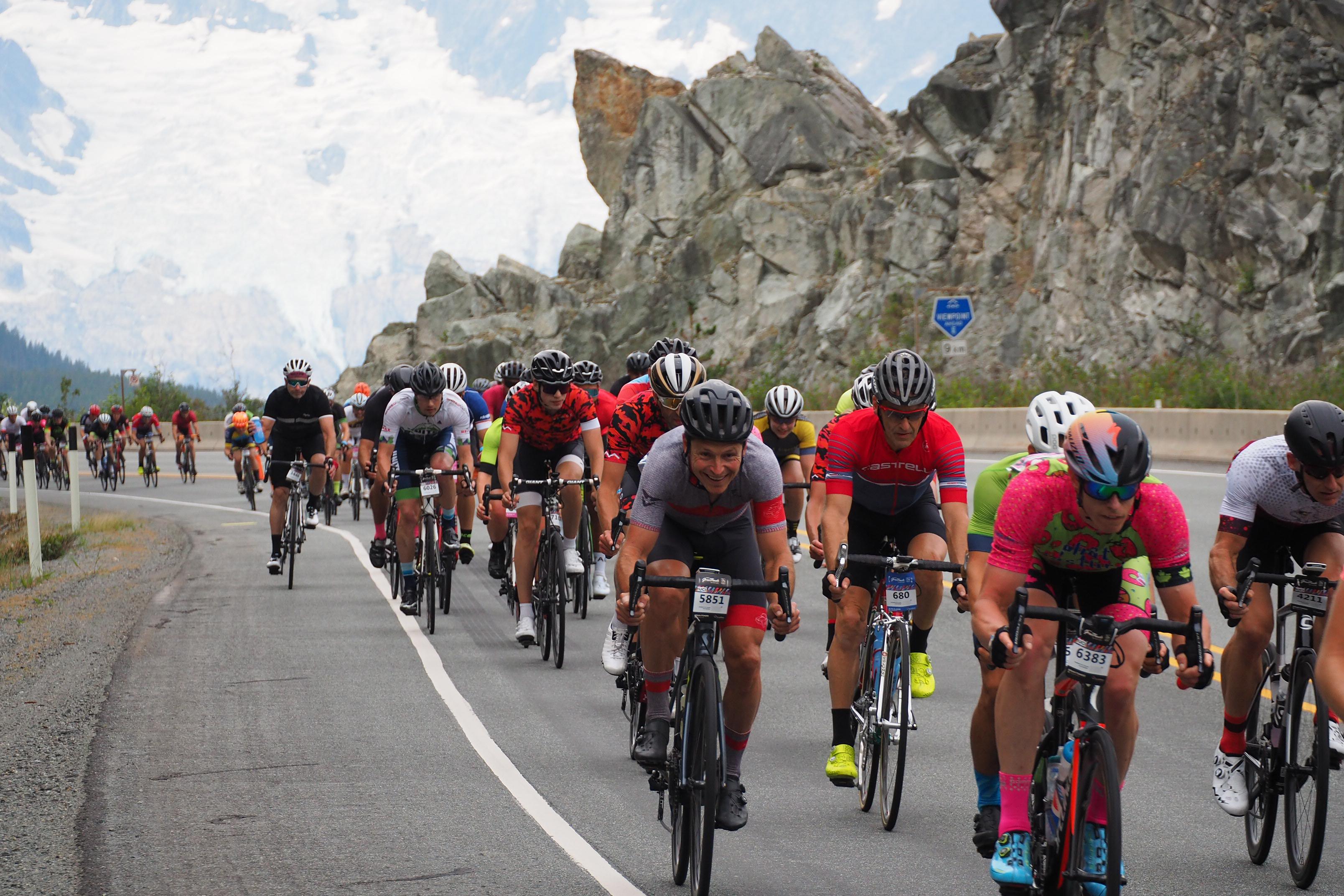 RBC Granfondo Whistler raceday, Ales is the fourth from right
What were the conditions for road cycling in Canada and the US back then? Did society understand and support cyclists; what did the roads look like?
Number one, you have to realize that there were no cell phones so the drivers were less distracted. We didn't have any flashing lights on the bikes. Most of our clothes were dark in color; we didn't have any 'safety colored' outfits. We just didn't think about that at all!
The road from West Vancouver to go to Whistler, which is today called the Sea to Sky Highway, was really narrow with nearly no hard shoulder. The road was one lane each way and you had to be really careful riding on the shoulder!
But when I think about it, there were very few problems with the traffic. I think it's probably because the road was so narrow that the drivers had to be more careful and people were not that much in a hurry. There was even a wooden bridge there. Imagine how slippery it was, when wet! Because of the 2010 Olympics, the road got wider allowing people from even Whistler to work in Vancouver, using the road to commute. Now, this means a lot of fast traffic that makes riding the Sea to Sky highway pretty dangerous, I think. (However, the road is shut for traffic for the RBC Granfondo Whistler; and the ROUVY Sea to Sky Highway routes are also safe!)
Living the dream on the Tour de France

What was the sweetest moment in your cycling career, if you can name one?
People would often think it would be wearing the yellow jersey (1986 TdF) but for me, racing on the Champs Elysées on the last day of the Tour de France was soooo special. To finish the Tour so - I couldn't tell you how that felt! I had to suffer for 3 weeks, I crashed a couple of times but always got up and kept going and there's a lot of good memories of the team members helping each other.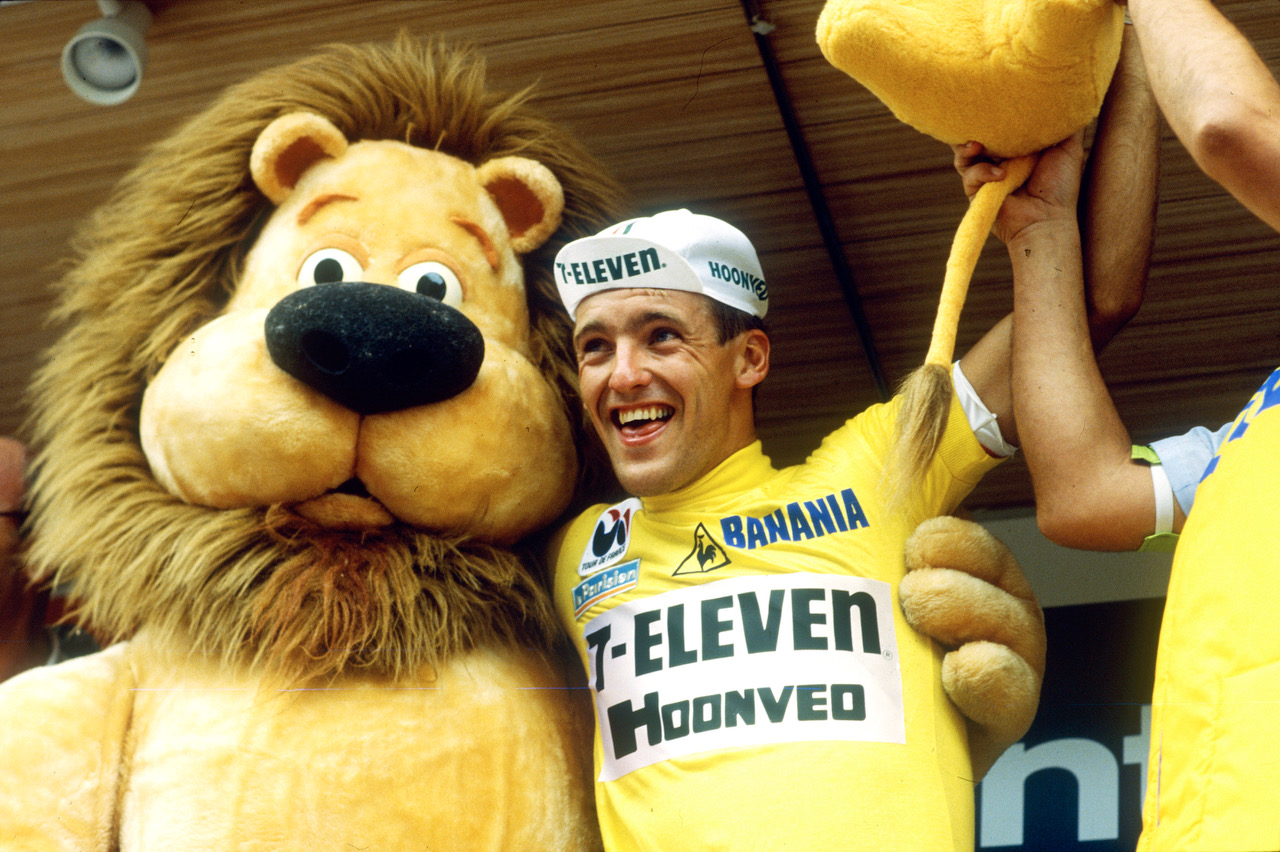 Wearing yellow jersey at 1986 TdF, credit John Pierce at PhotoSport International
How many editions of RBC Granfondo Whistler did you participate in?
I didn't do it every year; I'm gonna say six times or so. One year I rode with a cell phone and I was being interviewed by the finish line as I was riding, to give them the perspective of the race while riding. Basically, I have been doing lots of different things to help promote the event as it has a lot of history with me, as a cyclist.
Fighting the cancer and getting back to shape

Have you been taking part in one of the virtual edition races this year; if not, do you plan to join?
Yes, I am participating in the GFW ROUVY series. Although, since my prostate cancer surgery 9 weeks ago, I'm well down on my power! As I just got pronounced cancer-free, I have set up a goal for myself to race in the Granfondo World Championship in Trento, September 4th, 2022.
I'm so glad you are recovering well, Alex! Is there any advice you can share with other athletes who had to go through the same surgery?
I'm riding with a saddle that has a channel in the middle, so that there is less pressure. Currently, I'm riding just 30-45 minutes on my indoor trainer. Also, it's important to know that every person is going to be different. There is no hard and fast rule for when you can start riding again. The best advice I can give is: Listen to your body! Use a good saddle and be patient with your body.
I'm not sure if you have that in Europe, but I have just started a Movember fundraising page.
So you gave up on your wet and cold outdoor winter training sessions! What is the device you are using?
I use the Wahoo KICKR and Wahoo CLIMB. I've made my own board that I put the trainer on. Having the bike moving underneath feels just sooo much better! When I'm out of the saddle and it goes side to side, I just feel more alive!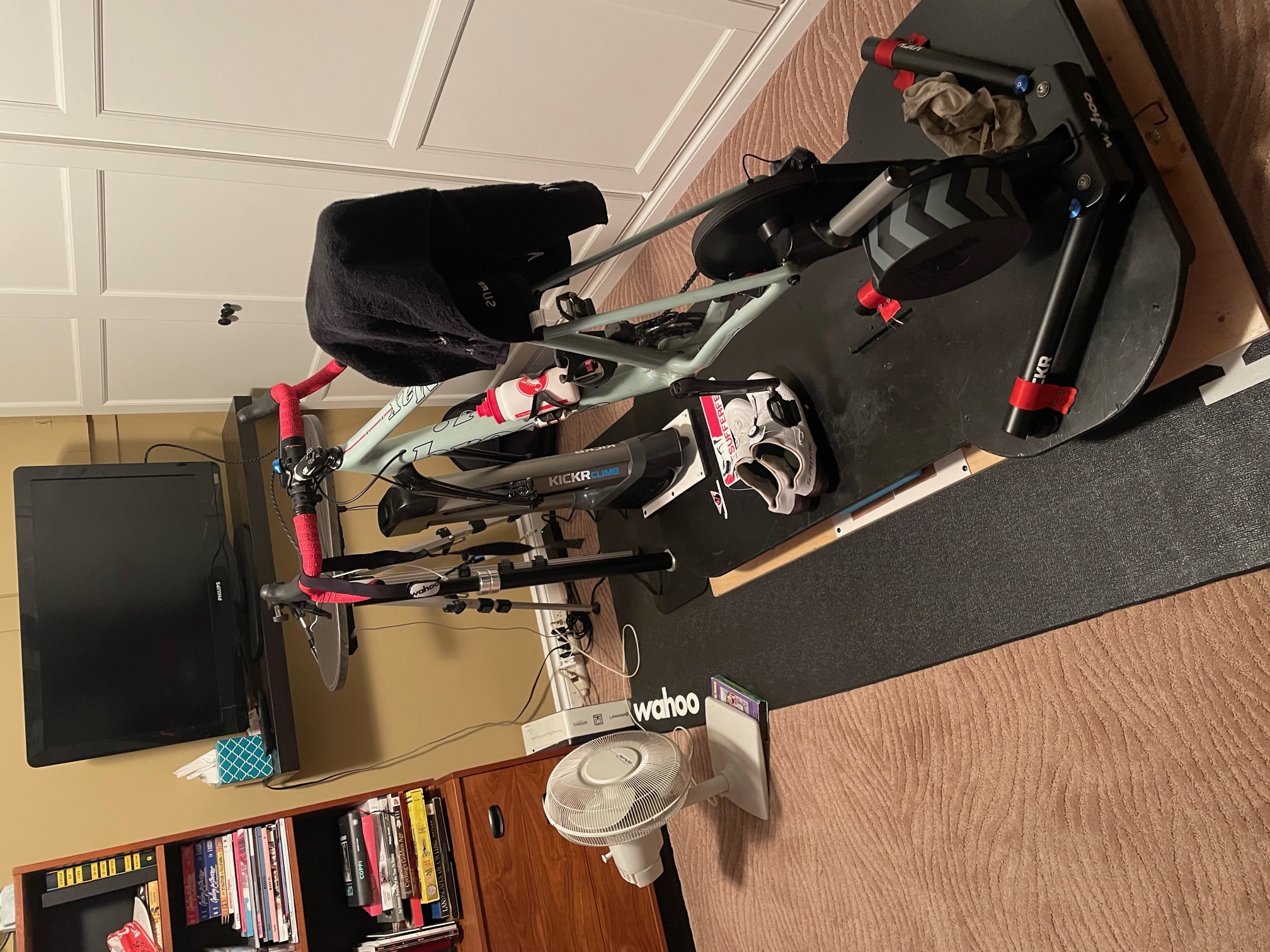 Simple, but functional. Wahoo KICKR combined with Wahoo CLIMB and self-made platfom

Alex is not just an avid cyclist, he's a guy who is linked to the history of cycling in the USA and Canada. He's a father of two and also a senior IT manager. This meant that after an hour of pleasant chatting over many topics, including ski mountaineering and cross country skiing, we had to say goodbye to each other, as Alex had to join another call. I wish we could've chatted much longer!
Explore British Columbia and ride along with the first North American to lead the Tour de France on the last race of the RBC Granfondo Whistler this Saturday 20th of November. You can find Alex on ROUVY with this link.
REGISTER FOR THE RBC GRANFONDO WHISTLER HERE