I had a Plan A; quickly moved to Plan B and right after, had to move to "Plan Z: SURVIVAL".

I am so glad I spent all that time over the winter months training, racing and completing challenges indoors on ROUVY on my Saris H2 smart trainer (I now use an H3 and Nfinity platform). All that training paid off, giving me huge marginal gains with more power on the bike, endurance, strength, grit and above all mental toughness to show up at the starting line (uninjured) and race with the WORLDS' BEST endurance IRONMAN athletes.

They say St George is a magical place, a magician must have summoned Mother Nature to unleash fury on 'the land of endurance' for the worlds' best endurance athletes. What was unleashed was the "storm from hell" on the women who raced last—who got the worst of it, head on.

You had to have 'world-class endurance' to survive the hurricane winds of 40-45mph, gusts and 25-30mph straight line winds that brought it all: hail, a full sand storm, lightning and torrential downpours.

Now, imagine riding a bike – like a kite through a hurricane - that's what it felt like. I was pedaling at a 40-degree angle into the wind on my full ZIPP disc Super9 wheel + deep section 9.0 front.. I had to do a full tilt, leaning all the way in with all my force and strength. Bracing myself against those terrible cross winds, I was holding the "bull by its horns" or the front cockpit of my Trek Speed Concept with an iron grip.

Hail was pummeling me and sand was blurring my field of vision. I could never have been "prepared" for this: nearly being blown off the road and using all my remaining upper body strength to hold the front end straight and keep pedaling hard. Everyone else around me was pulling over or getting blown off the highway. At that moment, one had to choose: fiercely brace yourself against the wind, or quit. I didn't quit. It was WORLDS!

No one could have guessed how the race was going to develop that morning on race day! The weather was beautiful with sunny skies.
The swim
It started off great but then I got kicked. I choked down water. My goggles kept leaking and it turned into a bad swim in choppy water, with no wetsuit (as it was too warm on race day for wetsuit to be legal). It was obvious that there was a storm coming during the swim as the wind and waves picked up. I saw the dark skies and felt the high winds brewing all the while wondering 'what it would be like when I got on my bike.' Well, "it was one for the books" as they say.

I just couldn't find the pace on the swim I had trained for and had a mini anxiety attack for a moment out there; I just treaded water for a bit and talked myself through it.

Since the women age groupers went last (I was in the middle back of the pack swimming), most of them were pulled out of the water due to safety issues. There was lightning, winds and hail raining down. The age group wave after me, for those who were pulled from the water, where given the option to keep going if they wanted to.
The bike
I got out of the transition just as the bike racks were blown over; bikes were in piles with wheels jammed, parts broken and tires flat. The storm came hard.

'You can dance in the hurricane if you're standing in the eye'. I was not in the eye.

There were two different races at IRONMAN 70.3 World Championships - St George: one for the pros and men who didn't have the storm early that morning, the other race f was for the AG women who got the full effect of the storm that lasted most of our race.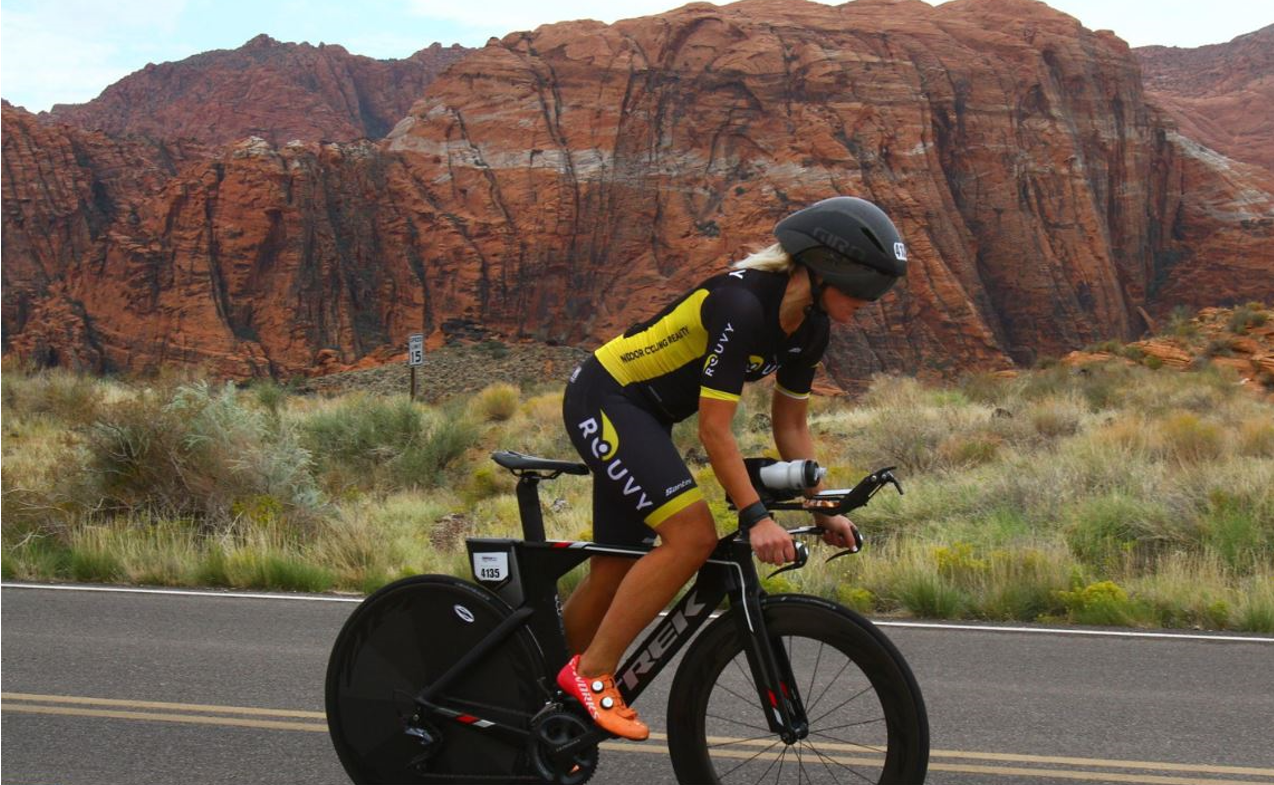 On this 56 miles bike course, I can say this was the ONE race I actually looked forward to a headwind. The winds were swirling across the canyons. There were 7-8 miles long descents that were fast and speedy. I did brake going down hill in the canyon as soon as I passed an opening or a gap between the canyons to brace against the wind. The winds were wild and had a boomerang effect that swirled and pushed you around so much that I didn't want to take another athlete out being pushed into them across the road or when they passed by.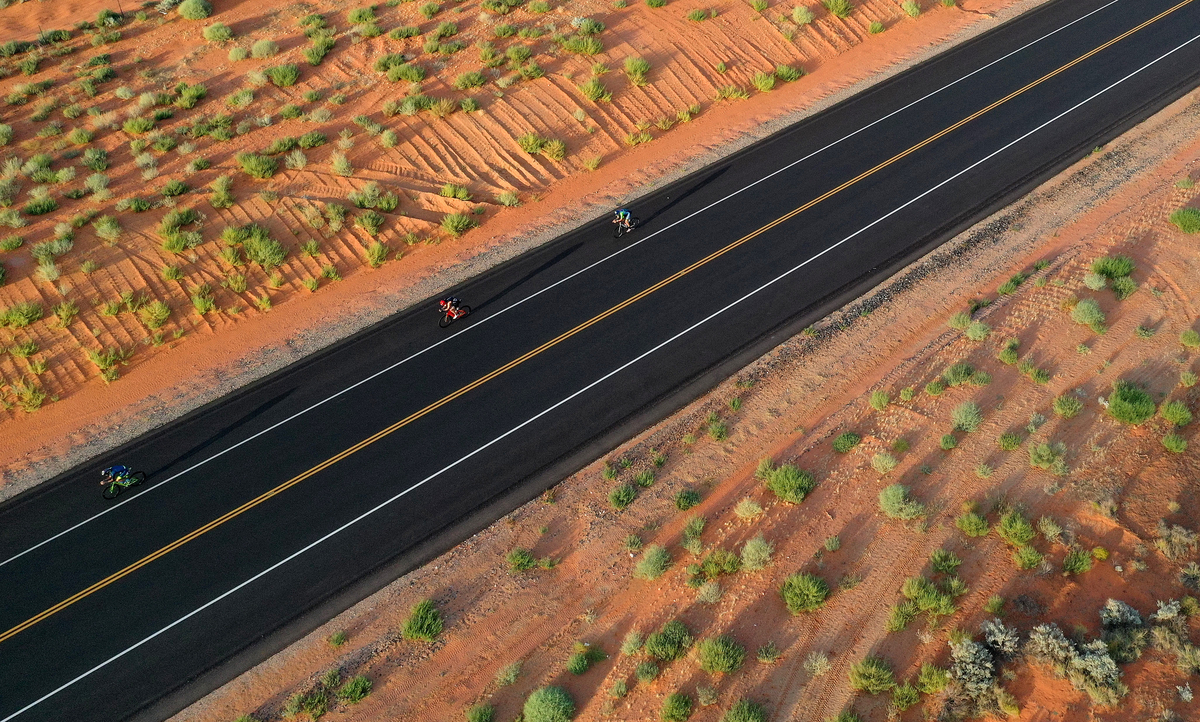 When descending at high speed of over 40 mph (over 65km), the cross winds would hit my full disc wheel and deep dish front section wheel and move me over almost two bike lengths and then return suddenly only to quickly pull me back. It was very unnerving and you had to brace your body to stay steady, when the winds crossed the canyons, while going down the long descents.

After a long slow climb up Snow Canyon, it took a lot of strength and power just to stay safe descending and to try not to "hydro-plane" on the wet, rain-soaked roads at high speeds. Descending at high speed, with winds blowing you around, can be sketchy and there is a small margin of error separating you from the ground,less than 2" of rubber to be exact, to keep you upright. There was no walking away from such a crash easily, if that should happen. Safety was crucial, racing or not (for me and the other athletes). The winds were treacherous, the canyons technical and hard enough. There was over 3,500ft. of elevation gain on the bike (1,100m of climbing).
The run
Whoever designed this course was cruel, knowing the amount of climbing involved on the bike course beforehand. The climb on the run up the hill was similar to a hill near where I lived, growing up in Duluth, MN - called the "Duluth Hill." The grade on the run at some places was more like a trail race with 8-12% gradient and a total of 1,300 ft (around 400m) elevation gain.

During the run, the heavens opened and it poured down so hard that you couldn't see for a bit. My wet feet turned to blistered, bloody feet on lap one of the two lap course. I ran through the pain, every step of that 13.1 mi, and I had a side stitch from hell that wouldn't go away. I tried base salt, Coke, Red Bull, stretching, but nope, it just cramped for 5 mi. I saw signs for HOKA, saying "time to fly" and my mind tricked me thinking it read: "time to die." (Insert heavy sigh.)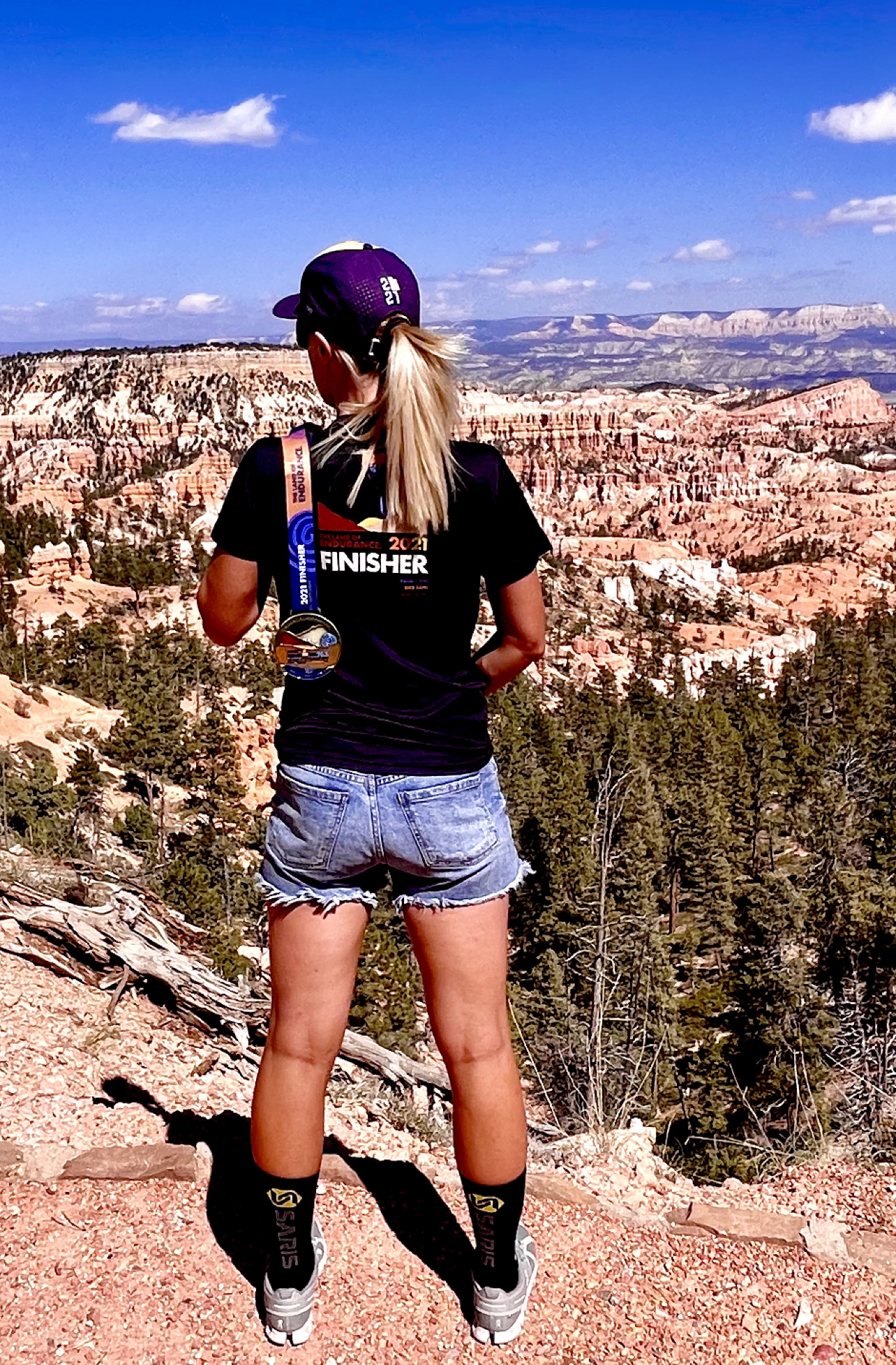 Leah after the race

On the second lap of the run, almost to the end, winds still blew strong, but the rain let up. The sun came out for the finish and for the last 5k of the 13.1 mi run— it was oven-hot - heat was radiating off the asphalt with 100% humidity. But at least it was mostly downhill. Quads were shot by then.

Mentally demoralized, I was passed by 50+ women in my age group on the run after my bike and I just couldn't catch anyone until the final mile. How the hell do you go through hell and back and run fast? The pros did. I didn't.

My body was confused; was this racing? Or enduring or surviving? Was my body compensating? Yes it was all of the above. That said, almost 15 years of endurance racing has taught me how to come through to the other side safely, when to push and when to hold back — the mental toughness 'to get it done and suffer' found a new level that day - even if the outcome wasn't pretty.
Brutal, epic, terrifying… all that and more: but I finished
Yes, I FINISHED. Nothing fast. 5:59 is the worst time ever (for my 70.3 race times). My bike split was in the top 25 women but that's about it. My bike was decent even in those conditions. The run suffered and I swam terribly. I finished in the top 100 women in the fastest female age group in the world, but wanted much better.

This was by far the hardest race I've ever done next to the Leadville Race Series Leadville 100 MTB (for a bike course with climbing elevation gain. Leadville 100 is at high altitude in the Rocky Mountains of Colorado and has over 12,000ft of climbing or 3,700m.) Now add the severe weather storm that blew in and it was nothing short of brutal, epic and terrifying. All my energy went into strategies to move forward, even if not as fast as I had hoped. NO PRs, like everyone said, just survival, pure mental toughness and grit.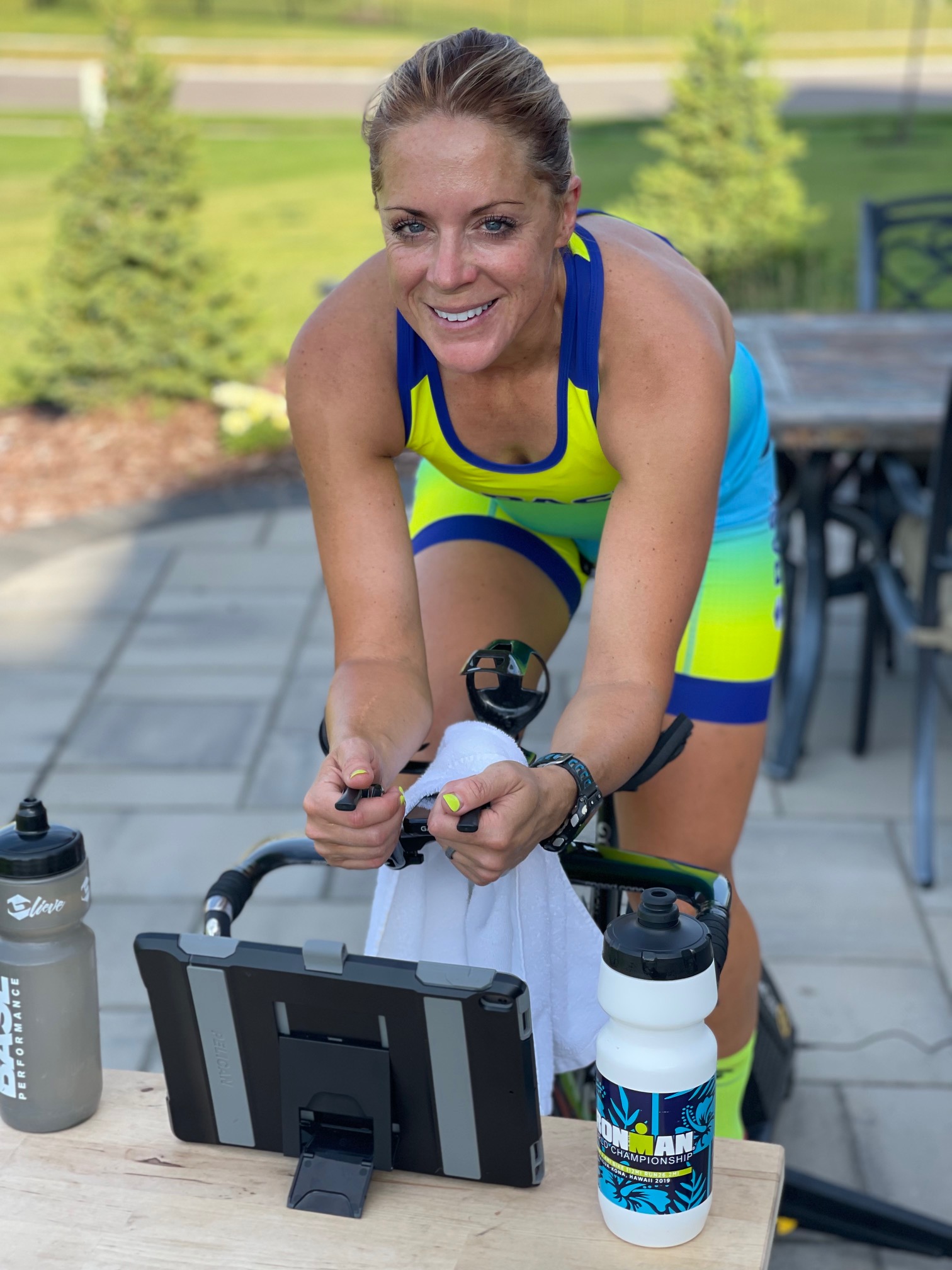 Leah's training setup
I felt I needed redemption on this course. I almost quit IRONMANand triathlon after the race. But the very next day, I wanted to come back! I wanted to find the marginal gains of how to turn setbacks into wins. I got back on ROUVY and trained harder after I recovered. I owe a lot of my strength to training for this course (IRONMAN St George 70.3) as well as the IRONMAN 70.3 Gulf Coast (the course in which I earned my spot to Worlds, earlier this year back in May, by winning the top first place female bike split overall with a solid swim and run).

Riding on ROUVY has prepared me to 'master the course' with visual cues to be able to memorize the map and landmarks, as well as fine tune my power threshold on key segments and overall distances. I use ROUVY with my Saris H3 smart trainer (direct drive) and there's no shortcuts to power training. I know ROUVY gave me the winter base training miles and increased power threshold to be able to get to this point - to get to IRONMAN70.3 World Championships as well as it helped me also qualify for Leadville 100 mtb in 2022 by placing 4th Female Overall and winning my Age Group (F40-49) at Lutsen99ner this year during a 104mi (167km) xc mountain bike race in June.
Join my group rides
This fall and winter, I will be leading group rides on ROUVY twice a month (check out ROUVY events: Leah's Group Ride Social or add my ROUVY Profile: hillakilla - send me a friend request). I will be riding more climbing routes around the world and IRONMAN courses with tough elevation gain, so that I will come back even stronger for races in 2022. I will also be racing online on ROUVY as well.

Thanks to the many volunteers who became heroes during that epic, hard day in the storm.

Thanks to my sponsors.

ROUVY - Saris - BASE Performance - Erik's Bike - Board - Ski - Crud Cloth