Our greatest passion at ROUVY is to allow you to stay fit and motivated, and to make it possible for you to explore the world from your home. So does our new and thrilling 'Around The World in 50 days' racing series!
You're going to explore the remote beaches of New Zealand's South Island, the Spanish mountain monasteries, the Balearic Archipelago in the Mediterranean, the tough Swiss climbs, the steaming hot Brazilian coastal towns and the famous Hollywood Hills.
Unlike Phileas Fogg, the main character in Jules Verne's best-selling adventure novel, you are going to be at no risk of an arrest in Singapore or being drugged by opium in Hong Kong. You are only going to have an incredible adventure and fun while exploring the world on your bike from your home!
The concept of the racing series is simple: Each week, you will discover 3 new routes. While the first half of the week is dedicated to group rides; Fridays, Saturdays and Sundays are racing days!
That means, there are 21 racing events scheduled, with the best 10 results in the series going towards the ranking in the overall general classification.
Most of the 21 routes in the 'Around The World in 50 days' racing series are brand new at ROUVY and below is a selection of the top 7 rides you can enjoy during the following 7 weeks.
Week 1: SERRATED MOUNTAIN
Feel like a pro on La Vuelta and ride to the Montserrat Abbey, an 11th century monastery perched atop a rocky mountain summit. There you will realise where the name comes from: 'Montserrat' literally means 'serrated mountain'. One wonders if these Catalonian pinky limestone formations are a wonder of nature or God's work?
Location Northern Spain
Distance 8.2 km
AVG grade 7 %
Ascent 559 m
Max grade 13 %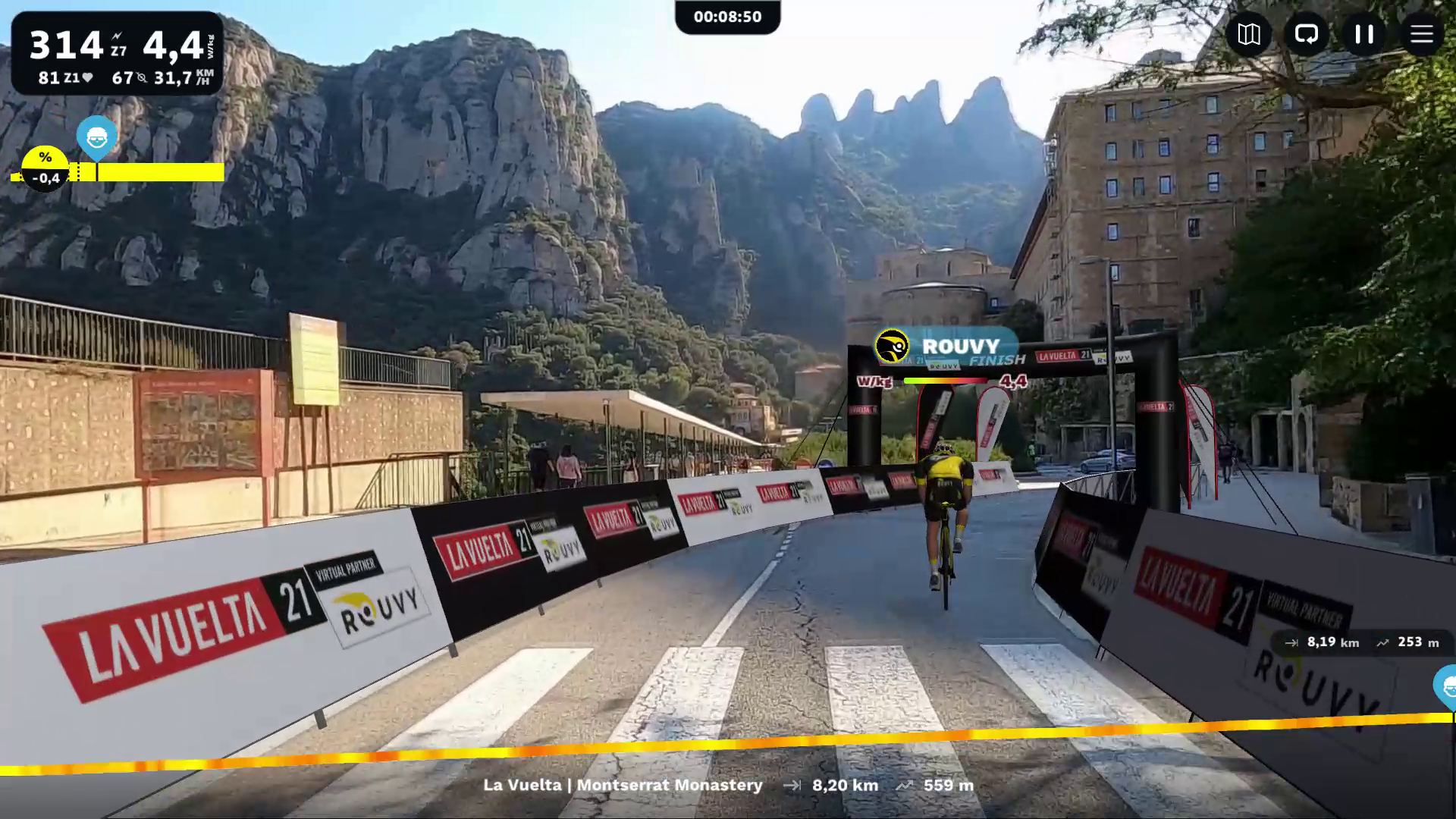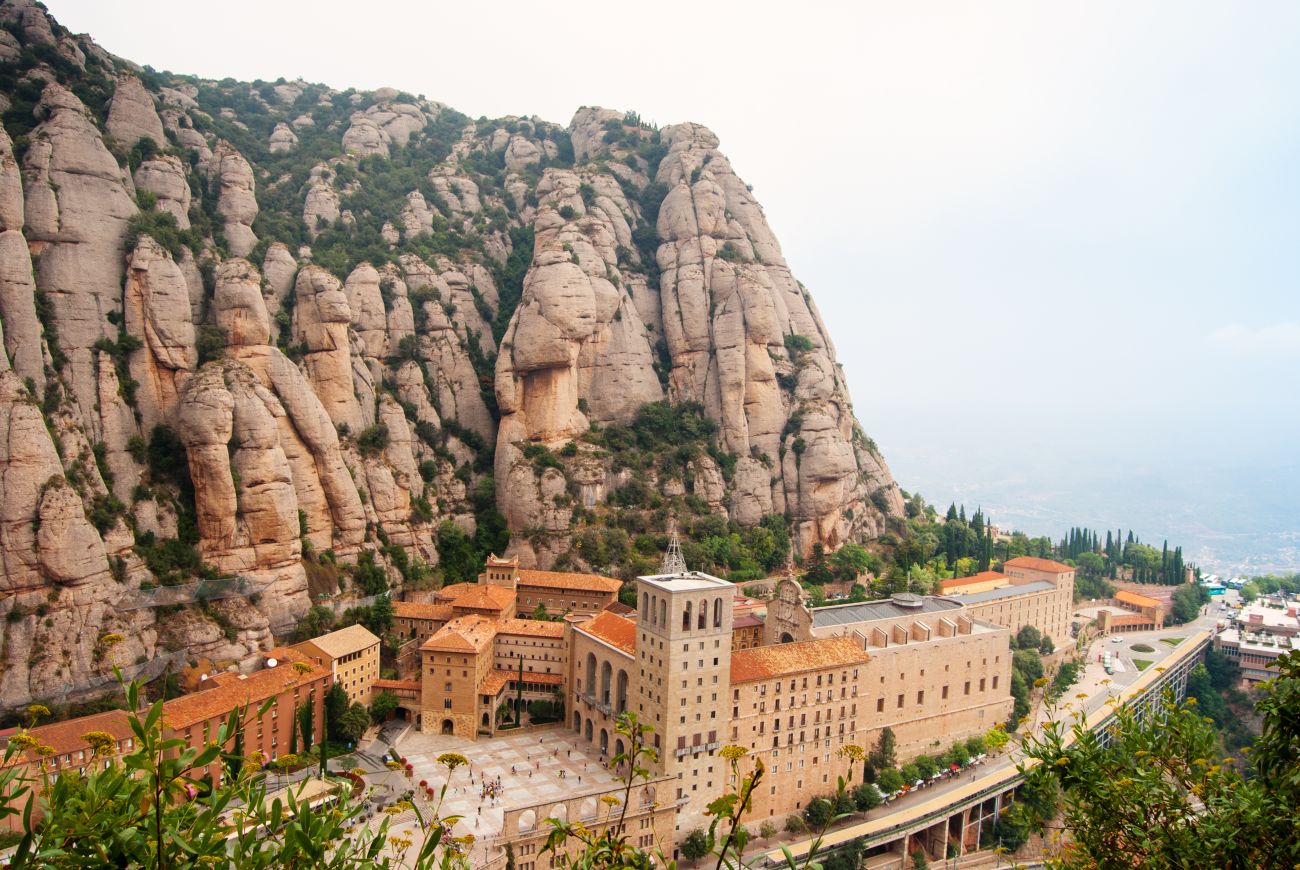 Incredible rock formations of Montserrat
Week 2: BAYS OF BANKS PENINSULA
Every gained meter on this hilly and scenic route on the coast of New Zealand's South Island is worth the effort! You are going to be constantly rewarded with views over myriad bays and coves that are home to the largest Australasian Little Penguin colony on mainland New Zealand.
Location South Island of New Zealand
Distance 30.42 km
AVG grade 3 %
Ascent 840 m
Max grade 16 %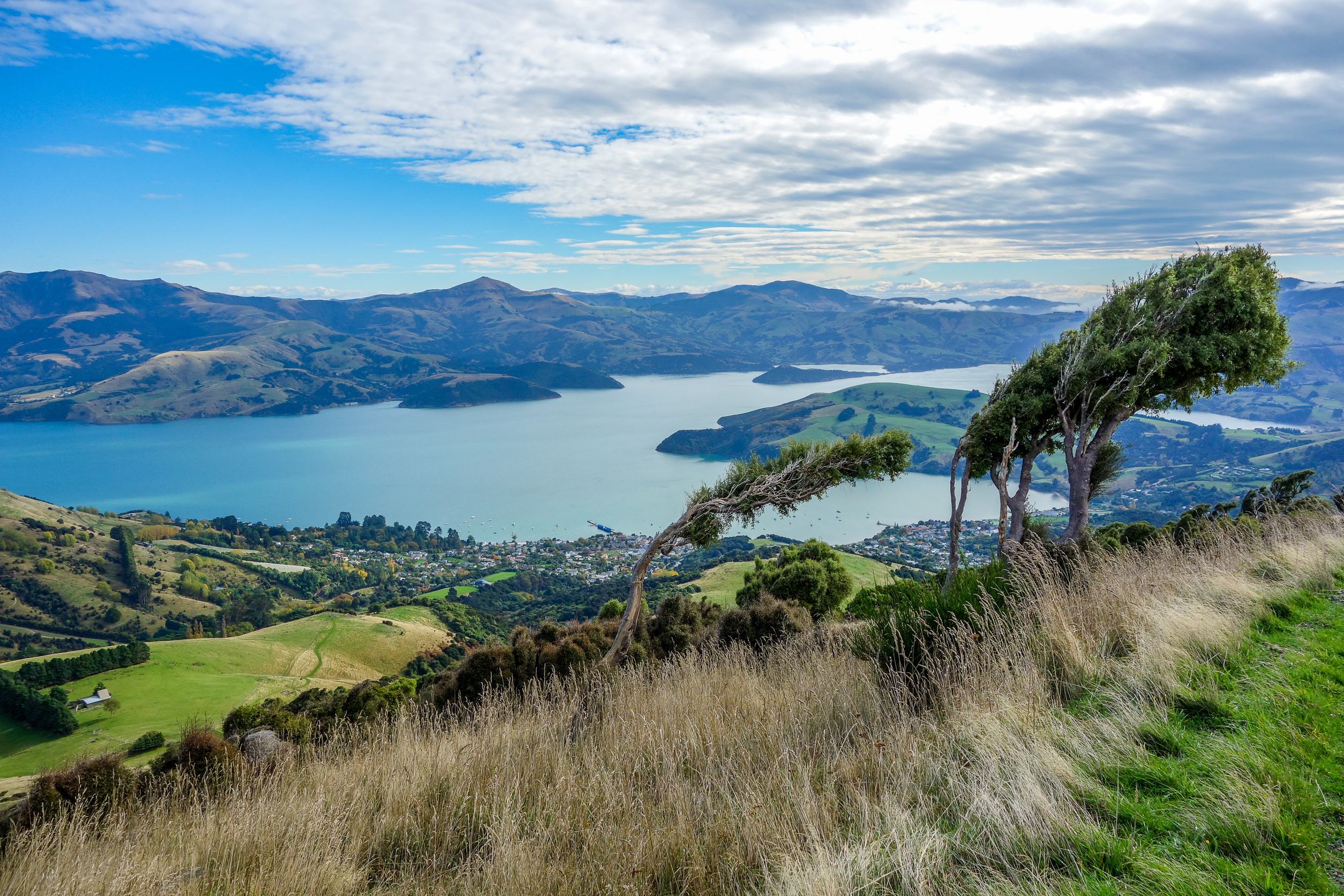 Do you feel more tempted to explore Banks Peninsula now?
Week 3: THE QUEEN OF MALLORCA
Every cyclist who has visited Mallorca will agree that no trip to the largest Balearic Archipelago island is complete without a ride to the Cap de Formentor! Without having to climb much, you can enjoy spectacular views of the turquoise coves and the bays beneath the road, on your way to the most iconic point of the island.
Location Mediterranean Sea - Spain
Distance 11.01 km
AVG grade 2 %
Ascent 253 m
Max grade 10 %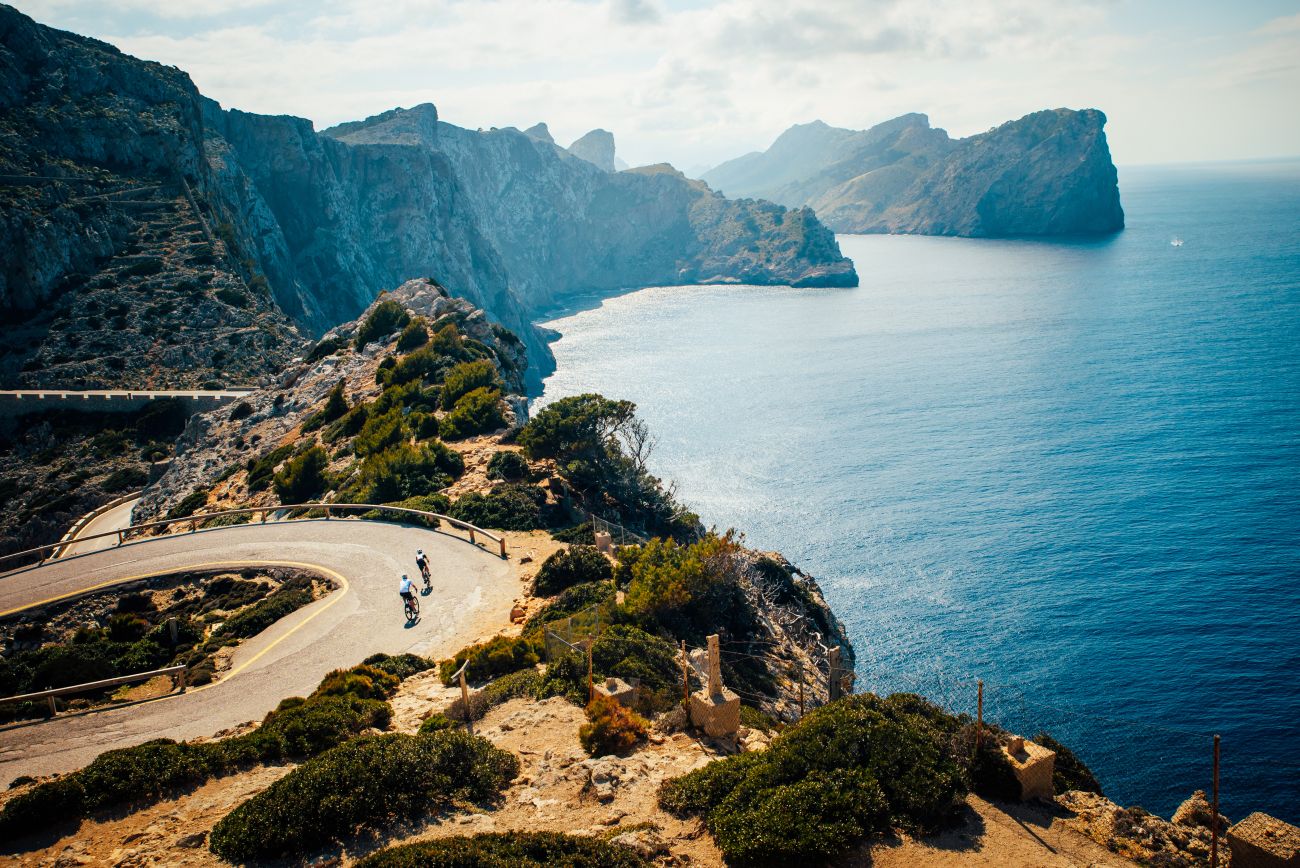 Cap de Formentor is an absolute must
Week 4: ARGUABLY THE MOST SCENIC SWISS CLIMB
It may not be the most famous cycling climb in Switzerland, but Col de la Croix is definitely one of the most beautiful ones. Starting in the vineyards of Rhone valley, you will climb through small villages to the ski resort of Villars. The Col de la Croix climb will put you in a 'Hurt Box' quite a few times, but the view over the Rhone valley and Les Diablerets massif is worth it!
Location: Alps - Switzerland
Distance 20.7 km
AVG grade 5 %
Ascent 1082 m
Max grade 17 %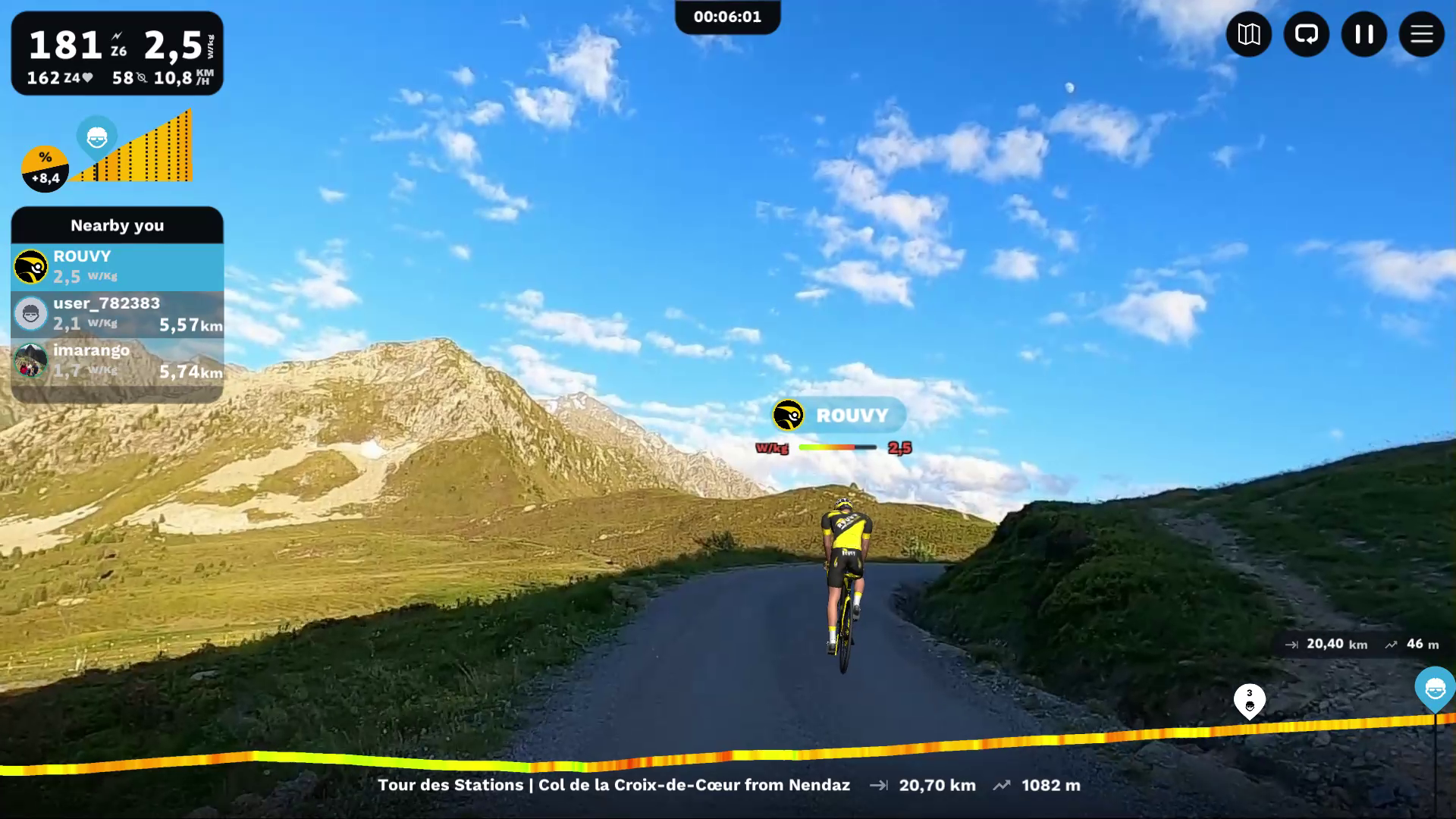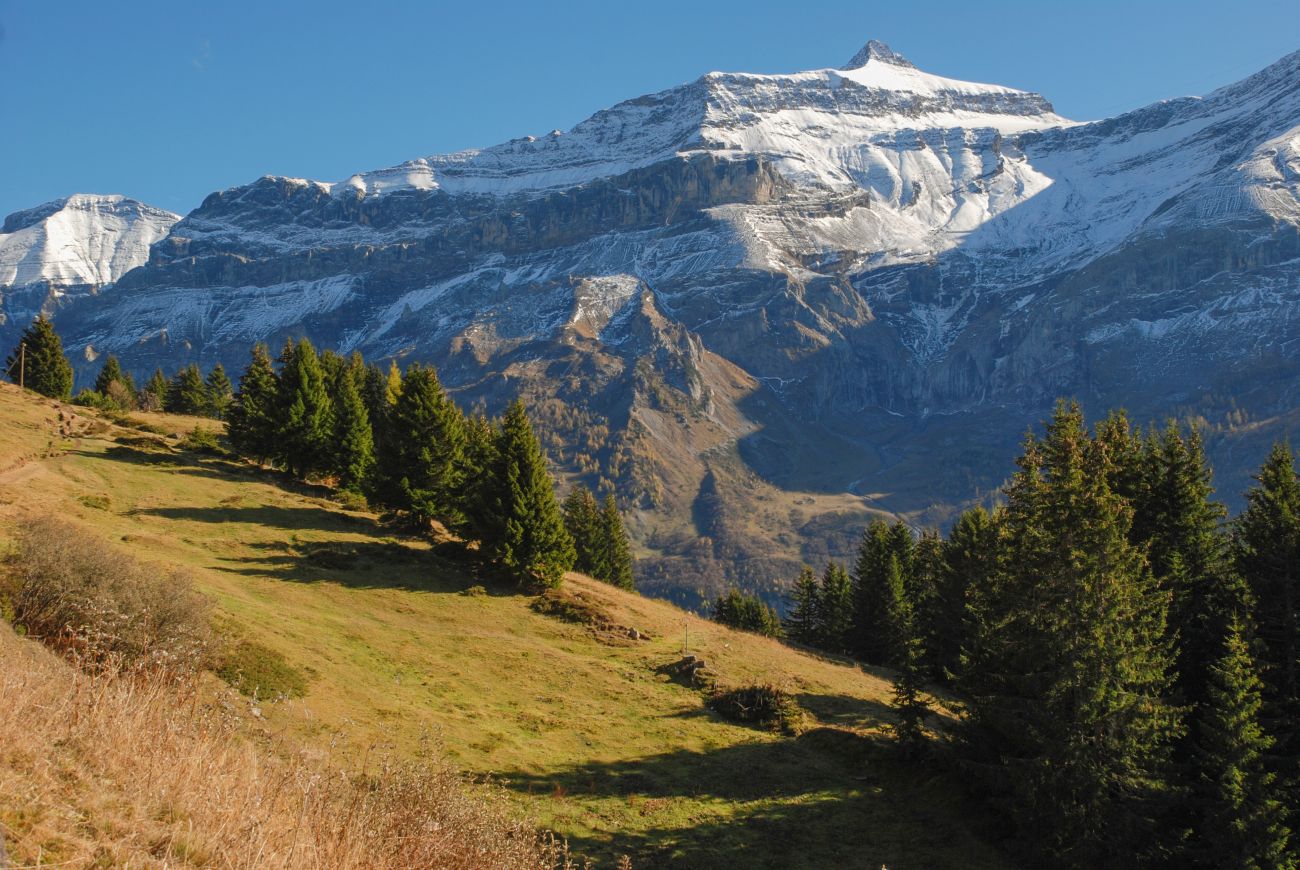 Les Diablerets massif
Week 5: THE CANYON CLIMB
You are going to feel like a Los Angeles resident on a ride through the quiet Mandeville Canyon, on the edge of the bustling LA city and the Westridge-Canyonback Wilderness Park. Low evening orange light and azure sky combined with the red and blue flowering front gardens of this wealthy neighbourhood provide a super tranquil atmosphere on a ride that averages at 3% gradient.
Location USA - California
Distance 13 km
AVG grade 3 %
Ascent 419 m
Max grade 17 %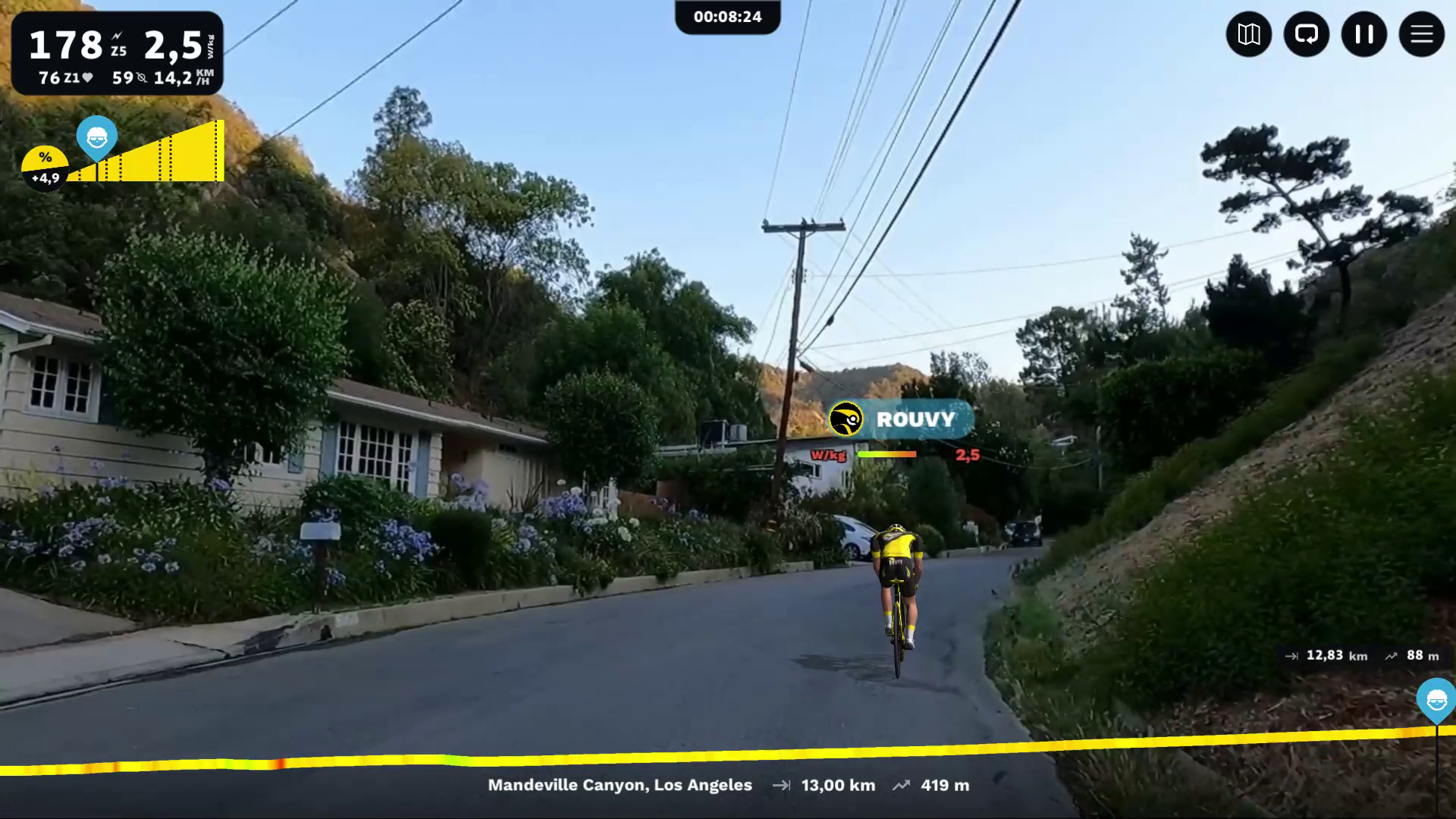 Quiet Mandeville Canyon
Week 6: A BRUTALLY STEEP ALTO DEL GAMONITEIRO
You are going to enjoy La Vuelta stages once more! By far the cruelest event of the entire 'Around the world in 50 days' series is waiting to be challenged. A 30 km distance with nearly 2,000 vertical metres and an average gradient of over 12%, throughout the last bit of the climb, is a clear indicator that only the best of you can make it to the Alto del Gamoniteiro.
Location Asturias - Northern Spain
Distance 29.83 km
AVG grade 7 %
Ascent 1953 m
Max grade 18 %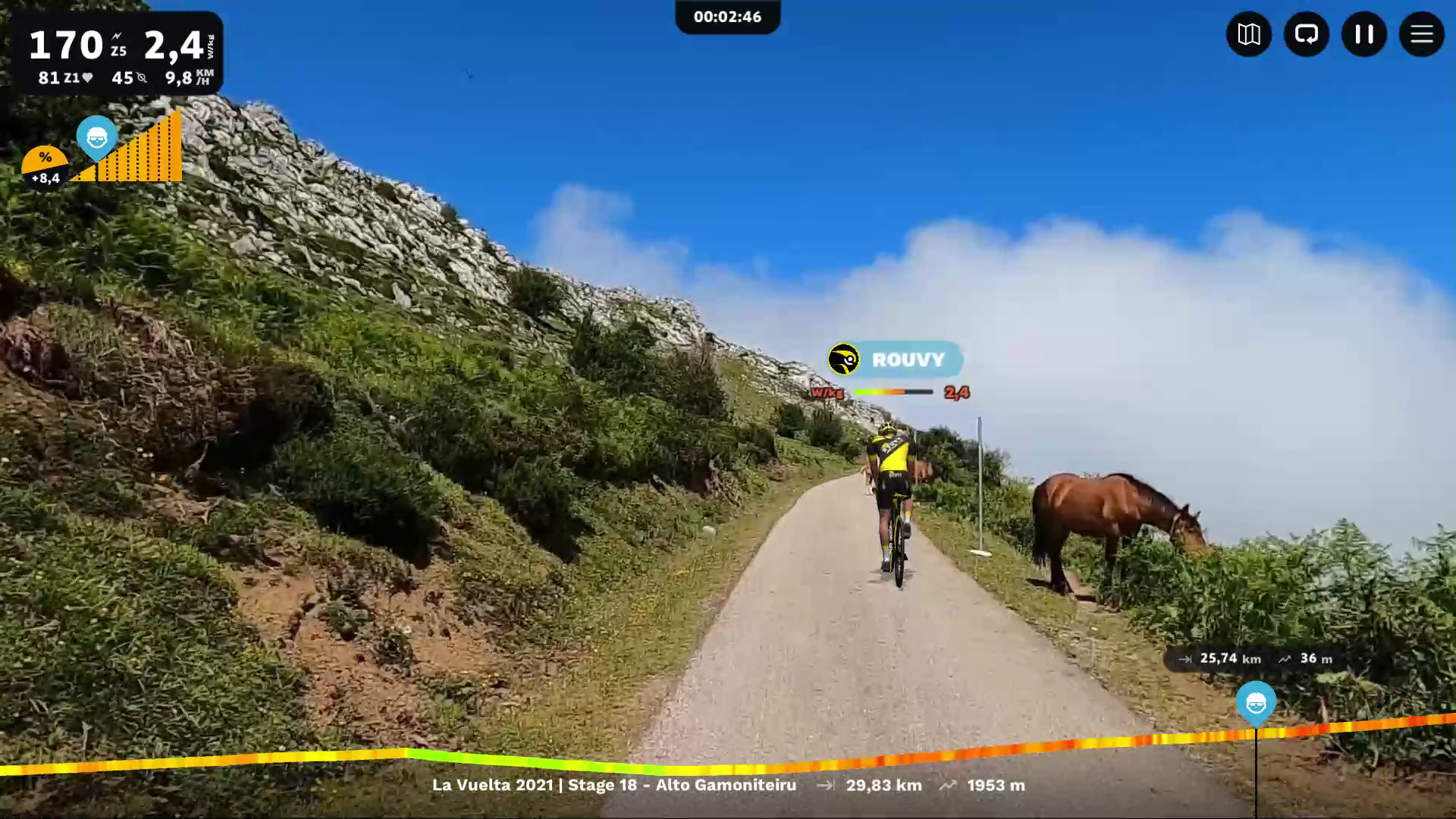 For a few moments, you may feel less desperate, while you stare at this random horse
Week 7: SUNRISE OCEAN RACE
Home to Brazil's arguably the greatest IRONMAN course, Florianópolis is a special place to ride. Enjoy riding through the ocean boulevards of this bustling city before the local roads get busy - right at sunrise.
Location Southern Brazil
Distance 16.98 km
AVG grade 1 %
Ascent 90 m
Max grade 8 %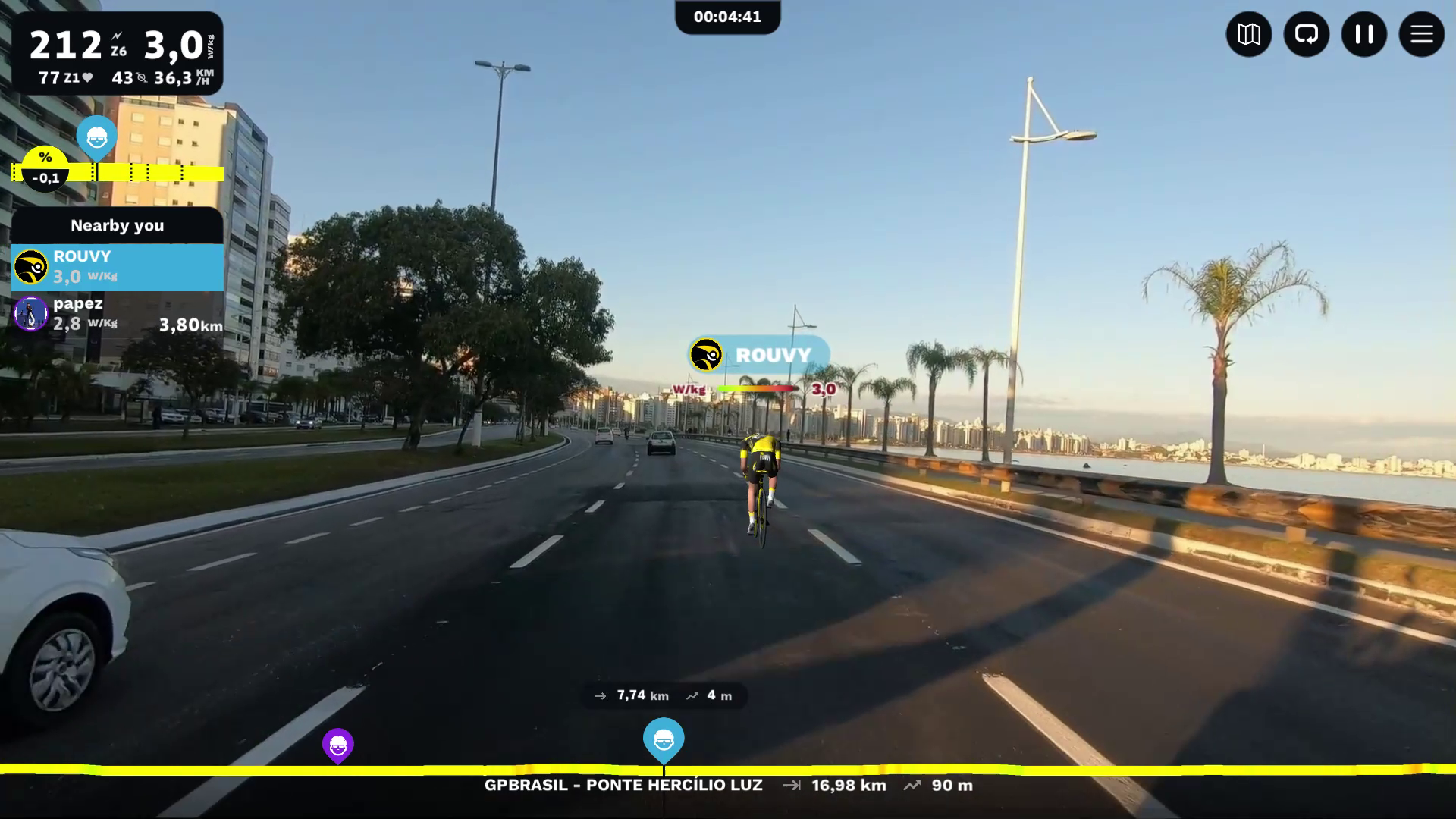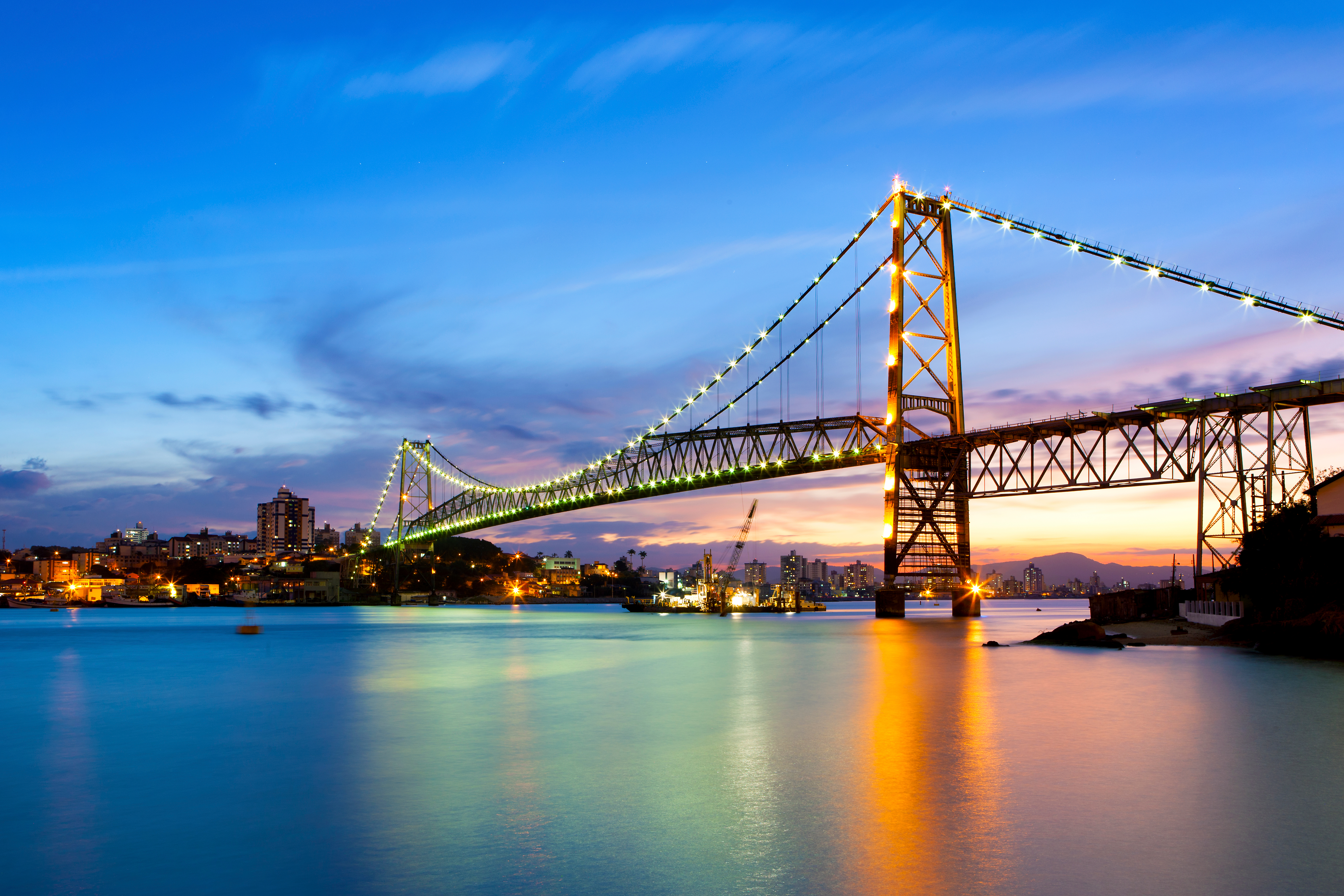 You will ride over a famous Ponte Hercílio Luz
Do you feel tempted to challenge yourself on these epic routes and travel 'Around the world' at the same time?
Sign up for the races and start your journey!
Don't forget to share a picture of yourself in your paincave with a #AroundTheWorldIn5oDays hashtag and get a chance to win ROUVY apparel in a random draw!