Even before thinking about indoor biking from your home, you need to take into consideration your future setup's optimal habitat. Think of where and when you will train so that you don't end up skipping your workout simply because setting up the bike trainer is just too much of a trouble.
Having your own bike is the most common scenario which gives you 3 basic options, each with a different price range and offering different levels of experience depending on the money you are willing to spend.
Even if you don't have a bike, there is a solution for you. Read on to find out!
1. Direct drive trainer
Connecting your own bike to a decent direct drive trainer is not the cheapest option but without spending a fortune, this could be an ideal solution for you. Be prepared to put in a little extra effort before each training session (in case you simultaneously ride outdoors) as you will need to remove the rear wheel to connect your bike to the trainer. Luckily, there are enough benefits from such a setup to make up for this bit of extra effort.
These benefits include power accuracy, resistance up to around 2000 watts and low noise level which all result in a very good road feel.
$ Entry Level: Elite Suito ≈ 730 USD
$$ Mid Range: Saris H3 ≈ 940 USD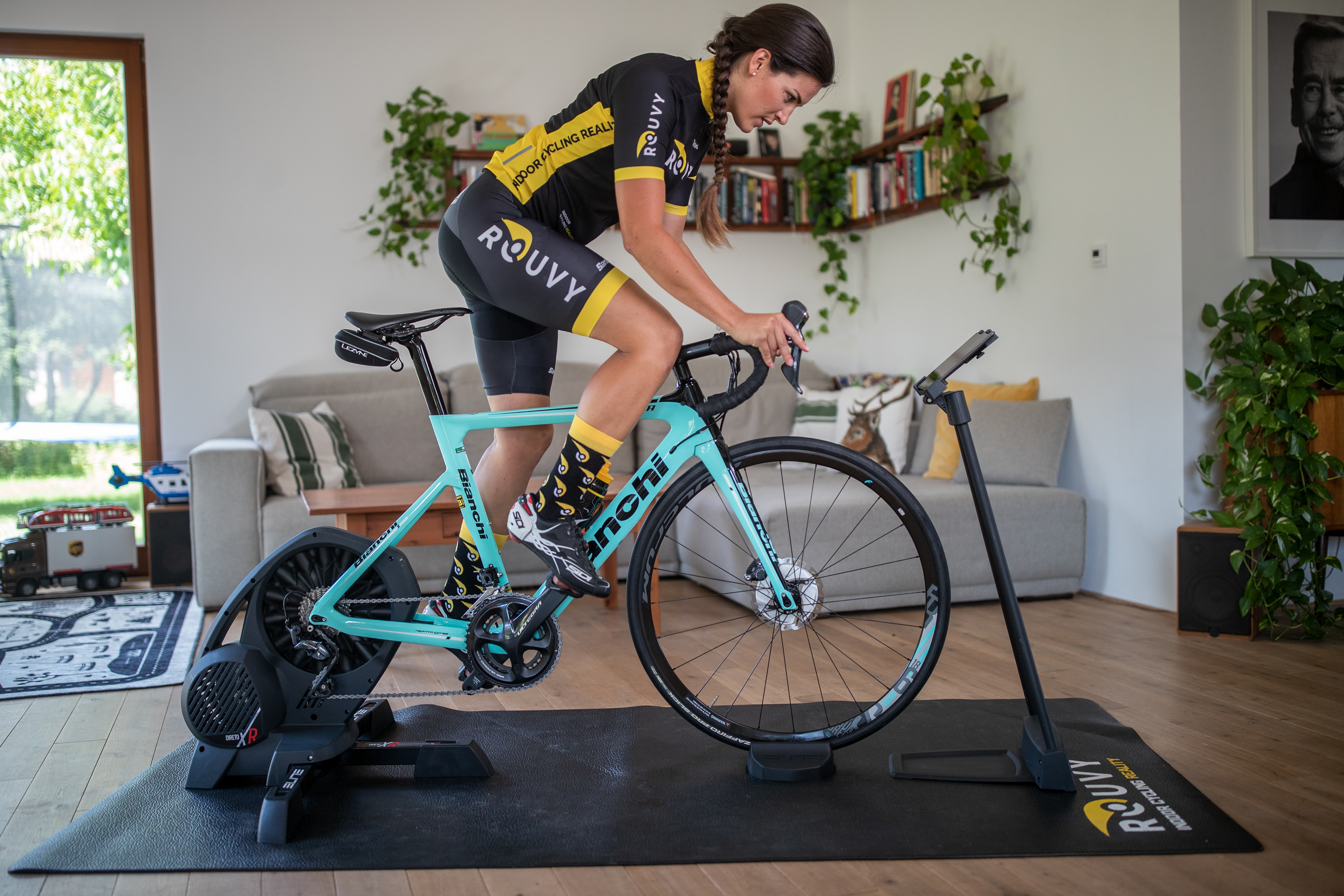 Example of a direct drive trainer setup
2. Wheel on trainer
This option is going to save you a few hundred dollars and most importantly, it will save you the trouble of having to dismount your rear wheel for each training session. These are both good selling points but considering that you would want to have as much fun as possible while spending hours training at home, this option has its limitations.
Lower power accuracy, resistance up to around 1500 watts and higher noise level will mean that you will still enjoy your riding experience but it will be far from the best 'road feel'.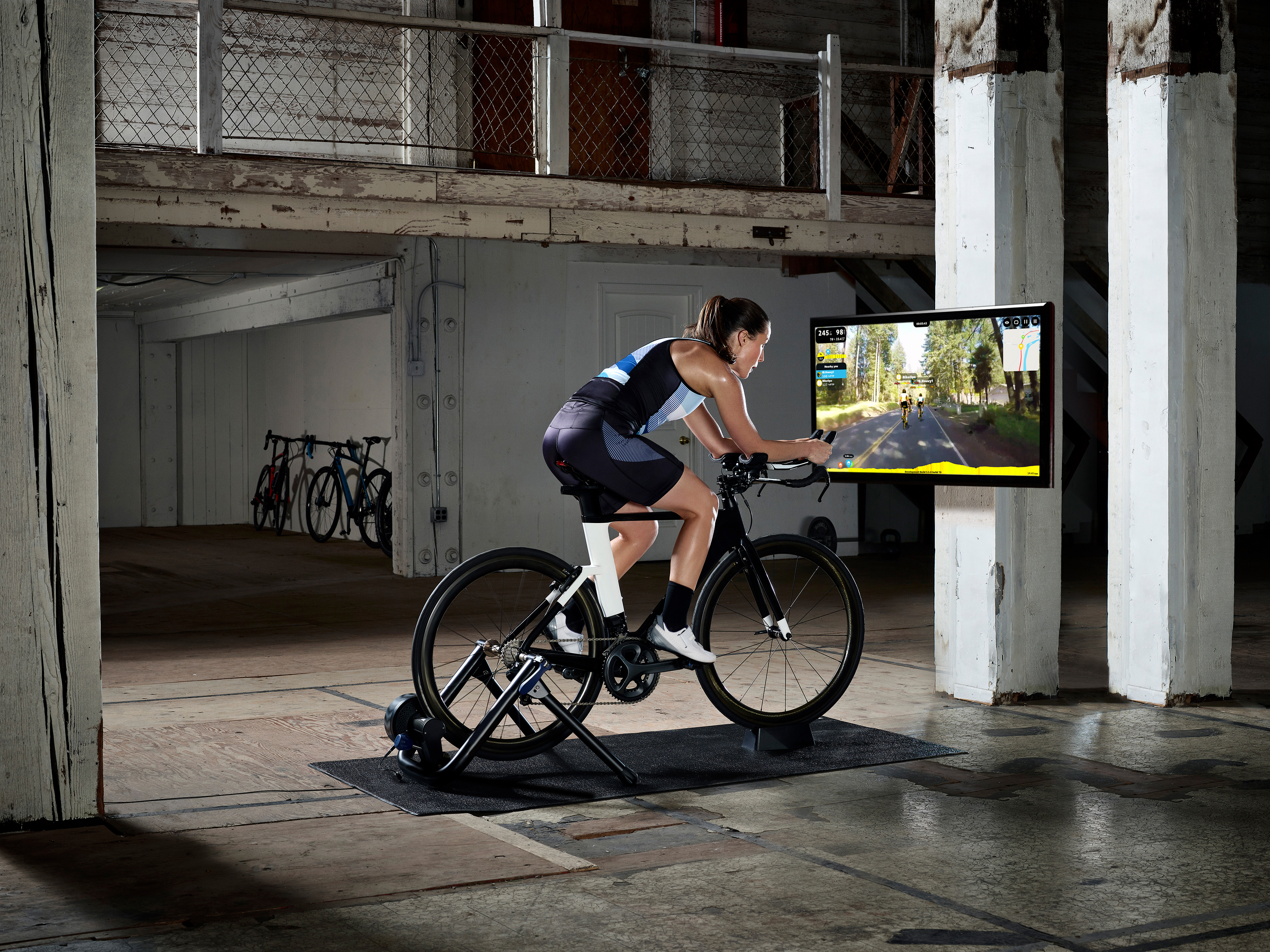 Wheel on trainer
Also remember that it matters what kind of tire you have - if you use your mountain bike, the resistance will be much higher! Plus, don't forget that because the trainer will not maintain the speed, the feel won't be that real. Don't forget to be using longer lasting indoor tyres to save your expensive road tyres which will wear out quicker on the indoor trainer.
$ Entry Level: Elite Novo Smart Turbo Trainer ≈ 360 USD
$$ Mid Range: Wahoo Kickr Snap ≈ 500 USD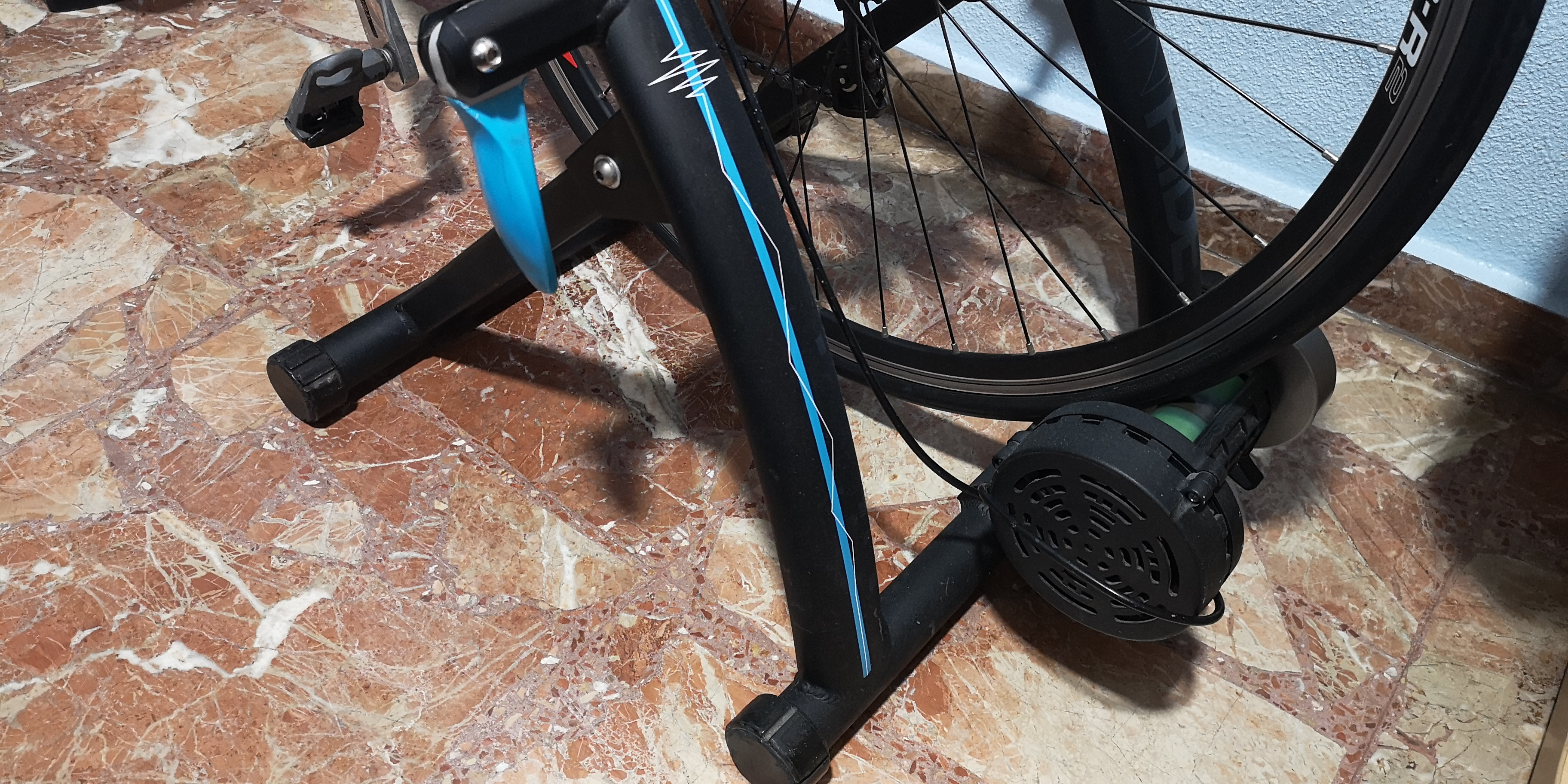 Wheel on trainer: Lower power accuracy, resistance up to around 1500 watts and higher noise level
3. Dumb (classic) Trainers and Rollers
Using rollers is not the best option in terms of delivering the highest possible realistic feel. It's simply because rollers don't change the resistance when you're climbing; although, the feel from pedaling itself is very natural. Also, your indoor cycling bike needs to be equipped with cadence and speed sensors so that the app can approximately calculate your effort.
Dumb indoor bike trainer combined with speed and cadence sensors is a simmilar option.
If you should already own rollers or a dumb trainer, it may be a good start. Just remember - if you feel it's not much fun, try a direct drive trainer before giving up on indoor training for good!
$ We are not giving an example setup here as we don't recommend this option in general.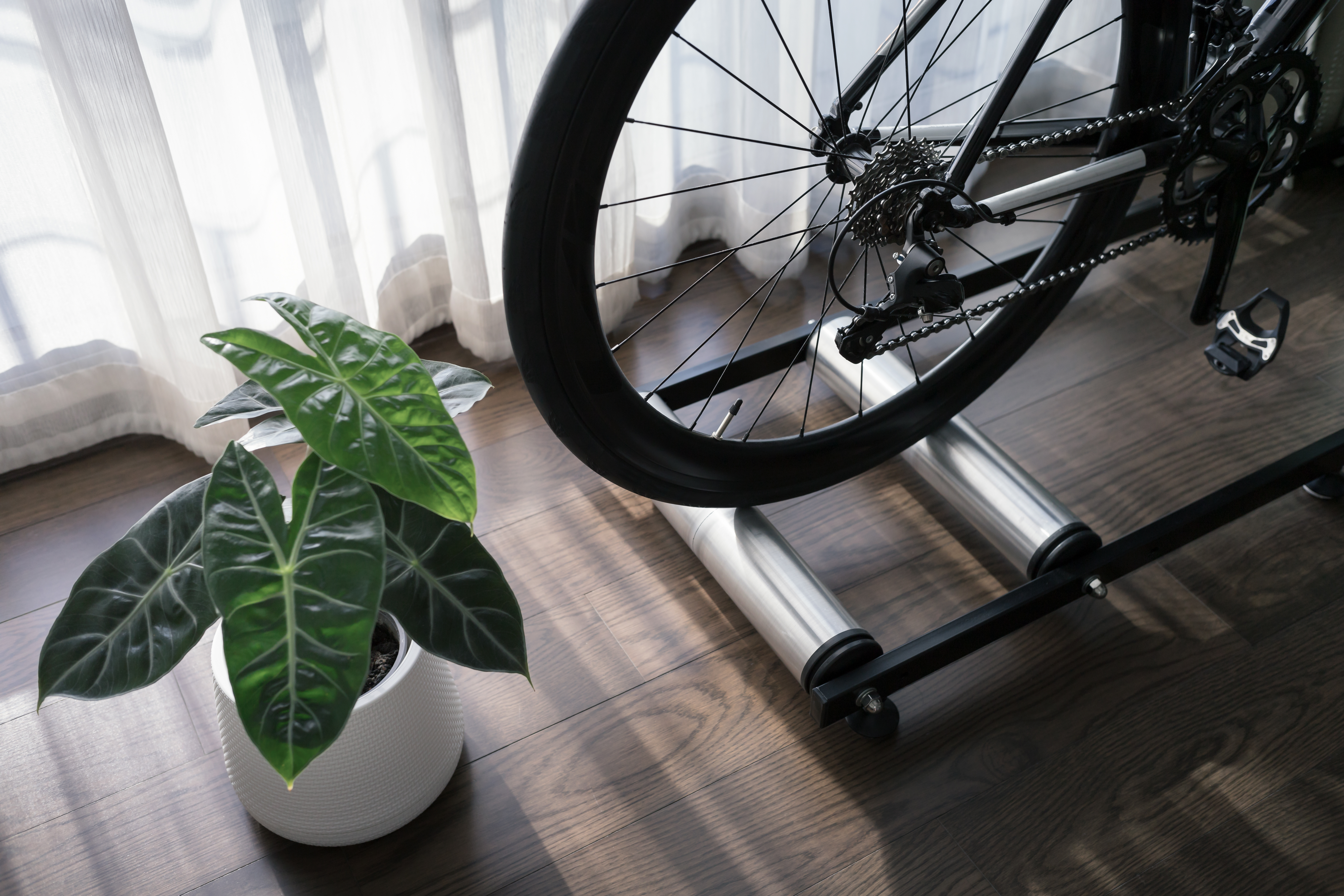 'Rollers'
4. Smart bike
If you don't have your own bike, there aren't many options available. One suggestion is that you go for a smart bike which is by far the most expensive option but at the same time the best, if accuracy and ride feel are your priorities. Also, you need to make sure you have enough space to fit the smart bike in your home. Considering it could weigh over 50 kg, you do not want to drag it here and there before every workout.
Not having your own bike, there is also another solution - the simple option of buying an entry level road or mountain bike and then choosing between any of the first three options above.
$ Entry Level: Tacx NEO Bike Smart ≈ 3100 USD
$$ Mid Range: Wahoo Kickr Bike ≈ 4000 USD
Whichever of the first three setups you choose, here are some extra (essential) tips to make your experience a more enjoyable one:
Block
Unless you want your whole ride to feel like it's going downhill, you need to support your front wheel. Cheaper block costs around 10 USD and will for sure provide better service than a thick book.
Screen Setup
We could spend days discussing what the ideal solution for your screen setup would be. To start with, go for a music stand together with any tablet, it doesn't matter if it's iPad or Android. High-end solution would be an on-wall TV screen combined with Apple TV.
Fan
It's next to impossible to train at home without at least one fan, otherwise you will find yourself soaked in your own sweat and desperate.
Mat
Even with two powerful fans, you will still sweat. Believe us. A mat prevents your floor from becoming a swimming pool and keeps your downstairs neighbor sane - even the best indoor bike trainers are noisy.
Unless you want to be tethered to your screen by wires this is your only option, in case you want to listen to your favorite Spotify playlist.
It's just fine to use any base layer you already have in your wardrobe. Just be sure to wear functional and comfortable bibs. Comfortable is the keyword here.
Towel
It's simply more convenient to wash your towel than to clean a mat after your session.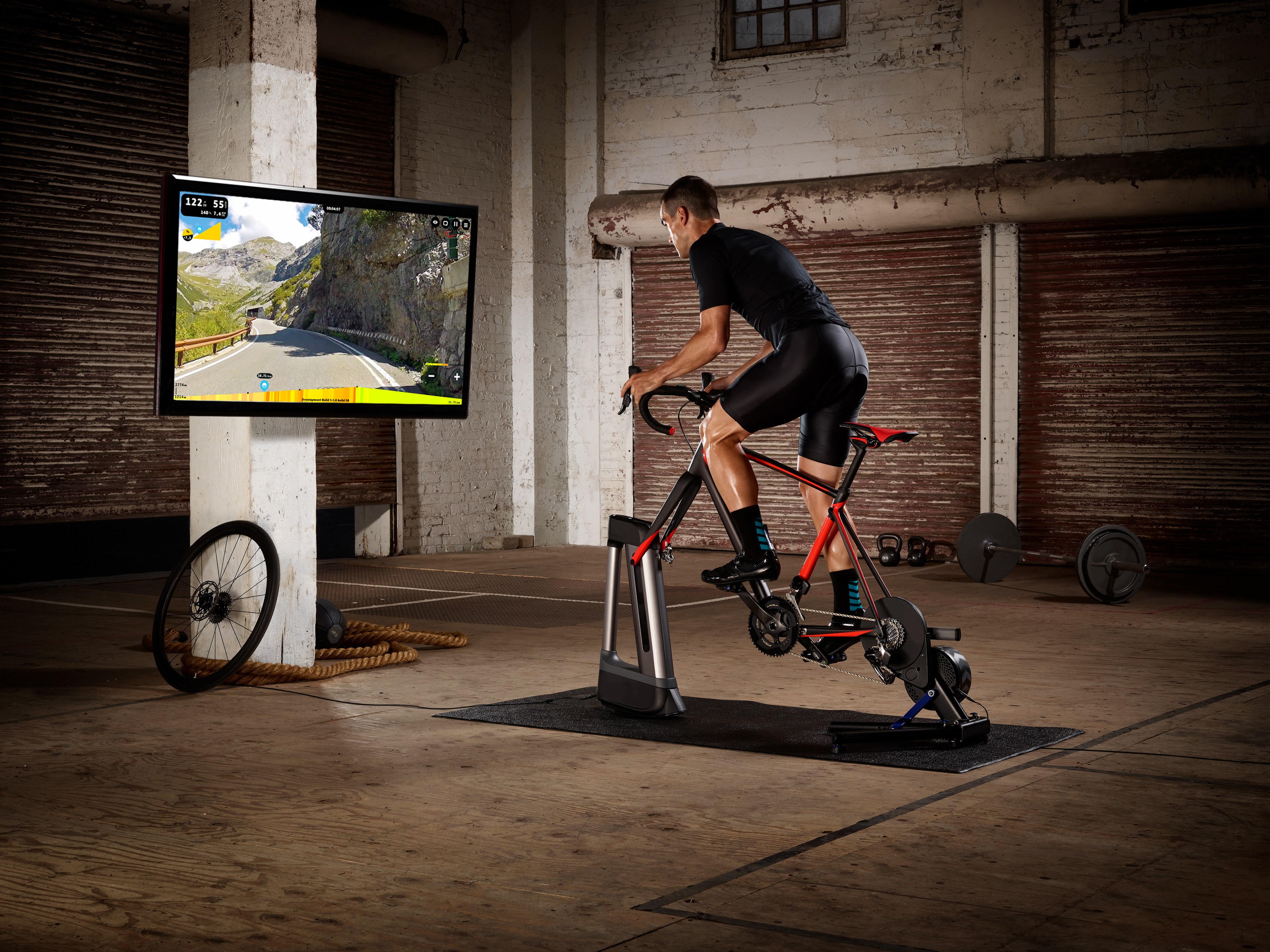 Front wheel Riser block improves your climbing experience (Wahoo Kickr Climb)
Lastly, you need to pick an ideal app! To help you make the best choice, you can read our 'Why you should look for a Zwiour alternative this winter' blog post.
Hope you now have a better understanding of how to find the best budget bike trainer for you! You still don't? Ask for help in comments, our experts from Customer Support (all of them avid road bikers and smart trainer users) are happy to help!