After becoming a Rouvy Legend, Karel Soušek ('soushek' in Czech pronunciation) continues to conquer the best racing on ROUVY around the world and this time, he is taking on Spain. Here is his take on the La Vuelta race series.

Hi Karel, we welcome you to the 2021 Spanish Grand Tour series!
Thank you and special thanks to my team members organizing La Vuelta Virtual events.
Overall, please give us a brief overview of your athletic and personal background.
I played football and tennis as a teenager, but my cycling career started way later, when I was around 30 years old.
What is your greatest achievement as a road cyclist?
I hold a couple of overall TOP10 positions and podium finishes, in my category, in the famous Czech road marathons races. Together they are part of the road marathon series called 53x11 which involves 4-5 races each year. Here too, I finished on the podium a few years back. I have also won a few trophies from the local amateur races in my area.
You have now completed some of the stages of the virtual La Vuelta a España on ROUVY. What is your impression so far?
I really like them, especially because originally I did not plan to attend the first two stages, as we have the proper summer weather in Czechia. When the first stage took place on Sunday evening, I had already completed an outdoor ride (222 km - 3333m up) on Saturday, and then the same 222 km on Sunday, just in reverse order. This was a crazy weekend in itself. On top of that, I don't think anybody else would consider doing a virtual race that day! But my team friend challenged me an hour before the race start, so I could not resist trying the first stage, also because I follow the real La Vuelta on TV these days and it was really tempting. To my biggest surprise, my performance on the virtual race was good even after those long outdoor rides, especially when looking at the watts and heart rate.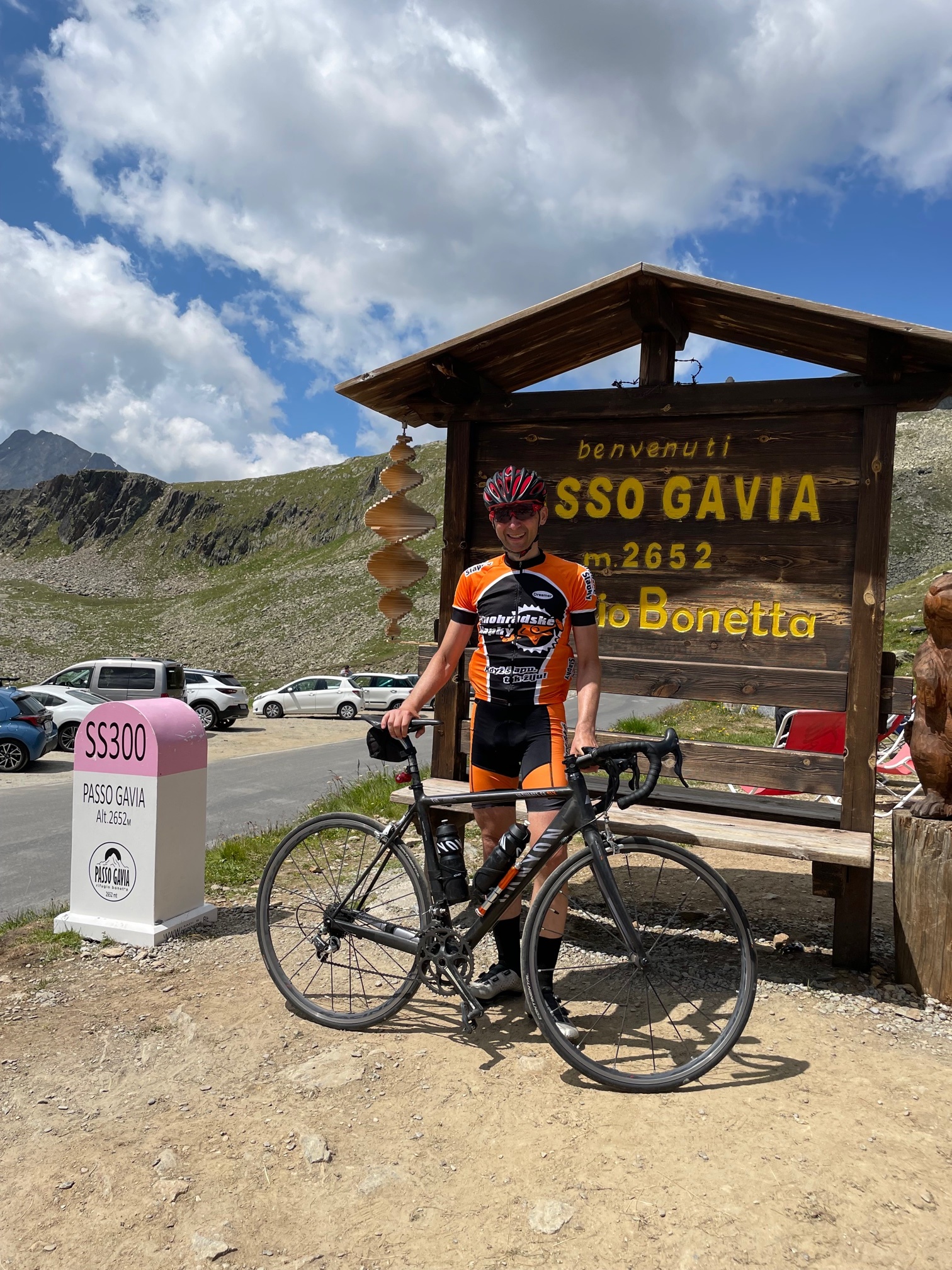 Another tough and famous climb. This time, it's Passo Gavia in northern Italy
How does it feel to try and chase down the PRs of the World Tour pros? What do you think are your chances of matching their times on certain sections on the virtual leaderboards?
It is challenging to me, but I know where I belong and that I cannot compare with the pros. My main goal is to compete with other ROUVY athletes, whom I have acquainted myself with over time, through the platform. There are some athletes that I met on the races since the winter, plus the new riders trying the ROUVY platform.
As of today, you are ranked 4 in general classification of La Vuelta Virtual - EU. How did you manage that and what is your race strategy?
The key is to start strong and put maximum effort in the first few minutes. Then, you will settle down in a smaller group and you can start to think about your race strategy. The strategy will depend on the route distance and the profile.
How do you like the selection of stages that ROUVY picked for La Vuelta Virtual? Do they match your racing style or would you prefer different sections/different stages?
Personally I prefer hilly stages, so I'm looking forward to the upcoming ones, as the first three were mostly flat. On the other hand, even those flat stages were both exciting and very hard, so I really enjoyed them. Great selection from my team members.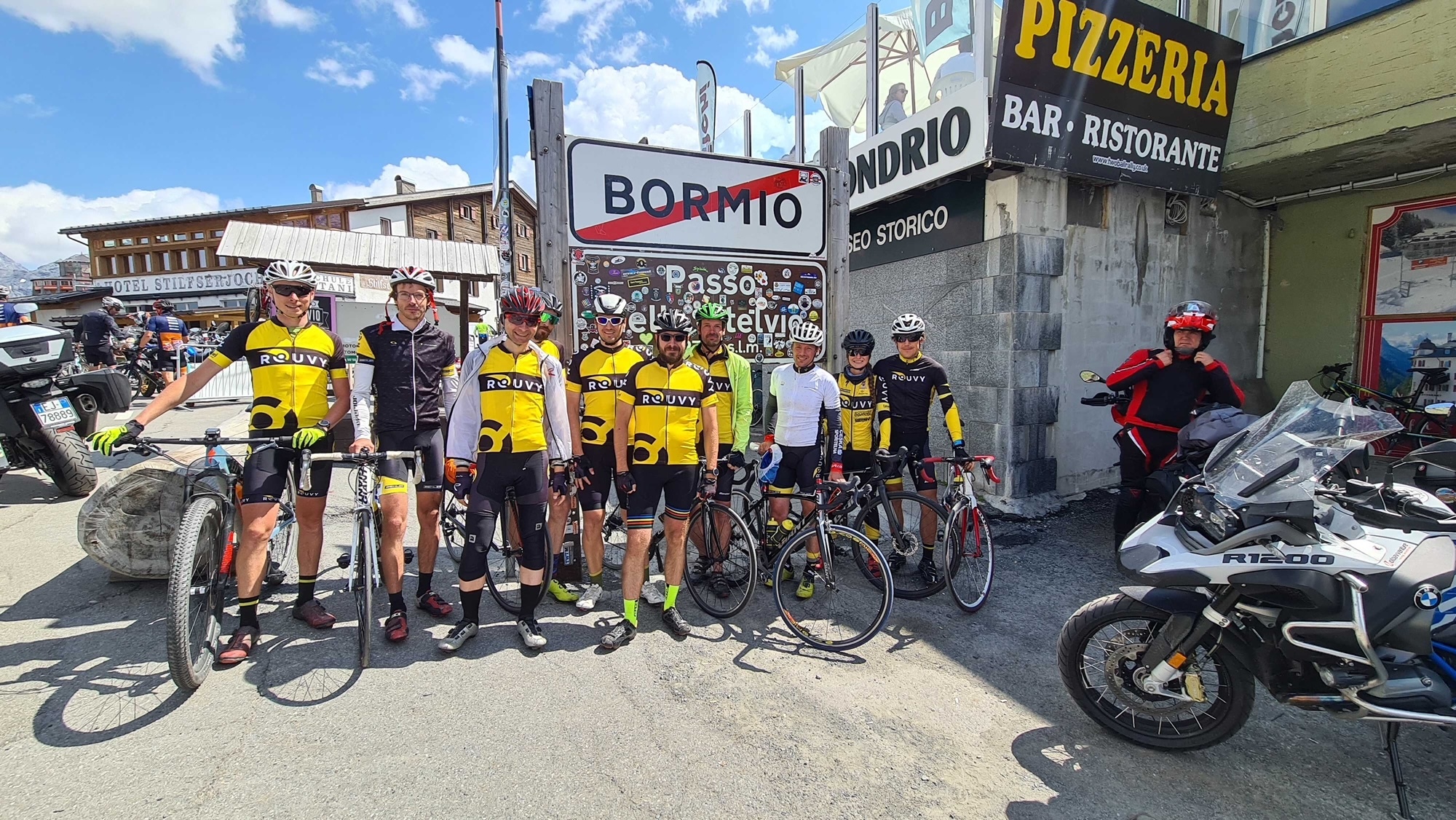 Karel stands third from left, ready for the Stelvio climb in Italy
Have you ever ridden on any of the routes of La Vuelta in real life?
I have not, except for a few sections from the previous La Vuelta races. Few years back, I went from Granada to the Pico de Veleta climb (highest paved climb in Europe), but I think that La Vuelta will not go there this year.
Have you managed to draft a group of riders in a race by being at the right place and at the right time? How much energy do you think you can save on a course with drafting tactics?
Drafting is the key in races, especially on flat and descent sections. Whenever I can draft, I use this feature and I really feel the difference not only physically but also on the app screen, where I can see how much watts I'm saving. After the recent physical model update in the app, it really works like in reality.

Do you follow the La Vuelta Tour ? What are your thoughts on the current general classification so far?
I do follow all Grand Tours, so I follow La Vuelta as well. We are in the first week, the key stages will come in the third week and anything can happen. My personal feeling is that Egan Bernal will likely be the overall winner.
What is your impression of racing on the same stretches of road as the La Vuelta pros are riding on, albeit in shorter sections?
It's a great idea and concept. When I was a novice on ROUVY, as a user, I thought that it would not be hard and challenging enough for me to do shorter sections, but quickly I learned that even a 30 minute La Vuelta Virtual race can hurt more than 9 hours of riding outdoors!
Šumava Mountains and Prague is where Karel feels at home
What excites you the most about riding on ROUVY?
I joined in November last year, when winter approached my country. Before that I trained in cold, freezing rain and snow outdoors. So this was more than a welcome change, especially when I realized that I can very effectively train to improve my intensity via Events. I was also quickly attracted to the Career mode and last but not least, I love exploring routes that I would not normally do in reality. So I spent almost the whole winter training on ROUVY, which explains why I became a Legend later on.
What do you find most enjoyable about working for Rouvy? How do you find a balance to enable you to fit in your training and racing?
I love that I work on a product which has a real impact on our customers and improves their lives. With ROUVY, you will improve your fitness performance, explore new places and meet new people. My goal is to improve our website experience so it will be simple to use but also innovative, and attract many more customers. As for balance, luckily I can clearly distinguish between work and being a ROUVY user.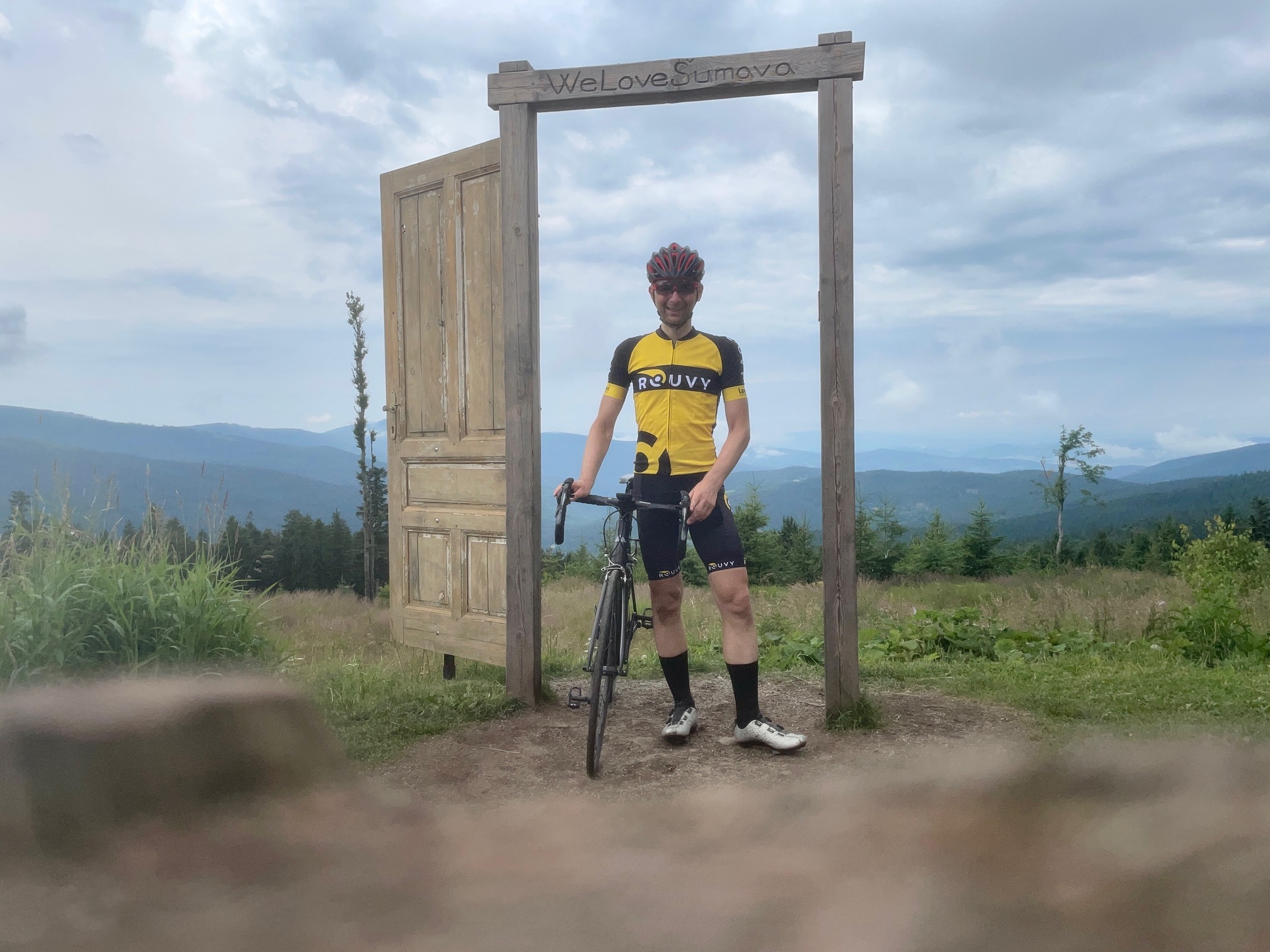 Karel, on one of many afterwork rides
Finally, do you have any words of advice for the ROUVY community in terms of trying out the LV Virtual and the ROUVY races in general?
Try it till you can, as the series goes to the final stages quickly. It doesn't matter if you compete for the podium or for the 50th place. More athletes in the race, more fun for everyone!
Thank you for the interview Karel!
We hope you enjoyed it as much as we did! Guys, if you have not yet registered for the La Vuelta race series, go ahead here and try to beat Karel's times on any stage.