The team@ROUVY is happy to bring into the spotlight his inspiring stories and great tips worth following. Bound indoors by long Canadian winters Larry has probably ridden more indoor hours than anyone else. We're happy he found some time to chat and share his thoughts on why joining the La Vuelta race series is a must. :) (You are welcome to find out more about this prominent amateur rider here.)
Hi Larry, we welcome you to the Spanish Grand Tour series!
Gracias!
Overall, you have started with the platform long-ago when there were no augmented routes with the visual animated multi-rider mode. Is it a game-changer for you? Do you prefer the AR rides over lonely sessions now?
It has taken a while, but I have to say that yes, I do enjoy the AR rides more than the non-AR rides. I still do non-AR rides, but the AR ride features have definitely brought a new level of interest and excitement for me.
You have completed the first 3 stages of virtual Vuelta a España on ROUVY. How do you find them?
It has been a fantastic experience so far. I had read the promotional material and was excited to see that the Tourmalet climb would be included. So I decided to enter Race 1 to see well everything worked. For me, using Windows 10/ ANT+/ Tacx Neo 2T, the system worked perfectly.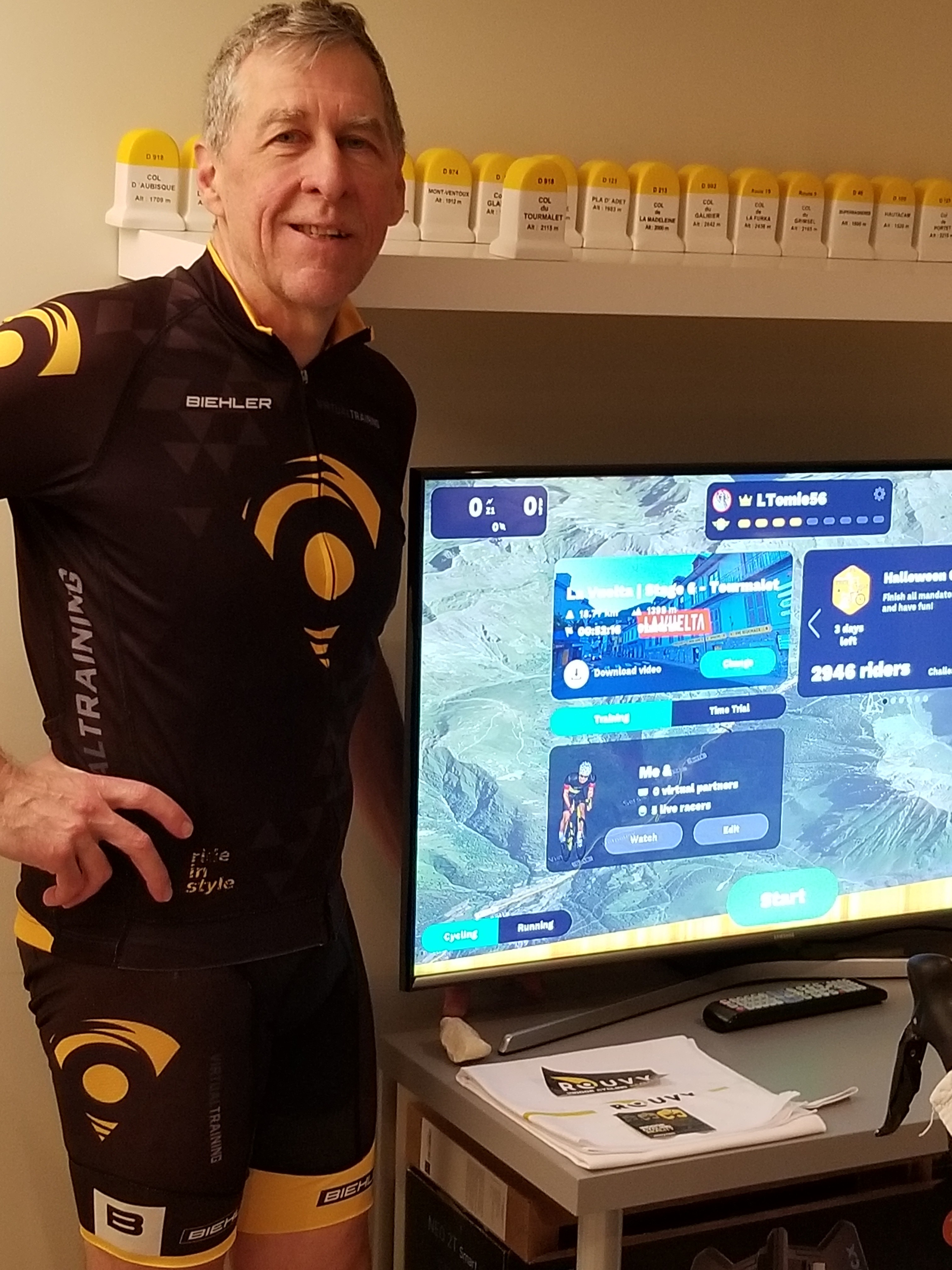 [ROUVY Legend - Larry Tomie, Oct 29, 2020]
Great to hear! How does it feel to climb legendary mountains like Tourmalet?
Race 2 - Tourmalet was exactly what I had hoped for and went as planned. I maintained a consistent 90 % FTP, until the last two kilometers and then was able to increase my effort (a bit !)
Race 3 - I should have pre-ridden the final climb. I totally misjudged how hard it was, and struggled to finish!
3 back-to-back stages during the weekend are really challenging, does that bring a feeling of being a Grand Tour rider to you?
Coming up, we race three consecutive days. On Friday, I will be very careful not to extend myself, because Saturday brings 2,193 meters of climbing. To put that into perspective, Granfondo Stelvio Santini has "only" 1,448 meters of climbing. So I expect that Saturday will take me well over three hours. And then on Sunday, the course is only 12 km, but 1,230 meters of climbing. That's about 130 more than Alpe d'Huez.
Have you ever tried the routes of La Vuelta in real life?
I have had the opportunity to ride Tourmalet, but I did it starting in Campan and then descended down to Luz Saint Sauveur, so the reverse direction of this year's La Vuelta.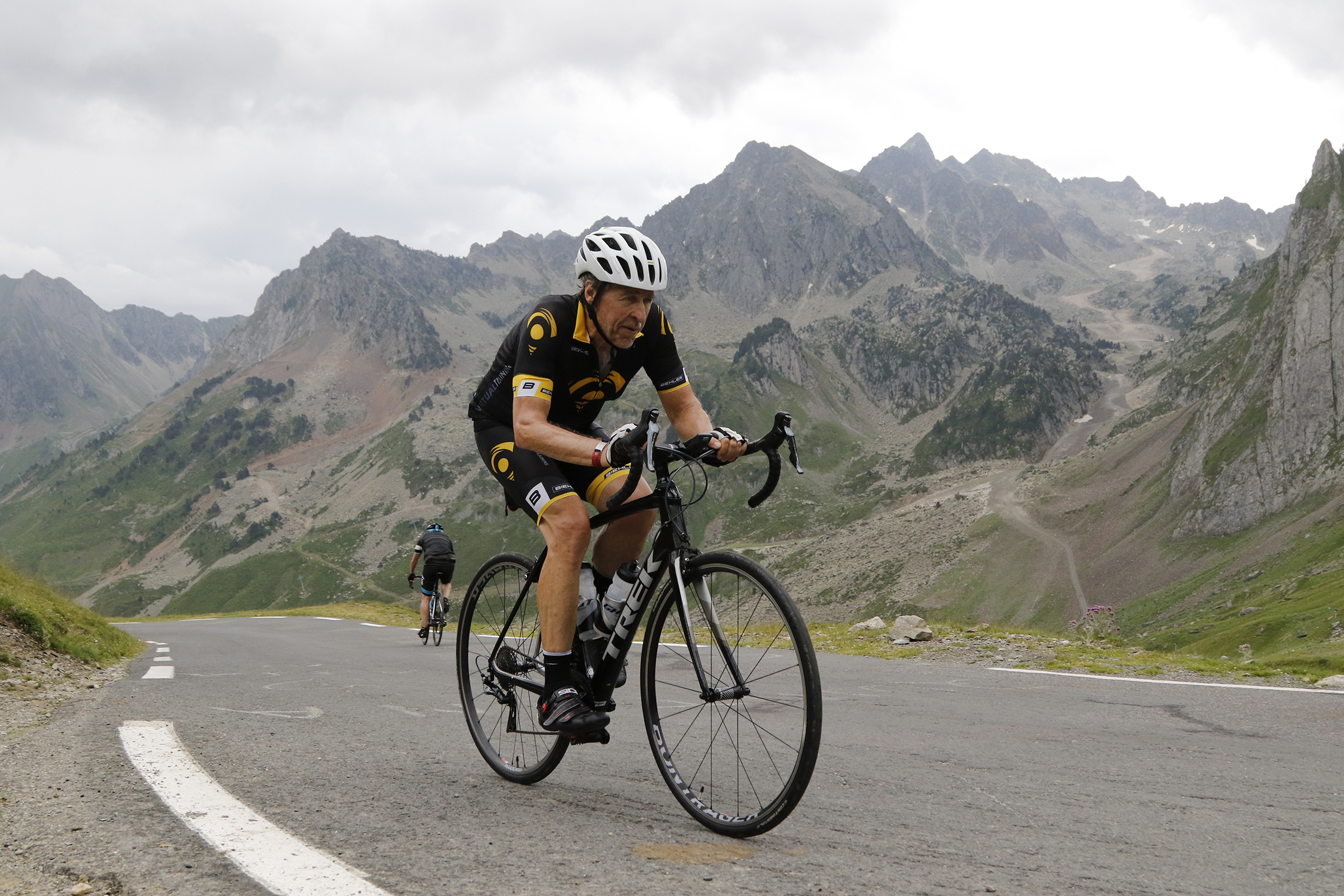 [Larry Tomie is summiting Col du Tourmalet in 2018]
From your point of view, is trying to complete at least two stages in a row worth the effort for the beginners?
I would encourage beginners to try two stages, but choose carefully. Perhaps, the last two as Race 7 has only 700 meters of climbing, then you can rest/recover for a big effort on Race 8 with its 1,611 meters of climbing.
Are you looking to finish all 8 of them? What is it going to take effort-wise?
My hope is to finish all eight races and then look to see how I did in my age group. I would like to mention how detailed the race results are from SportSoft timing. Having splits every two or three thousand meters is very interesting (these recordings happen behind the scenes and do not show while you are racing) and of course I love the 60+ age group.
How much have you relied on drafting? How much energy do you think you can save on a course in average?
I still haven't decided how much the drafting helps me. I have used the drafting effect to rest and recover when I have caught up to a group, before attempting to increase my effort. Unfortunately, during the last race, struggling up the final climb, there was not much of a draft to be found!
Does completing the 8 routes of Vuelta bring you closer to the feeling that pro riders go through in 3 weeks of the tour? Can you imagine how hard that could be?
Racing these 8 stages, from the comfort of home, is much different than what the professional cyclists have to undertake. I was fortunate to do a 7-day stage race from Geneva to Nice. Dealing with different hotels, meals, etc was incredibly challenging. I can't imagine doing it for three weeks.
Do you follow the La Vuelta races? What are your thoughts on the current general classification?
I live in Ottawa, Canada, home of Michael Woods! Winner of Stage 7! I'll have to watch for him in Gatineau Park!
Have riding the Grand Tour Fan Series changed your view, when watching the PROs racing?
Because I've had the opportunity to ride many of the climbs in the Alps and Pyrenees, I can appreciate even more what the professional cyclists are doing. I remember grinding up the last 200 meters of Tourmalet, just trying to keep moving forward, then a few days later watching the professionals in the last 200 meters, sitting up, riding no hands and putting on jackets!
What is the most exciting thing about ROUVY for you now?
Rouvy and the La Vuelta race series have given me a chance to use my current cycling fitness to truly test myself. I had trained all of last winter in preparation for La Marmotte, which was of course canceled.
Finally, any words of encouragement to try the LV Virtual and community in general?
Thank you Rouvy, just ride on!
Thank you for the conversation, Larry! It is good to see you in such great shape during La Vuelta. Good luck in the overall classification! We are sure you will make a podium in your age group.
We hope you enjoyed that one as we did. If you have not registered yet for the La Vuelta race series, go ahead here and try to beat Larry on any stage ;). Push the pedals!